This creamy tomatillo avocado sauce is SO easy to make and is the perfect condiment for all the plant-based recipes we love to make.
I used it on some smashed potatoes today and it was aMAZing! So fresh, so clean, and SO tasty!
Mexican Restaurants are always a good bet when you're looking to have a Vegan Dinner out with friends as you can usually find a Rice & Bean Burrito at the very least.
Add plenty of garnishes like radishes, lettuce, salsa, and tomatoes and a side of veggie rice - and you have a pretty good meal.
But the secret behind a GREAT burrito is going to be the sauce.
One nearby restaurant I like to visit has a killer black bean sauce, a ranchero sauce with enough heat to make THIS chile lover happy, (did I mention $5 happy hour margaritas?), and a creamy tomatillo sauce I have been mentally working on for months now.
And I think today I got it!
It's not exact, but it's pretty darn close. Not too hot, not too spicy, super creamy, and with just enough bite from the tomatillos to make it stand up and be noticed.
I can easily see this sauce being used in a lot of ways. As you see in the photo it makes a great topper to potatoes, but could also be used on rice, in your burritos, on your tacos, or even as a veggie dip.
I'll cut the chit-chat short and get straight to the recipe.
Got a blender? Good!
Let's go!
Creamy Tomatillo Avocado Sauce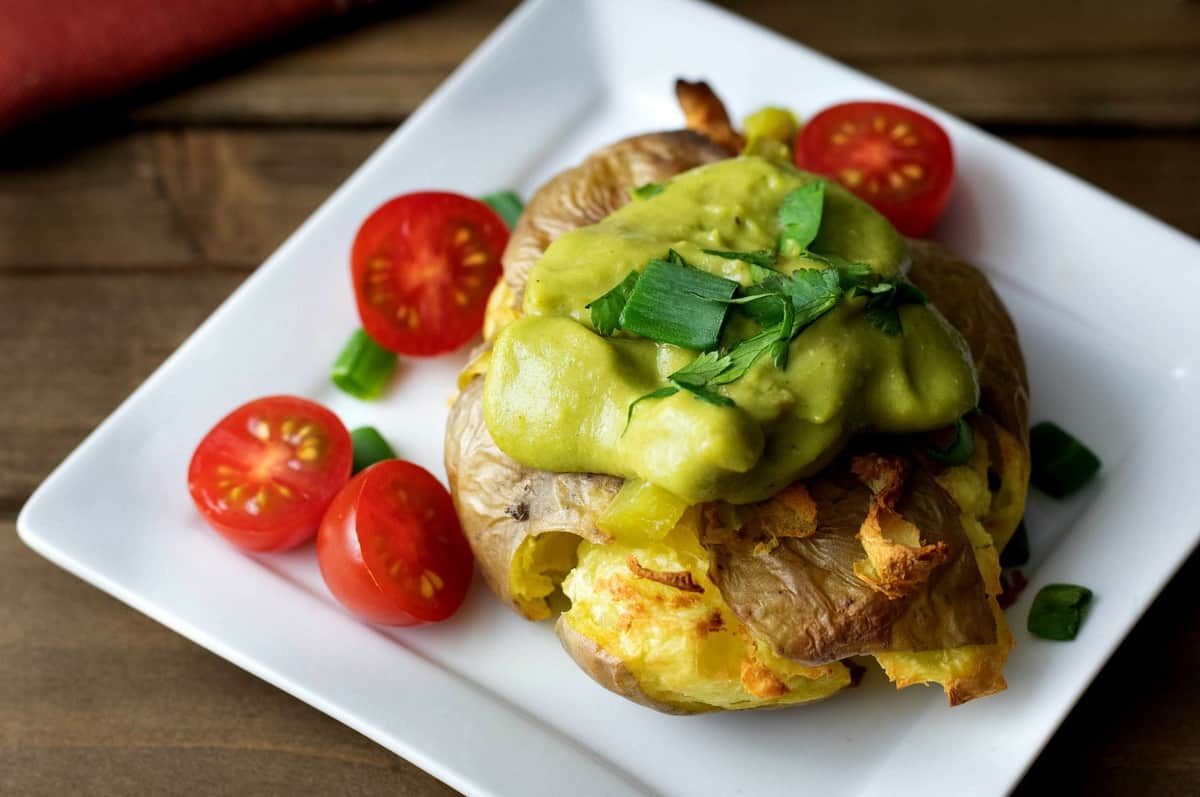 This recipe is super easy and only requires an broiler and a blender.
We're going to use 10 tomatillos, 2 jalapeno peppers, 1 poblano pepper, a lime, an onion, some garlic, an avocado, and a small bunch of cilantro.
Tomatillos look like little green tomatoes with a papery husk covering them.
And poblanos (sometimes called pasilla) are big green peppers that are usually right next to the jalapenos in your produce aisle.
Everything you need should easily be found in your grocery store.
Start by lining a cookie sheet with foil or parchment paper (or both) as the tomatillos will release a lot of juice as they are roasting. This will make cleanup a whole lot easier.
Then peel the paper husks off of each tomatillo and discard. You'll find the fruit will be kind of sticky so go ahead and give them a good rinse afterward. Cut them in half and then arrange them cut side down on your cookie sheet.
Next place ½ an onion (mine still had the skin on and that's ok) and 2-3 garlic cloves (again no need to peel) on the cookie sheet as well.
Finally let's add the peppers.
Cut 2 jalapeño peppers lengthwise and remove the stem and seeds (leaving the seeds will make it hotter). Then place them on the cookie sheet cut side down.
And we'll repeat that one more time with a poblano pepper. Cut lengthwise, remove stem and seeds, place cut side down.
I realize that by using 2 jalapenos and a poblano it may sound spicy but on a scale of 0-10 mine was about a 1 - so not spicy AT ALL!
Maybe I got lucky and got some really tame jalapenos - not sure.
Have I told you before that it's always a good idea to wash your hands after handling any kind of chile pepper? There is an oil in peppers called capsicum and trust me - that oil will burn your eyes if you accidentally rub or scratch. Wash your hands please - or use gloves.
Anyway, now we just place our cookie sheet full of veggies under a broiler long enough for the vegetables to get a little charred and the poblano skin to blister. I used the highest rack of my toaster oven and it took roughly 10-15 minutes.
Do not leave your broiler unattended! It will not take long so keep a close eye on it!
Once the veggies have finished roasting, place the poblano halves in a paper sack or baggie and seal them up for 5-10 minutes to steam. We want to remove that outer skin that has blistered and this will help loosen it up.
Now we just add all our roasted veggies to a blender and puree until smooth. Be sure and remove the skins on the onion, garlic, and the poblano first.
The last thing we add to our blender is an avocado, the juice from ½ a lime, a little salt, pepper, cumin, and cilantro.
The sauce will be thick, super creamy, and taste amazing thanks to the tomatillos and avocado. Add a little extra seasoning or spice at this point if you need to - and the sauce is ready.
As you can see in the photo I served mine on top of a smashed potato. To make smashed potatoes you can refer to my recipe Smashed Potatoes with Vegan Garlic Aioli.
This would also be amazing as a veggie dip, or on top of tacos, burritos, or even as a salad dressing if you thin it down a little.
As always I will be looking forward to seeing how YOU use the sauce, so keep those photos and comments coming.
See you next week!

Print
Creamy Tomatillo Avocado Sauce
Author:

Prep Time:

15 min

Cook Time:

15 min

Total Time:

30 minutes

Yield:

3 cups

1

x

Category:

Sauce, Dip

Method:

Blender

Cuisine:

Vegan, Mexican
---
Description
This creamy tomatillo avocado sauce is SO easy to make. I used it on some smashed potatoes today and it was aMAZing! So fresh, so clean, and SO tasty!
---
10

tomatillos

½

yellow onion

2

cloves garlic

2

jalapeno peppers

1

poblano pepper

1

avocado

1

Tbs lime juice (

½

lime)

½ tsp

salt

½ tsp

cumin

¼ tsp

black pepper

¼ cup

cilantro
---
Instructions
Cover a baking tray with aluminum foil and a sheet of parchment paper  (makes clean up a lot easier)
Remove husks from tomatillos and rinse well.  Cut the tomatillos in half and place them on the baking sheet, cut side down
Place onion and garlic on the baking sheet as well - it's ok to leave the skins on
Remove stem and seeds from jalapenos and poblano and cut in half lengthwise, then place them on the baking sheet - also cut side down
Place the baking sheet under a broiler and roast the vegetables until the tomatillos begin to soften and the peppers begin to blister - about 10-15 minutes.  Watch carefully to not burn them!
After roasting, place the poblanos into a baggie or paper sack to steam for 5-10 minutes.  This makes removing the skins a whole lot easier.
Please be sure and wash your hands after handling peppers!
Remove as much of the outer poblano skin as possible and add the peppers to your blender.
Add tomatillos, peeled garlic, peeled onion, and jalapenos to the blender and puree until smooth.
Cut avocado in half and spoon the avocado flesh into the blender along with the cilantro, lime juice, and spices.  Puree again until smooth.
Adjust seasoning if needed and serve with your favorite dish.
---
Notes
Keywords: tomatillo avocado sauce