Crispy, Crunchy, Yummy,  Baked Onion Rings
Oh yeah!  Come on, you know you want some!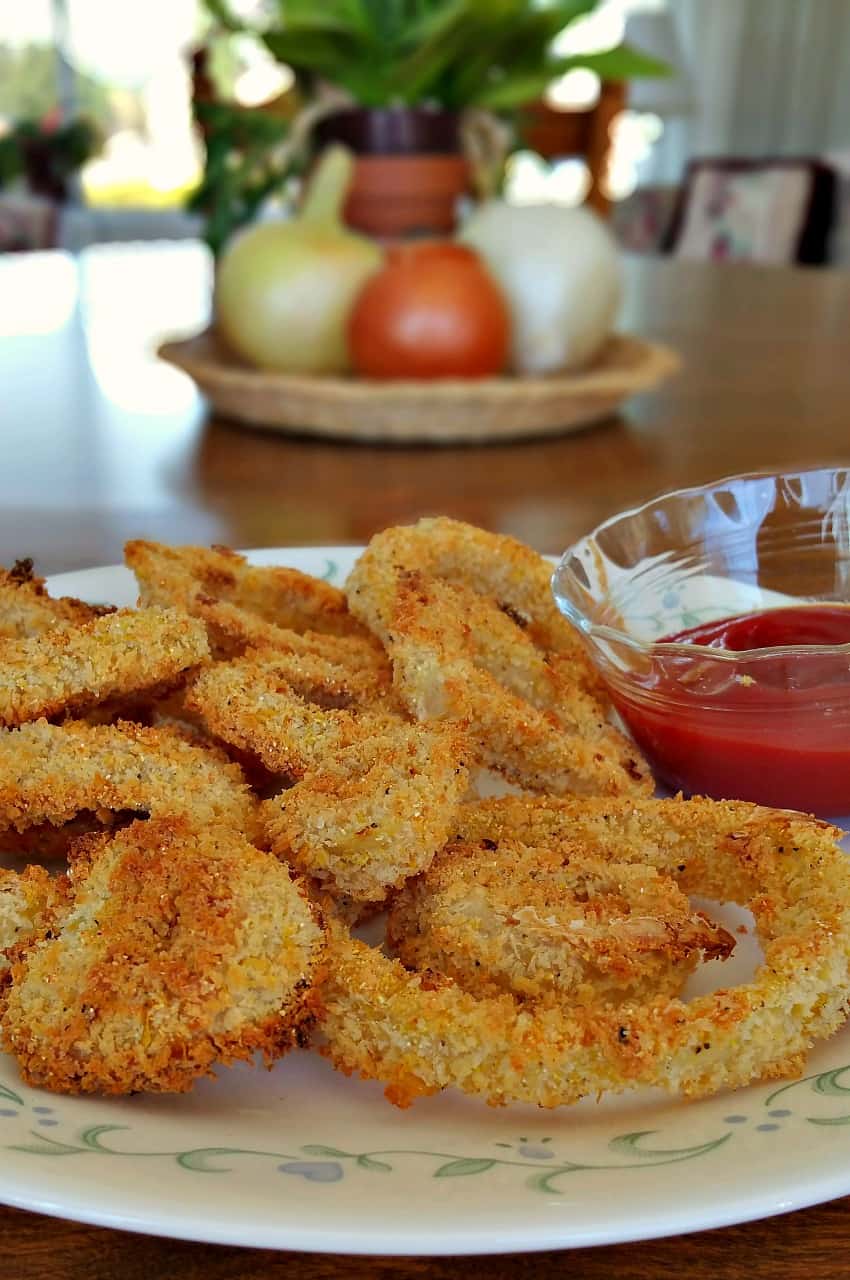 But all that OIL you say….all that FAT you say….
Nope.  None.  Nada.  Zilcho.
These babies are 100% completely oil free.
And crunchy?  I wish you could have heard me chowing down on some when I was taking the pictures.  I think my wife had to turn the TV up a bit…..
The secret my friends, is in the breading.  So let's quit stalling and get right to it.
Crispy, Baked Onion Rings
This will take a wee bit of time,  but I can assure you, they are well worth it.  I searched the net and studied about a dozen Onion Ring recipes, both deep fried and baked, and used what I thought were the best parts of all of them to come up with this recipe.
All the recipes that had the highest reviews, had 3 things in common.
A buttermilk soak, a thick, rich batter, and a bread crumb coating.
But first of all, make sure you start with a nice big Walla Walla Sweet or Vidalia Onion.
Big, Yellow, and Sweet.  That's what we want.  And when you slice them, make they're sliced thick, like 1/2″ or more.
Next, a buttermilk soak seems to be a necessary step.  It chemically does something magical to the onion that makes us unable to stop eating them.  I'm serious!  My plate is gone already!
But we can't have buttermilk because we're vegan?  Right you are, but we can add some apple cider vinegar to almond milk, and bam – instant vegan buttermilk.  Soak your slices in this magical elixir for at least 1 hour – but longer is better.
When you're through soaking, you're going to use that same buttermilk to make the batter, so don't pour it out!  The flour and cornstarch makes a nice, thick, pancakey (yeah that's my word ) batter – perfect for dipping those rings into.
And then comes the magic part.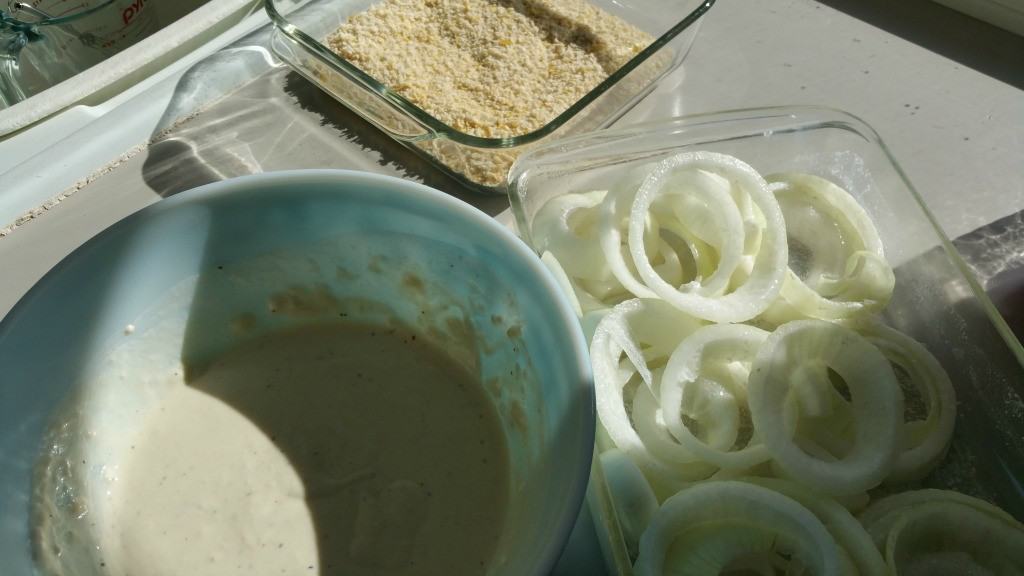 Panko Bread Crumbs.
I've seen recipes that used corn meal, mashed potatoes, and even potato chips….. but all the BEST recipes used Panko.  So make sure you can find some.  My local Fred Mayer had them so any big box grocery store should carry them.
Add in some super secret seasonings and the assembly line is complete.
A quick dip in the batter, a little roll in the breading, and onto a cookie sheet we go.  I used parchment paper to make cleanup a breeze.
Bake these little babies for about 20 minutes on 425 degrees, and then turn them over for another 5-10.
Now quick – grab the ketchup and hide because everyone is going to want some!
Enjoy!

Crispy Baked Onion Rings
Crispy, crunchy, baked onion rings without all the grease and fat. The almond milk 'buttermilk' makes an excellent batter and seasoned panko bread crumbs make the crunchy coating. You're going to want to give these babies a try!
Ingredients
1

large

Sweet Yellow Onion (Vidalia or Walla Walla)

(sliced into rings)

1 1/2

cups

Unsweetened Almond Milk

3

tsp

Apple Cider Vinegar

1

cup

Flour

2

Tbs

Cornstarch

1

cup

Panko Bread Crumbs

1

Tbs

Corn Meal

1

Tbs

Nutritional Yeast

1

tsp

Garlic Powder

1

tsp

Onion Powder

1/4

tsp

Salt and Pepper

1

dash

Cayenne Pepper
Instructions
Slice onion into 1/2 inch rings

Mix almond milk and vinegar to make the 'buttermilk' and pour over onions in a shallow pan

Cover and soak at least 1 hour in the refrigerator

After soaking, pour off 1 cup of the 'buttermilk' and mix with flour and cornstarch to make a batter.

Mix remaining ingredients in another shall pan for the breading

Dip each onion in batter and shake off excess.

Lay battered onion in breading and with a separate spoon cover it completely with crumbs

Transfer to cookie sheet lines with parchment paper and repeat

Bake in preheated oven for 20 minutes at 425 degrees

Flip rings and bake an additional 10 minutes.

Serve with your favorite dipping sauce