Ok potato fans, this recipe is for you. Oil-free AND sodium-free, these Crispy Instant Pot Potatoes are the perfect meal for your weight-loss journey.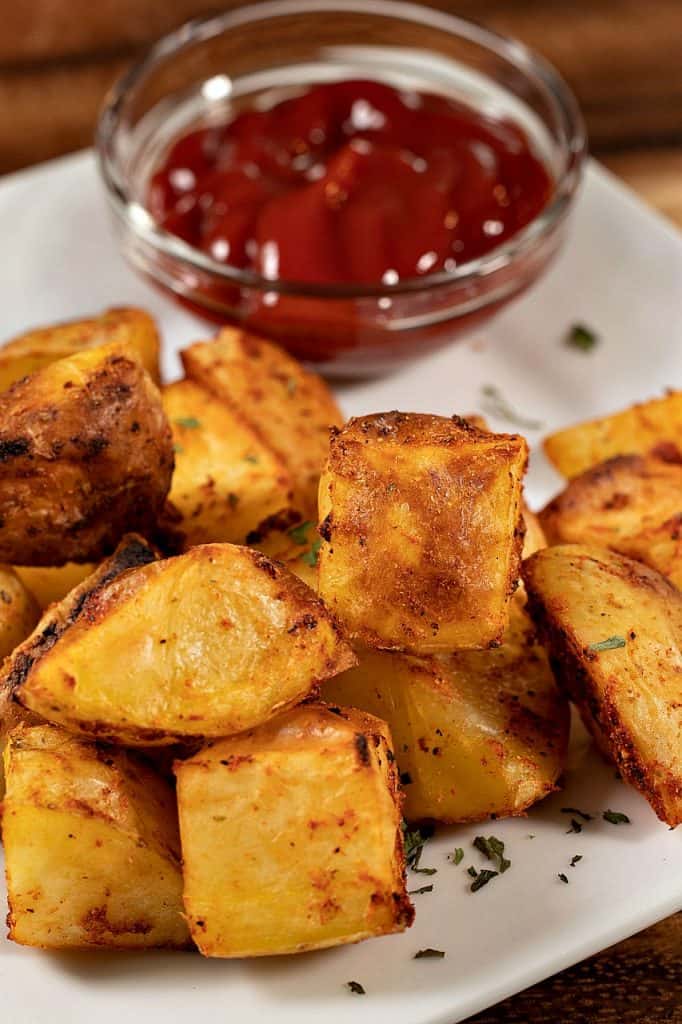 This is truly a recipe designed for the BRAND NEW Vegan, and I'm going to say it's probably my easiest recipe yet.
One ingredient (and a few spices)
Easy! Right? Everybody can find potatoes now.
But.....as simple as this recipe might be, it's the technique I really want to share with you.
I know I have spent many nights eating gummy potatoes because I was in a hurry and just tossed some into my air fryer. No matter what I did, they just didn't turn out crispy like I had hoped.
I even tried microwaving them first (talk about gummy - gah!) and still couldn't get the texture I was looking for, besides deep-frying of course, but THAT will never happen, so what to do?
And then I remembered my Crispy, Oven-Baked French Fries..... and the answer was obvious.
You have to boil them first!
So I thought, why not use my Instant Pot instead? And I'm here to tell you it worked perfectly.
So stick around and let me show you how I made some of my best tasting roasted potatoes yet.
All you need is some 'taters, and Instant Pot, a few spices, and your oven.
Here we go.
Crispy, Instant Pot Potatoes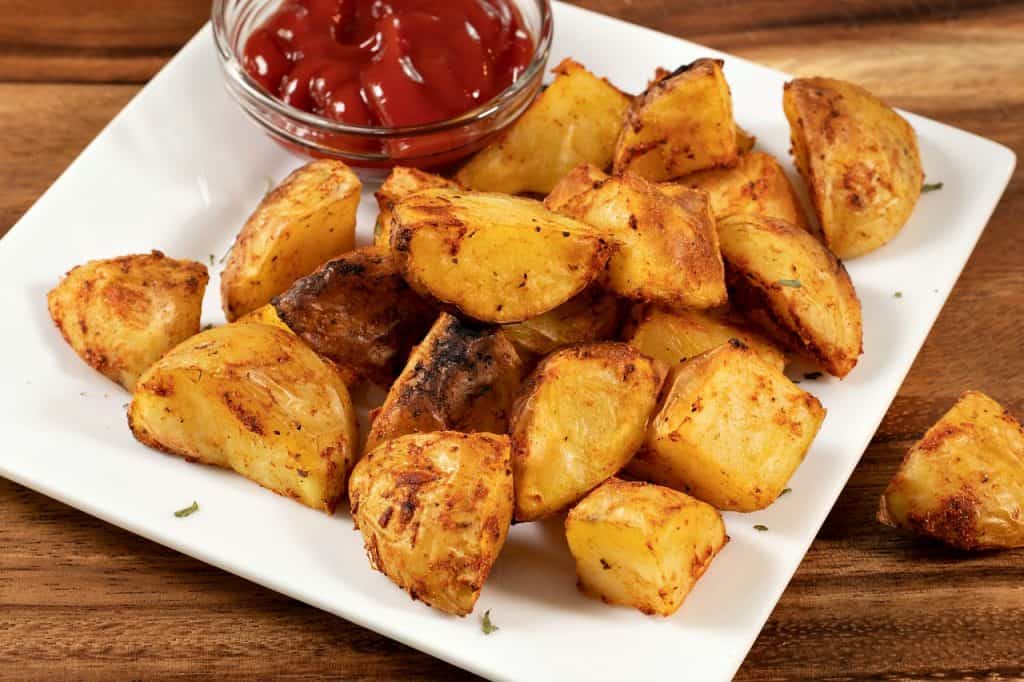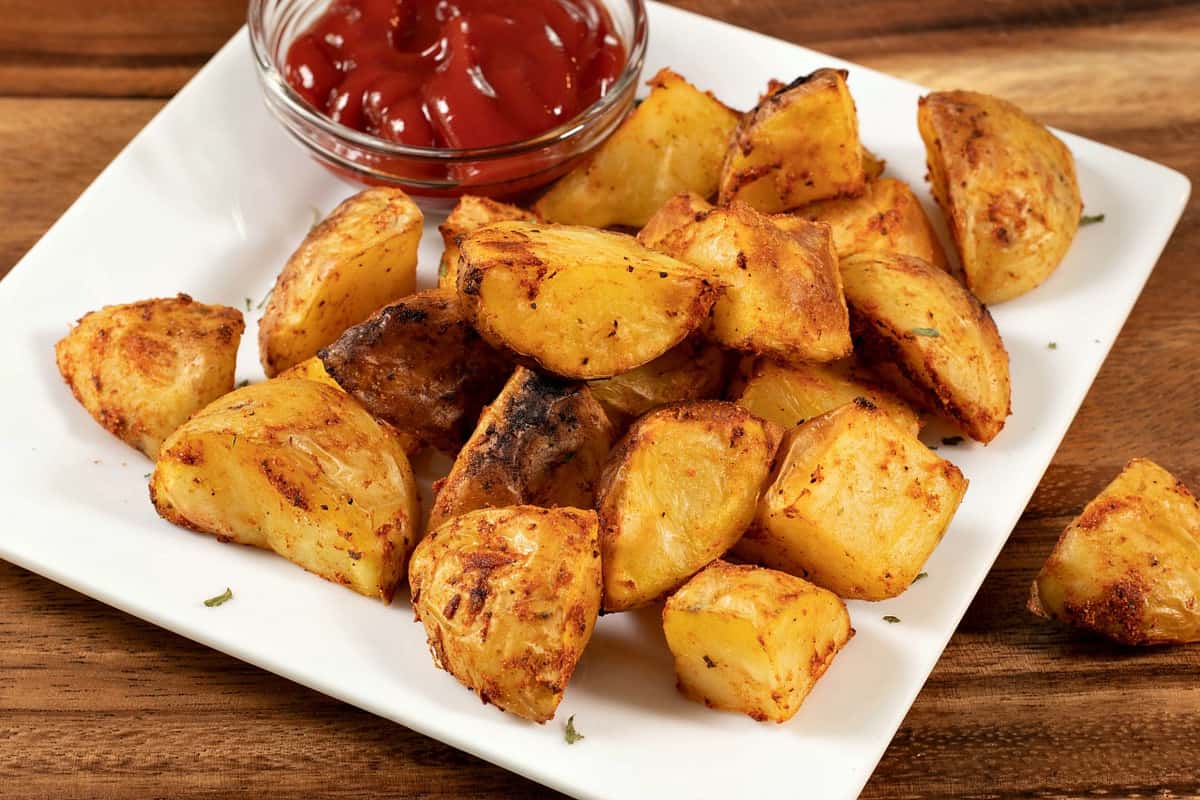 Potatoes
First thing is to choose your spud.
I chose Yukon Golds because they are easy enough to find and I like their creamy flavor. but Russets should work ok too. Either way, I typically do NOT peel my potatoes (I was always told that's where all the good stuff is) so I give them a good scrubbing instead.
I started with about 4 small (to medium-sized) Yukons, about 1.5 lbs. Then I cut them into equal-sized chunks - about 1" in diameter and set them aside.
Equipment
As the title of this recipe implies, I do use an Instant Pot.
I know many people do not have one and yes, you can simply boil your potatoes on the stove, but the trick is timing them just right. You do NOT want to overcook them on the stove as they will turn to mush and fall apart.
But if you DO use your stove, you want to boil them until they are JUST tender enough to insert a fork into, no more.
That's why I like the Instant Pot, press a few buttons and they're perfect every time. AND they have fancy gadgets like this silicone steamer basket I found at my local Bi-Mart. You simply add your potatoes and the whole thing fits down inside your Instant Pot.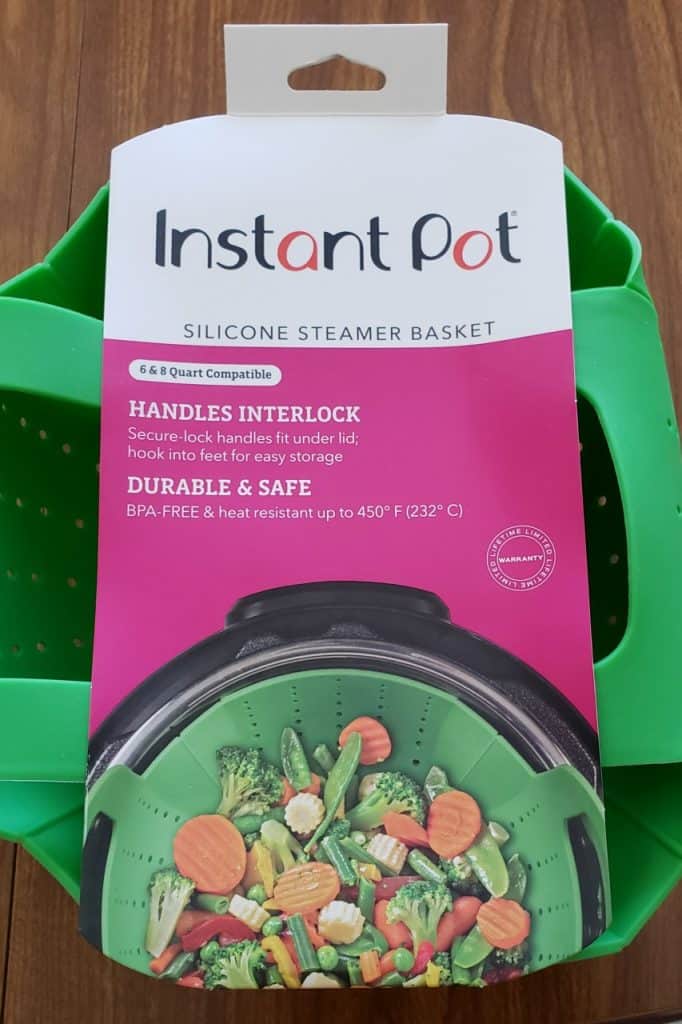 When they're done, you just lift them out and strain. Easy.
I'll add links below to both my Instant Pot I use and this steamer basket if anyone is interested. They really are a good investment as I use mine almost every day.
As an Amazon Affiliate, I do earn from qualified purchases but at no extra cost to you.
Ok back to the recipe.....
Place either the metal trivet that came with your IP (or the steamer basket I mentioned) down inside your Instant Pot and add 1 cup of water, then your chopped potatoes.
Attach the lid, make sure the vent knob is set to SEALING, and using the MANUAL button (or pressure cook on some models) set it to 5 MINUTES at High Pressure.
It'll take some time to come up to pressure and then it will start counting down. When it's done, it will beep and you'll see a new timer appear with the letter L before it. This is how much time has lapsed since it finished. Let it sit for 10 more minutes, then carefully release any remaning pressure.
Remove the lid and carefully place your strained potatoes into a bowl and set aside.
The Spices
To spice up our taters, you can be as creative as you want. I'll tell you what I used, but feel free to experiment. I also chose to NOT use salt, but again that decision is up to you.
I'll put all the spices and amounts I used in the recipe box below.
I ended up with 2 teaspoon total of my spice mix which was perfect for the amount of potatoes I used.
And the Roasting
Finally, we roast. Down here in the studio I have a toaster oven, and that worked perfectly. Just make sure you line your baking sheet with either a silpat or parchment paper - and cleanup will be a breeze.
Spread your spuds out evenly, (make sure they keep their social distancing) ? and bake in a 400° F oven for about 15 minutes. Give them a flip, then move them up to the broil rack and broil for another 5-10 minutes. Just keep watch!
Have an air fryer instead? Sure go ahead! Start with 400° F and maybe 10 minutes and be sure to give them an occasional shake.
When your taters are golden brown - you're done.
A little crushed garlic for garnish, or chopped parsley and you're good to go. Try a shake or two of malt vinegar, oh so good.
There you have it, a super easy recipe that's completely oil-free and this time sodium-free as well. Perfect for a Mary's Mini or whatever potato diet you happen to be doing.
Me? I just love potatoes! Don't forget to leave a comment and I'll see you back here next week.

Print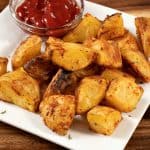 Crispy Instant Pot Potatoes
Author:

Prep Time:

5 min

Cook Time:

55 min

Total Time:

1 hour

Yield:

2

Servings

1

x

Category:

Main, Appetizer

Method:

Instant Pot

Cuisine:

American, McDougall

Diet:

Vegan
---
Description
Ok potato fans, this recipe is for you. Oil-free AND sodium-free, these Crispy Instant Pot Potatoes are the perfect meal for your weight-loss journey.
---
1.5

lbs Yukon Gold Potatoes (about 3-4)

1 cup

water

½ tsp

Mrs. Dash

½ tsp

Onion Powder

½ tsp

Garlic Powder

½ tsp

Smoked Paprika

¼ tsp

Black Pepper
---
Instructions
Scrub potatoes and cut into 1" cubes
Add the trivet to the bottom on your Instant Pot
Add the water and potatoes
Attach lid, set to SEALING
Cook on MANUAL for 5 min with a 10 min NPR
Drain potatoes and place into a bowl
Add all the seasoning and toss to coat
Bake in a 400° F oven for 15 minutes then flip potatoes
BROIL potatoes for an additional 5-10 min or until golden brown
---
Keywords: crispy instant pot potatoes