I LOVE tomatoes!  I think it's something that's implanted in all us Hoosiers at birth, so it's only natural that I would make a Fat Free Bruschetta one day.
Bruschetta, for those of you not in the know, is an Italian Antipasto usually made from toasted bread rubbed with fresh garlic, and topped with olive oil and salt.
But us Americans like to add chopped tomatoes, basil. and mozzarella cheese to make it even more yummier (and add even more calories).
It's a Western Diet thing - we like our cheese and our calories......not exactly GOOD for us ....
So....in MY version...... (a much HEALTHIER version I might add)  I left out the olive oil, and the cheese, and used
Fresh Cherry Tomatoes
Chopped Garlic
Fresh Basil
And a little Balsamic Vinegar to tie it all together.
And it is SO good!!
Is it still Bruschetta without the Olive Oil?  I don't care - whatever you cal it I could eat it EVERY DAY!
And with a little sprinkling of Vegan Parmesan?
Dude.....
Whole Wheat French Bread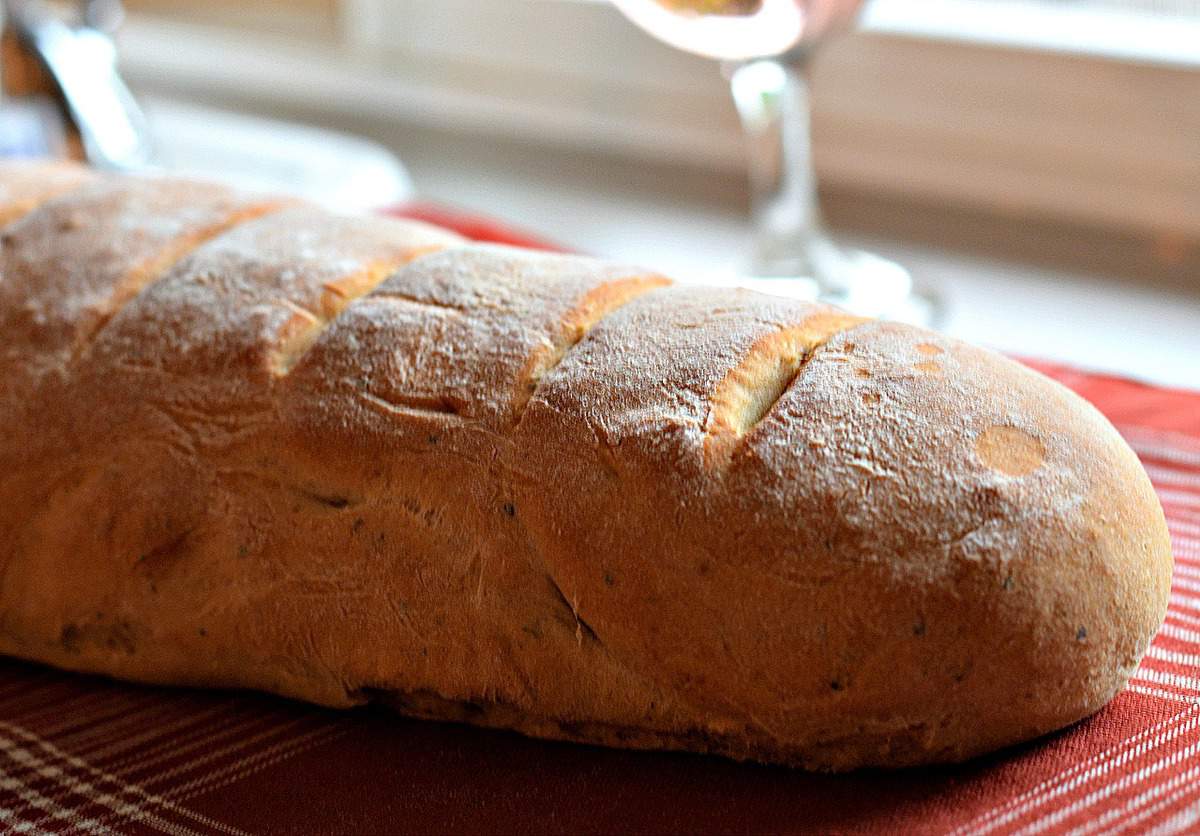 I started this recipe by making a loaf of homemade French Bread.
Of course you can use any bread you like, but by making it yourself you know EXACTLY what the ingredients are.
And in this case, there's only 4 ingredients:  Flour, Water, Yeast, and Salt.  
In this recipe I used 1 cup of White Whole Wheat Flour, and 1½ cups of Unbleached Bread Flour.
Stir 1 packet of Instant Dried Yeast and 1 cup of warm water in your Stand Mixer's bowl, and let the yeast bloom for 10 minutes.  Then slowly add 1 teaspoon of salt and the flour, mixing well with a fork until you have a wet, loose, dough.
Then, using your dough hook attachment on your mixer, let that mix/knead for about 4-5 minutes, or until the dough pulls away from the sides.
Cover with saran wrap or a damp towel, and let the dough rise in a warm spot (a slightly heated oven works fine) for 1 hr or until it doubles in size.  Then simply form into a long loaf, cut some slits in the top, and pop it into your cold oven.
Yes, I said COLD oven.
This is a trick I learned recently and works very well believe it or not.   Now set your oven temp to 375° F and your timer for 30 minutes and turn on the oven.  As it gradually heats up the dough will rise even more.
Cool.  Now for the Bruschetta
Fat Free Bruschetta
For the Bruschetta, mince 3-4 closed of garlic, and 1-2 tablespoons of onion, and sauté lightly in a tablespoon of water or veggie broth until softened.
Meanwhile, wash 2 cups of Cherry Tomatoes and slice them in half lengthwise.  Once the garlic has softened, add the tomatoes.
We're not going to COOK the tomatoes, just lightly heat them up and let them mingle with the garlic in the pan.  I think they're really going to like each other 🙂
Once the tomatoes have softened just a bit,  drain out any juices and add the tomatoes to a large bowl.
Now were going to add our Basil and we're going to get fancy and cut them into little ribbons.  Take about 15 leaves of basil, wash them lightly, and then stack them 3-4 deep in little piles.  Roll up each pile and then slice thinly to create the long ribbons the French call Chiffonade.
Don't you feel all fancy now?  Julia Childs would be proud.  
Add your Basil and 2 Tablespoons of Balsamic Vinegar to the tomatoes and stir well.
Finally, add 1 more cup of fresh Cherry Tomatoes, sliced lengthwise, to your bowl and mix.  I really like the combination of cooked and fresh tomatoes in my Bruschetta.
Now put that bowl of goodness into the fridge, and forget about it until the bread is done.  The longer you let that bowl sit - the more all those wonderful flavors have time to get to know one another.
Yeah it's a social recipe.......
Assembling Your Bruschetta
To serve your Fat Free Bruschetta, slice your homemade French Bread into small pieces and drizzle with your Bruschetta.
Top with Vegan Parmesan is desired and bake for an additional 5 -10 minutes or so until toasty.
YUMMY!
I hope you enjoy this recipe as much as I do.

Print
Fat Free Bruschetta
Author:

Prep Time:

1 hour

Cook Time:

30 minutes

Total Time:

1 hour 30 minutes

Yield:

1

Loaf French Bread

1

x

Category:

Main

Cuisine:

Italian
---
Description
I LOVE tomatoes! I think it's something that's implanted in all us Hoosiers at birth, so it's only natural that I would make a Fat Free Bruschetta on day.... and trust me - this is YUMMY!
---
French Bread
1 cup

warm water

1 tsp

packet of Instant Dried Yeast ((

2 ¼ tsp

))

1 tsp

Salt

1 cup

White Whole Wheat Flour

1 ½ cups

Unbleached Bread Flour
Fat Free Bruschetta
3 cups

Cherry Tomatoes (divided)

3

-

4

cloves Minced Garlic

1

-

2

Tbls Minced Onion

15

leaves Fresh Basil

2

Tbls Balsamic Vinegar

½ tsp

Garlic Salt

¼ tsp

Pepper
---
Instructions
French Bread
Stir yeast and water together and let bloom for 10 minutes
Add salt and flour and mix until a wet dough forms
Knead with a dough hook for 5 minutes until dough pulls away from sides
Cover and let rise for 1 hr
Form into long loaf and make a few knife slits for the gas to escape
Place on cookie sheet and into cold oven
Set oven temp to 375 degrees F and timer for 30 minutes
Turn on oven and bake
Fat Free Bruschetta
Saute garlic and onion in a few tablespoons of water or broth until softened
Wash 2 cups of cherry tomatoes and slice lengthwise
Add tomatoes to pan and heat slightly
Drain tomatoes and add to a large bowl
Wash 15 leaves of Basil and slice into ribbons
Add Basil to bowl along with Balsamic Vinegar and stir to combine
Add additional cup uncooked Cherry Tomatoes, sliced lengthwise
Salt and Pepper to taste
Let rest for at least 1 hour
To Assemble
Slice bread into small pieces and drizzle bruschetta over top
Top with Vegan Parmesan if desired and bake an additional 5-10 minutes or until toasty
---