This AUTHENTIC New Mexican Red Chile Sauce is the perfect condiment for all of your Mexican dishes. Made with just 5 ingredients, it's as simple as it is delicious!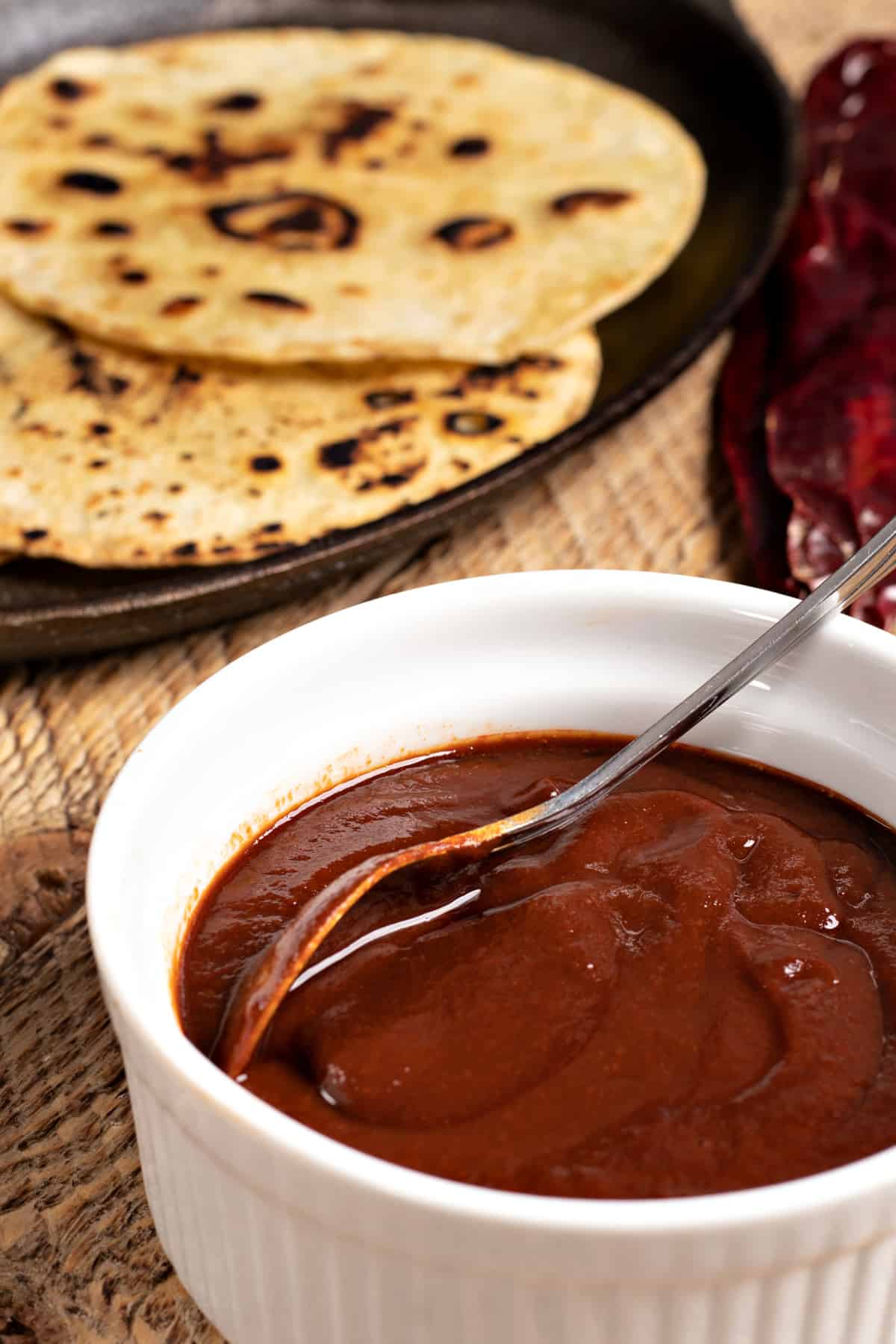 I first published my original new mexican red chile sauce back in 2015, and it remains one of my most popular recipes. It is also one of my most-viewed YouTube Videos with over 100k views!
But....it has also had its fair share of criticism, mainly because TRUE red chile in any New Mexican home would NEVER have tomato sauce as an ingredient. And they are right. I simply added it back then to mask some of the bitterness, another common complaint, and over the years I just grew accustomed to it.
I enjoyed it, my family enjoyed it, and it was a popular recipe, so no big deal....
But today I am here to make it right by introducing this truly, authentic version of my old favorite.
Here are the changes I made:
I reduced the number of chiles
I don't bake them as long
You now have the option of using your Instant Pot
I replace the chile water with fresh water - if it tastes bitter
I removed the tomato sauce completely
And now strain it through a sieve
After the changes, I ended up with the most velvety rich, and luscious red chile sauce I have had in a long time.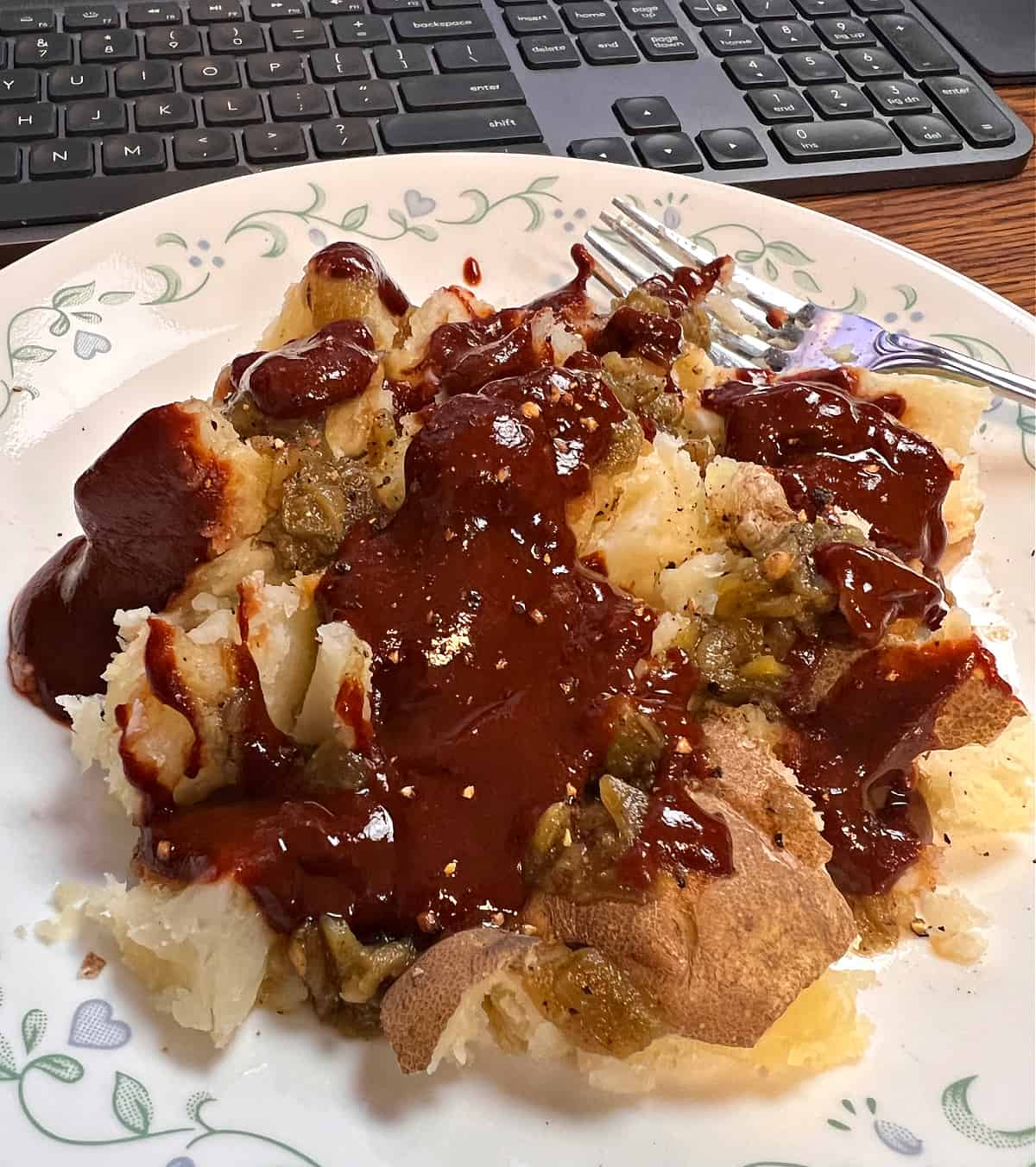 In fact, I'm having some right now as I write this, and this is one of my favorite breakfasts ever - papas!
If the original recipe has ever failed you, I hope you give this new one a 2nd chance.
Authentic New Mexican Red Chile Sauce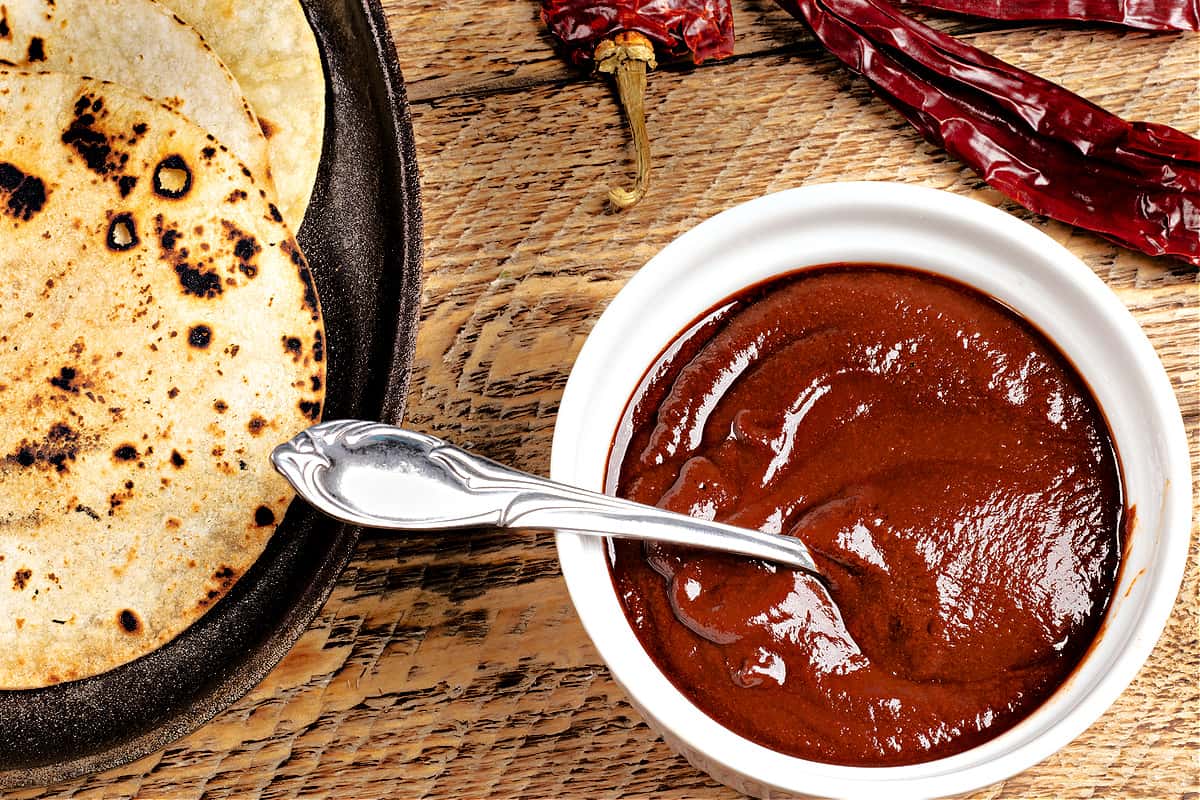 Step 1: You are going to need some dried red CHILES!
Most grocery stores around Oregon have them, Walmart, Fred Meyer, Safeway, etc. They usually come in 2oz cellophane bags and will have different names on the package, Californian, Guajillo, New Mexican, Pasilla, Ancho, etc.
You want NEW MEXICAN if you can find them, and while you are right there, look up and see if they have any smaller packages of Oregano, this is MEXICAN Oregano, which you will also need.
You will need 12 chiles to make a batch, and most bags I've seen have 10 - so grab 2 packages of chiles and that smaller bag of Oregano.
If you can't find either the chiles or oregano - I included Amazon links near the bottom of this post for your convenience.
Step 2: Preparing the chiles
Before we go any further, there are 2 things you need to know about red chile:
They contain an oil called capsaicin and IF it gets on your fingers (it will) and you accidentally rub your eye (I've done it) - it will burn.
Red chile stains whatever it touches.
So wear gloves, aprons, old clothes, whatever - and wash your hands after handling!
The next step is removing the stem and seeds from the chiles.
I like to give them a quick bake in a 250° F oven for 5 minutes to help dry them. Then using a pair of kitchen scissors, snip off the heads and dump out the seeds. You can also cut them lengthwise to make sure you get them all. Remember: the white membrane and seeds are where most of the heat is stored.
Step 3: Rehydrating the chiles
Option 1: Simply dump your cleaned chiles into a large soup pot and add 2 cups of water. Simmer for 15-20 minutes until they are soft.
Option 2: Add your cleaned chiles to your Instant Pot along with 2 cups of water. Set it to MANUAL for 5 minutes, and then let it naturally release the pressure for an additional 10 minutes before carefully releasing any remaining steam.
Step 4: Blending your red chile sauce
Using tongs, carefully add the softened chiles to your high-speed blender.
Now take a spoon and taste that chile water. Is it bitter?
YES? Then discard it and add 2 cups of FRESH water to your blender.
NO? Then go ahead and add that chile water to your blender
Now we can add all the remaining ingredients to your blender and blend until smooth. If you have a high-speed blender like a Vitamix, blend for 2 minutes. If using an older blender, blend for 3-4 minutes or until it looks smooth and velvety.
Step 4: Straining your red chile sauce
I used to skip this step but now I am always going to include it, especially if you have an older blender, as any small unblended skins and leftover seeds can add to the bitterness.
Place a large bowl under a fine-mesh sieve and carefully pour your red chile sauce into it. Then using a rubber spatula, gently stir and press the chile sauce through the sieve.
Note: I also recommend you rinse anything the red chile has contacted immediately so it doesn't stain.
Step 5: Now enjoy a little taste of New Mexico!
You can use this sauce on all your traditional Mexican recipes, enchiladas, burritos, etc. But it is also good on just a bowl of potatoes (papas), or a bowl of rice.
Its rich, earthy flavor is one I truly enjoy, and with absolutely zero fat, very little salt, and plenty of Vitamin C, it's good for you too.
If you make this and have made the older version, I'd love you hear your comparisons.
Until next time!
Equipment and products you might need:
The following links are paid affiliate links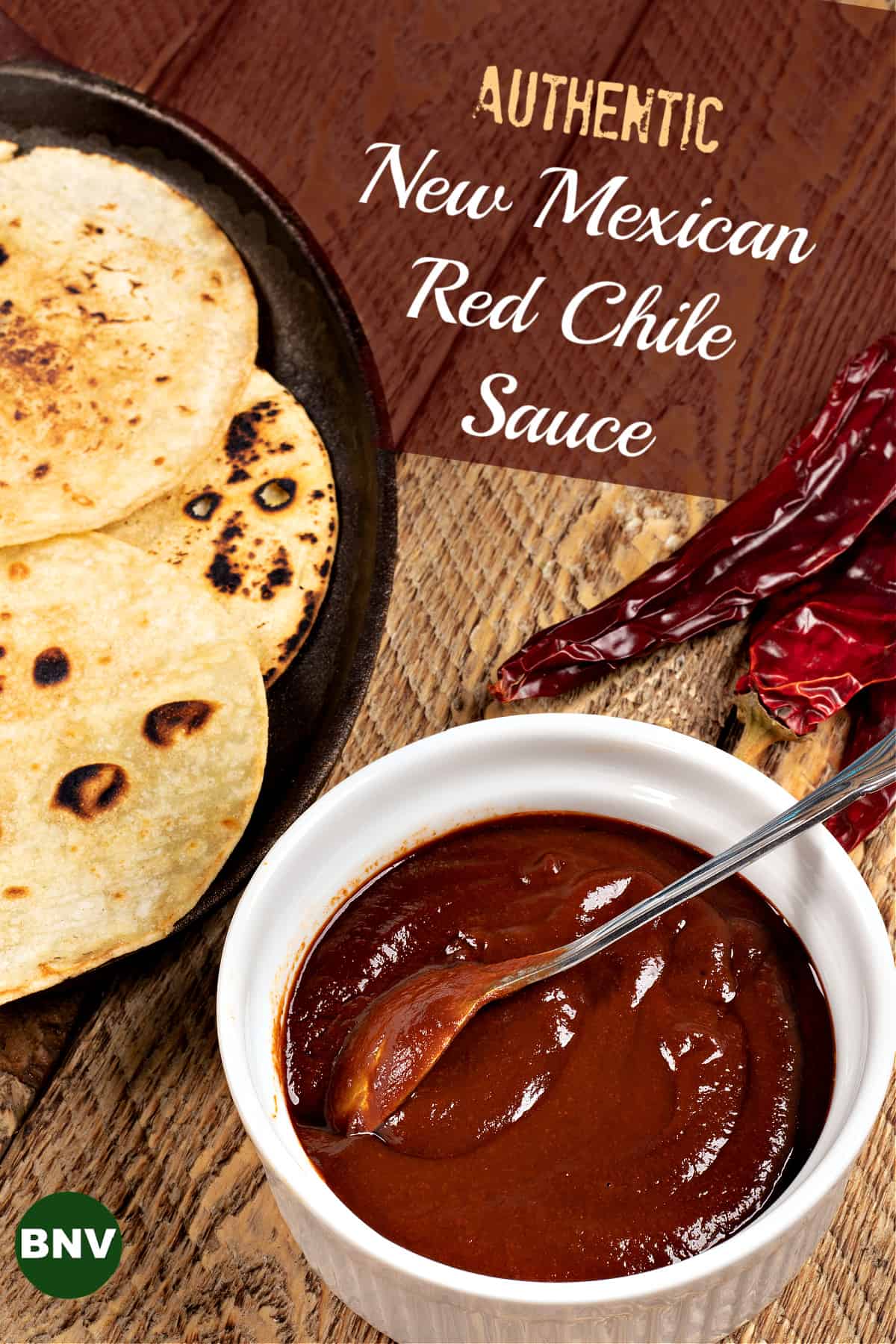 Print
Authentic New Mexican Red Chile Sauce
Author:

Prep Time:

30 min

Cook Time:

15 min

Total Time:

45 minutes

Yield:

2 cups

1

x

Category:

Sauce

Method:

Blender

Cuisine:

Mexican

Diet:

Vegan
---
Description
This AUTHENTIC New Mexican Red Chile Sauce is the perfect condiment for all of your Mexican dishes. Made with just 5 ingredients, it's as simple as it is delicious!
---
12

dried New Mexican Red Chile pods

2

cups

water

4

cloves garlic

2 tsp

Mexican oregano

½ tsp

cumin

½ tsp

salt
---
Instructions
Preheat oven to 250° F
Bake chile pods for 5 minutes
Snip off chile heads and remove as many seeds as possible
Add cleaned chiles to an Instant Pot along with 2 cups of cold water
Seal and cook on MANUAL for 5 minutes, with a 10 min NPR
Alternatively:  Simmer chiles in 2 cups of cold water on stovetop for 15-20 minutes
Remove softened chiles and add to blender
If chile water is bitter:  discard and add 2 cups of fresh water
If chile water is NOT bitter:  add the chile water to your blender
Add garlic, oregano, cumin, and salt and blend 2-4 minutes or until smooth
Strain sauce through a fine-mesh sieve and enjoy with your favorite recipes.
Keywords: New Mexican Red Chile Sauce