If you love deviled eggs, then you're gonna absolutely flip over these amazing Deviled Potatoes.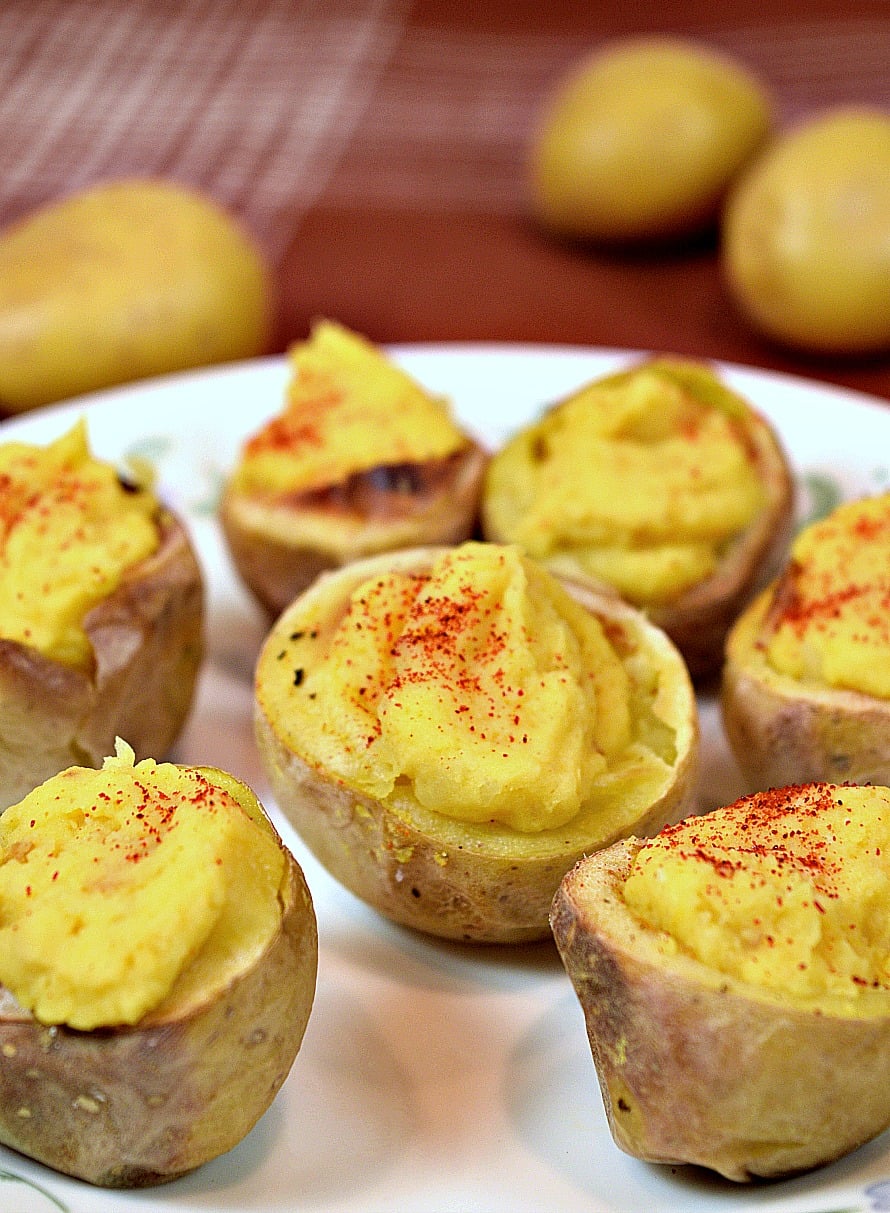 Personally, I was never a huge egg fan.....even growing up in the midwest.
I know, I know - I was the strange one.
Hard-boiled, fried, poached, whatever......just, not my thing.
Oh, I could eat scrambled eggs ok, as long as there was lots of veggies and tabasco - or wrapped up in a tortilla, drenched in New Mexico Chile.....
But Deviled Eggs? I liked the mustard part, ok I guess because all I tasted was......well.....mustard.
But I know a lot of people absolutely love the darn things. So I thought if I could replace that nasty egg part - with something else that was small and round....and healthy......
And then I saw a bag of cute little Baby Gold Potatoes at the grocery store.........
Easy Deviled Potatoes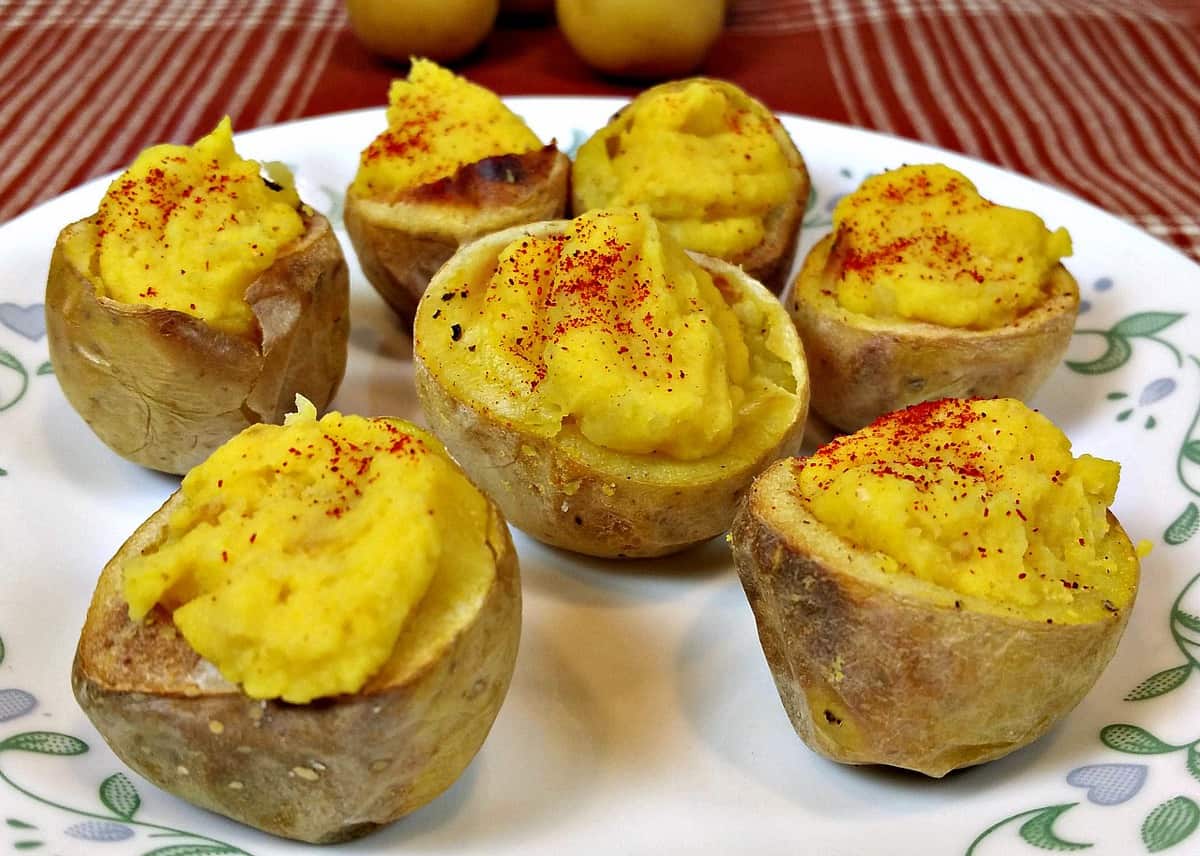 The concept is pretty simple.
What we're going to do is bake some small potatoes, scoop out the middle, and fill them with homemade hummus.
Bake, scoop, fill, eat. YUM!
Well let me tell you this was last night, and I must say they were pretty darn delish. In fact, between my wife and daughter circling around the kitchen like vultures, it was all I could do to steal a few for a picture.
Parchment paper makes cleanup a breeze, and my grandson's little baby spoon made the perfect scooper. Of course, if you have one of those fancy mellon baller gizmos - yeah that'll work too.
As you're scooping the potatoes, you can either snack on the center parts (like I did) or you can add them to the blender for your hummus.
I know - potatoes typically don't go into hummus - but why not?
Potato Hummus?
Maybe I just invented a new thing.....move over Guy Fieri, here comes then next Food Network Star....
Once the filling is done, I looked high and low for one of my wife's pastry bags to make the filling part easier - nope wasn't going to happen.
So I used a zip lock baggy instead. Just cut off a corner and you have an instant pastry bag.
Don't laugh - it worked.
Overall, it was a fun little recipe to make, and I hope you all enjoy it.
Of course, these are inspired by the famous Jane Esselstyn and her Smoky Little Devils from the book You Can Prevent and Reverse Heart Disease by her just as famous husband Dr. Caldwell Esselstyn. Amazing book by the way - highly recommend it.
These Easy Deviled Potatoes make the perfect finger-food appetizer for parties, potlucks, holidays, etc. and the best part?
Not only do they taste GREAT, but they are also super healthy and absolutely 100% fat-free.
Enjoy.

Print
Easy Deviled Potatoes
Author:

Prep Time:

10 minutes

Cook Time:

40 minutes

Total Time:

50 minutes

Yield:

24

Mini Potatoes

1

x

Category:

Appetizer

Cuisine:

American
---
Description
These easy Deviled Potatoes are the perfect snack for parties, potlucks, or holidays. Easy to make and 100% fat-free, they are a healthier version of everybody's favorite Deviled Eggs - only using baby potatoes instead.
---
12

small Baby Gold Potatoes

1

can Chickpeas, save the juice ((

15oz

))

4

Tbls Chickpea Bean Juice

2

-

3

Tbls Lemon Juice

2

cloves Garlic ((minced))

1

Tbs Dijion Mustard ((or more))

¼ tsp

Tumeric

¼ tsp

Onion Powder

¼ tsp

Ground Cumin
Salt and Pepper
Paprika for garnish
---
Instructions
Preheat oven to 400 degrees F.
Scrub potatoes and slice in half
Lay evenly, cut side up, on a cookie sheet and bake for 40 minutes.
Drain the Chickpeas, reserving the juice, and rinse
Add Chickpeas to blender along with garlic, lemon juice, mustard, and spices.
Pulse until thoroughly mixed
Add Bean Juice - 1 Tbls at a time - until desired consistency
Add more lemon juice and/or mustard to taste
Salt and pepper to taste
Once potatoes are finished baking, allow to cool, and then carefully scoop out middles.
Save the potato middles, or eat them, or add them to your hummus
More juice may be needed if you add potatoes to hummus
Using a pastry bag, (or zip lock baggy), fill hollowed out potatoes with hummus.
Garnish with paprika and serve.
---
Notes
Original Recipe Date: January 17, 2016
Inspired by Anne and Jane Esselstyn