This recipe is a hack of my already popular Creamy Mushroom Stroganoff. Why change it you ask? I made it EASIER, and in my opinion, even tastier. So if you love Mushrooms and Pasta smothered in a rich, savory sour cream gravy - give my new Easy Vegan Mushroom Stroganoff a try.
So what's different. For starters, I'm using my amazing Fat-Free Vegan Gravy as a base.
I know right? Why didn't I thik of this before??
It's thick, it's savory, it contains NO oil or fat, and you can even substitute the flour with your favorite gluten-free flour to make this completely GF friendly.
And it sticks to the pasta! (which means maximum yumminess). One pan - a few ingredients - maybe 15 minutes - gravy.
Done.
THEN, we make sour cream. Again super easy. All you need is a few minutes and a blender.
The only part of this recipe that takes any real time is boiling your pasta and sauteeing your mushrooms (which can be done simultaneously). So.....what.....another 12-15 minutes?
A super yummy, low-fat, savory comfort-food dinner in less than an hour? Is that easy enough?
I thought so! I hope you like it as much as I do, so without any further ado.....
Easy Vegan Mushroom Stroganoff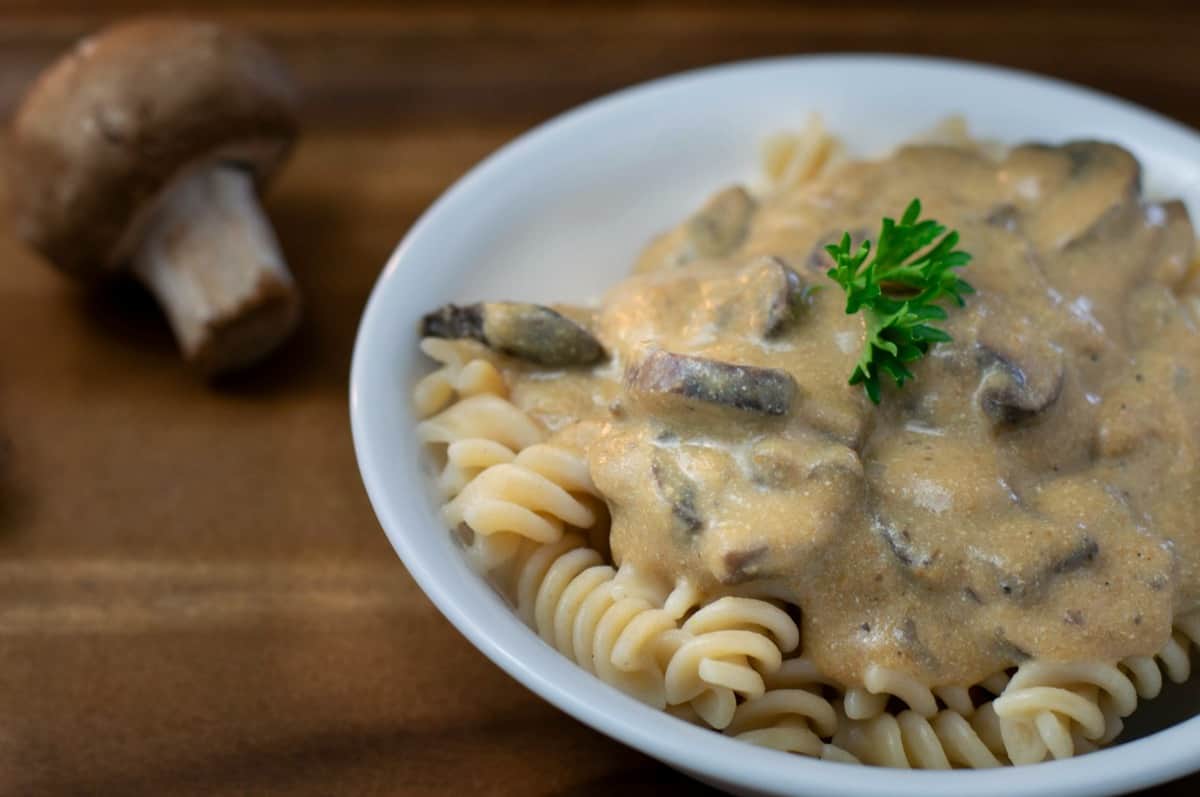 First we make the gravy.
I'll list all the ingredients in the recipe box below, but basically, you whisk all the dry ingredients together and then lightly toast them in a pan over medium-low heat.
Give the dry gravy mix a stir every so often and when it starts to smell like toast - we're ready for the liquid.
Just whisk all the wet ingredients together (I do it right in my measuring cup) and then pour it into the pan, whisking the wet and dry together. Be sure and mix up any dry clumps and make it as smooth as you can.
It will thicken as it begins to simmer - keep whisking, scraping the bottom of the pan and when it reaches a gravy-like consistency - remove the pan from the heat and set it aside.
Easy.
Next, I drained a 16 oz package of Tofu (I used extra-firm) and then just dumped the whole block into my blender. Add the rest of the sour cream ingredients and blitz until it's nice and smooth. Scrape down the sides if you need to.
Sour Cream - done.
Finally, chop up about a pound of Portobello Mushrooms and add them to a large frying pan. Mushrooms will release their own water so there's really no need to add any liquid - but I did add 1 tablespoon of Low Sodium Soy Sauce and 2 teaspoon of Vegan Worcestershire for flavor.
You can also start boiling your pasta about now - I like Brown Rice Pasta.
Keep stirring the mushrooms and you'll see the pan become very wet from all the liquid that's released. It will eventually evaporate and once the pan begins to look a little dry - and the mushrooms have shrunk in size - pour that gravy in here with them.
This alone would make an awesome mushroom gravy, but to take it one step further....
Once you've mixed the gravy and mushrooms together, go ahead and stir in some of that sour cream.
The sour cream recipe I list will make about 2-3 cups and you won't need all of it - so refrigerate the rest for those baked potatoes or tacos.
But for this sauce, I used about ¼ cup to ½ cup (more or less) to give it just the right tang for my stroganoff gravy. Adjust to your own taste.
Don't forget to season with salt and pepper to taste, and then pour it over that pasta you just drained.
Mmmmmm. Homemade Easy Vegan Mushroom Stroganoff.
Just like mama used to make. (sort of)
That's it for this week, keep those comments coming and we'll see you back here next weekend for another BNV Comfort Food classic.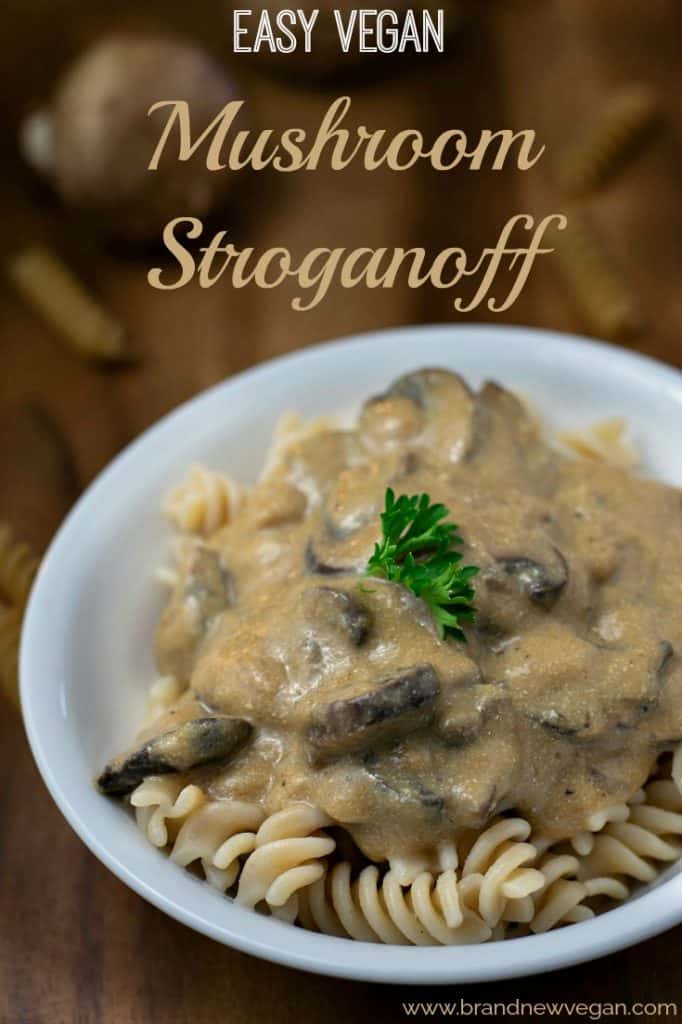 Print
Easy Vegan Mushroom Stroganoff
Author:

Prep Time:

15 min

Cook Time:

30 min

Total Time:

45 minutes

Yield:

Serves 4

Category:

Pasta, Dinner

Method:

Stovetop

Cuisine:

Vegan, Comfort Food
---
Description
I made this popular recipe even EASIER (and in my opinion even tastier). So if you love Mushrooms and Pasta smothered in a rich, savory sour cream gravy - give my new Easy Vegan Mushroom Stroganoff a try.
---
Gravy
¼ cup

whole wheat flour (or sub your favorite GF flour)

2

Tbs nutritional yeast

1 tsp

onion powder

½ tsp

 garlic powder

¼ tsp

black pepper

2 cups

low sodium veg broth

2

Tbs low sodium soy sauce

½ tsp

 prepared yellow mustard

½ tsp

 kitchen bouquet (optional - adds color)
Sour Cream
16 oz

EF tofu, drained

¼ cup

lemon juice

2

Tbs red wine vinegar

1

clove garlic, minced

¼ tsp

 salt (or to taste)
Stroganoff
12 oz

box brown rice fusilli (or your favorite pasta)

16 oz

portobello mushrooms, sliced

1

Tbs low sodium soy sauce

2 tsp

 vegan worcestershire sauce
salt and pepper to taste
---
Instructions
Mix all dry gravy ingredients together and pour into a small saucepan
Whisk over med-low heat until toasty
Whisk all wet gravy ingredients together and pour into pan with the dry ingredients.
Whisk until smooth and heat until thickened - set aside.
Drain tofu and add to blender along with all remaining sour cream ingredients
Blend until smooth - set aside
Prepare pasta according to package instructions - drain
Clean and slice mushrooms and add to a large frying pan
Add soy sauce and Worcestershire and stir over med heat until mushrooms have reduced in size and the liquid has evaporated.
Stir gravy into pan with mushrooms and mix well.
Add ½ cup (or to taste) sour cream to gravy and stir to mix well
Season to taste.
Pour over drained pasta and enjoy
---
Notes
Keywords: easy vegan mushroom stroganoff