I can't count how times I have looked for a can of Chipotles that don't have oil in them...so I decided to make my own Fat-Free Chipotle Adobo Sauce. Not only was it super easy to make, but the taste is better than ANYTHING you can buy in the store!
This sauce is similar in some ways to my New Mexican Red Chile Sauce, but I'm using Mexican peppers this time. I used a combination of Guajillo Peppers and Ancho Peppers to make a sauce that will rival any restaurants.
I know some of you are going to be worried about the spice level, because like my wife, you do NOT like anything remotely spicy. Hint: She loved this sauce!
Whereas others may be like my son who eats habaneros like they're candy (yes, he was eating salsa while still in his highchair).
Personally, I'm somewhere in between. Anyway, just remember this:
The smaller the pepper, the hotter it is.
That's why big Bell Peppers have absolutely zero heat. In fact, there is a heat level chart specifically designed to rank chile peppers.
It's called the Scoville Scale, and was developed by Wilbur Scoville, a pharmacologist, in 1912 to measure the pungency of peppers and chillies
Here are just a few examples of peppers and hot sauces - and note the Ancho, Guajillo, and New Mexican Hatch Green Chiles for comparison:
Bell Peppers - 0
Franks Red Hot Sauce - 450
Pimentos, Paprika - 100 to 500
Poblanos, Anchos, Anaheim - 1250
New Mexico Green Chiles - 2500
Cholula Hot Sauce - 3600
Tabasco - 3750
Jalapeno, Poblano, Chipotles, Hatch, Guajillo - 5000
Cayenne - 50,000
Habanero - 150,000
Ghost Pepper - 1,000,000
California Reaper - 2,000,000
In this Fat-Free Chipotle Adobo Sauce recipe, I used a 50/50 mix of Guajillos and Anchos. So you can easily adjust either one up or down to get the perfect spice level for you and your family.
This will make the perfect sauce for dressing up your hash browns, tacos, burritos, or beans. The anchos make it sweet and rich while the guajillos add just a hint of heat.
I am not using chipotle peppers like you would see in a store-bought can, but I do add a touch of chipotle chili powder to add that unique smokiness that will really sends this sauce over the top.
The recipe is easy to make using your stove and a blender.
The peppers themselves should easily be found in your grocery store but if not, I'll add links to Amazon.
So with that all out of the way - let's make some Adobo Sauce!
Fat-Free Chipotle Adobo Sauce
Start by preheating your oven to 250 degrees F.
Then arrange 10 Guajillo Chiles, 10 Ancho Chiles, and 3-4 cloves of garlic (leave the skin on) on a parchment-lined cookie sheet.
A 2 oz bag of Guajillos will give you about 10 chiles. I found both types of chiles at my local Wal-Mart - but if they are not available in your area I will include links below.
Note: These are affiliate links meaning I will make a small commission on every purchase at no additional cost to you.
We're going to roast these dried chiles for about 10 minutes - just enough to wake up the flavors.
Now we clean them.
Carefully cut off the stems and make a slit down the length of each chile. Open up the chile and remove as many seeds as you can. Then place your cleaned chiles in a large soup pot.
Note: The majority of the heat in any chile is stored in the seeds and inner ribs or membranes of the pepper. The more that are removed, the milder the sauce will be.
Add just enough water to barely cover the chiles (they do not have to be completely submerged) and bring them to a boil. This will rehydrate the chiles in preparation for blending.
Once they come to a boil, remove them from the heat and cover. Allow them to sit 10 minutes to steam.
Note: Please wash your hands thoroughly after handling any kind of chile pepper. The capsicum oils in the chiles will burn your eyes, nose, or other sensitive parts of your body if you accidentally rub your eye or scratch....
Once the chiles have rehydrated, using a slotted spoon or tongs, place the chiles in a blender with 1 cup of the chile water. Add the peeled garlic, ¼ cup of Apple Cider Vinegar, 2 Tbs of Tomato Paste, and all the spices listed below in the recipe box.
Blend until smooth.
The sauce will be thick. You can either leave it as it, or thin down with additional water when needed. You can also fill ice-cube trays with the sauce and freeze it. You can then add a cube of adobo to any recipe you want to add a little Mexican flavor.
That's it!
This is my Fat-Free Chipotle Adobo Sauce. As you can see in the photos I spread it on some hash browns and added some garnishes. And man, it was TASTY!!
Please leave those comments and let me know how you use it. I'm curious what you will come up with!
Until next week......Keep on Cookin!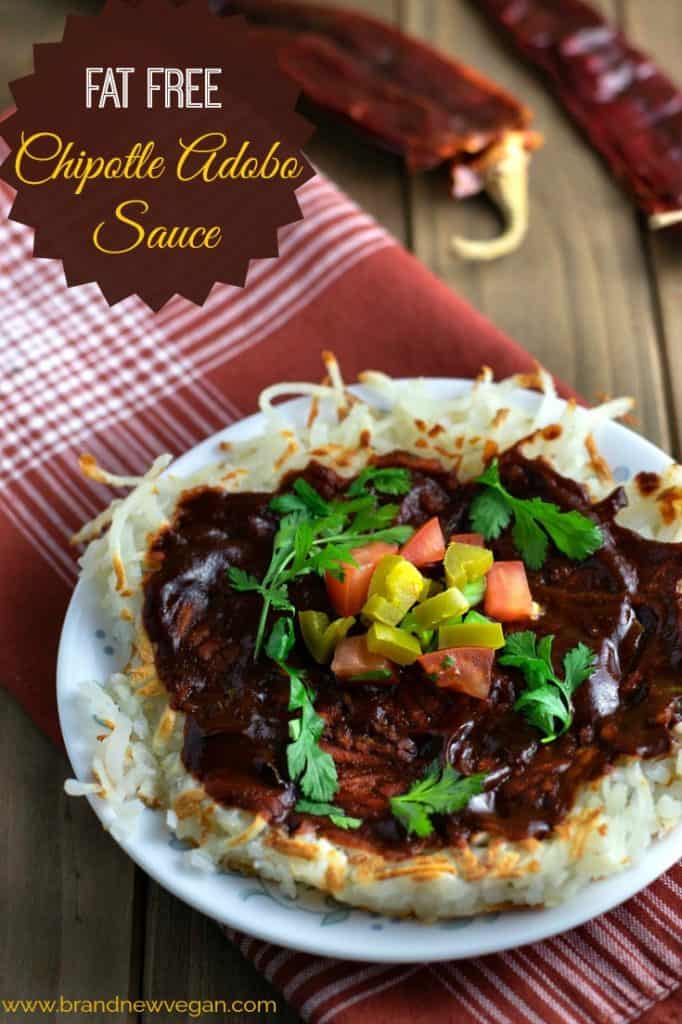 Print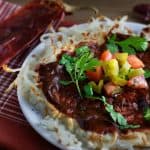 Fat-Free Chipotle Adobo Sauce
Author:

Prep Time:

40 min

Cook Time:

20 min

Total Time:

1 hour

Yield:

About

4 cups

1

x

Category:

Sauce

Method:

Blender

Cuisine:

Vegan, Mexican
---
Description
I could never find Fat-Free Chipotle Adobo Sauce in the store...so I decided to make my own. Not only was it super easy, the flavor is simply amazing!
---
10

Ancho Chile Peppers

10

Guajillo Chile Peppers

3

cloves garlic

1 cup

water

¼ cup

Apple Cider Vinegar

2

Tbs Tomato Paste

2 tsp

 Brown Sugar (or sweetener of choice)

1 tsp

 Mexican Oregano

¾ tsp

 Chipotle Chili Powder

½ tsp

 Cumin

½ tsp

Salt

¼ tsp

Pepper

⅛ tsp

 Cloves
---
Instructions
Preheat oven to 250 degrees F
Arrange chiles and garlic on a parchment-lined cookie sheet
Roast for 10 minutes
Remove skin from garlic and set aside for now
Remove stems from chiles and make a slit down the length of each chile
Remove as many seeds and ribs as possible, placing cleaned chiles in a large soup pot
Please wash your hands after handling chiles - the oils can burn your eyes
Add enough water to the pot to barely cover chiles and bring to a boil
Remove from heat and cover.  Let sit 10 minutes.
Remove chiles from pot and place in a blender along with 1 cup of the chile water.
Add all remaining ingredients and blend until smooth
---
Notes
Keywords: fat-free chipotle adobo sauce