Remember those little cans of Potato Sticks? Sometimes you'd see packages of them in the vending machines too. They were kind of like potato chips, only shaped into sticks and a lot thicker.

Well, today I'm going to show you how you can make 100% Fat-Free Potato Sticks, and with only one ingredient! Potatoes! This has seriously got to be my easiest recipe yet and they make the perfect guilt-free snack.
This is one of those happy accident recipes. I had every intention of making one thing, and ended up with something completely different.
I was GOING to show you how to prep potatoes to make homemade hash browns (and the prep is the same - by the way). But then I used the julienne blade on my new chopper, instead of the grating blade.....
And out came these perfectly formed little potato sticks. Now I did throw a few of these onto my George Foremen Grill anyway, and they were a complete failure - so don't do that.
But as I was waiting I spied my Air Fryer and thought, "Huh, I wonder if these would crisp up like those little Potato Sticks I used to like?"
Well, the answer is a definite YES! And let me warn you right now, these little guys are majorly addicting.
They're super crisp and crunchy and so easy to season any way you like. A pinch of sea salt, a little garlic powder maybe. Ohhh! Maybe a spritz of malt vinegar to help the seasoning stick? OMG, I bet that'd be awesome!
Be creative and be sure and tell me in the comments below your favorite way to season these fat-free potato sticks.
Here we go.
Fat-Free Potato Sticks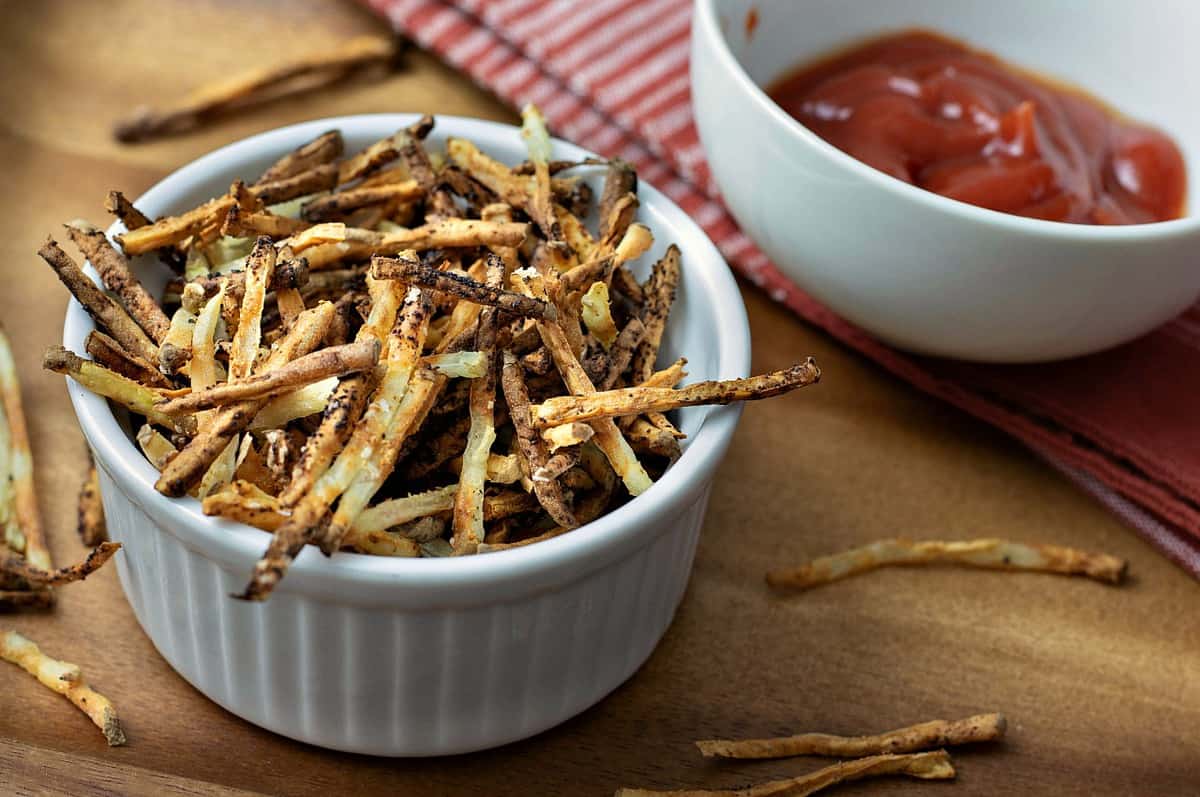 We're going to need some potatoes, obviously, a tool of some sort to cut them, and an air fryer.
Now before you ask me: I don't know ... if you could make these in your oven or not. I didn't try. But if you happen to have a convection oven - I see no reason why that wouldn't work.
I used 3 medium-sized Russet Potatoes and gave them a good scrub. I like the peel, so I left it on. If you want to peel your potatoes first, go ahead.
Next, we need to grate the potatoes into the stick shapes. I just bought a new Fullstar 7-1 Chopper Pro that has a mandoline with a julienne blade, and that worked perfectly for me.
I just did my first product review on my YouTube Channel so you can go watch that here if you'd like. And here is my Amazon Affiliate Link in case you'd like to see the chopper. Just remember I do make a small compensation if you buy one at no extra cost to you.
Any kind of attachment or box grater that has a julienne cutter will work, or you can simply use a knife. We're going for little sticks that are around 2" long and ⅛" thick.
As you are cutting your potatoes, be sure and cut them directly into a bowl of cold water. The water slows down the oxidation process that turns your potatoes brown, and it also helps rinse off the starch which will make these super-crispy when we fry them.
A good rule of thumb is use 1 to 1 ½ potatoes per serving. The 3 Russets I used gave my wife and I a good-sized serving each.
Once all your potatoes have been cut, dump out the water they're in and fill it up again for a second rinse. Use your fingers to stir them around as we're trying to remove as much of that starch as we can.
When the water starts to clear up, drain your potatoes well and then dump them onto a clean kitchen towel. Wrap them up tightly and squeeze as much water out as you can.
These two steps, the rinsing, and the drying - are what makes these potato sticks get so crispy and stay separated, and not turn into one big sticky, gluey mass.
Now we simply place these in our air fryer and cook at 400 degrees F for about 10 minutes. Pull them out and give them a shake or stir about halfway through.
If you have a Cuisinart Air Fryer Toaster Oven like me (again with the Affiliate Link), I used the solid tray as the potatoes would fall through the basket. Use the upper position and line the tray with foil or parchment paper first as that will prevent any sticking and make cleanup easier.
Note: I tried seasoning both before, and after I cooked the potatoes. I honestly like adding the seasoning after, although much of it will probably fall off. The reason is: if you season before - chances are the seasoning will burn a little while cooking.
As to what kind of seasoning to use? That's entirely up to you. I would at least give them a decent pinch of kosher salt. As I said earlier, experiment and be sure and leave a comment below with your favorite seasoning combination.
That's it for this week. Hope everyone has a wonderful Holiday and we'll see you back here next week for another comfort-food favorite.

Print
Fat-Free Potato Sticks
Author:

Prep Time:

20 min

Cook Time:

10 min

Total Time:

30 minutes

Yield:

2

servings

1

x

Category:

Snack, Appetizer

Method:

Air Fryer

Cuisine:

American, Vegan, Oil-Free
---
Description
These fat-free Potato Sticks have got to be my easiest recipe yet and they make the perfect guilt-free snack. Just like our vending machine favorite only without the fat!
---
3

Russet Potatoes
pinch of salt
any other seasonings you like
---
Instructions
Scrub potatoes and peel if desired
Using whatever tool or method you have available, cut potatoes into 2" long shoestring sticks about ⅛" thick.
Add the potato sticks directly into a bowl of cold water.
Rinse 2-3 times to remove as much starch as possible, then wrap into a clean kitchen towel and squeeze dry
Air Fry on 400 degrees F for about 10 minutes, shaking or stirring halfway through.
Season with salt, pepper, or whatever spices you like
---
Notes
Keywords: fat-free potato sticks