And now for something completely different, here is a recipe for those of you who may have a lot of spinach at home and have no idea what to do with it. This fat-free Spinach Soup is super easy and delicious.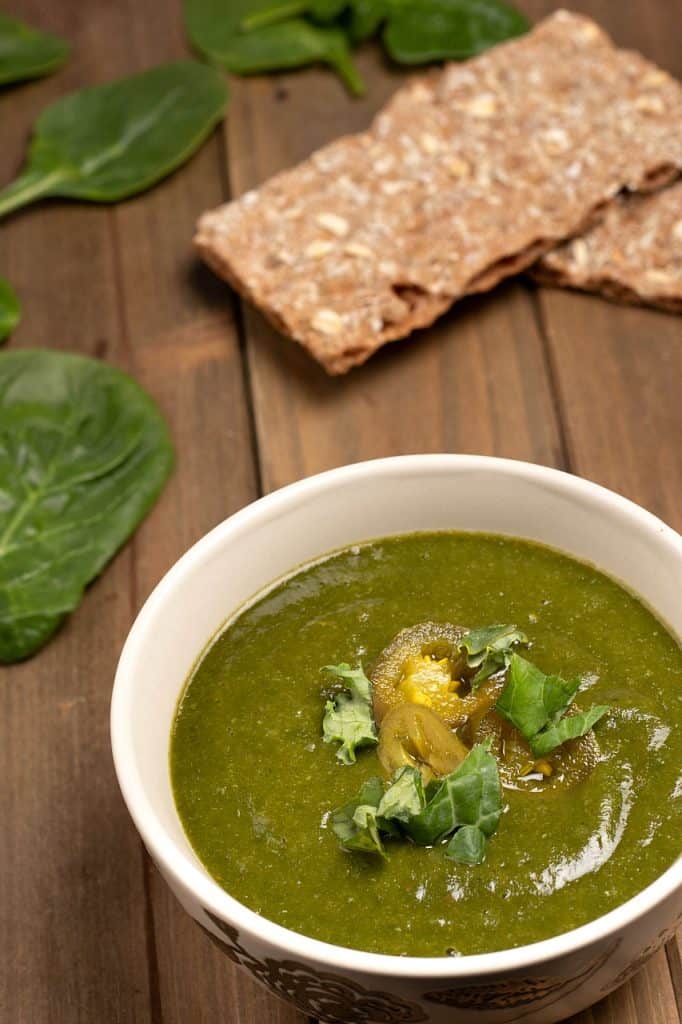 I'm not gonna lie - Spinach has never been one of my favorites. And the thought of turning it into a soup? Well let's say it was never at the top of my to-do list.
But.... I had a package of Spinach in the fridge, and one of my readers requested it, so.... into the test kitchen I went with images of Popeye in my head.
Spinach IS healthy, that's a fact.
And like many of you I assume, I do NOT get enough greens into my daily diet, another fact.
So actually, this was a great suggestion, so thank you, dear reader, for mentioning it.
I mean especially now, with the Coronavirus still in full swing, we all need to eat better, right? Maybe take care of a few of those underlying health conditions we keep hearing about? Like, lose a little weight? Or address that blood pressure?
In case you didn't know, Spinach, like any of the green leafy vegetables, is very low in calorie-density. Meaning you can eat a whole pound of it and still only get about 100 calories. Which is great for weight loss.
Also, dark leafy greens, like Spinach and Kale, are full of Nitrates, which convert to Nitric Acid in our body. Nitric Acid is naturally produced by our Endothelium Cells, that inner-lining of our arteries. It's what they call a vasodilator, meaning it helps your arteries to stay soft and flexible in order to dilate - which improves blood pressure. (source)
Sadly, if you're like me, and haven't had the best diet over the years (before I became plant-based), a lot of those unhealthy foods I ate actually damaged that endothelium, which means less nitric acid production, stiffer arteries, higher blood pressure, and the beginning of plaque, or atherosclerosis.
The GOOD news is, this is completely reversible by eating a low-fat, whole-food, plant-based diet as proven by the work of Dr. Dean Ornish and Dr. Caldwell Esselstyn.
And what exactly does Dr. Esselstyn recommend as part of his heart disease reversal program? Eating dark leafy greens, 6 times a day! So again, perfect timing for the Spinach Soup suggestion.
Many of you have asked how I addressed my high blood pressure, after my stroke, which I explained in this article: How I Cured My Hypertension in 30 Days Without Dieting. Along with what I mentioned in the article, eating lots of dark, leafy greens will help too.
So with all of that out of the way, let me show you how easy it is to make this healthy, nutrient-dense, nitric acid producing - Spinach Soup.
To your health.
Fat-Free Spinach Soup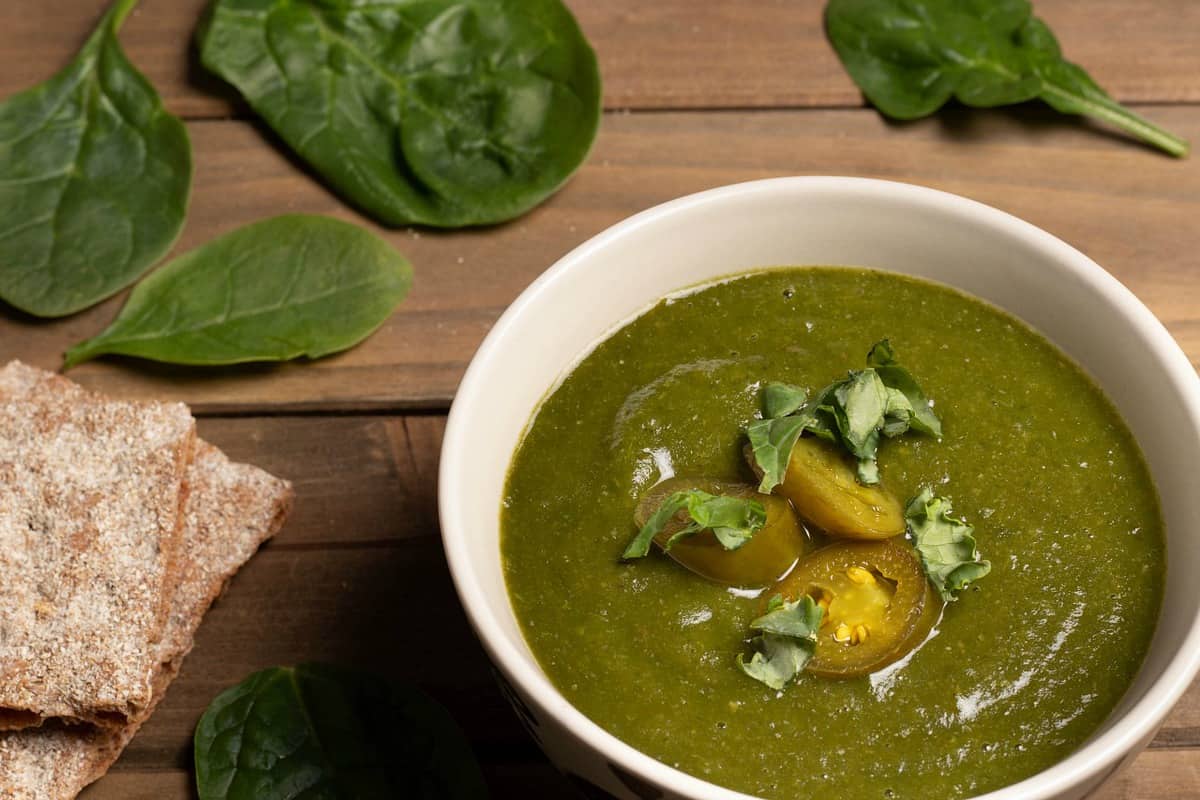 You'll need a big pot for this as the spinach will take up a LOT of room.
I used the same Dutch Oven I used to make my Rustic No-Knead Bread Recipe (which would go GREAT with this soup btw)
Here is the one I use, and I do use it a lot.
It's an Amazon Affiliate Link, so I do earn a few pennies if you buy one, but at no extra cost to you.
We'll start by adding a diced onion, a few ribs of diced celery, 2 cubed Russet potatoes, a 7oz can of diced green chiles, and a splash of water or veg broth to keep it from sticking.
Cook the veggie down until they begin to soften, about 5 minutes, and then stir in a few cloves of minced garlic and some spices (all listed in the recipe box below).
Next, we add 4 cups of low-sodium vegetable broth, some riced cauliflower, and a couple of bay leaves, and cover. Cook for about 10-15 minutes or until the potatoes are tender.
Note: I used riced cauliflower to make the soup creamy, without having to add any non-dairy plant milk or cashew cream. This is what makes it fat-free. If you would rather sub the cauliflower with cashew cream, you'll need about ½ cup.
Now that the soup base is finished, it's time to add the spinach. A added a 16oz bag of baby spinach. It may look like it won't all fit, but it will as it wilts down to nothing pretty quickly.
Cover the pan and let the spinach wilt - about 5-6 minutes.
Stir and taste for seasoning. I added salt and a good healthy pinch of nutmeg. Once the taste is to your liking, it's time to blend. (Oh yeah - remove the bay leaves first).
I worked in batches, as I did not want to fill my blender too full.
I ladled enough soup to fill my blender about half-way, then pureed it until smooth and creamy. Transfer the blended soup to another pot and repeat.
If you like your soup to have more texture, leave some of the soup unblended. Or, as I did, serve it over brown rice.
I will also say that it is incredible with the addition of some mild, pickled jalapenos and juice from the jar. It adds just the right twang, without being too spicy. A tablespoon of apple cider vinegar may work as well.
That's it for this week.
I know it may not exactly look very appetizing compared to most of my recipes (at least to me anyway), but it IS healthy and it tastes pretty darn good. My daughter absolutely loved it, so...... there ya go.
Have a good week, stay safe, wash those hands, and all that jazz.... and we'll do it all over again next weekend.
See you then.

Print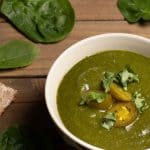 Fat-Free Spinach Soup
Author:

Prep Time:

5 min

Cook Time:

25 min

Total Time:

30 minutes

Yield:

6

-

8

servings

1

x

Category:

Soup, Stew, Chowder

Method:

Stovetop, Blender

Cuisine:

American, Vegan
---
Description
And now for something completely different, here is a recipe for those of you who may have a lot of spinach at home and have no idea what to do with it. Super easy to make too.
---
1

onion, diced

2

ribs celery, diced

2

russet potatoes, cubed

1

can diced green chiles, 7oz

2

cloves garlic, minced

½ tsp

salt

½ tsp

garlic powder

½ tsp

thyme

½ tsp

oregano

2

bay leaves

½ cup

riced cauliflower

4 cups

low-sodium vegetable broth

1

bag baby spinach, 16oz

¼ tsp

nutmeg
pickled jalapenos for garnish (optional)
---
Instructions
Add diced onion, celery, potato, green chiles, and a spalsh of veg broth to a large soup pot
Cook on medium until veggies start to soften - 5 minutes.
Add garlic, salt, garlic powder, thyme, and oregano and stir.  Cook 1 minute.
Add bay leaves , cauliflower, and veg broth, stir and cover.  Cook 10 minutes.
Add spinach.  Stir, cover and cook 6 minutes - stirring occasionaly
Stir and taste for seasoning.  Add nutmeg.
Working in batches, transer to a blender and blend until smooth and creamy.
Serving suggestions:  Pickled jalapenos , serve over rice,  crusty bread.
---
Notes
Keywords: Fat Free Spinach Soup