Perfecting the absolute BEST Vegan Pizza has been an obsession with me over the last few years, and I must say I believe I have it down to a science.....and it all starts with my absolute favorite Herb Crusted Pizza Dough.
But be warned - this is NOT some quick or 'no-knead' pizza dough.
Nope - this is the real thing - just like the big boys make.
And with a little time, patience, and the right equipment, will make the absolutely BEST pizza you've ever tasted.
Herb Crusted Pizza Dough
Pizza dough is very easy to make.
Mix water, flour, salt, and yeast together and you have a basic dough.  And the proportions are pretty standard too.  Look up any pizza dough recipe and you'll see the same basic formula...
2½ cups of flour
1 cup of water
2¼ teaspoon active dry yeast
1 teaspoon salt
If you have too much water, you have a wet, sticky mess.
Too much flour and you have a brick.
Leave out the yeast and you'll have a piece of cardboard.
And without the salt......well I've done that by accident a few times, and the results weren't that great...so don't forget the salt.
So it's not so much the ingredients or the proportions that make a good pie....they're already set.
It's more about the technique.  
We start by using good quality unbleached bread flour which has a higher protein count.  More protein =  more gluten.
More gluten means more glue like structures that trap and hold the gas formed by yeast fermentation. And all that gas is what allows the bread to rise, making it the light, fluffy, chewy pizza dough we all love so much.
Gluten is made when we mix and knead the dough.  In fact, manipulating the dough in any way allows more proteins and water to find each other and link together.
So good flour, lots of mixing and kneading, and allowing the yeast do their job are all essential steps to making a really good pizza dough.
Step #1.  Good Quality Bread Flour
I use King Arthur Unbleached Bread Flour which can be found in many grocery stores.  Bread Flour contains more wheat protein than All Purpose, which allows for more gluten formation.
Yes, you can sub in some whole wheat, but not too much.  Maybe up to 1 cup max.
Note:  Amazon Affiliate Links allow me to earn a small commission on any purchase you make with no additional cost to you.
Step #2.  Proof Your Yeast
To ensure you have good working yeast, and give it a head start, you want to proof or activate your yeast.
I do this by heating 1 cup of water in a microwave for exactly 50 seconds.  I have found this to be the perfect temperature for allowing the yeast to wake up and start reproducing.
Stir in 1 Tbs of sugar to give the yeast something to eat, and then stir in the 2¼ teaspoon of yeast.
Allow them to work or proof for 10 minutes, your slurry should look like this, nice and bubbly.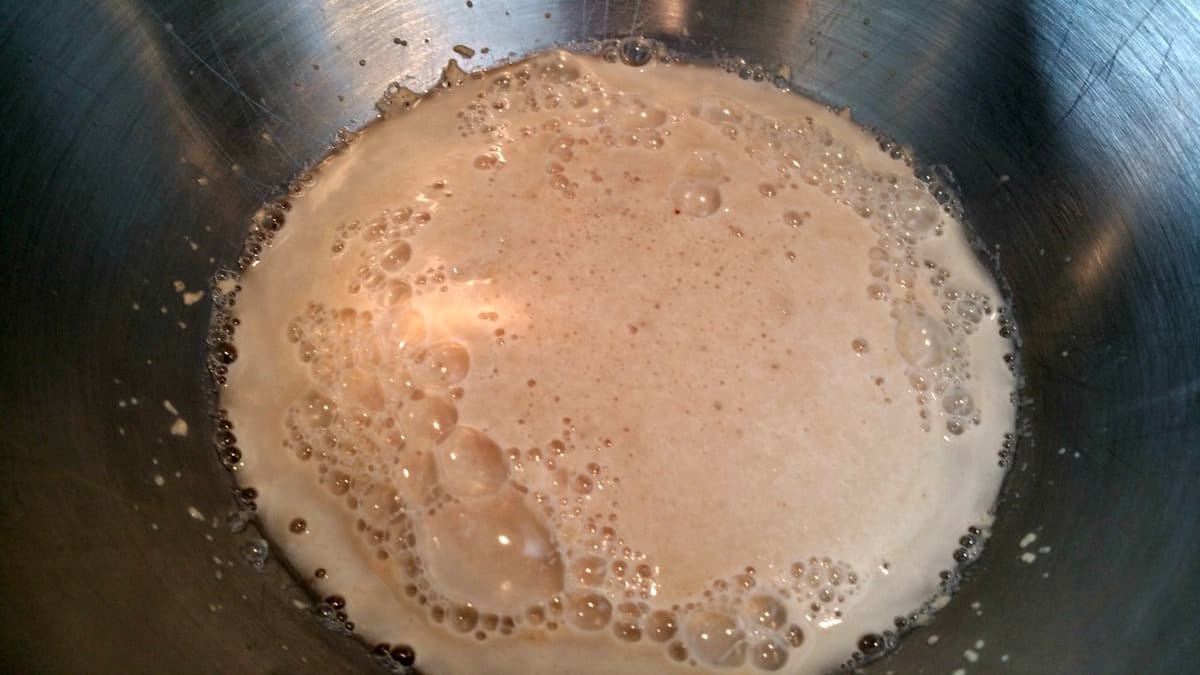 Step #3.  Mix and Knead
Once the yeast is proofed, I add 1 teaspoon of Salt, and usually some spices for additional flavor.  I use 1 teaspoon of Italian Seasoning and ½ teaspoon of garlic powder, then add the flour and mix.
Mixing and kneading are vital to forming the gluten in the dough, and to do this I use a stand mixer with a dough hook.
Can you make this recipe without one?  Sure, but it will be a lot of work to get the same quality dough.   A stand mixer with a dough hook will make this dough in about 5 minutes.
If you do it by hand, you should knead the dough on a well floured surface until it becomes smooth and elastic for at least 10-15 minutes.

Step #4.  Let It Rise
Once my dough starts pulling away from the sides of my stand mixer, I know it's ready for the rise.
Cover the bowl with saran wrap.  I found that wetting the sides of my bowl with water allows the saran wrap to stick better.  Now cover the bowl with a kitchen towel and place it in a pre-heated over for 60 minutes.
Tip:  Turn on your oven - any temperature will do, and set your timer for exactly 1 minute.  After the time is up, turn OFF the oven.  It is now the proper temperature for your dough to rise.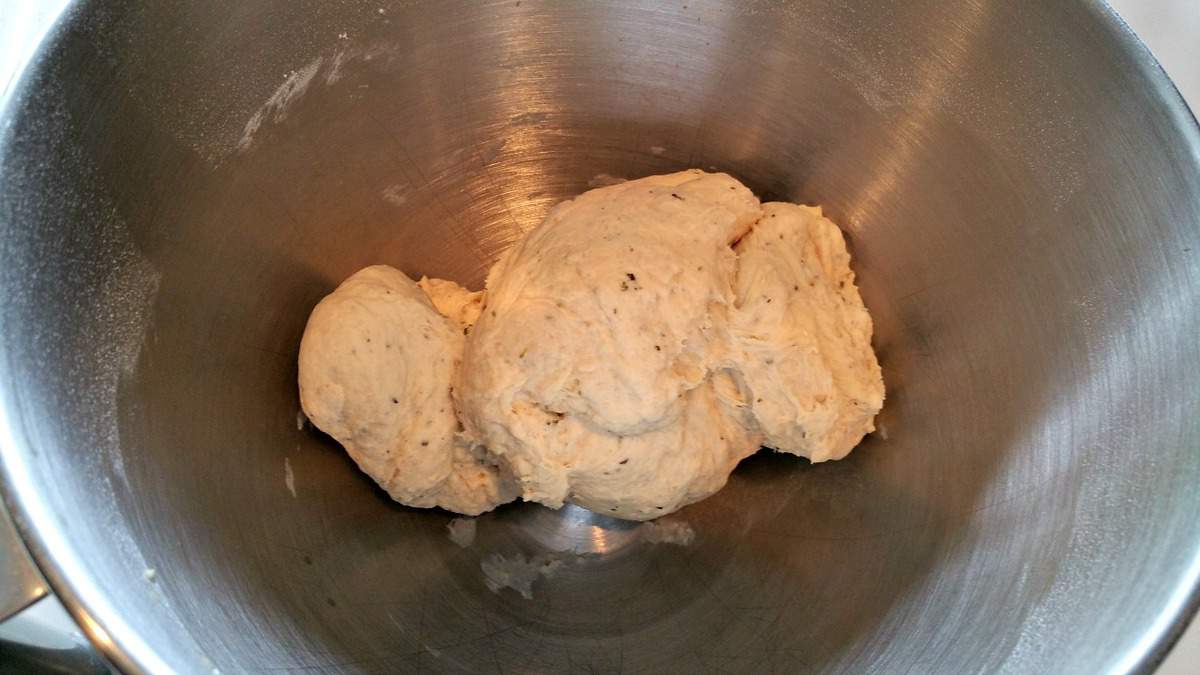 Step 5.  Punch, Knead & Rest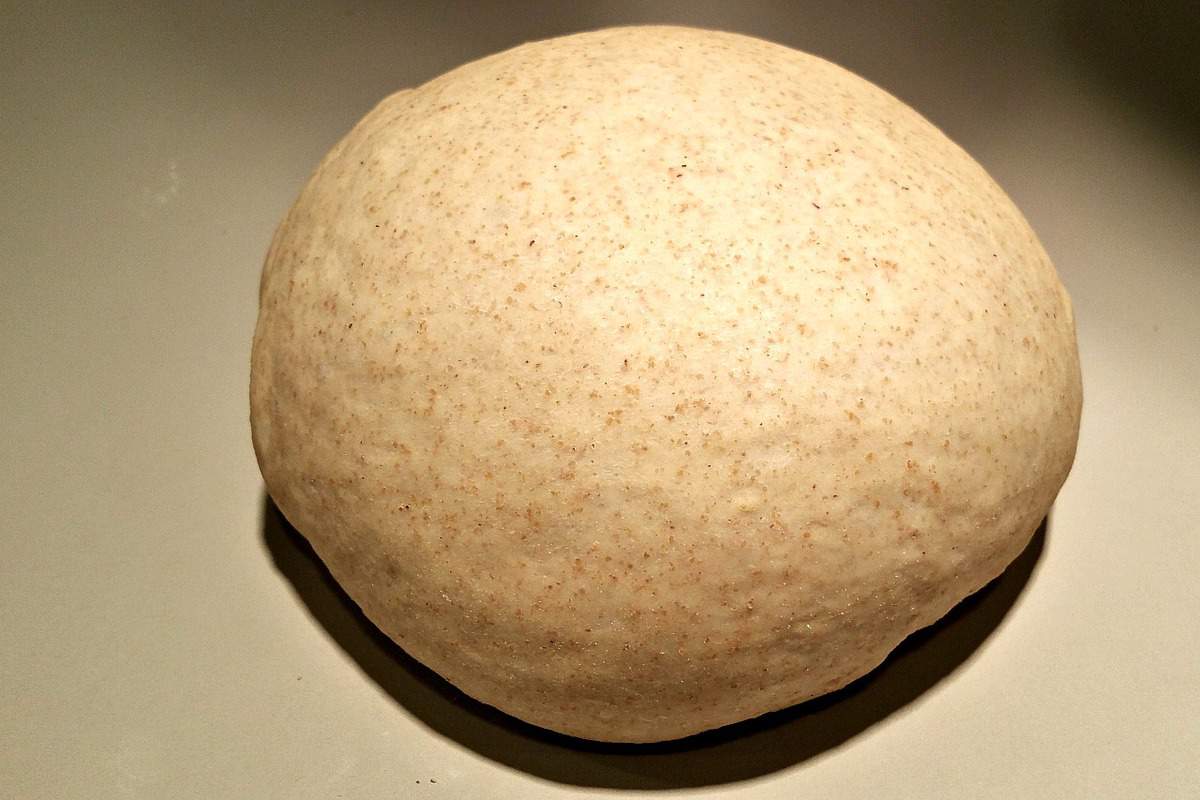 After the hour is up, remove the dough from the bowl and punch it down,  Now stretch the dough into a tight ball and cover it again to rest for an additional 10 minutes.
The dough is now ready for your pizza pan.
I hand stretch my dough into shape and never use a rolling pin.  Using your fingers to gently stretch the dough outwards from the center accomplishes the same thing and you have a lot more control.
Hand tossing?  If you think you've got what it takes.......go for it!    And send me the YouTube link.....:)
Honestly I don't even try anymore.  There's a whole new skill set involved in learning how to toss dough, and I know I don't have it, and honestly,.....I just want to eat it - not play with it!  lol
Step 6:  Toppings and Bake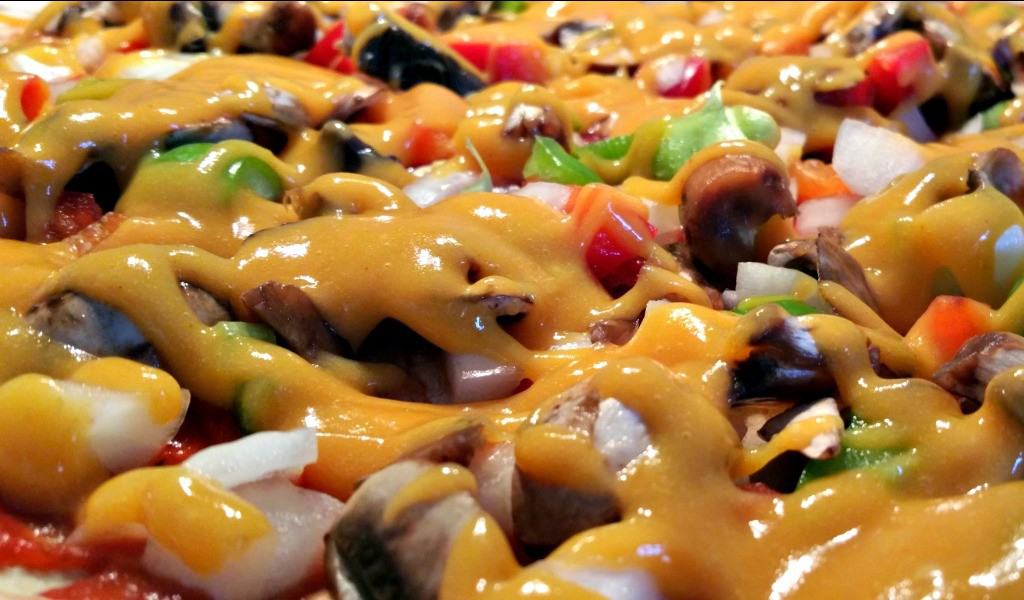 Once your dough has taken shape and you stretch it onto your pizza pan - I usually place it in the oven BEFORE adding any toppings to allow it to rise a little bit more, and to start preheating my oven.
Set it to 500° F and set your timer for 5 minutes,
Carefully remove your dough after 5 minutes and apply your favorite sauce.  My favorite is one I've been making for years.  I'll post a link to my Ultimate Fat Free Pizza Sauce here.  
The toppings are completely up to you.
Spinach?  Why not.  Artichoke Hearts?  Sure thing.  Onions are a must have on mine, Red Bell Peppers too.  And the wife has to have Mushrooms - the more the better.
In New Mexico, Green Chile Pizza is very popular, so use whatever you have on hand or like.  The sky's the limit.
And cheese?  Sorry - not on THIS pie!
Although I have used my Amazing Vegan Cheese Sauce before and it was pretty nummy.
So that's it....my long and drawn out procedure for making MY kind of homemade Vegan Pizza.  It truly does take some time, and patience, but it is STILL, hands down the BEST pizza I have ever tried.
Enjoy.

Print
Herb Crusted Pizza Dough
Author:

Prep Time:

1 hour

Cook Time:

10 minutes

Total Time:

1 hour 10 minutes

Yield:

1

pie

1

x

Category:

Main

Cuisine:

American
---
Description
Here it is - my absolute FAVORITE Herb Crusted Pizza Dough. It take a little time, but the results are out of this world good!
---
1 cup

Warm Water

1

Tbs Sugar

2 ¼ tsp

Active Dry Yeast

1 tsp

Salt

1 tsp

Italian Seasoning

⅕ tsp

Garlic Powder

2 ½ cups

Bread Flour ((can sub up to

1 cup

with Whole Wheat))
---
Instructions
Mix warm water and sugar together and add yeast.
Allow to proof for 10 minutes
Add salt and seasonings and mix well
Add flour and mix until a dough ball forms
Knead with stand mixer for 5 minutes or by hand for 15 minutes
Dough will be ready when it pulls away from sides or becomes soft and elastic
Cover with saran wrap and towel and allow to rise in warm oven for 60 min
Punch down and form into tight ball
Cover and rest for 10 minutes
Stretch dough to fit pizza pan and place in oven for 5 min
Preheat oven with the dough to 500 degrees
After 5 minutes, remove pizza dough and add sauce and toppings
Bake in 500 degree oven for 10 minutes
Finish on preheated pizza stone for 1 minute if desired
---