Well….not exactly meatloaf.   Maybe vegan veggie loaf?  Rice and bean loaf?
None of these terms really get your mouth a waterin' do they?
How about HIPPIE LOAF?  As someone raised in the '70's I can surely relate 🙂
Because really that's what it's called.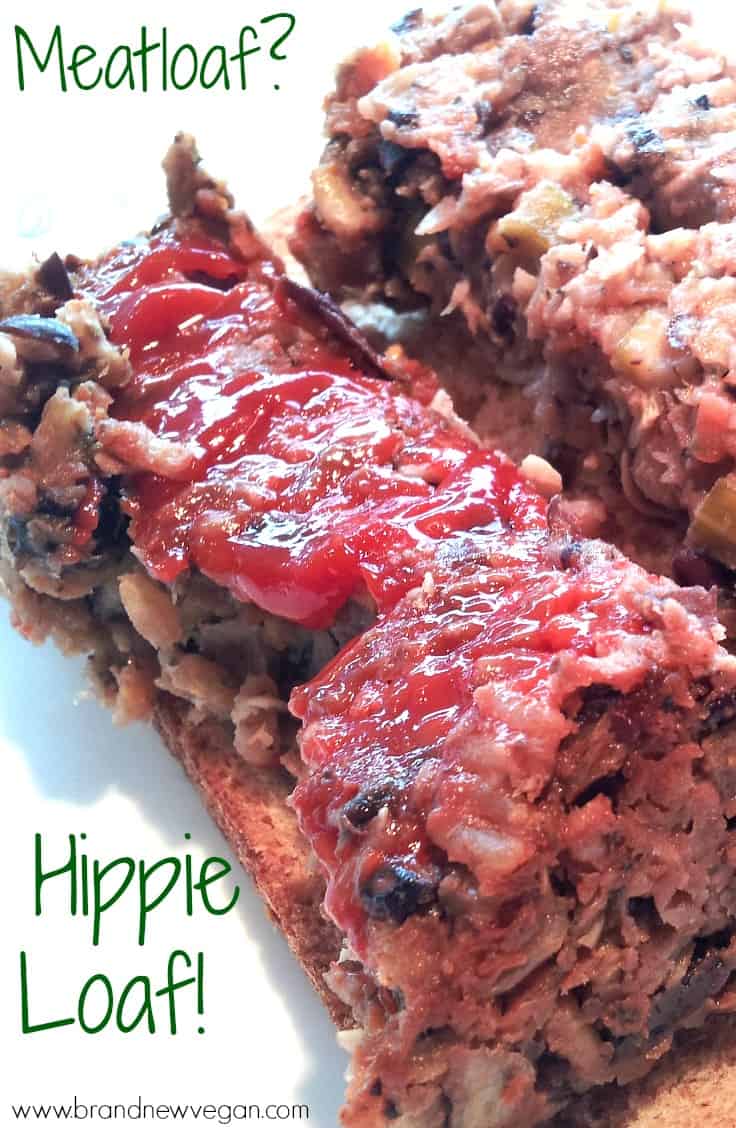 And I want to thank Lindsay Nixon over at Happy Herbivore for coining the term "Hippie Loaf",  and for the most excellent recipe.
Like I said, I DID grow up in the '70's and meatloaf sandwiches were definitely part of my upbringing.  I can still remember mom with both hands in the bowl squishing all the ingredients together.  Only today thee's no meat, no eggs, and no dripping grease to content with.
This version actually reminds me a lot of Jeff Novick's Bean Burgers. 
Black beans, rice, tomatoes, and spices, with the addition of a few veggies baked in a meatloaf pan until golden brown and firm.  And don't forget the ketchup.  Yum.
Hippie Loaf
The instructions are pretty easy, and I'll admit I cheated and broke out the food processor.  If you don't have one, maybe pull out the shredder or mandolin because you want these veggies chopped up pretty fine.
I started with the carrots, onion, and garlic and pulsed them down pretty fine.  Add these to a large bowl.  And I do mean large - you'll need it later.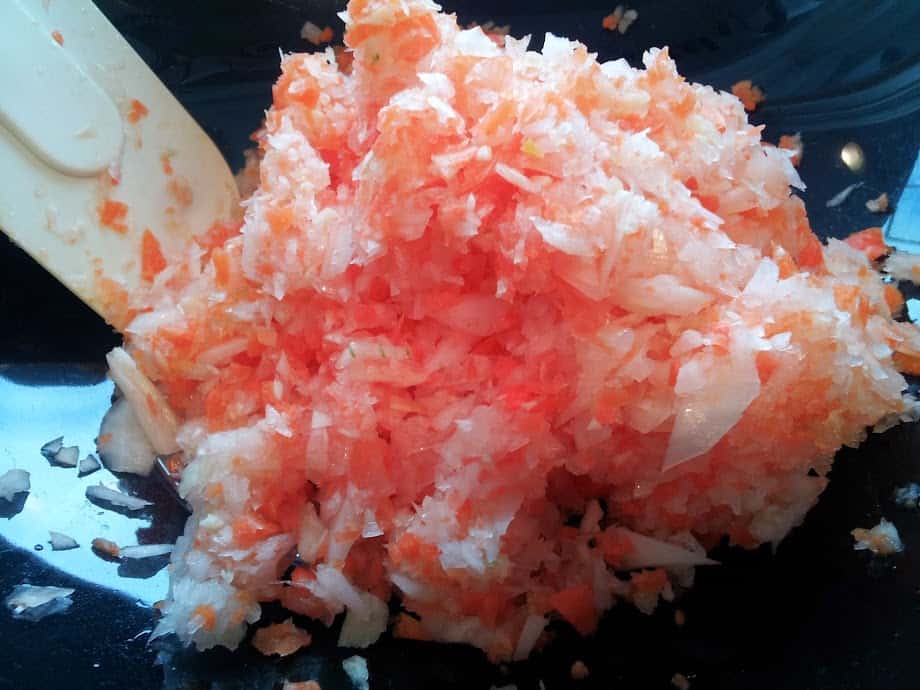 Next I chopped up the celery pretty small, stirring everything together with my spatula.  Than I added the chopped mushrooms and rice.
To make this as easy as possible, I used a package of Boil in Bag Brown Rice.  It's quick (like 10 minutes) and easy, with very little leftover (you'll only need a cup).  If you happen to have white or brown rice already made up in the fridge - awesome.  If not - Success Boil in Bag - that's the ticket.  I should mention that in the original recipe Lindsay calls for a cup of cooked Quinoa.  I substituted rice because that's all I had.  Feel free to try it both ways.
Next in a separate bowl I drained and rinsed 1 can of low sodium Black Beans.  Smash them up pretty good with a potato smasher and stir this into the big bowl of veggies.
Next add the italian seasoning, and whole wheat flour.  Again the recipe called for brown rice flour.  Brown rice flour?  I don't know about you but that's not something that's ordinarily on my grocery list.  Use what you got.
Finally add the ketchup and soy sauce.
Now for the fun part, stick both hands in there and go to town.  Squish, squish, squish.  Mix it all up together real good. Yeah it's kinda gooey, but it washes off 🙂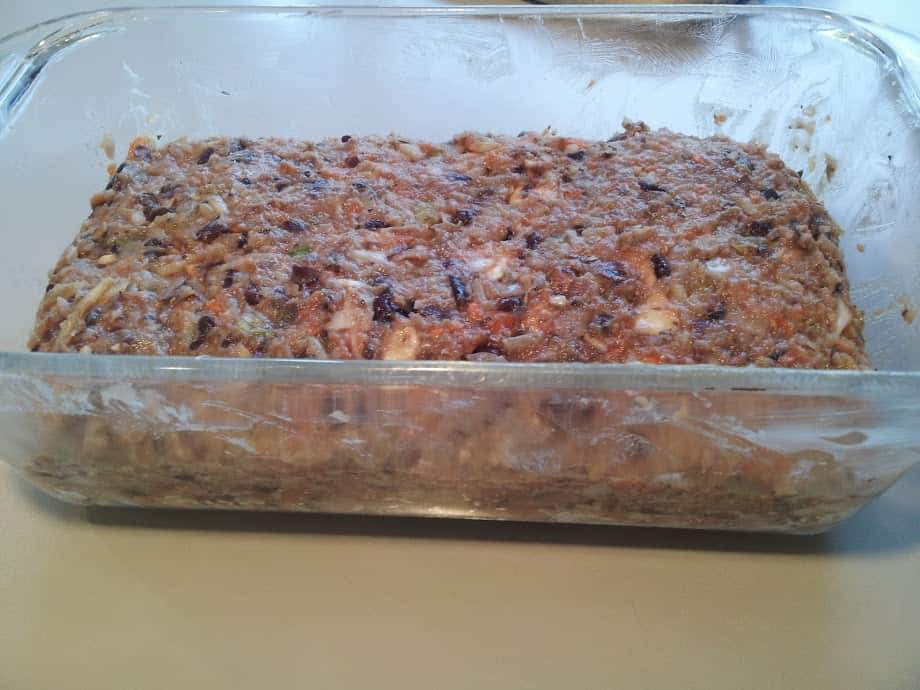 For those of you that follow a McDougall/Esselstyn no added oil diet - I'm with ya.  But I really think you want to grease your pan somehow or it may stick.  Even Lindsay says to grease your pan.  I used just a tiny bit of Crisco and smeared it around until it was lightly covered.
Now scrape your mixture into the pan and pat it down with your rubber spatula.
Bake at 350 degrees for 1 hour.  I pulled mine out at about 50 minutes or so and spread a thin layer of ketchup on top before baking the last 10 minutes.  You know, just like mom used to.
I'll have to admit, this was GOOD and I will definitely make it again.  I love sandwiches and this makes one mean sandwich as you can see in the picture.
And if you get this sudden urge to pull out a few Grateful Dead albums during dinner -
You can thank Lindsay for that 🙂
Print
Meatloaf Monday - Hippie Loaf
Author:

Prep Time:

30 minutes

Cook Time:

1 hour

Total Time:

1 hour 30 minutes

Yield:

4

1

x

Category:

Main

Cuisine:

American
---
Description
Meatloaf sandwiches were definitely part of my upbringing. This vegan hippie loaf will definitely satisfy the craving.
---
1

can Black Beans ((150z))

1

Onion ((diced))

3

cloves Garlic ((minced))

1

Carrot ((minced))

2

ribs Celery ((minced))

1 cup

Mushroom ((diced))

1 cup

Cooked Brown Rice

3

Tbs Whole Wheat Flour

1

Tbs Italian Seasoning

2

Tbs Ketchup

2

Tbs Low Sodium Soy Sauce
---
Instructions
Preheat oven to 350 degrees.
Lightly grease a meatloaf/bread pan and set aside
Chop and mince all veggies fine and add to a large bowl
Add chopped mushrooms and rice.
Drain and rinse the Black Beans and mash with a potato masher.
Add beans and remaining ingredients to bowl and mix well by hand.
Scrape into pan and pat down firmly with spatula
Bake for 1 hour until browned on outside
Allow to cool and firm for 15-20 minutes
---
Notes
Optional: You can an lightly coat the top with ketchup before finishing the last 10 minutes of baking.