Today's recipe is brought to you by ... my daughter, who was craving her favorite treat from the mall. It only takes a few, simple pantry ingredients to make these yummy, Homemade Vegan Soft Pretzels.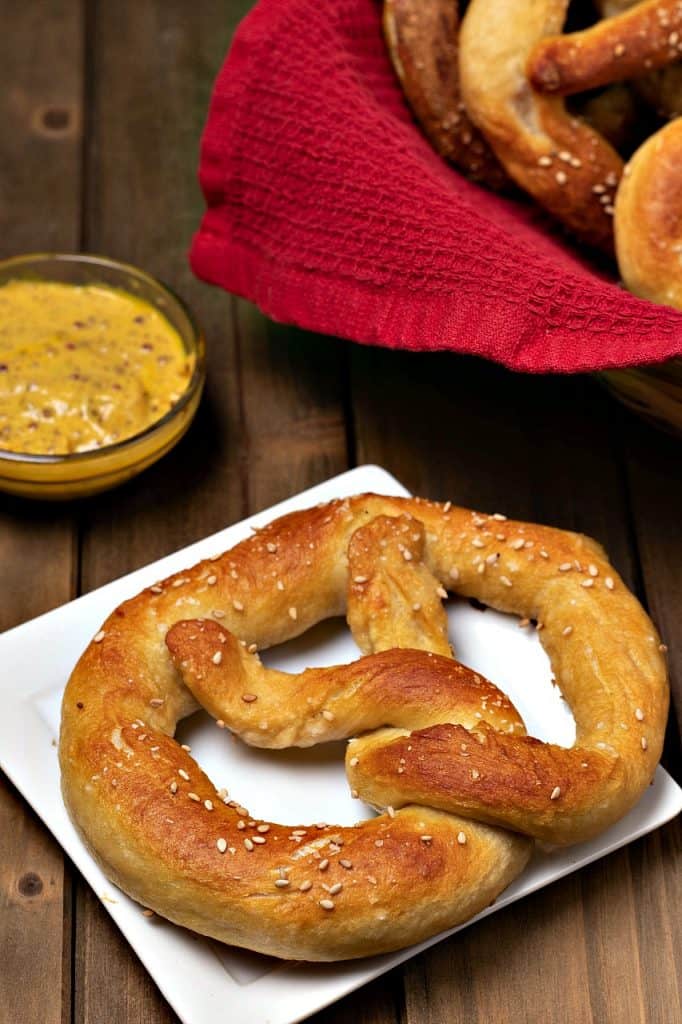 I know, not the healthiest recipe in the world, but, they are fun to make and are absolutely delicious. And since we're all cooped up in quarantine together and everyone seems to be baking right now, why not?
You remember these, don't you?
Those big, soft, chewy pretzels you would buy in the mall or maybe your favorite movie theatre? Dipped in some spicy mustard or cheese sauce?
Yum!
Truth be told, I was thinking of making some kind of mustard sauce this weekend as I have a lot of kale to use and I thought that would make a good sauce for it. But then she mentioned pretzels and well, pretzels won.
We'll get to the kale though, promise.
But in the meantime, providing you have flour and yeast in your pantry, this is a fun snack to make that even the kids will like.
As far as the questions I know I'm going to get .....
I'm using King Arthur's brand All-Purpose Flour.
I don't know if you can sub GF Flour
I don't know if you can sub whole wheat flour.
I used white flour, and that worked beautifully.

So, on to the pretzel making.
Homemade Vegan Soft Pretzels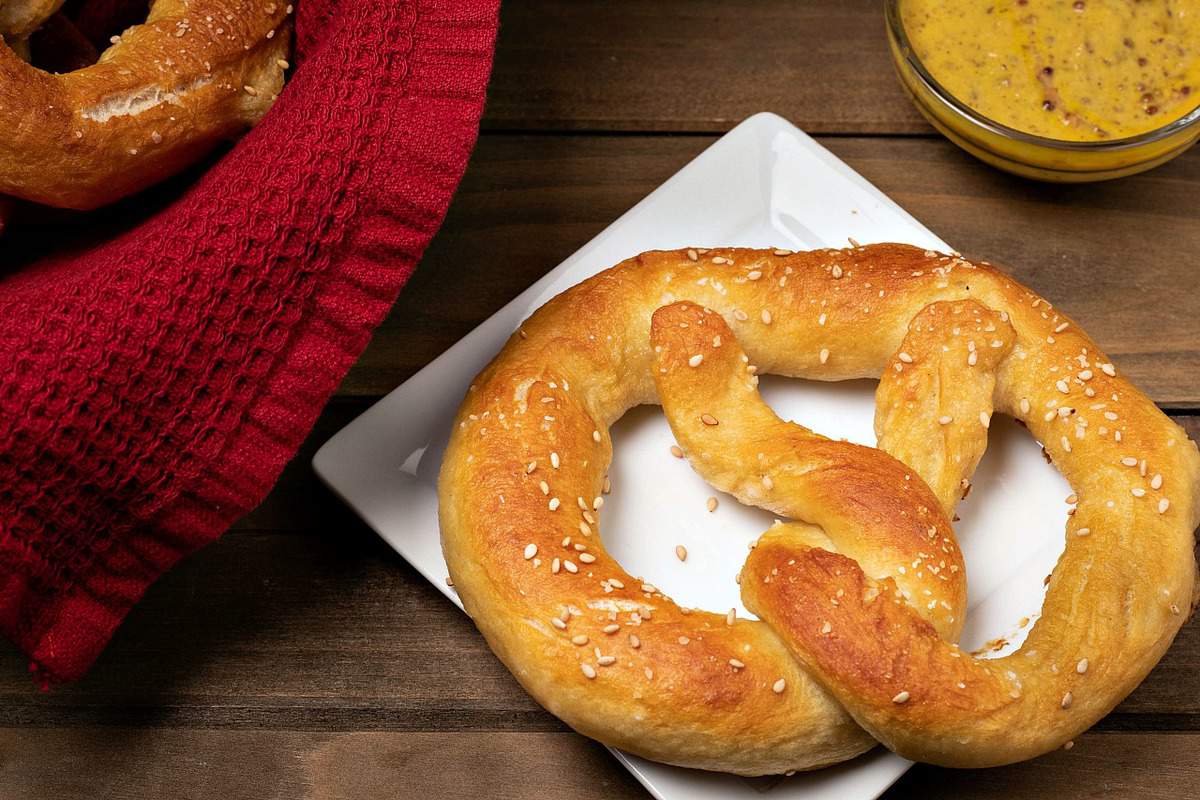 Start by activating your yeast.
You'll need 1 cup of very warm water. I usually start with cold water and microwave it for about 45 seconds to get the right temp. Stir in the brown sugar and the yeast and set it aside for 10 minutes. If it foams up, you're good to go.
To mix the dough:
I used a stand mixer with a dough hook. You can mix this by hand, but it's a fair amount of work.
To the bowl of my stand mixer, I mixed the flour and salt on low speed, then slowly added my yeast water. Mix until the dough forms a ball, and then slightly increase the speed to knead for about 1-2 minutes.
Cover the dough and let it rise in a warm place for 1 hour.
Note: I use my oven. I turn on the heat (any temp) and wait exactly 1 minute, then turn it off. It's the perfect temp for the dough to rise.
While the dough is rising:
We can prepare our baking soda bath. To a large pot, I added about 8 cups of water and ⅓ cup of baking soda. This is what gives pretzels their distinctive brown color and flavor.
Whisk until the baking soda dissolves, and then bring it to a steady simmer.
You can also preheat your oven to 450° F. I covered my cookie sheet with my Silpat, but parchment paper might also work.
To form the pretzels:
Divide the dough into 6 equal portions.
Roll each piece out into a 24" log.
Make an upside-down U shape.
Cross the ends
Twist once
Bring twisted ends up to rest on the top of the pretzel.
Press to seal.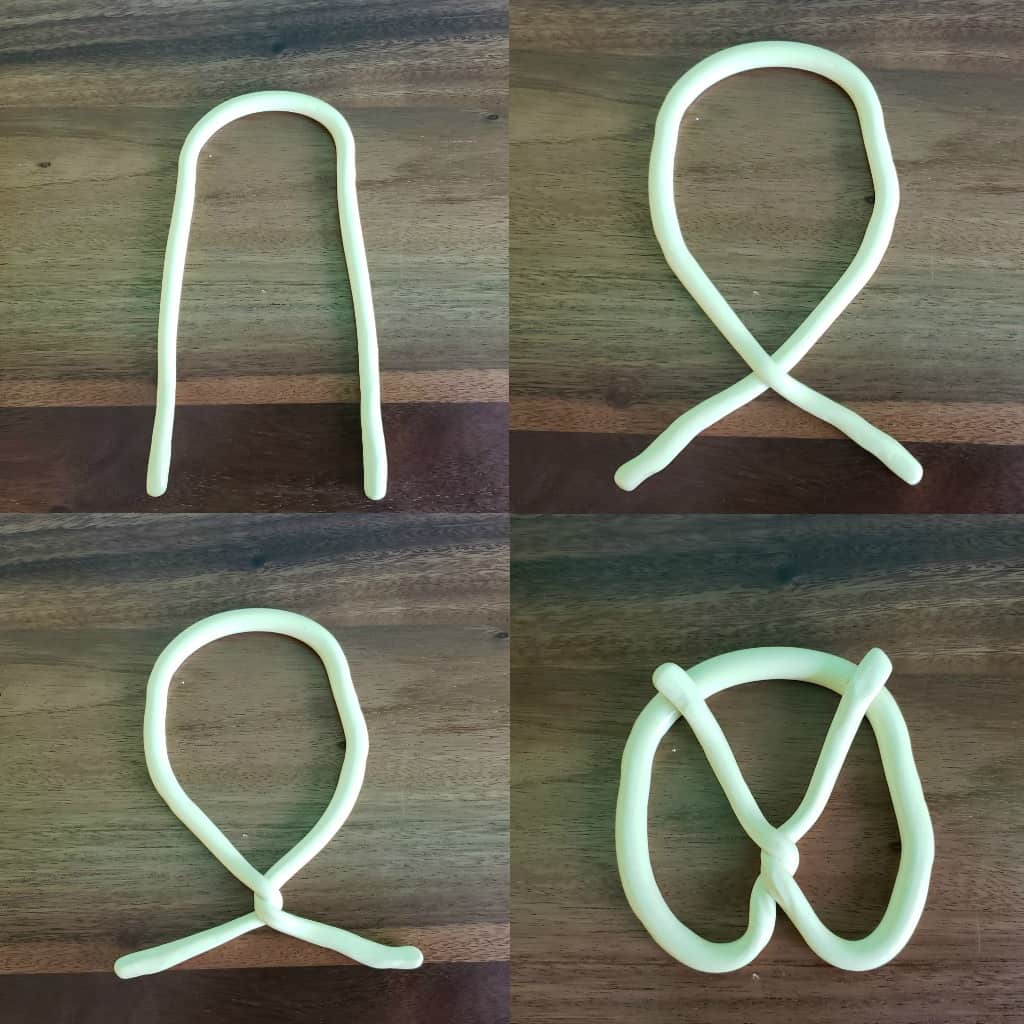 No that's not dough, I forgot to take photos as I was shaping them. So you get therapy putty instead 🙂
Place each formed pretzel on your baking sheet and keep covered with a damp towel.
Once all your pretzels have been made, carefully drop 1 or 2 at a time into the simmering baking soda bath for 30 seconds to 1 minute. Carefully remove them with a slotted utensil to drain and place back on the cooking sheet.
I made an eggless vegan egg wash by mixing unsweetened almond milk with a little maple syrup. Brush this onto the pretzels and then lightly sprinkle on your favorite toppings.
I used sesame seeds and a course, kosher salt. You can try garlic, dried onion, whatever you like.
Bake for 10-15 minutes until they are a deep, rich brown. Remove to a rack to cool.
I highly recommend my Amazing Vegan Cheese Sauce as a dipping sauce as well as your favorite spicy mustard.
Happy pretzel-making and I'll see you next week.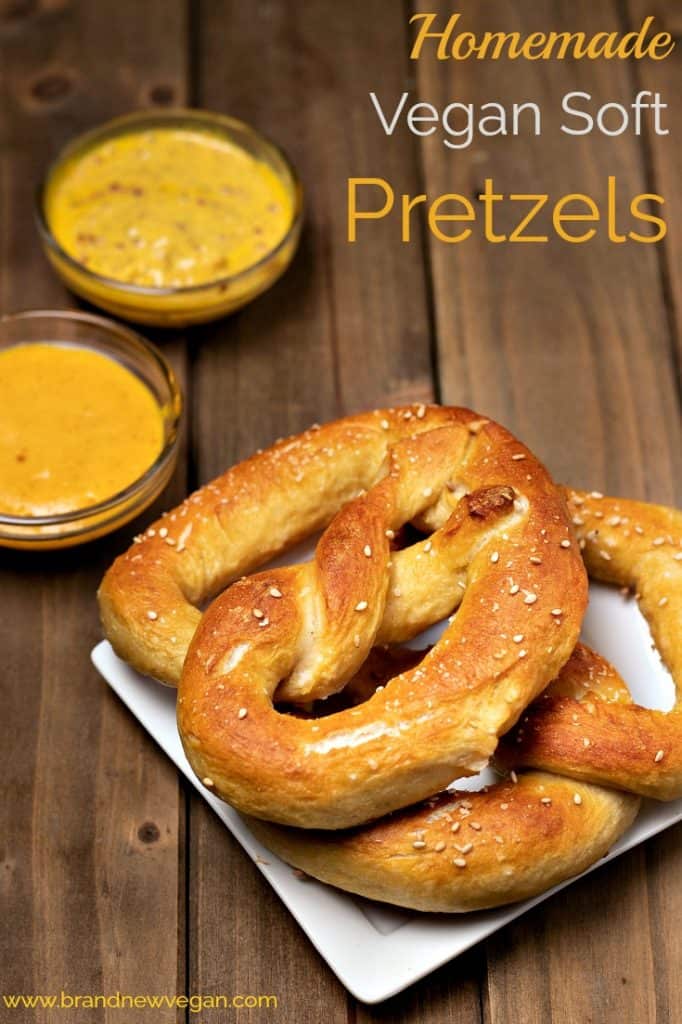 Print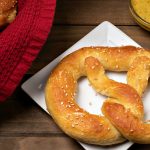 Homemade Vegan Soft Pretzels
Author:

Prep Time:

90 min

Cook Time:

15 min

Total Time:

1 hour 45 minutes

Yield:

6

Soft Pretzels

1

x

Category:

Snack, Appetizer

Method:

Oven

Cuisine:

American, Vegan
---
Description
It only takes a few, simple pantry ingredients to make these yummy, Homemade Vegan Soft Pretzels.
---
1 cup

warm water

2

Tbs brown sugar

2 tsp

active dry yeast

1 tsp

salt

2 ¾ cups

AP flour

8 cups

water

⅓ cup

baking soda

2

Tbs unsweetened almond milk

1

Tbs maple syrup
kosher salt to taste
---
Instructions
Whisk brown sugar and yeast in warm water.  Wait 10 minutes for yeast to bloom
Mix flour and salt
Slowly pour the wet ingredients into the dry and mix until a stiff dough ball forms
Knead 1-2 minutes.
Cover and let rise 1 hr in a warm place.
Dissolve baking soda in 8 cups water and bring to a simmer
Preheat oven to 450° F oven and line cookie sheet with parchment or silpat
Divide dough into 6 portions
Roll each ball into a 24" log, and then form into pretzels
Drop pretzels into water bath for at leatst 30 seconds to 1 minute
Remove carefully and place on cookie sheet, repeat.
Brush pretzels with eggless wash and sprinkle on kosher salt
Bake 10-15 minutes or until browned
Serve with vegan cheese sauce, mustard, or eat plain.
---
Notes