Well, I did it.  I finally took advantage of those crazy Black Friday Deals at Amazon and bought myself an Instant Pot!  And for my very first recipe?  I took my most popular recipe this month and converted it!  It was SO easy, and fast too.  For those of you who have Instant Pots, here is my Instant Pot Veggie Stew.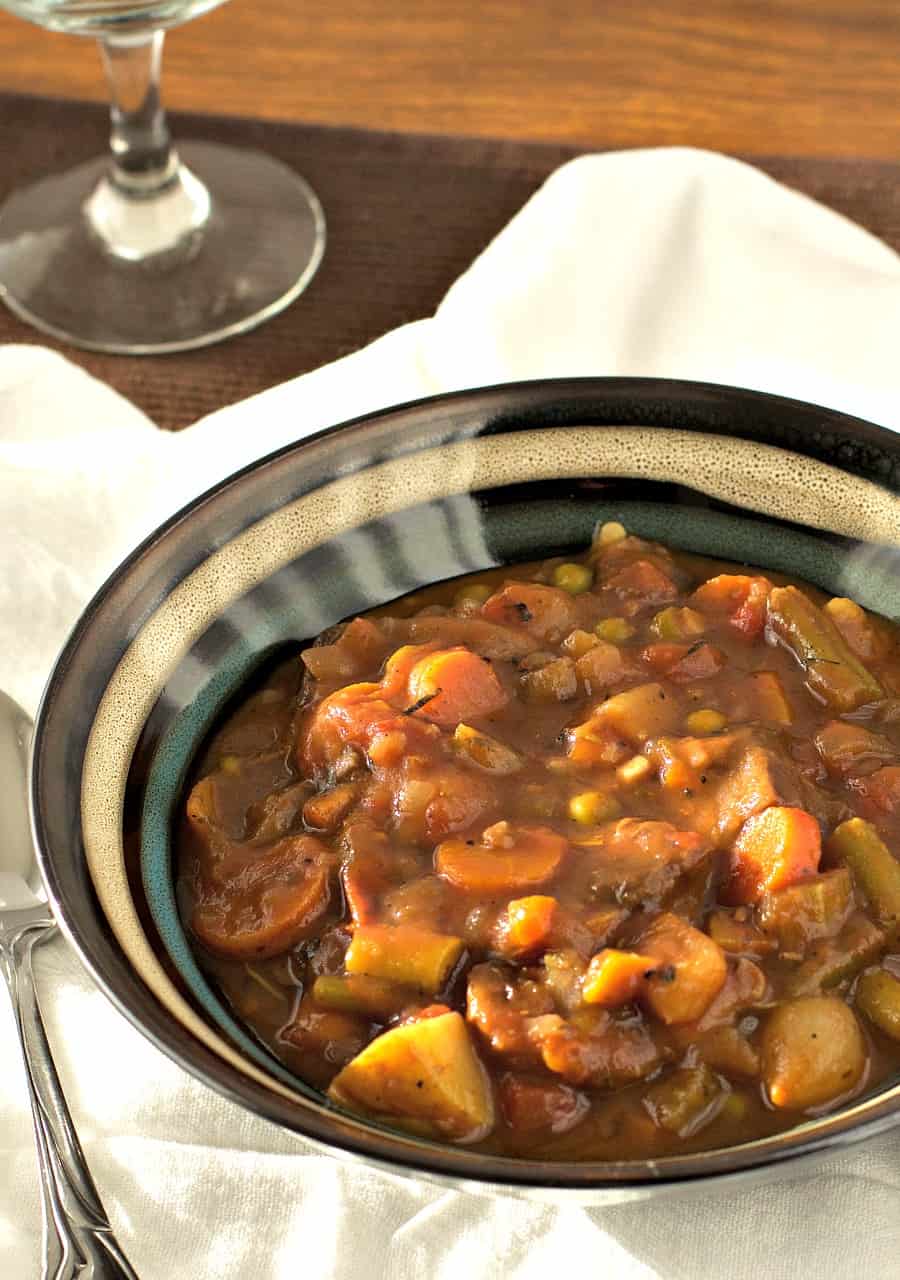 For those of you who don't know - an "Instant Pot" is an electric pressure cooker that makes cooking many of our vegan recipes a cinch.  One pot, set the program, and walk away.  It will beep when it's done!
You can seriously cook homemade beans, DRIED BEANS, in just 30 minutes from start to finish, and with NO SOAK time either.  You can bake whole potatoes, make instant soups or stews, chili, rice - you name it.
The one I got is a 6-1 meaning it's a slow cooker, pressure cooker, rice cooker, steamer, warmer, and it even sautés.
Bye bye crockpot and rice cooker - you just got replaced!
I'll leave a link here if anyone is interested.  Keep in mind this is an Affiliate Link to Amazon so I will receive a small commission if you buy one - but at no extra cost to you.
Every little purchase you make goes to help support this website in spreading the plant-based message!
Thanks!
Instant Pot Veggie Stew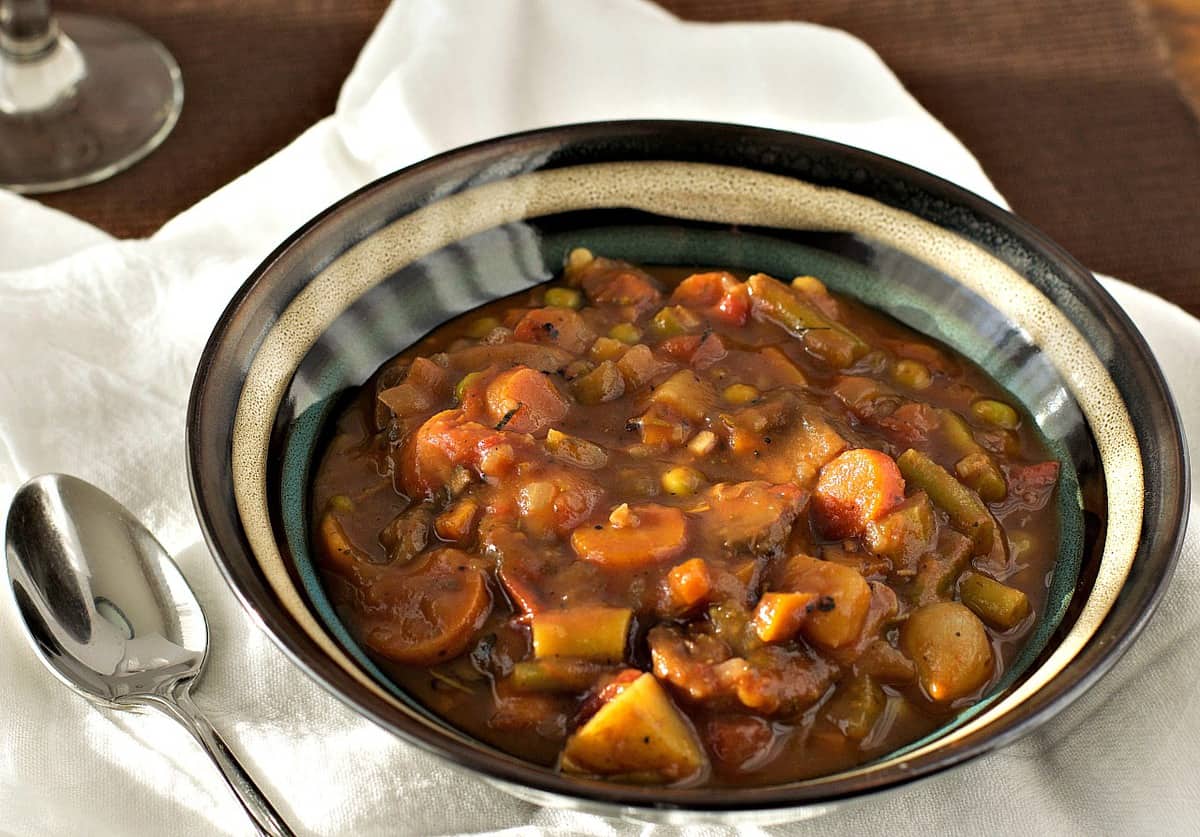 This recipe is a copy of my Hearty Vegetable Stew only modified for the Instant Pot.  I did make a few changes to the original recipe but either version tastes great.
First press the SAUTE button on your IP and change the setting to LESS.
Mince ½ an onion, 1 carrot, and 1 celery stalk very fine and sauté in ¼ cup of low sodium veg broth.  When the color turns translucent, add 2 cloves of minced garlic and stir well.
Add 8 oz of White Button Mushrooms, and 8oz of Sliced Portabella Mushrooms, chopped into large pieces.  Season with 1 teaspoon of Italian Seasoning, 1 teaspoon of Rosemary, and ½ teaspoon of Rubbed Sage.  Sauté the mushrooms until all the liquid has evaporated and the onions begin to brown and stick to the bottom a little.
When the veggies are just beginning to stick, leaving little brown marks on the bottom of the pot, press the CANCEL button and add ½ cup of Red Wine to deglaze.  Using a wooden spoon or spatula, be sure and scrape the bottom clean to incorporate all those browned little goodies into the stew.
Add a 14oz can of diced tomatoes and an 8oz can of Tomato Sauce and stir to mix.
Add 3 cups of Low Sodium Veg Broth.
Chop 2 carrots, 1 celery stalk, 1 cup of fresh green beans, and 2 Yukon Gold Potatoes and add to the stew.
Season with 1 Tbs Balsamic Vinegar, ½ teaspoon salt, ½ teaspoon Kitchen Bouquet, and ¼ teaspoon black pepper.
Make sure the sealing ring is securely attached to your lid and attach the lid to your Instant Pot.
Make sure it is locked in place.
Also make sure the Steam Release Handle is set to SEALING.
Press the MANUAL button and set the timer for 15 minutes.
One the timer has counted down, place a towel or cloth over the steam release valve and very carefully release the steam.
You can also let it release naturally but this will take a while....your choice.
But if you do it manually, please BE CAREFUL as the steam is VERY HOT!
NOTE:  Always make sure the FLOAT VALVE is in the DOWN position before removing the lid.
Finally, add ¾ cup of Pearl Onions, and about 3-4 oz of Frozen Peas.  (SteamFresh sells 4 pack singles)  and stir well.  The heat of the stew is enough to cook the veggies.
Thicken by mixing 2 Tbs Corn Starch with 2 Tbs Water to make a slurry and stirring it into the stew.
Serve with your favorite crusty bread and enjoy!
Stay tuned for even MORE Instant Pot Recipes from Brand New Vegan !!!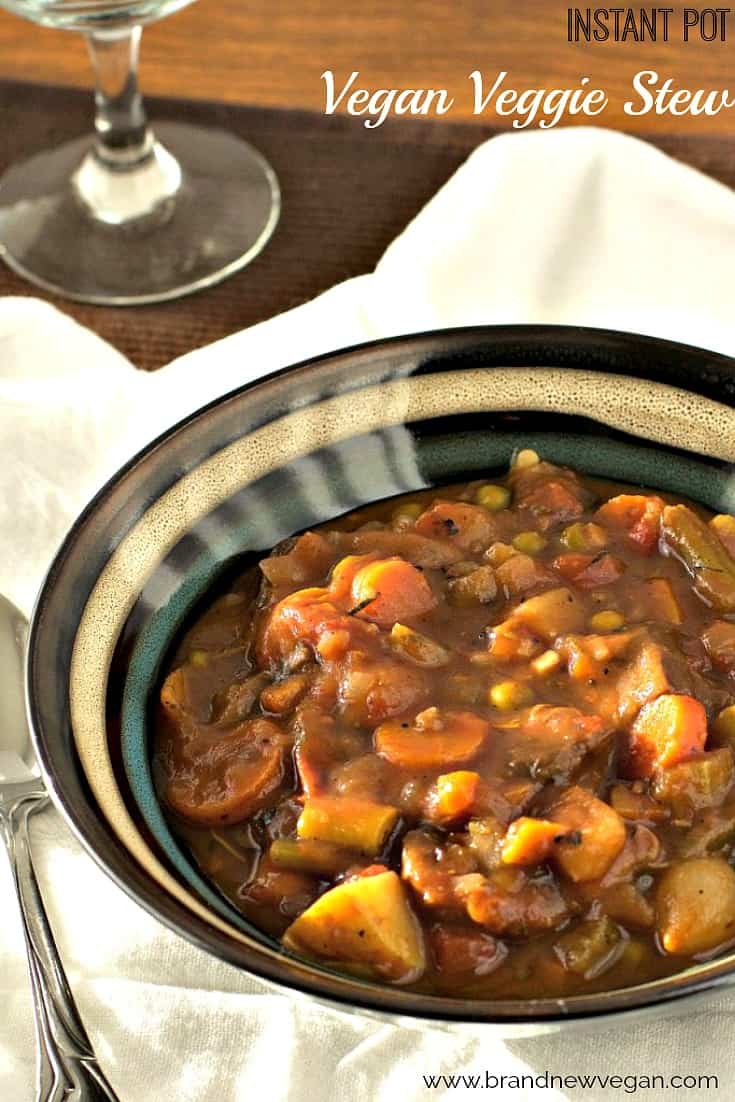 Print
Instant Pot Veggie Stew
Author:

Prep Time:

30 minutes

Cook Time:

15 minutes

Total Time:

45 minutes

Yield:

8

1

x

Category:

Instant Pot

Cuisine:

American
---
Description
I took my most popular recipe this month and converted it for Instant Pots! Love a good rich, hearty stew? Try my Instant Pot Veggie Stew !
---
½

med Onion ((minced))

1

stalk Celery ((minced))

1

med Carrot ((minced))

2

cloves Garlic ((minced))

¼ cup

Vegetable Broth ((low sodium))

8 oz

White Button Mushrooms

8 oz

Portobello Mushrooms ((chopped))

1 tsp

Italian Seasoning

1 tsp

Rosemary

½ tsp

Rubbed Sage

½ cup

Red Wine

1

can Diced Tomatoes ((

15oz

))

1

can Tomato Sauce ((

8oz

))

3 cups

Vegetable Broth ((Low Sodium))

2

med Carrots ((diced))

1

stalk Celery ((diced))

1 cup

Green Beans (frozen or fresh) ((diced))

2

med Yukon Gold Potatoes ((diced))

1

Tbs Balsamic Vinegar

½ tsp

Salt

½ tsp

Kitchen Bouquet

¼ tsp

Ground Pepper

¾ cup

Pearl Onions

4 oz

Frozen Peas

2

Tbs Corn Starch
---
Instructions
Set your IP to SAUTE mode and select LESS
Saute first 4 ingredients (onion, celery, carrot, and garlic) until soft and translucent
Add Italian Seasoning, Rosemary, and Sage
Add mushrooms and saute until all liquid has evaporated
(It's ok if veggies slightly brown and stick a little)
Deglaze pan with Red Wine, scraping up any bits on the bottom.
Add Tomatoes, Tomato Sauce, and Vegetable Broth
Add all remaining veggies except Pearl Onions and Peas
Add seasonings
Attach lid to Instant Pot,
Ensure Release Valve is set to SEALING,
Press MANUAL MODE and set timer to 15 minutes
Once finished, cover steam release with towel and CAREFULLY release all pressure
Remove lid and stir in pearl onions, peas, and cornstarch slurry
Stir and serve
---