I love stews.  They're so thick and filling, and I make sure mine is chock full of good healthy starches and veggies.
Like this recipe for my Hearty Vegetable Stew.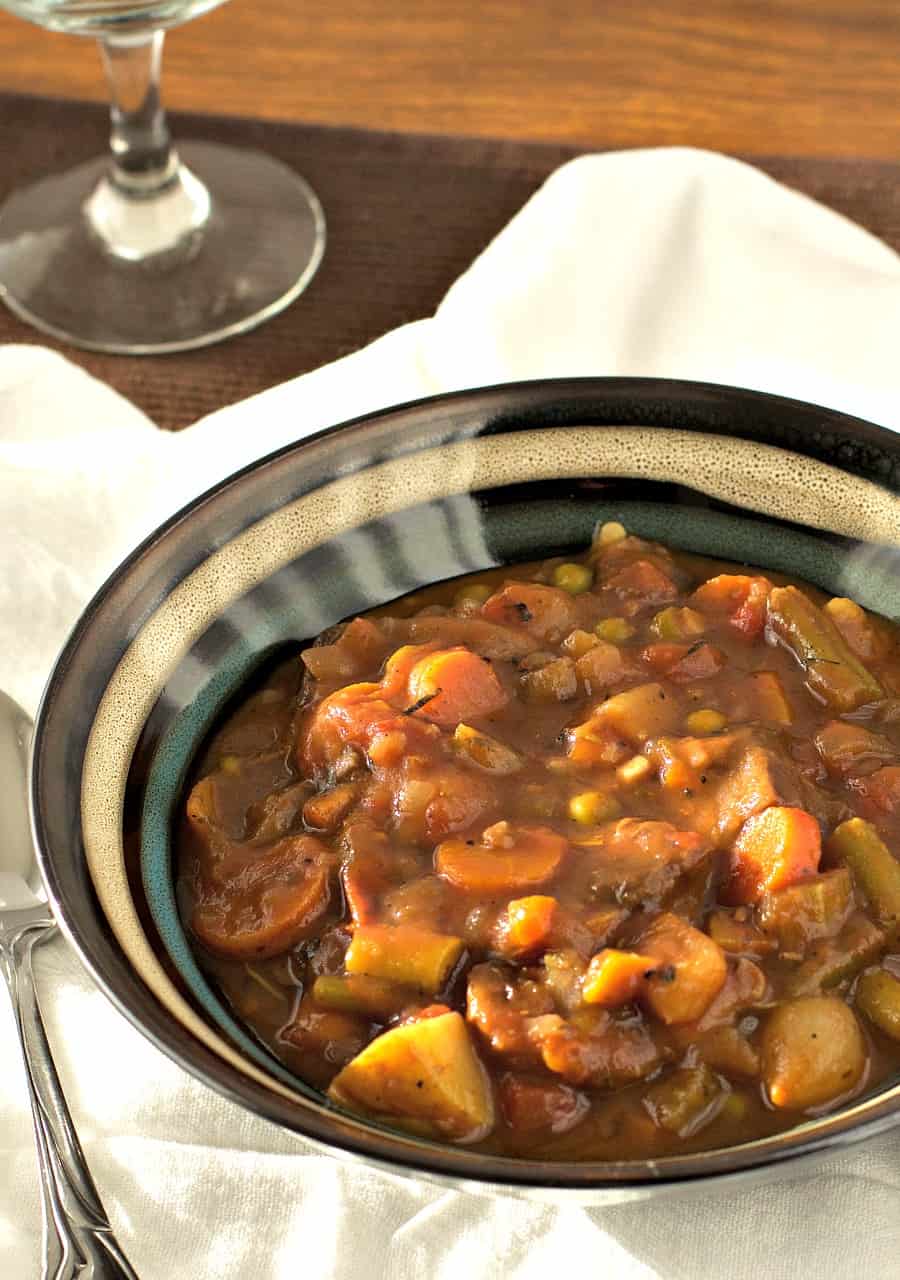 I normally make a big pot of Chili to take for my work lunches, but yesterday I pulled this one out of the recipe folder, and boy am I glad I did!  I forgot how GOOD this was!
It has all the qualities I love in a great stew
Thick
Rich
Chunky
Hearty
Filling
Flavorful
It's also very low-fat and perfectly Vegan (of course).
In fact, as my kids would say,  this Hearty Vegetable Stew is the BOMB!
Pair it up with a nice, warm hunk of homemade bread, and you'll be thanking me later I promise you.
It may look like a lot of work, but honestly, it's worth it.
Hearty Vegetable Stew
I have made this several ways over the years, and since I just made this last night I thought I'd update the recipe, include a few new photos, and re-post it.
Many people have asked about leaving out the wine in my recipes, I think it adds a really rich flavor but if you cannot have wine, additional veggie broth or water will work as well.
Lastly, many of my non-US readers have asked about Kitchen Bouquet.  It is simply a browning sauce, mostly used for coloring.  I like the rich color it gives my food, with the bit of additional sweetness, but it is completely optional if you cannot find it or choose to leave it out.
I know Amazon has it, and I'll include a link here.  But I also found this on the web for possible substitutions….
Depending on what flavour would go with what you are making, you could try Worcestershire Sauce (vegan), soy sauce, instant coffee granules or Bisto gravy mix, though the latter will also thicken the item a bit.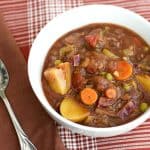 Hearty Vegetable Stew
A Hearty Vegetable Stew chock full of healthy starches, veggies, mushrooms, and a rich savory broth. Paired with a thick slice of homemade bread - perfect.
Ingredients
1

small

Onion

(minced)

1

clove

Garlic

(minced)

1

rib

Celery

(minced)

1

Carrot

(minced)

1/4

cup

Low Sodium Vegetable Broth

1

large

Onion

(chopped)

8

oz

Button Mushrooms

(sliced)

8

oz

Portobello Mushrooms

(sliced)

1

tsp

Dried Rosemary

1

tsp

Italian Seasoning

1/2

cup

Red Wine (or broth)

(but the wine really adds a good flavor)

3

cups

Low Sodium Vegetable Broth

1/2

tsp

Salt

1/4

tsp

Ground Pepper

1

can

Diced Tomatoes - no salt added

(15oz)

2

medium

Carrots

(chopped)

2

ribs

Celery

(chopped)

2

Yukon Gold Potatoes

(chopped)

1

can

Tomato Sauce

(8oz)

1/2

tsp

Kitchen Bouquet

(optional for color)

1

Tbs

Balsamic Vinegar

1

Tbs

Cornstarch

1

cup

Frozen Peas
Instructions
Mince the carrot, celery stalk, and small onion very fine.

Saute this mixture in 1/4 cup of veggie broth until the veggies are nice and soft.

Add the large chopped onion and continue cooking until softened.

It's ok if the liquid gets a little low – the brown bits add to the flavor.

Add the mushrooms and cook on medium high until they lose their liquid.

Season with the rosemary and italian seasoning.

Add the wine and deglaze any brown spots in your pan. (This is the good stuff!)

After a few minutes add the rest of the broth, the tomatoes and tomato sauce.

Add all your chopped veggies and turn the heat up to boil.

Add the rest of the seasonings – but not the cornstarch.

Once it's boiling, turn down the heat to low and add the peas.

Mix the cornstarch with a tablespoon of cold water and stir this in to thicken.

Simmer to desired consistency.