Sometimes the easiest (and cheapest) meals to prepare can also be the healthiest, like these Vegan Refried Beans.
Made completely from scratch using dried Pinto Beans, these will taste nothing like that stuff that plops out of a can, and without any of the fat, lard or sodium to boot.
And the best part? Besides the flavor? I made these in my Instant Pot in about an hour!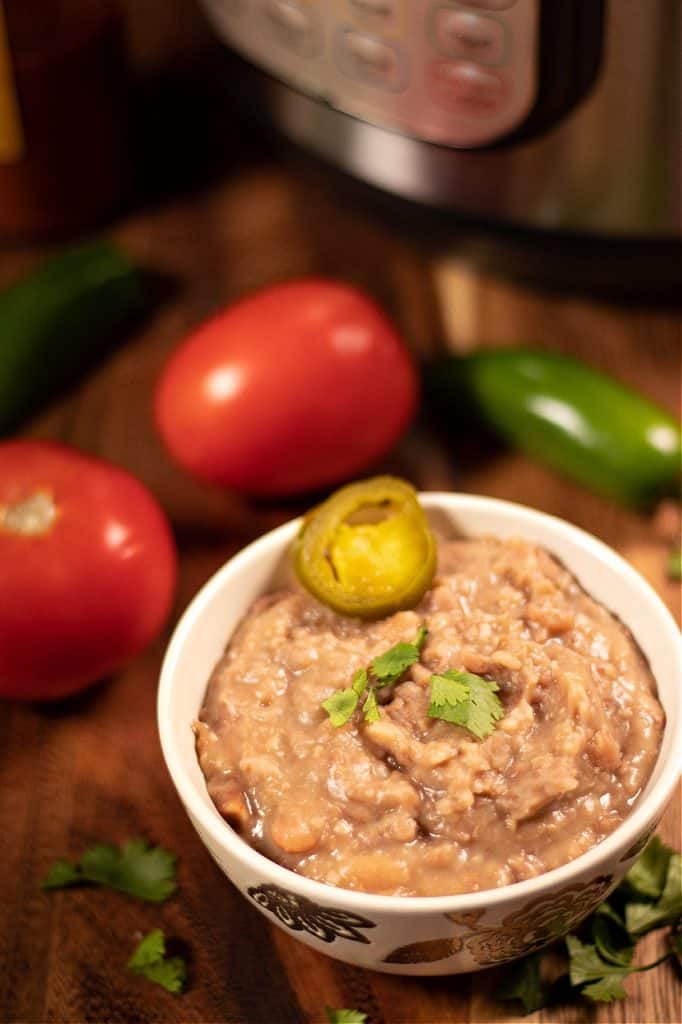 My Instant Pot Pressure Cooker is becoming quite the handy little kitchen tool.
I mean who would have thought? From dried beans with NO overnight soaking - to soft, creamy Vegan Refried Beans in less than 1 hour?
Amazing!
Last night's dinner was Bean Tostadas with a side of rice. These beans make perfect tostadas topped with diced tomatoes, jalapenos, green chile, lettuce, and cilantro. Whatever you like!
NOTE: For my Tostada Shells I bake or air fry corn tortillas until crispy. My air fryer is also a toaster oven, so I use the toast option to get perfectly crispy tostadas!
Simple, cheap, healthy, and you better believe it was tasty.
Vegan Refried Beans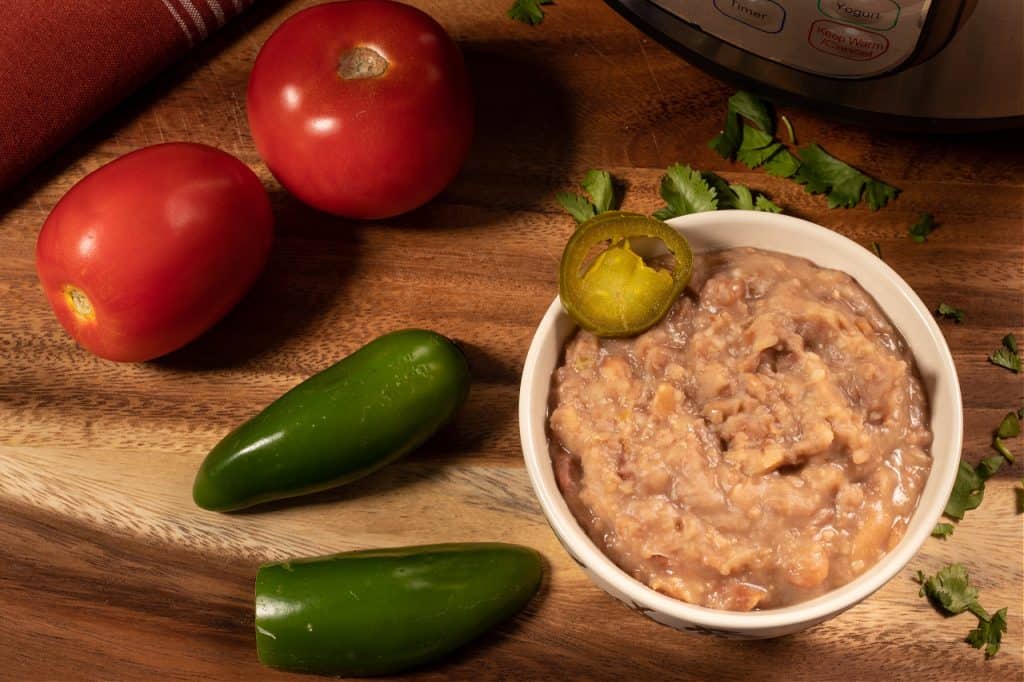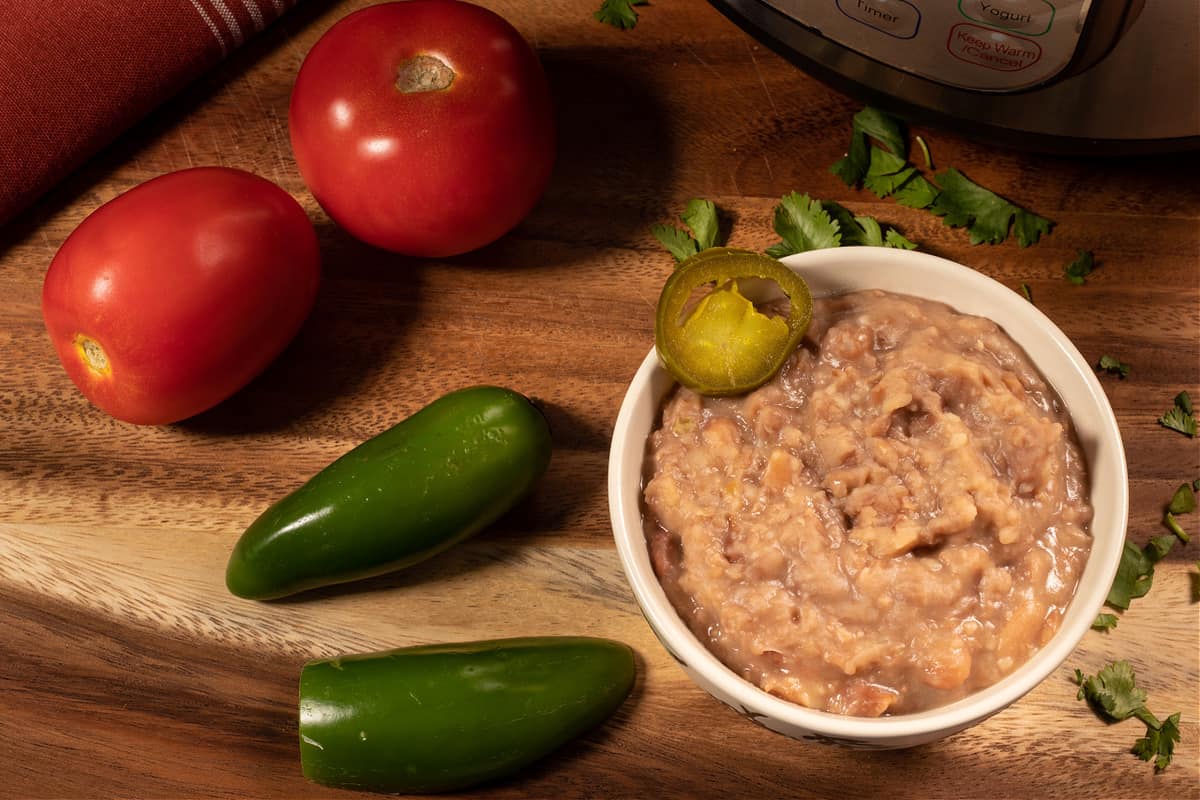 Roughly dice your onion and add it to your Instant Pot along with the jalapeno and garlic.
Note: Since I plan on using my Immersion Blender later, I don't worry about the size. But if you are using a fork or potato masher to blend your beans, a smaller dice might be more appropriate.
Chuck here, these links are Amazon Affiliate Links to the gadgets I used, if you're interested. Remember that as an affiliate, I do earn from qualified purchases but at no extra cost to you. Thanks!
Rinse your beans thoroughly and add them to the Instant Pot along with enough water to cover them by about an inch. The more water you add, the more you will have to drain out later BUT...make sure there is ENOUGH - or your beans will scorch and burn.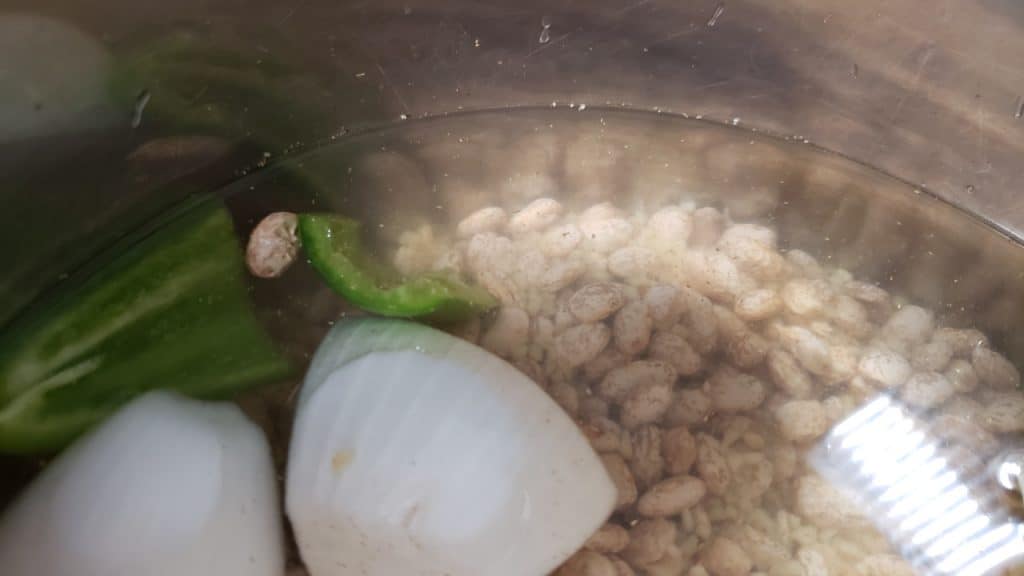 For seasoning, I add ½ tsp of ground cumin and that's it. Sometimes, I throw in a little Mexican Oregano too but that's up to you. Don't worry about salt at this point, we'll add a little bit later when they are done.
Attach the lid, make sure the valve is set to SEALING, and then press MANUAL. Set to 45 minutes and walk away. The IP will beep when they are done.
I got busy yesterday and didn't get back to these until they had finished for about an hour. In other words, the Instant Pot naturally vented all by itself and the little silver plug had already dropped. The beans were PERFECT. But if you are in a hurry, at least let them naturally vent for 10-15 minutes before you manually vent the remaining pressure. Remember the steam will be hot so be careful.
There will be some liquid left in the pot, so carefully ladle out most of that liquid into a spare bowl. Don't toss it just yet - let's mash our beans first.
As I said, used my handy KitchenAid Immersion Blender to blend the beans, right in the Instant Pot. If you don't have one, you can use your potato masher, a fork, or even a blender with short pulses if necessary.
If the beans seem to thick - simply add some of your bean liquid. Mine still looked kind of runny after mashing, but they did firm up a lot after they cooled.
Finally, add salt to taste. I used about ½ tsp.
I hope you enjoy these beans as much as my family did. Please, leave those comments and even post a picture if you want. We love to hear your feedback!
Thanks and Enjoy!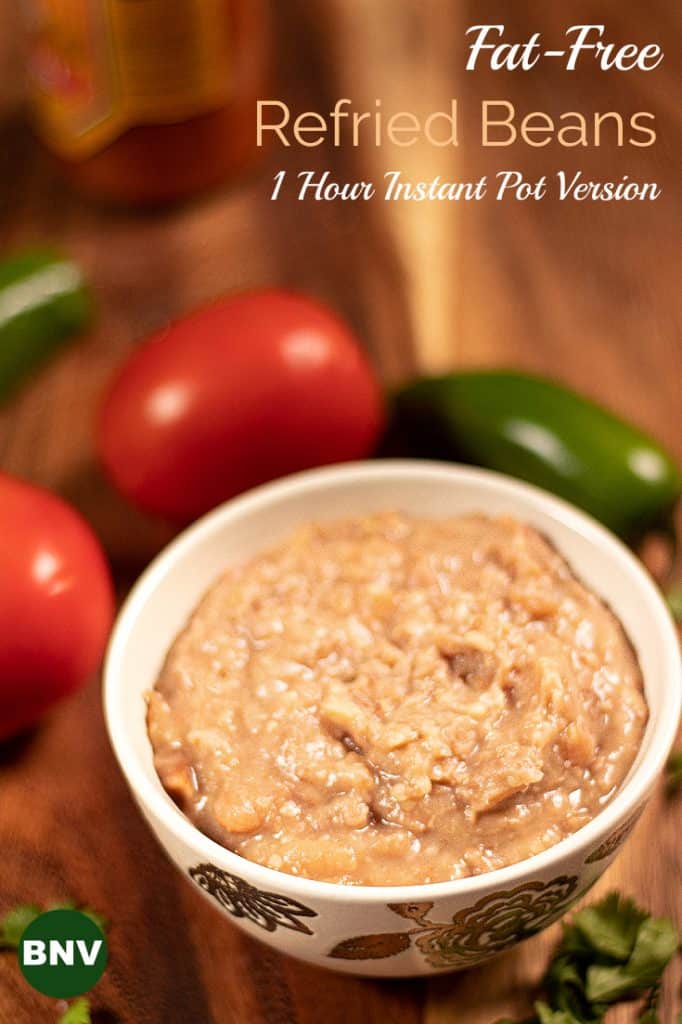 Print
Instant Pot Vegan Refried Beans
Author:

Prep Time:

15 minutes

Cook Time:

45 minutes

Total Time:

1 hour Minimum

Yield:

11

servings

1

x

Category:

Side Dish

Method:

Instant Pot

Cuisine:

Mexican

Diet:

Vegan
---
Description
Fresh beans in less than an hour?  These Vegan Refried Beans are made completely from scratch using dried Pinto Beans and an Instant Pot Pressure Cooker....
---
½

onion

1

heaping tsp minced garlic

½

jalapeno

1

lb (16oz) dried pinto beans
Water to cover beans (about 1 inch)

½ tsp

ground cumin

½ tsp

salt
---
Instructions
Roughly chop onion and add to IP along with jalapeno & garlic
Rinse beans thoroughly and add to IP
Add enough water to completely cover beans by about 1 inch
Stir in cumin
Attach lid, set to SEALING, and use MANUAL mode for 45 minutes
When finished, allow the IP to vent naturally and carefully remove lid
Remove the majority of liquid by ladling it out into another container.  Then mash beans to a creamy consistency using a potato masher, fork, or immersion blender.
Beans will be slightly runny, but will firm up when cooled.  If additional liquid is needed use the leftover bean liquid 1 Tbs at a time.
Season to taste
---