Yes, these are Kimchi Fries - and oh - my - where have you been all my life!
If you're from the Austin, TX area - you KNOW they're a thing! Thankfully now I can make these at home anytime I want which I guarantee - will be a LOT!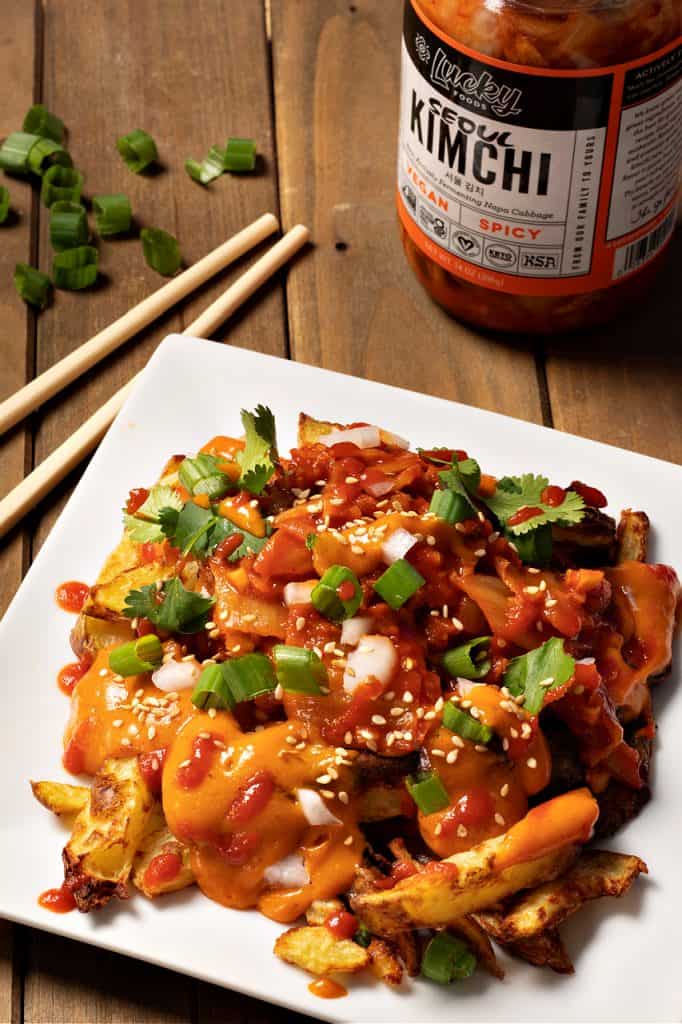 This inspiration for this recipe came after I heard the story of entrepreneur Jae Kim and his now-famous restaurant chain, Chi'Lantros.
He was so desperate to make his food truck successful, and hated the idea of throwing out so much food every day - he threw it all into one basket instead - fries, Korean BBQ beef, kimchi, whatever he had - and put it on the menu.
His loaded Kimchi Fries are now famous, landing him a $600k win on Shark Tank, and a whole fleet of food trucks and 7 Chi'Lantros restaurants throughout Austin.
I never thought to combine french fries with kimchi!
I mean it sounds kind of odd - right? But I LOVE Kimchi so much - I actually made it myself - and it was AWESOME! Recipe here.
And then I found Joanne Molinaro, aka The Korean Vegan. She puts her own spin on the recipe in this video here, and I thought, "Man, that looks SO good!. Hey, wait! I have a cheese sauce! I have some Korean Chile Flakes! I can DO this!"
And the rest - as they say - is history. So thank you, Jae & Joanne, for the inspiration, and here is MY version of the infamous Kimchi Fries - and completely oil-free.
Oil-Free Kimchi Fries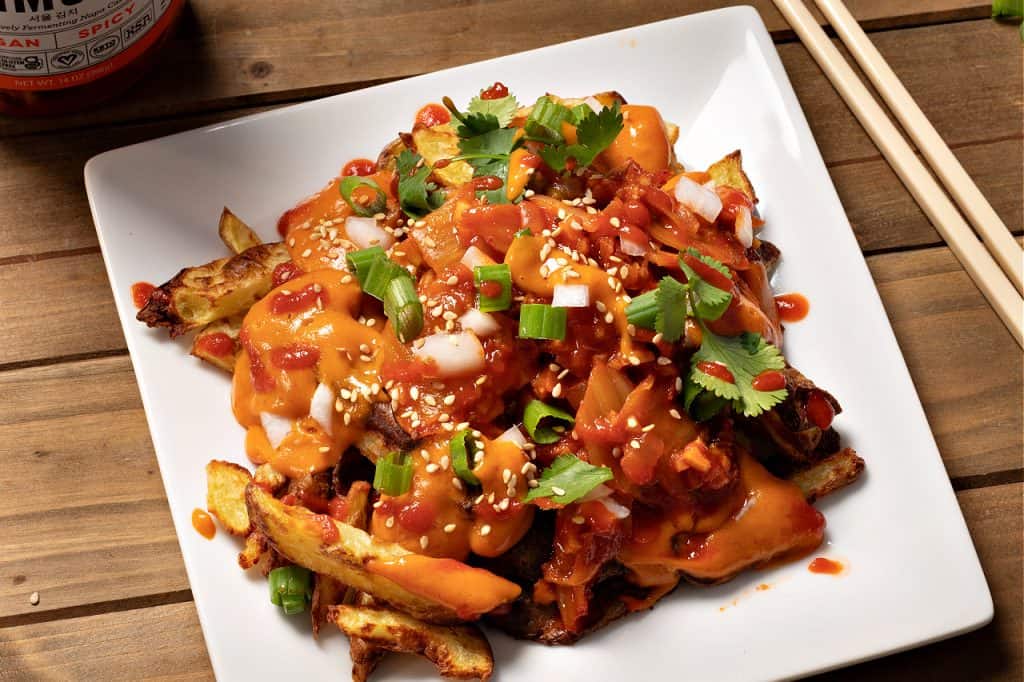 This is really an easy recipe - promise - but you will need a few things that may be a little hard to find. Check your area for Asian Markets - that will be your best bet, especially Korean Markets. Or check Whole Foods if you have one locally.
Kimchi - most stores have it now but watch the ingredients to make sure there's no fish products or oil. The brand you see in the photo is 100% vegan and oil-free and I found it at Kroger (Fred Meyer).
Gochugaru - These are Korean Chile Flakes and no, no other chile powder wil work. But if you can only find the paste version - Gochujang..... go with that.
Gochujang - is a paste made from Gochugaru. It comes in a tub, like miso. Make sure you are not buying the sauce - but the PASTE. The sauce will be thinner and have extra ingredients you don't want.
Amazon links to follow - and as an affiliate I do earn a little but at no extra cost to you.
The first step is to make my cheese sauce.
This is my original recipe with a few modifications. I used less carrot since the Kimchi and Chile Paste will add their own color. And of course, I added some Korean spice in the form of kimchi, gochujang, and 1 Tbs of gochugaru. As I said earlier, if you skip any ingredient - skip the flakes but do try to get the paste.
I used my Instant Pot to cook the potatoes and carrot for the cheese sauce - 7 min on manual with a 10 min natural release. Then it all goes into a blender and is blended until smooth and creamy.
If you already have some of my cheese sauce in the freezer - try adding a bit of kimchi, and some chile paste to it and reblending it.
Next, I made the Kimchi Topping.
Into a skillet I added the chopped onion, the white parts of the scallions, and the garlic along with 2-3 Tbs of veggie broth. When they have softened, add the remaining ingredients and simmer until it thickens and caramelizes.
Finally, I made the fries.
I used Yukon Golds as they seem to hold together better after boiling than russets do. But, use what you got. I cut them into ½" or so strips and tossed them into a pot of cold water that I added a few teaspoons of salt. When it comes to a boil, set the timer for 10 min then carefully drain.
I then placed the (hot) fries onto my air fryer basket. I don't use oil or parchment paper in my air fryer but you do what works best for you. Set it to 450° F for about 10-12 min, flipping or shaking occasionally.

If you want to bake them instead: Line a sheet pan with parchment paper and bake at 450° F for about 10-15 min or until browned. Check and flip frequently.
To plate:
I piled my now crispy fries on a plate, covered them with some of that spicy cheese sauce, followed by that Kimchi topping, then more cheese sauce.
To garnish I used those green onion tops, sesame seeds, diced white onion, cilantro, and a few shakes of sriracha.
There are enough fries and kimchi for 2 servings....but you will have extra cheese sauce. No worries - it can go on veggies, bakes potatoes, rice, whatever you want. It won't go to waste and yes, it does freeze well too.
That's it for this week and I know all you kimchi lovers will devour this. If you haven't tried Kimchi - it's basically just fermented napa cabbage, kind of like sauerkraut, with a kick. The probiotics in kimchi are really good for you and I for one, love the flavor. Hopefully, you will too.
See you soon and be sure to tell me what you think in the comments.
Seeya!

Print
Oil-Free Kimchi Fries
Author:

Prep Time:

30 min

Cook Time:

30 min

Total Time:

1 hour

Yield:

2

Servings

1

x

Category:

Appetizer

Method:

Stovetop, Air-Fryer, Blender

Cuisine:

Korean Fusion

Diet:

Vegan
---
Description
These are Kimchi Fries and oh my - where have you been all my life! Kimchi topped fries smothered with a spicy cheese sauce... just say yes!
---
Cheese Sauce
16 oz

 yukon gold potatoes (about

3 small to medium

)

2

inch piece of  carrot

½ cup

 water (used to boil potatoes - plus more to thin if needed)

¼ cup

 +

2

Tbs nutritional yeast

¼ cup

kimchi

2

Tbs lemon juice

1

Tbs low-sodium soy sauce

1

Tbs Gochugaru (Korean chile flakes)

1

Tbs Gochujang (Korean chile paste)

1 tsp

 apple cider vinegar

1 tsp

maple syrup

½ tsp

 onion powder

½ tsp

 garlic powder

½ tsp

 brown mustard

¼ tsp

 turmeric
Fries
3

yukon golds cut into fries
enough water to boil

2 tsp

salt
Kimchi Topping
½ cup

diced onion

3

cloves minced garlic

2

chopped green onions (white and green parts separated)

2

-

3

Tbs veggie broth

½ cup

kimchi

1

Tbs Gochujang (Korean chile paste)

1

Tbs maple syrup
Garnish
diced onion
green onion tops
cilantro
sesame seeds
---
Instructions
Prepare cheese sauce by cooking the potatoes and carrot until softened.  In an instant pot, I used 1 cup of water and set it to 7 min on manual with a 10 min NPR.  
Add the contents of the IP to a blender with all the remaining cheese sauce ingredients.  Blend until smooth and creamy. 
To make the Kimchi topping - add the diced onion, white parts of the scallions, and garlic to a skillet along with 2-3 Tbs of veggie broth.   Saute until softened, about 2 -3 min.  
Then add the remaining topping ingredients and simmer until thickened and caramelized - about 3-4 minutes. 
To make the fries - cut fries into ½" wide by ¼" thick strips.  Add to a large pot of cold water with 2 teaspoons of salt.  Bring to a boil and cook 10 minutes.  Carefully drain. 
If using an air fryer - arrange the (hot) fries in a single layer on the tray and cook at 450° F for 10-12 minutes - flipping or shaking occasionally.  
If baking the fries - arrange on a parchment-lined sheet pan instead.  Same temp and time but keep an eye on them and do flip them occasionally.
To plate - pile your fries onto a plate, add cheese sauce, then add the kimchi, then more cheese sauce, and whatever garnishes you like.  I used scallion tops, sesame seeds, cilantro, diced white onion, and a few shakes of Sriracha
---