Nothing beats the heat like a cool, summertime, Low Fat Vegan Gazpacho.
Think of it like a fresh salad, only you eat it with a spoon…. or maybe think of it as a cold southwestern tomato soup.  No matter, it's fresh, it's loaded with veggies, and it requires NO COOKING at all!
Uh huh….now that I've got your attention…..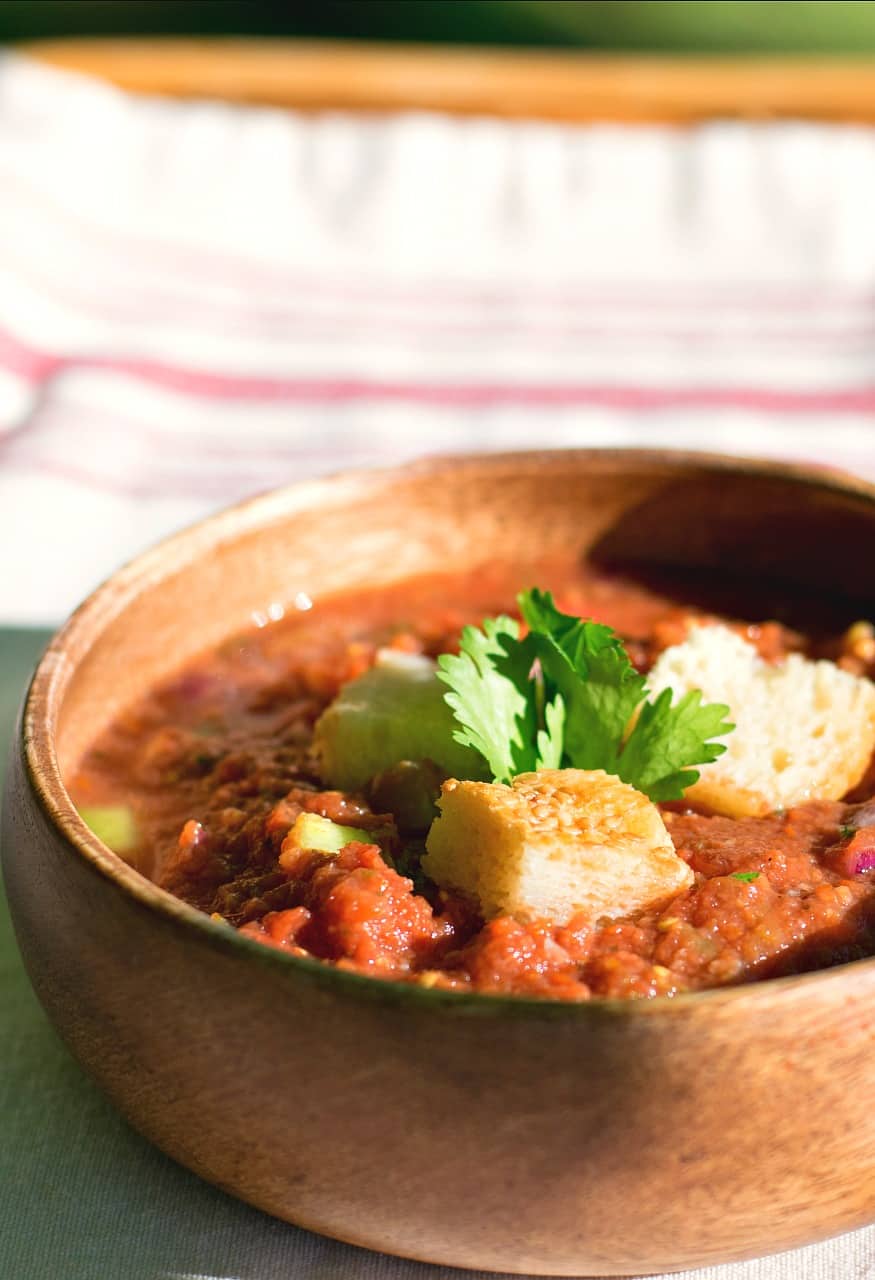 We LOVE Gazpacho here at the Underwood House.  It's perfect for those evening where it's just to doggone hot to cook.
You're basically mixing freshly chopped tomatoes, onion, bell pepper, and cucumber together in a bowl, and then marinating all those yummy veggies in a spicy puree of cherry tomatoes, green chile, and a splash of balsamic vinegar.
Can you sam YUM?
Intrigued yet?
It literally takes minutes to throw together, but I will say it will taste a LOT better if you chill this in the fridge for an hour or two, to let all those yummy southwestern flavors party for a while…
THEN….it's awesome AND as I mentioned before…. it's requires no stove time at all.
Did I also mention it's completely fat-free too?
Low Fat Vegan Gazpacho
Obviously, this is going to taste AMAZING with freshly picked, right off the vine, late in the summer, tomato juice running down your chin, tomatoes.  THAT is a tomato.
However summer just got started here in the Pacific Northwest, so I'm going to have to use canned tomatoes instead.  But if you use a good, salt-free, bpa free, organic brand…like Muir Glen for example, this is still VERY, very good.
However when fresh Tomatoes ARE in season, use about 4-5 freshly picked tomatoes instead, be sure and remove the core, peel, and remove all the seeds before chopping.    
Note:  I would NOT recommend using those tasteless, hothouse things they 'call' tomatoes in the produce section…..you're just going to have to trust me on this.
So let's start by draining a 15oz can of organic, salt-free, chopped tomatoes and adding them to a large bowl. Then finely dice ¼ of a Red Onion, and ½ Red Bell Pepper and add that to the bowl too.  Give that a quick stir.
We're also going to add ½ of a finely diced English Cucumber (they are those perfectly straight, usually wrapped in plastic, cucumbers you see in the store).  What's different about those compared to a normal cucumber is you can eat the whole thing, including the peel.
Finally, add once of those little 4oz cans of diced Green Chile, just to give it a little zing.  (If you REALLY want zing, add about ½ of a minced jalapeño too, but it's totally up to you)
Season with 2 cloves of minced garlic (or about 2 tsp), ½ tsp Ground Cumin, ½ tsp Sea Salt,  ¼ tsp Oregano, and about 1 Tbs of freshly chopped Cilantro.
Mix that up and set aside.
Now take one of those pint-sized container of super-sweet cherry tomatoes and toss them in a blender, along with the juice from 1 lime (about 2 Tbs) and 2 tsp of a good Balsamic Vinegar.
Puree the cherry tomato mixture until its nice and smooth, and then pour this into your bowl of veggies. Stir well to mix.
Finally, take a cup or so of the finished soup, and puree that as well, then pour it back in.  I like my soup a little chunky so how much you blend is up to you.  The more you puree, the thinner the soup will be.
Cover and let chill in the fridge for at least 1 hour….but the longer you wait, the better 🙂
After the hour, mix it again and taste.  Season with additional salt, pepper, etc if needed (a dash of cayenne is good too).
It's cool, it's fresh, it's VERY refreshing, and it's super easy to make!
Hope you stay cool on this hot summer day, and as always….
Enjoy!

Low Fat Vegan Gazpacho
A cool, refreshing, southwestern tomato soup - perfect for those hot days of summer. No added oil and no cooking required!
Ingredients
1

can

Organic, No Salt Tomatoes

15oz (Muir Glen) ...OR...

4-5

Freshly Picked Tomatoes

cored and peeled

1/2

English Cucumber

diced

1/2

Red

Bell Pepper

diced

1/4

Red

Onion

diced

1

can

Chopped Green Chiles

4oz

1

Tbs

Fresh Cilantro

chopped

2

cloves

Garlic

minced (2 tsp)

1/2

tsp

Ground Cumin

1/2

tsp

Sea Salt

1/4

tsp

Oregano

10

oz

Sweet Cherry Tomatoes

1 pint

1

Lime, juiced

About 2 Tbs

2

tsp

Balsamic Vinegar
Instructions
Drain the can of tomatoes (or chop 4-5 fresh tomatoes after removing core, skin, and seeds) and add them to a large bowl

Finely dice the Bell Pepper, Onion, and Cucumber and add to bowl.

Add the Green Chiles, Cilantro, Garlic, Cumin, Oregano, and Sea Salt and stir to combine.

Add an entire pint (10oz package) of Sweet Cherry Tomatoes to your blender along with the juice of 1 Lime (about 2 Tbs) and 2 tsp of good Balsamic Vinegar. Blend until smooth.

Add puree to bowl of veggies and mix to combine.

Take one cup or so of the finished soup and puree that as well. Add the puree back into the soup. The more you puree the thinner the soup will be. I like mine slightly chunky - so start with 1 cup and go from there.

Allow soup to chill in refrigerator for at least 1 hour.

Season to taste and serve cold.
Recipe Notes
Garnish with additional Cilantro and/or homemade Croutons if desired.  Homemade croutons can be made by cutting day-old bread into cubes and baking in a 250 degree F oven until toasted. 
Link to Muir Glen Salt Free Tomatoes on Amazon
All Amazon links are affiliate links meaning I do receive a commission on every purchase.