What do you get when you combine fresh greens, black beans, and red chile sauce? Mexican Beans and Greens, and is it ever delicious!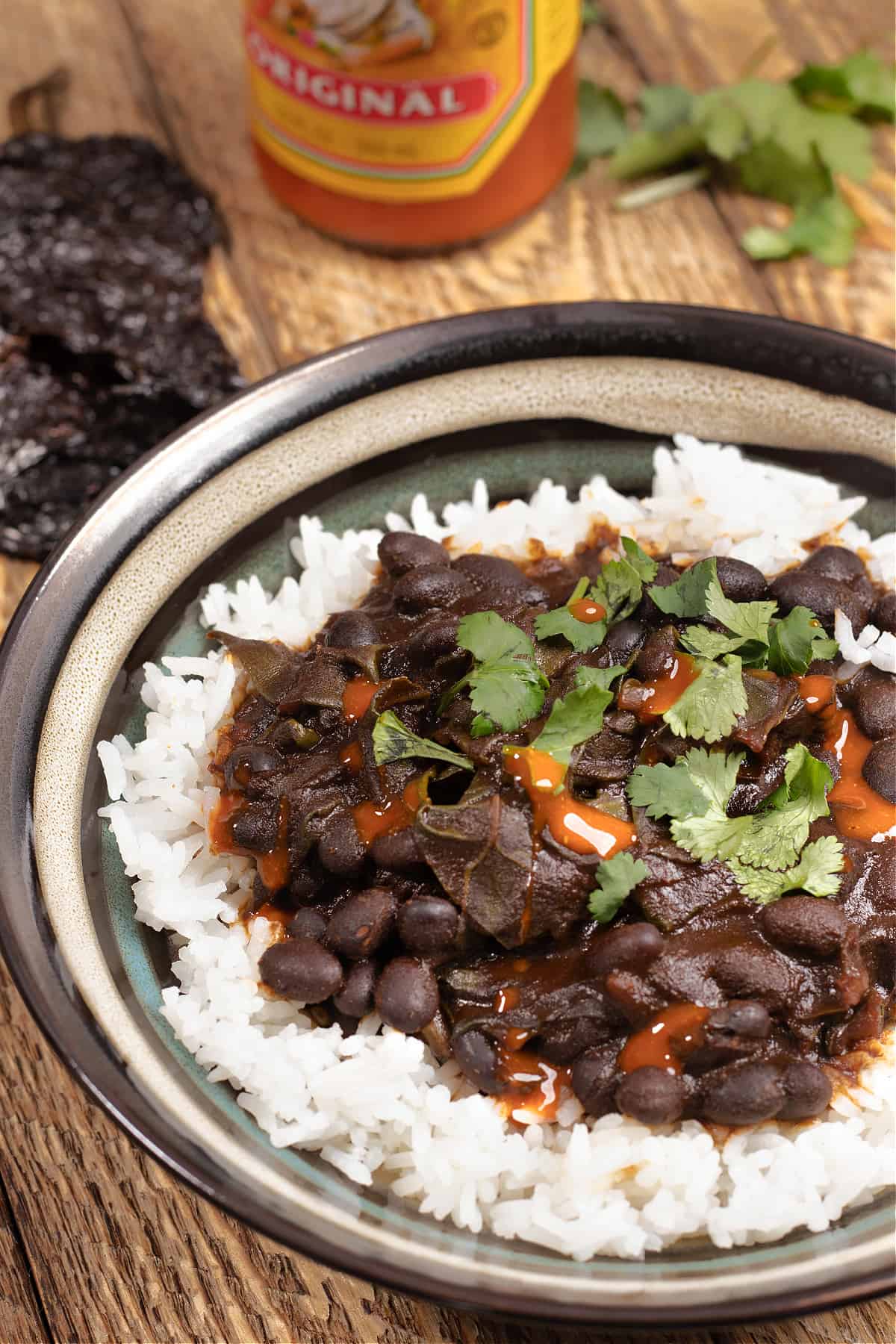 Since a bunch of us (around 100?) are doing the Esselstyn Reversal Diet together over in my BNV Support Group - we have been eating a LOT of greens!
So I was all set to make a Collard Greens recipe this weekend, when I happened to see a new video from my favorite Mexican Chef Rick Bayless, making tacos out of black beans, kale, and red chile sauce.
Wait. What?! Red Chile Sauce? And KALE?!
If you know me - lover of all things spicy - you know I HAD to try it!
So here is my slightly modified version of it. I served mine over a bowl of rice but you could use potatoes, polenta, or make tacos as Chef Rick did.
And as I expected - it was DELICIOUS!
Mexican Beans and Greens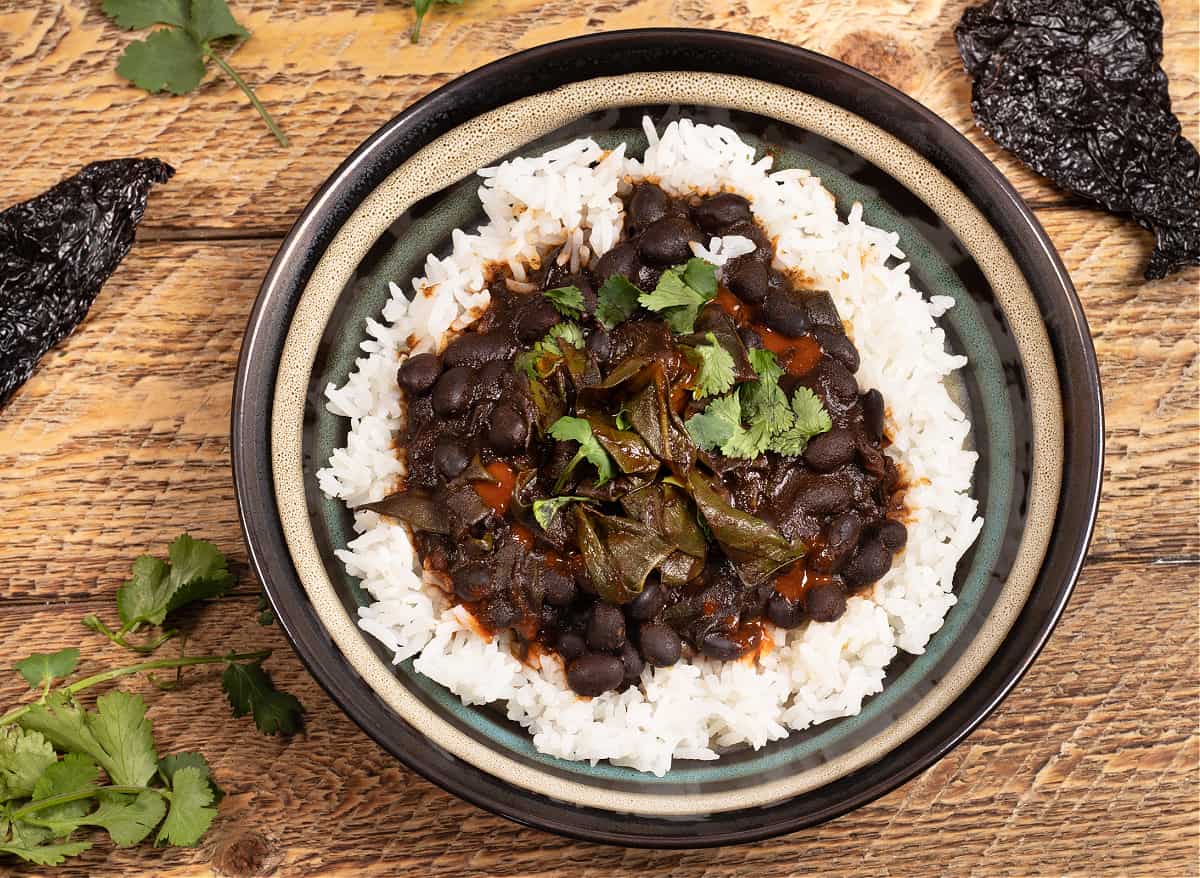 This is a simple recipe - but it will take some time.
First, we need to make the red chile sauce, then simmer your greens in it, then add your beans.
The Red Chiles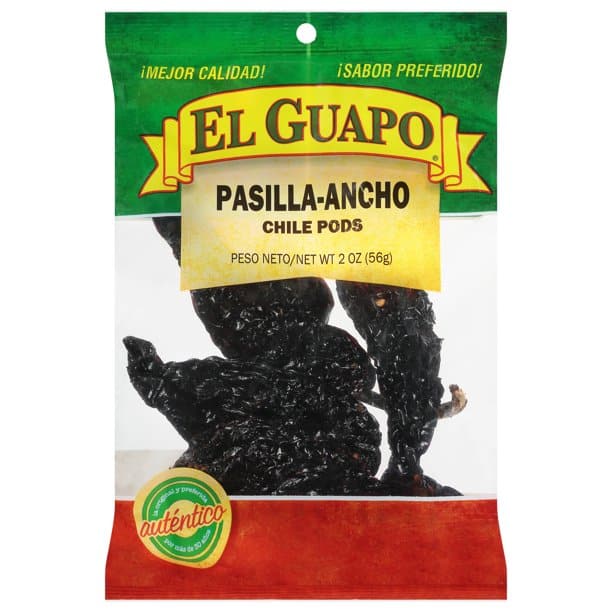 Start with heating 3 or 4 Ancho Chiles in a 250°F oven for 5 minutes to soften them. This will make it easier to remove the stems and seeds. Look for Ancho/Pasilla Chiles in your grocery's ethnic, Hispanic, or spice aisle. They are usually hanging on a rack in clear cellophane bags.
Here is an Amazon affiliate link where I get a little kickback but at no extra cost to you. https://amzn.to/3LexEAr
Anaheims, New Mexico Chiles, or Guajillos would work too - but the flavor will be different as well as the heat level. Since Anchos are simply dried Poblanos - they are fairly mild.
As you remove the stems and seeds, place the chiles in a bowl and cover them with 2 cups of hot water to let them rehydrate. I placed a bowl on top to keep them submerged. Let soak for 30 minutes.
The Greens
You'll also need about 8 cups of loosely-packed greens. I used 2 store-bought bunches of swiss chard but feel free to use whatever you have, kale, collards, etc. Note: Spinach will work too but does NOT take as long to cook.
I removed any large stem ends, rolled up the leaves like a big, fat cigar, and cut them into ½" strips.
The Sauce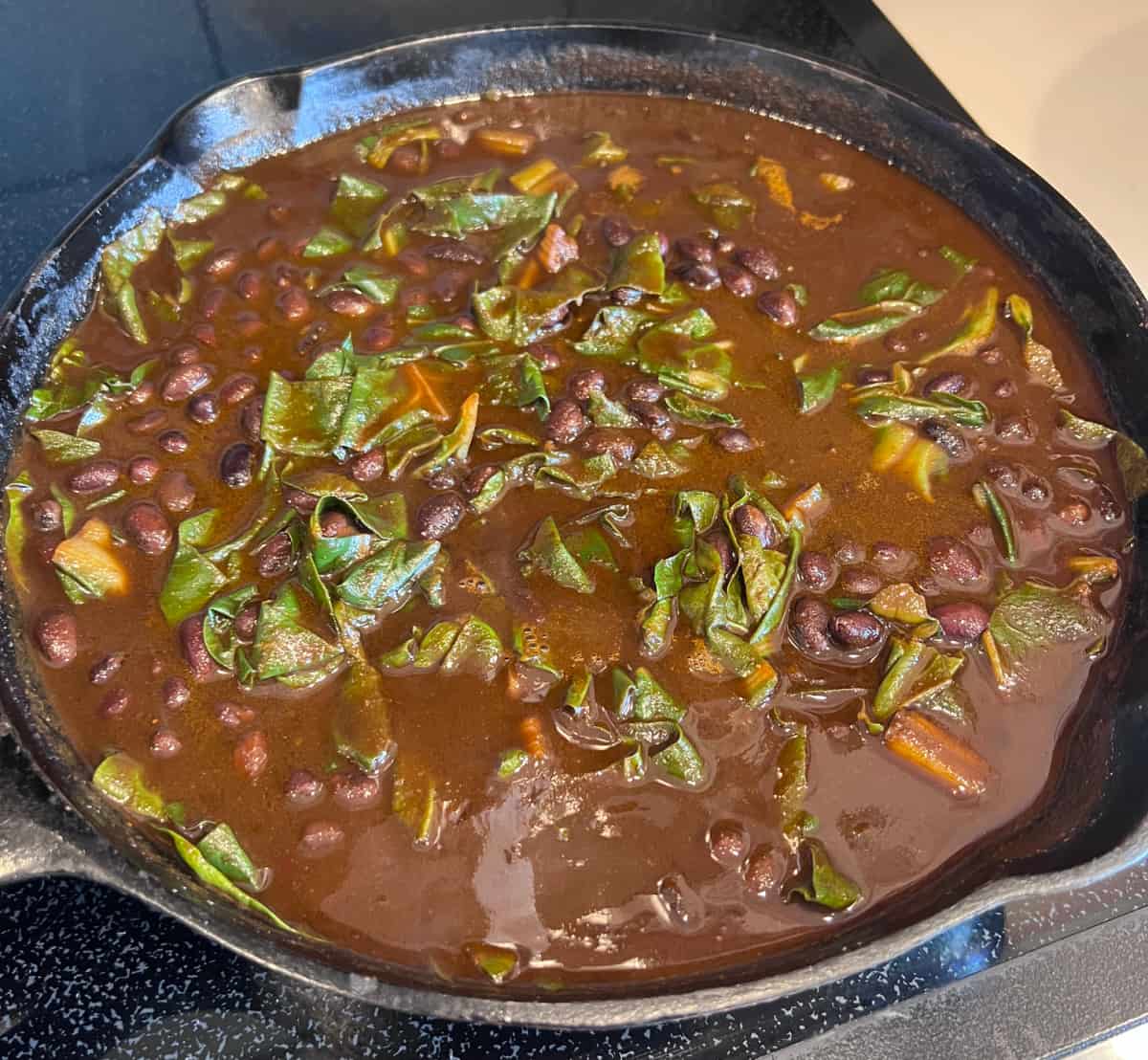 Add the now-softened chiles to a blender along with the garlic, pepper, cumin, and oregano, and be sure to save that soaking water.
Note: As Chef Bayless explained: taste the water - and if it's bitter... discard it and use fresh water. But if not - we'll use that chile water to make our sauce.
Add ½ cup of that water to your blender and blend until smooth.
Meanwhile, preheat a large skillet on med-high heat, and add your sauce. We want to stir it so it slightly thickens, turns a little darker, and has the consistency of tomato paste - about 5 minutes.
Then we add the remaining 1 ½ cups of that soaking water and stir until smooth and bubbly, about 10 minutes.
Add your salt now and adjust to your liking. It should be slightly salty as it has to flavor the sauce, the greens, and the beans.
Now add those greens you chopped and stir them into the sauce the best you can. Cover your skillet and let them simmer in that delicious sauce for about 10 minutes or until the greens have wilted. As I said - if you use spinach - that will be pretty quick.
The Beans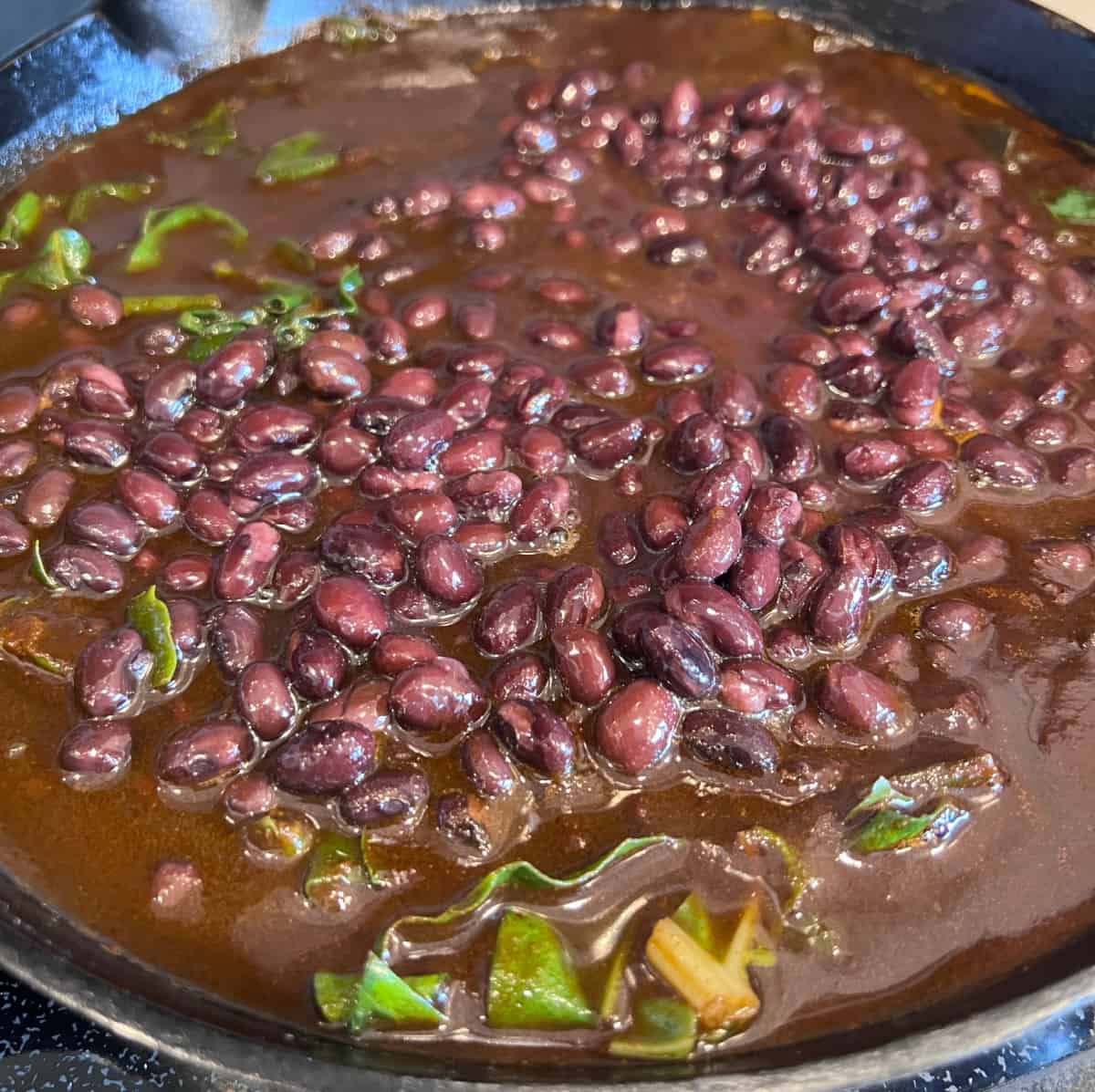 Finally, add the two cans of beans. If you have a can that says NO SALT ADDED, simply dump them in - liquid and all. If not, I would rinse and drain them first.
Now simply stir all that yumminess together until it thickens a little bit, and serve.
I added mine to some rice, but I think potatoes would work, or polenta too. Or you can make tacos with it as Chef Bayless did in the video.
I personally LOVE this recipe, and I realize finding ingredients such as Mexican Oregano and dried Ancho Chiles might be a challenge - but it is SOOO worth it if you do.
Continue sharing, liking, and leaving those comments and we'll see you next time.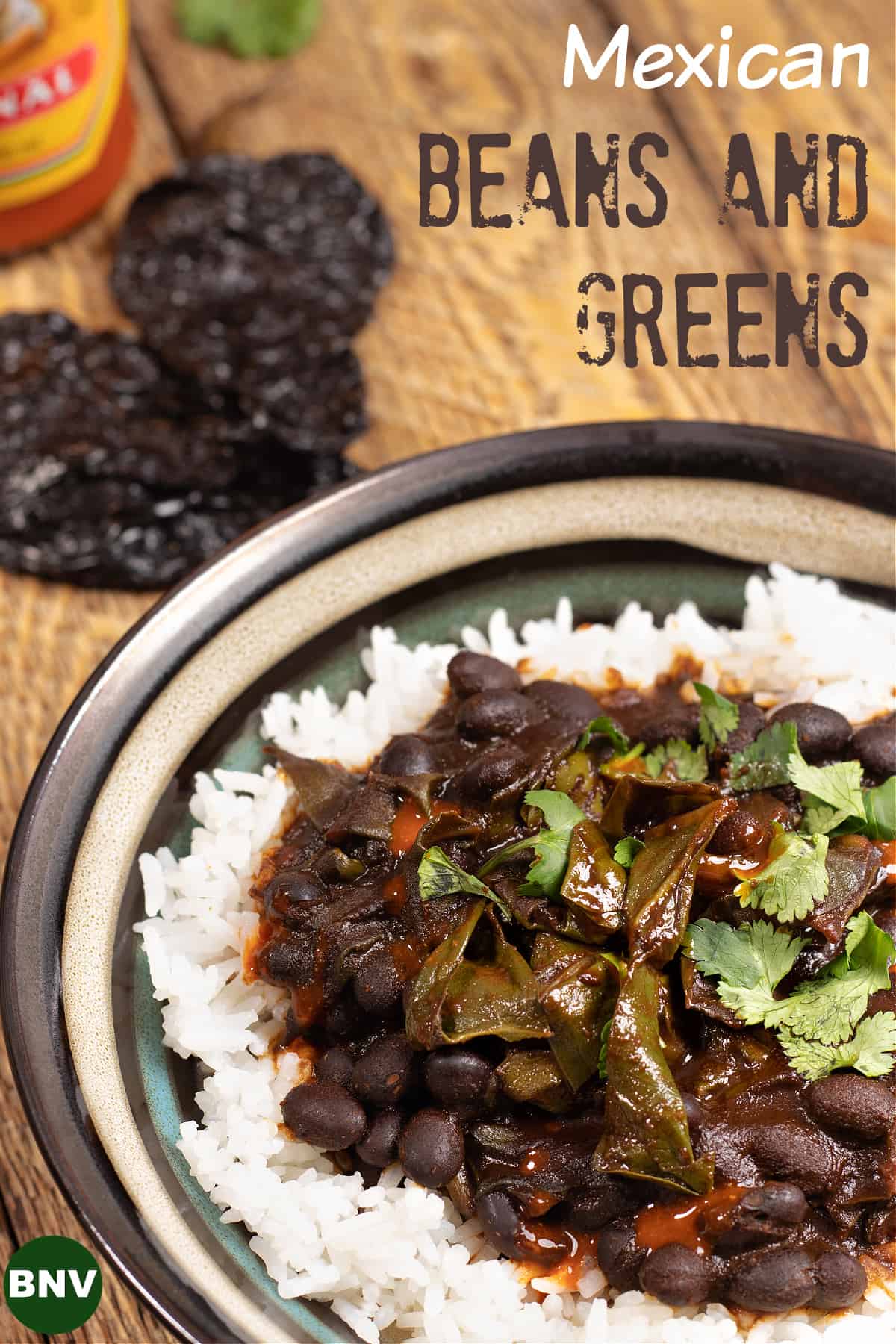 Print
Mexican Beans and Greens
Author:

Prep Time:

30 min

Cook Time:

30 min

Total Time:

1 hour

Yield:

6

-

8

servings

1

x

Category:

Main

Method:

Stovetop

Cuisine:

Mexican

Diet:

Vegan
---
Description
What do you get when you combine fresh greens, black beans, and red chile sauce? Mexican Beans and Greens! And is it ever delicious!
---
3

-

4

dried ancho chile pods

3

cloves garlic

1 tsp

mexican oregano

½ tsp

ground cumin

¼ tsp

black pepper

½ tsp

salt

8

cups

chopped swiss chard or kale (loosely packed)
(2)

15

-

ounce

cans of black beans (preferably no salt added)
---
Instructions
Heat chiles in a 250° F oven for 5 minutes to soften
Discard stems and seeds,  place the chiles in a bowl, and cover with hot water.  Use a small bowl if needed to keep chiles submerged
Allow chiles to rehydrate for 30 minutes
Meanwhile, remove any thick stems from the kale or chard, roll the leaves up like a cigar, and cut them into ½" strips.  Two store-bought bunches of greens are approximately 8 cups chopped
Reserving the soaking liquid, remove the chiles and place them into a blender
Add the garlic, pepper, cumin, oregano, and ½ cup of the reserved soaking water.  Note:  taste the water - if it is bitter then discard it and use fresh water
Blend until smooth
Preheat a large skillet on med-high heat
Add the chile puree and cook  it until it is the consistency of tomato paste - about 5 minutes
Add the remaining 1 ½ cups of water. Mix,  and simmer until smooth and bubbly - about 10 minutes
Add the greens and stir them into the chile sauce
Cover and simmer for about 10 minutes until the greens have wilted
Stir in the beans.  If using no salt added - no need to drain
Heat until thick and bubbly and serve over rice, polenta, or corn tortillas
---
Keywords: mexican black beans and green, rec hill sauce