I miss a lot of things about living in New Mexico, the scenery, the weather, the hot air balloons... but more than anything else I miss the FOOD! And NOW is the time when families all over the state would be preparing two of my FAVORITE dishes: tamales and posole.
This is my recipe for one of my all-time favorite New Mexico dishes, a delicious Vegan Posole. I hope you enjoy it as much as I do.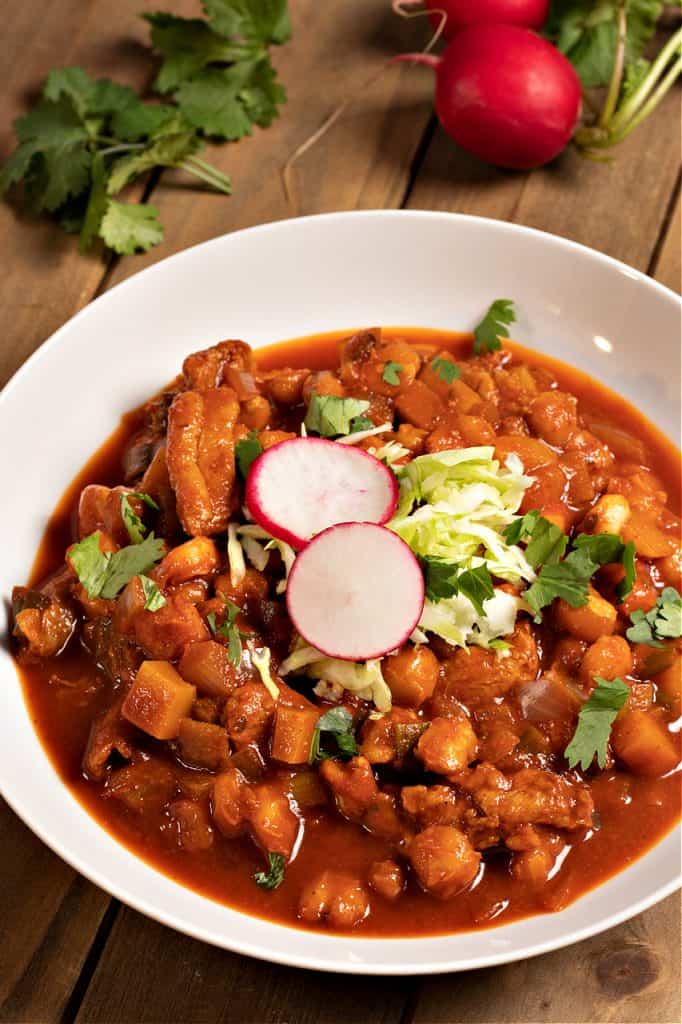 Posole is a very old and traditional dish dating back to around the 14th century in what we now call Mesoamerica. The Aztecs were known for their agriculture and grew many of the popular foods we love today, namely corn, beans, squash, tomatoes, and chile peppers. They would make pozole to celebrate their gods, good harvests, and the changing seasons.
Posole (or pozole) was a thick stew of processed maize (corn into hominy), chiles, and pork. But there is a more gruesome side to this beloved recipe.... before the Spanish Conquest of Mexico, pigs were not native to the Americas. So they used another kind of meat in their celebratory feasts instead.....namely human.

I won't go into the gory details but thankfully cannibalism was banned, and pork was substituted instead.
And TODAY.... we can leave out the meat altogether and make this stew completely meat-free. I used Soy Curls instead of pork, canned hominy, and of course - dried New Mexican Chiles.
This is a very traditional New Mexican Holiday meal and I truly hope you enjoy it.
Vegan Posole
Step 1: The Soy Curls
If you have never used soy curls, they are simply non-gmo soy beans than have been cooked, then shredded into long strips, and dried. Butler Foods is the Oregon company that makes them and you can find them in Whole Foods as well as on Amazon. I'll add my Amaon Affiliate link below and as an affiliate, I do earn from qualified purchases but at no extra cost to you.
I usually just add hot water to rehydrate them but this time I brought a quart of water to a boil and added about ⅓ to ½ of the 8oz bag of soy curls and simmered them for about 4 minutes. This REALLY rehydrated them and also gets rid of that 'packaged' flavor.
After 4 minutes, drain them really well. I even placed a bowl on top to squeeze out as much moisture as I could. Then I dumped them onto some paper towels and dried them some more. THEN I placed them in a hot skillet and gently browned them over med high heat for about 5 minutes. Just until they begin to brown a little. Then take them off the heat and set them aside.
Step 2: Veggie Prep
While the soy curls were doing their thing on the stove, I prepped my veggies. You'll need to dice the following: half of a white onion, 5 or 6 green onions (scallions), and a large yukon gold potato (about 8oz or 215g). You'll also want to mince 4 or 5 cloves of garlic. Set these aside for now.
Step 3: The Chiles
To prep the chiles I used a 2.5 oz bag of dried New Mexican red chiles. This was about 11 or 12 chile peppers. New Mexico chiles are slightly spicy to me, but might be TOO spicy for you. Guajillo Chiles are said to be milder, and California Anaheims are really mild (and flavorless to me).
Whatever kind you choose, you want to cut off the stems and remove as many seeds and membranes as you can as this is where the heat is. Remember to wash you hands afterwards as that chile oil does burn so be careful with rubbing your eyes.
Once the chiles are cleaned, add them to a pot (I used the same one I boiled the soy curls in) and add another 4 cups of water and simmer for about 5 minutes to softem them up. Once their done, I used tongs to tranfer the chiles to a blender along with 1.5 cups of that chile water, the garlic, 2 teaspoons of cumin, ½ teaspoon ground pepper and ½ teaspoon of salt.
Blend until smooth. Now some people at this step will strain their chile sauce through a fine seive. I never do as I have a Vitamix that does a really good job of pulverizing everything. But it's up to you. If you do strain it you have to literally push and scrape the sauce through the seive. Regardless, pour your chile sauce into a large dutch oven or pot and we're finally ready to make the posole.
The Posole
Bring your red chile sauce up to a simmer and gently cook it for about 5 minutes. Then add a 30 oz can of rinsed hominy (maiz blanco), your diced onions, scallions, potato, 3 teaspoon of Mexican Oregano, ½ teaspoon of garlic powder, 2 bay leaves, and an entire quart (4 cups) of low sodium vegetable broth.
Don't add your sou curls yet. Stir the stew until it's mixed well and bring to a boil, then lower the heat and simmer for 30 minutes. THEN add your sou curls and continue to simmer for another 15-20 minutes.
Taste for seasoning and you are ready to serve. Traditional garnishes include: chopped cabbage, onions, radish slices, cilantro, and of course freshly squeezed lime juice.
A piñon log is buring in the fireplace, the candelarias are flickering outside the window, and the aroma of this delicious vegan posole is wafting through your kitchen.... ahhh.. Thanks for the memories New Mexico. I really have to come visit again soon.
Happy Holidays!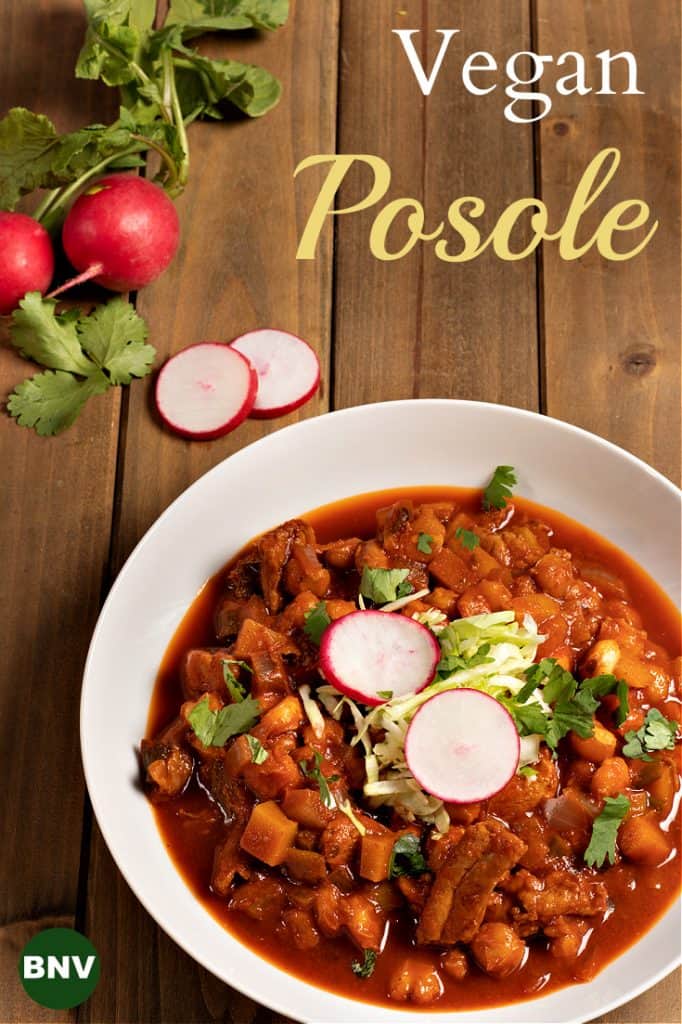 Print
Vegan Posole
Author:

Prep Time:

90 min

Cook Time:

45 min

Total Time:

2 hours 15 minutes

Yield:

6

-

8

servings

1

x

Category:

Soup, Stew

Method:

Stovetop

Cuisine:

Mexican

Diet:

Vegan
---
Description
This Vegan Posole is a traditional New Mexican stew made of white hominy simmered in a rich, red chile sauce, perfect for the holidays.
---
4

oz

(½ bag) Butler soy curls

8

cups

water (divided)

½

white onion, diced

5

-

6

green onions, diced

1

Yukon gold potato, diced (about

8 oz

)

2.5 oz

bag dried, red chile peppers, about 10-12 chiles (New Mexican or Guajillo)

4

cloves garlic, minced

2 teaspoons

ground cumin

½ teaspoon

black pepper

½ teaspoon

salt

30 oz

can white hominy (maiz blanco)

3 teaspoons

Mexican oregano

½ teaspoon

garlic powder

2

bay leaves

32

oz

(4 cups) low-sodium vegetable broth
Garnish with any of the following: cabbage, radish, cilantro, and lime (optional)
---
Instructions
Bring soy curls and 4 cups of water to a boil.  Simmer for 4 minutes.
Strain, press, and dry the soy curls to remove as much moisture as you can, then add to a hot skillet.
Gently fry the soy curls for about 5 minutes until they begin to brown.  Set aside.
Dice the onions, green onions, and potatoes, and mince the garlic.  Set aside.
Clean chiles by removing stems, heads, membranes, and seeds
Add chiles to 4 cups boiling water and simmer for 4-5 minutes or until softened
Reserving 1.5 cups of the chile water, transfer just the chiles to a blender.
To the blender, add the 1.5 cups of chile water, garlic, cumin, pepper, and salt, and blend until smooth
Add chile sauce to a large pot or dutch oven and cook for 5 minutes, stirring often
Add drained and rinsed hominy, onions, green onions, potato, oregano, garlic powder, bay leaves, and veg broth.  Mix well.
Simmer for 30 minutes.
Add the cooked soy curls and simmer for an additional 15-20 minutes.
Add garnishes if desired and serve.
---
Keywords: New Mexican, vegan posole,