One bite of these flavorful Vegan Tacos al Pastor will make you think you are sitting in some Taqueria in Mexico! Who says eating plants is boring?!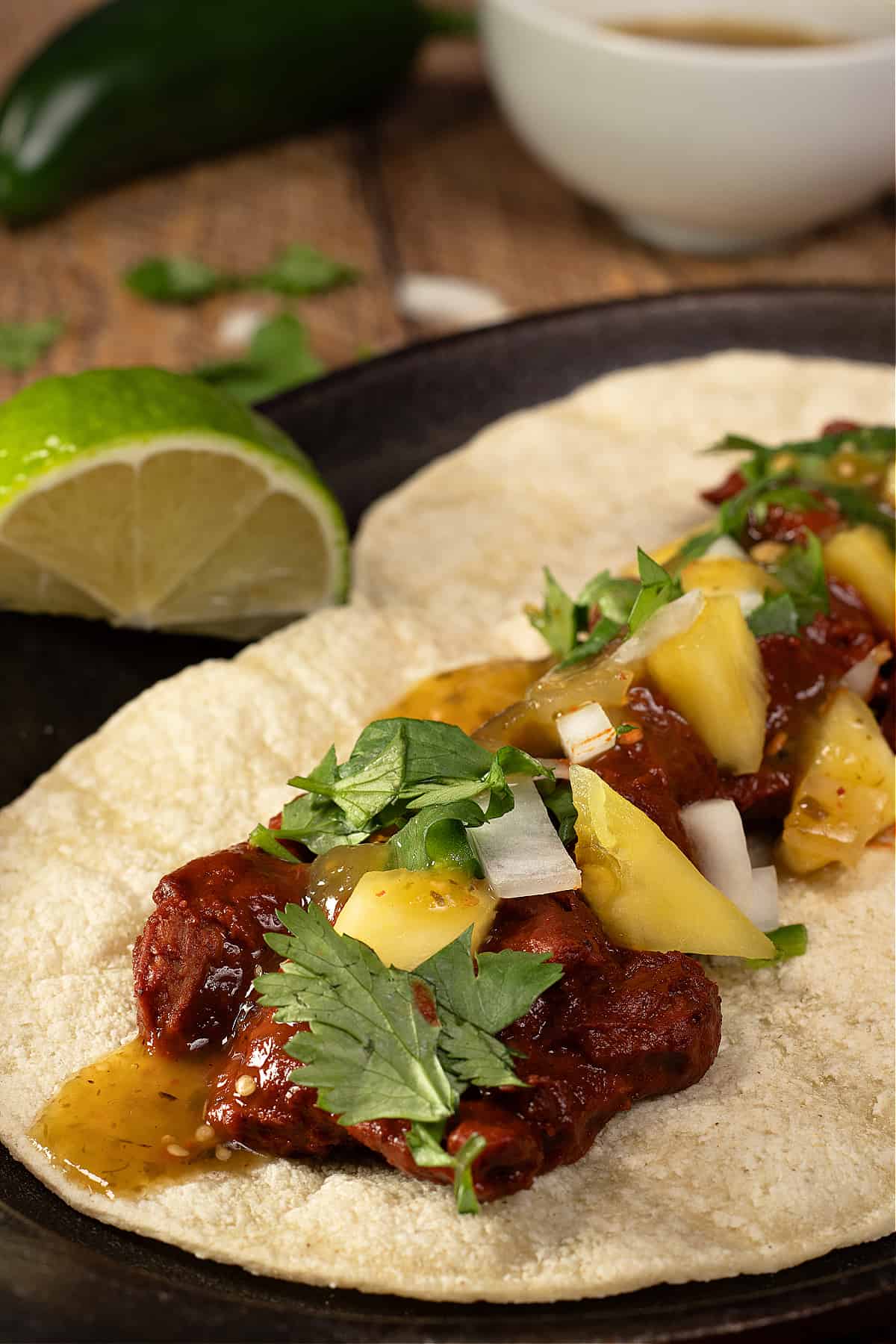 I still have to laugh when people tell me they could never go vegan. And their reasons are even more hilarious.
I couldn't just eat salads
I would miss my food too much
You HAVE to eat MEAT! PROTEIN!
Vegan food is so bland
I have some grass in my backyard that you can graze on
You vegans eat weird food
And on, and on, and on
If they only knew, right?
We don't just eat salads, although I do love a good salad. And I don't miss anything, because I have recreated everything I might miss!
And bland? Have them take a bite of these Vegan Tacos al Pastor and tell me they are bland. We may not be cooking it "shepherd" style on a spit, and we may not be using the traditional pork, but these vegan tacos using soy curls are every bit as good and a whole lot healthier.
This recipe does take a while to cook and there are a few ingredients you will have to go out and find, but I promise the effort is SO worth it.
Enjoy!
Ingredients for Vegan Tacos al Pastor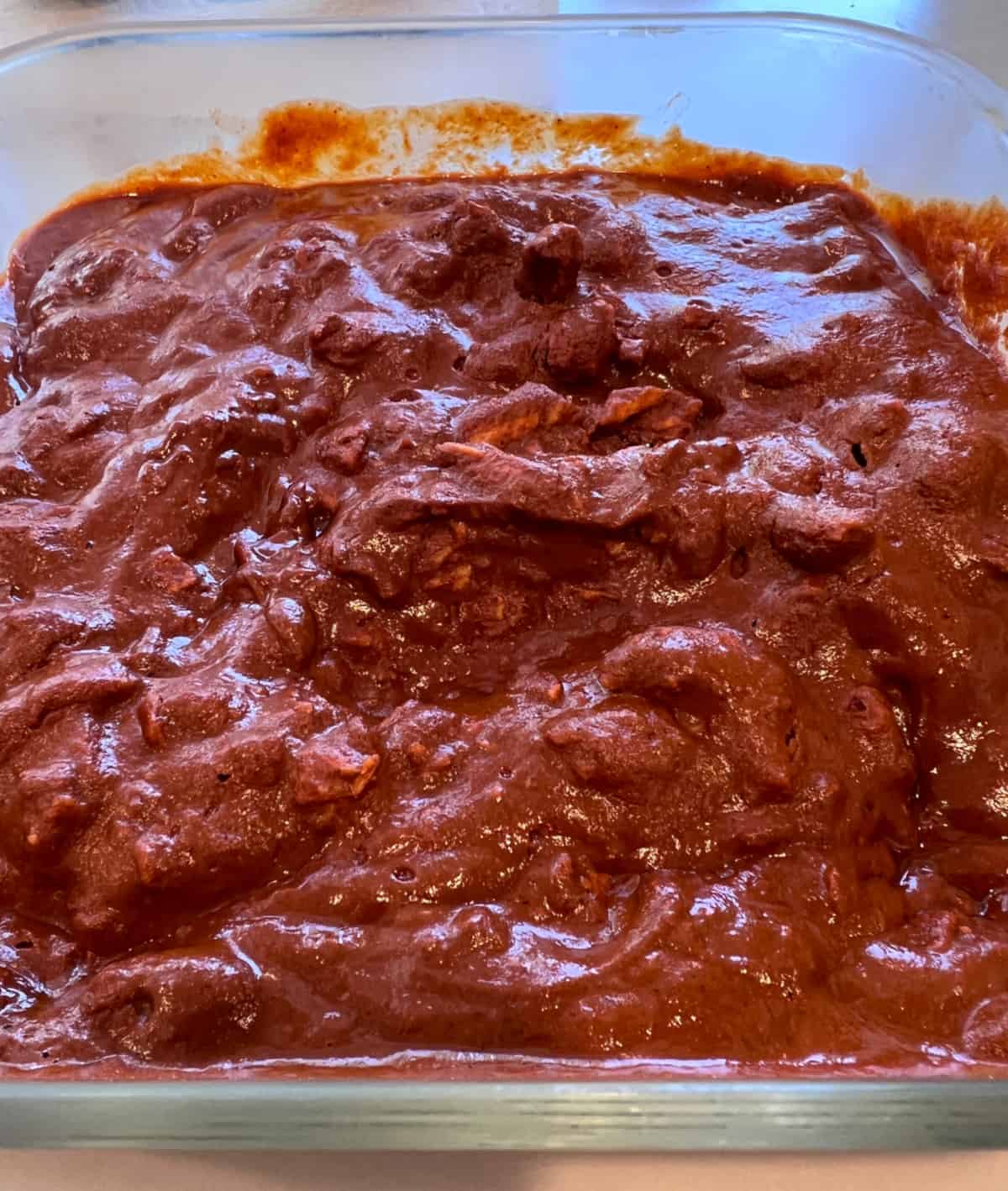 Every ingredient I needed to make this recipe I bought at my local Walmart.
I am sure other chains like Kroger, Safeway, and Albertsons carry them as well. I did include Amazon links if you prefer to shop that way - and as an Amazon Affiliate, I do earn on qualified purchases but at no extra cost to you.
3 Guajillo Chile pods (Mexican aisle)
2 Ancho Chile pods (Mexican aisle)
1 (3.5 oz.) pkg of Anchiote - a paste made from Annotto Seeds (Mexican Aisle)
4 oz. Soy Curls - dried soybean strips made by Butler Foods
1 small pineapple
1 small orange
10-12 corn tortillas
1 cinnamon stick (Mexican canela is best but any will do - Mexican aisle)
Mexican oregano (is best but Italian will do - Mexican aisle)
garlic, onion, cilantro
the jalapeno and a chipotle in adobo sauce are both optional
cumin, whole peppercorns, whole cloves (powdered spices can be substituted)
apple cider vinegar
salsa verde
One other major ingredient is time. We are going to make a marinade and then pour it over the dry soy curls. They will take about 2 hours to get soft and absorb all that wonderful chile flavor.
It never made sense to me why so many people (me included) would add water to soy curls to rehydrate them, only to squeeze out as much moisture as you can and even cook them to make them dry again. Just toss them in dry and let the marinade rehydrate them!
How to Make Vegan Tacos al Pastor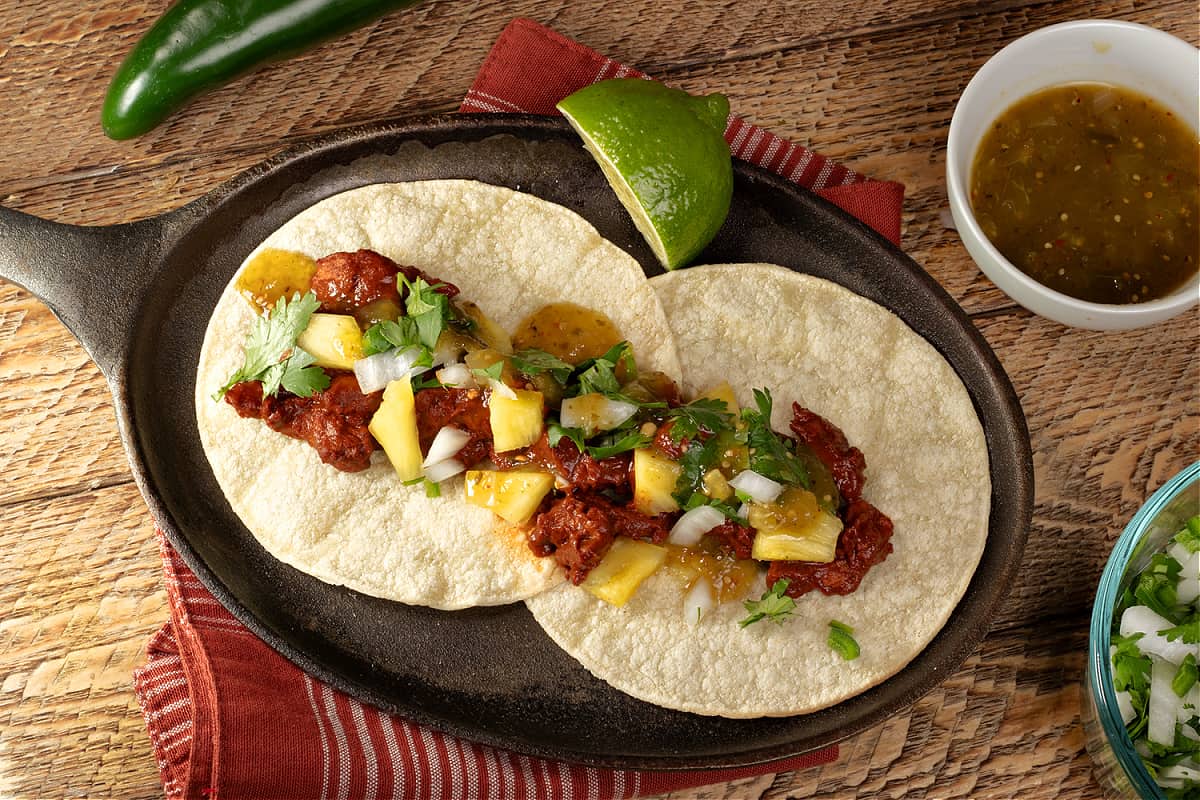 Start by making the marinade.
Remove the stems and seeds from 3 guajillo chiles and 2 ancho chiles. Note: guajillos are spicier than anchos, so to make it even milder, use 5 anchos instead.
Next, I recommend you toast the chiles which will bring out more flavor. Either pop them in a 250° F oven for 5 minutes or lay them flat in a skillet over medium heat, pressing down with a spatula. They will become aromatic and lighten in color. This usually only takes a minute or 2.
Remove the chiles to a bowl and add just enough hot water to cover. Make sure they are all submerged. Let them rehydrate for about 15 minutes.
Meanwhile, while the skillet is hot, add 6 cloves of garlic, skins, and all, to the pan. Roast for about 5 minutes or until you start to see black specs and the garlic has softened. Remove from the pan and remove the skins, then set aside.
If you own a small coffee grinder or spice grinder, add your whole peppercorns, whole cloves, onion powder, cinnamon, oregano, and cumin. Grind until you get a fine powder. If you do NOT have a spice grinder, we're going to blend this anyway so it "should" be okay, but alternatively, you can substitute ground cinnamon, cloves, and pepper instead.
Remove the hydrated chiles from the water and add to a blender along with the garlic and spices. Add just enough of the chile-soaking water to blend.
Add half of the 3.5 oz pkg of achiote, a peeled orange, apple cider vinegar, 1 teaspoon of salt, and about 1 cup of freshly cut pineapple.
If you like spice - add a chipotle pepper and a teaspoon of the adobo sauce too.
Puree until silky smooth.
Arrange about 4 oz (½ bag) of DRY soy curls in a baking dish and cover with the marinade. Mix well to ensure they are evenly coated.
Let rest for a minimum of 2 hours.
Meanwhile, finely dice half of an onion, a small bunch of cilantro, and even half of a jalapeno and mix together for the relish. Also, chop some more pineapple into small cubes for a garnish.
After 2 hours, empty the soy curls into a large skillet with the marinade and add 1 cup of water to thin. Gently simmer until it is hot and bubbly.
Assemble your tacos by laying down some of the soy curl meat into a corn tortilla, top with the onion relish, some chunks of pineapple, and your favorite salsa verde, and enjoy!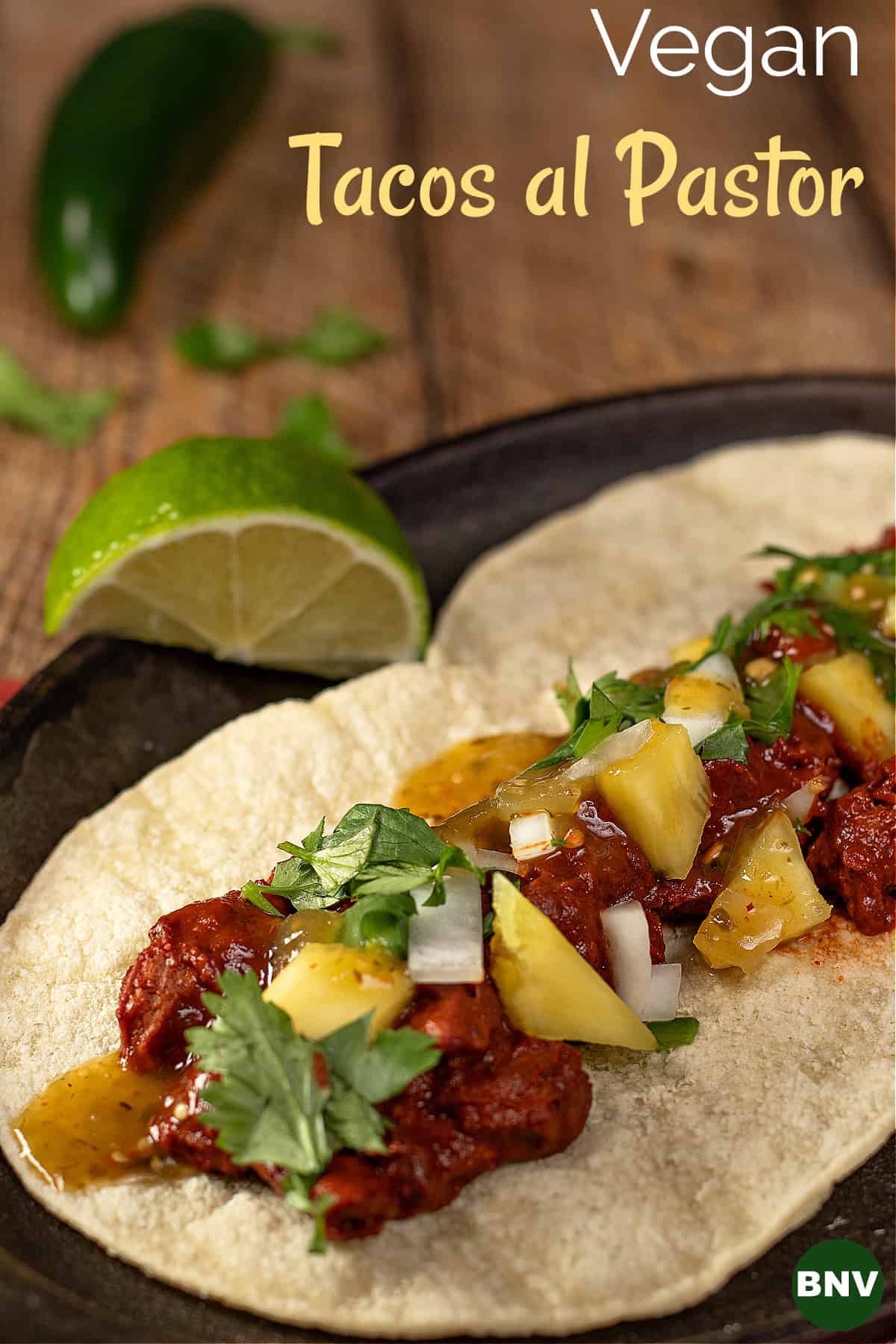 Print
Vegan Tacos al Pastor
Author:

Prep Time:

90 min

Cook Time:

15 min

Total Time:

1 hour 45 minutes

Yield:

10

-

12

tacos

1

x

Category:

Main, Soy Curls

Method:

Stovetop, Blender

Cuisine:

Mexican

Diet:

Vegan
---
Description
One bite of these flavorful Vegan Tacos al Pastor will make you think you are sitting in a Taqueria somewhere in Mexico! Muy delicioso!
---
Marinade
3

guajillo chile pods

2

ancho chile pods
water to cover

6

cloves garlic

½ tsp

Mexican cinnamon (canela)

½ tsp

ground cumin

1 tsp

Mexican oregano

½

(3.5 oz pkg) achiote paste

1

cup

fresh pineapple

1

small orange

¼ tsp

whole peppercorns

2

whole cloves

½ tsp

onion powder

1 tsp

salt

1

chipotle pepper with 1 teaspoon adobo (opt.)
Tacos
8

-

10

corn tortillas

4

oz

. soy curls

1

cup

diced pineapple for garnish

1

cup

salsa verse (or salsa of choice)

½

onion, diced

¼

bunch cilantro, chopped fine

½

jalapeno, diced (opt.)

1

c

. water
---
Instructions
Remove seeds and stems from chiles
Lay flat in a skillet over med heat and toast until fragrant (1 min)
Add chiles to a bowl and cover with hot water to rehydrate for 15 min
Add garlic (with the skins) to the skillet and roast until slightly blackened (5 min).  Allow to cool then remove the skins. 
In a spice grinder, grind the cinnamon, cumin, oregano, peppercorns, cloves, and onion powder together.  
Drain chiles and reserve 1 cup of the water
Add chiles, roasted garlic, and the ground spice blend with just enough water to puree until it is smooth.  Add additional chile soaking water if needed to get the puree smooth.  
Add pineapple, peeled orange, vinegar, salt, and ½ of the package of achiote.  Puree until smooth. 
Crumble soy curls (if you want smaller pieces) into a casserole dish and add the marinade.  Mix well. 
Allow to marinate for 2 hours. 
Meanwhile add diced onion, cilantro, and jalapeños to a bowl and mix.  Set aside. 
Add chopped pineapple to another bowl.  Set aside
After 2 hours (or when soy curls have softened) scrape soy curls and marinade into a skillet, add 1 cup of water, mix well and heat until bubbly.  The sauce will be thick.  
Continue to heat until warmed through and the soy curls are soft. 
Spoon into heated tortillas and top with the onion/cilantro relish.  Add pineapple and salsa verde and enjoy!
---
Notes
Fresh pineapple is best.  I bought a small one and have leftover pineapple to snack on. 
Ancho chiles are milder than Guajillos.  To tone down the heat of the sauce, use 5 Anchos instead of Guajillos. 
Also, skip the jalapeños and chipotle if you don't like heat. 
I used a store-bought jar of Salsa Verde
Achiote is a paste made from Annatto Seeds and is pretty popular in Mexican cuisine.  It's what gives the marinade its rusty red color.  It comes in a 3.5 oz. package and I found it in the Mexican aisle of my local Walmart.  It is also available on Amazon.
Regular cinnamon sticks can be used but I found the Mexican version at Walmart (because I was trying to be authentic)
For the orange, I used a little Cutie. 
Keywords: Vegan tacos al pastor