By reader request, these Moo Shu Veggie Rolls are my take on a Chinese take-out favorite, with not only homemade Oil-Free Potato Wraps - but an awesome Plum Sauce as well.
Thank you Chloe for the awesome idea!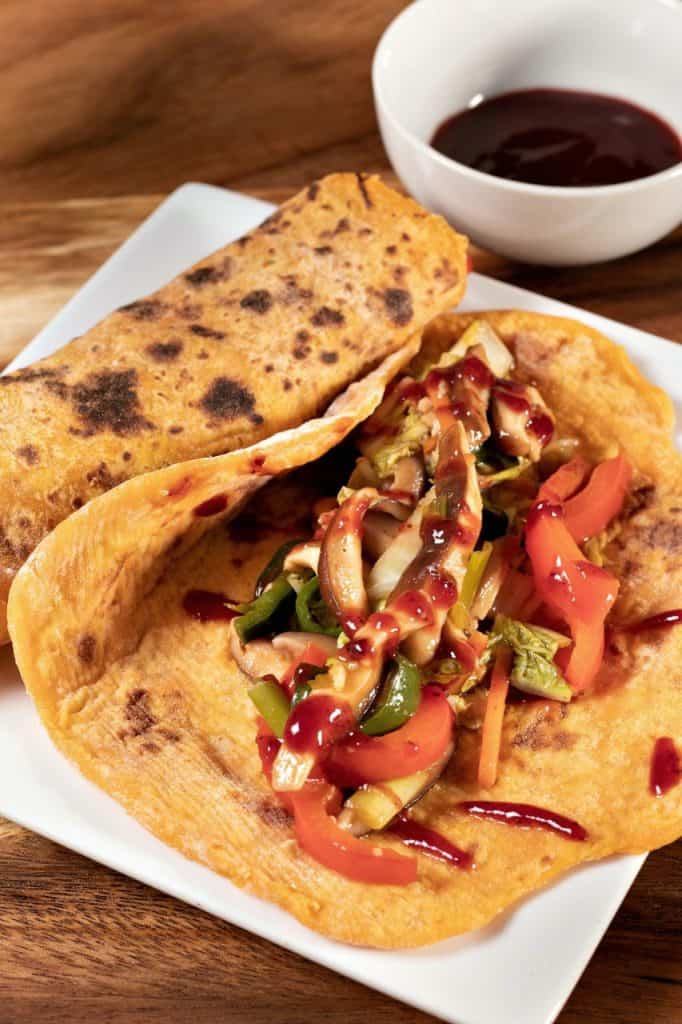 This recipe has 3 parts: The wraps (or pancakes), the Plum Sauce, and the Stir Fry.
Both the Wraps and the Plum Sauce can be made ahead of time.
The Wraps
Since Chinese Pancakes are hard to find in regular grocery stores, and not everyone lives close to an Asian Supermarket, I made my own Oil-Free Potato Wraps that you can find right here.
They are easy to make and can be stored in your fridge or freezer until you are ready to make the Moo Shu, that is if you can resist eating them all because they really are that good.
Many Moo Shu Recipes online use flour tortillas, so if you're not following an oil-free diet - that is also an option.
The Sauce
For the sauce, I went with a homemade Plum Sauce since my wife had just brought home a bunch of Plums from a roadside fruit stand. This is similar to the sweet and tangy Plum Sauce we used to get at one of our favorite Chinese Restaurants (before Covid shut everything down).
It's super simple to make and is completely oil-free.
You simply heat all the ingredients on the stove and then blend it. This recipe will make about 1 cup and keeps nicely in your fridge until you are ready to use it.
I do use Maple Syrup, so if that's not your thing you can sub your sweetener of choice.
The Moo Shu
If you have the wraps and the sauce ready to go, the rest is easy and comes together quickly.
I chose Napa Cabbage, Green Onions, Shiitake Mushrooms, and of course some garlic and ginger. I also added a Red Bell Pepper for some color and a Poblano for just a touch of heat, but feel free to adjust with whatever you have on hand.
Pre-chop all your veggies and simply stir fry them in a non-stick pan or wok using just a little veggie broth or water for the liquid.
Assemble your rolls and dip away.
I hope you like them as much as we did so without further ado, let's jump right into it.
Moo Shu Veggie Rolls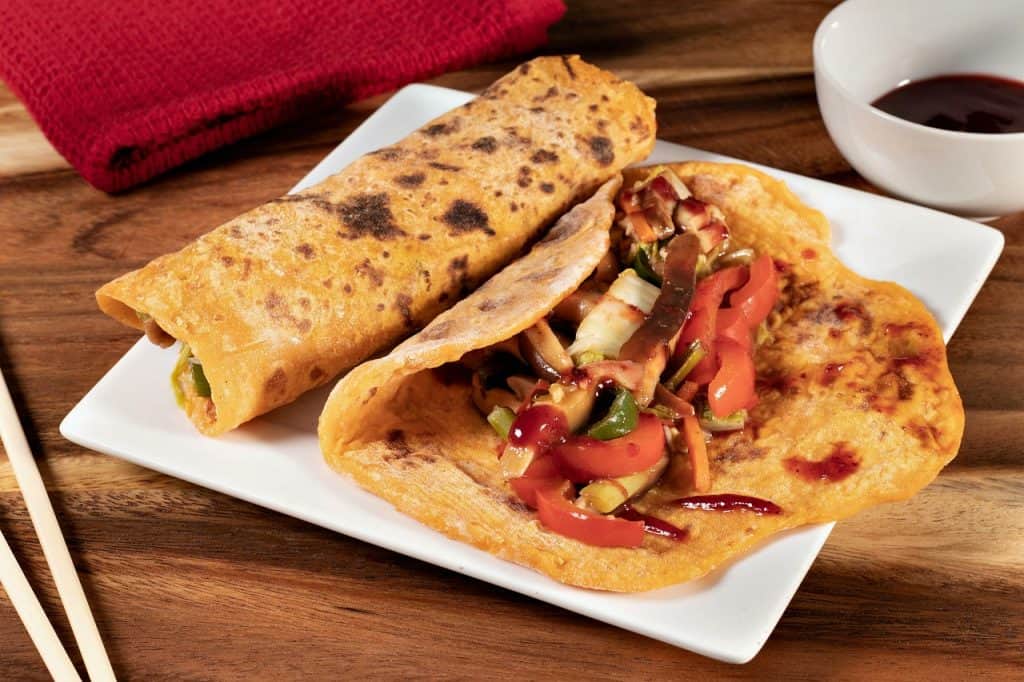 If you're making my Oil-Free Potato Wraps - prepare them first. Then keep then covered until you are ready to use them.
The same goes for the Plum Sauce.
Make it ahead of time and have it ready to go. I found one of those plastic squeeze bottles you see on restaurant tables and it was perfect for storing it in my fridge.
Alternatively, you could use Hoisin Sauce, which I also have a recipe for right here, or store-bought Hoisin (check the labels for oil), but I like the Plum Sauce the best.
You simply wash the plums, slice into quarters, and obviously remove the pits, then add to a saucepan with the ingredients listed below and simmer until softened. Then blend until smooth (do remove the cinnamon stick.)
Easy peasy.
For the stir fry, it really helps to have everything pre-cut and ready to go because once that pan gets hot, you won't have much time for shredding cabbage or carrots.
I used about 2 cups of shredded cabbage, 8 oz of Shiitake Mushrooms (kinda sliced into matchsticks), ½ cup of shredded carrots, 3-4 green onions, and some minced garlic and ginger. Separate the white part from the green with the onions. Mince the white parts and slice the stems into inch long strips as well.
For the peppers, I used ½ a Red Bell for color and a Poblano for a touch of green and heat. Also, cut these into inch long strips.
Poblanos are not that hot, especially if you remove all the white membranes inside as well as the seeds. If you don't like anything remotely spicy, simply leave them out.
Once everything is chopped, heat up your non-stick pan or wok to med-high, add a tablespoon or two of water or soy sauce, and add your minced white onions. peppers, and carrots.
Once they are softened, add your mushrooms, 2 Tbs of low-sodium soy sauce, and your garlic & ginger. Let the mushrooms just start to soften, then add your cabbage and 2 Tbs of the Plum Sauce (or Hoisin).
Briefly stir everything until it is mixed well and the cabbage begins to wilt, then remove the pan from the heat.
Warm up your wraps (if they were in the fridge), and roll away - Plum dipping sauce at the ready.
It really is that easy and the taste - fresh veggies, with a hint of heat from the poblano, balanced perfectly with the sweetness of the plum sauce....oh man. Good grub.
All plant-based, all vegan, all oil-free. It doesn't get any better than this.
Hope you enjoy and be sure and leave me a comment down below if you do.
Until next time,

Print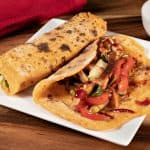 Moo Shu Veggie Rolls
Author:

Prep Time:

60 min

Cook Time:

30 min

Total Time:

1 hour 30 minutes

Yield:

4

-

6

servings

1

x

Category:

Main

Method:

Stovetop

Cuisine:

Asian, American

Diet:

Vegan
---
Description
By reader request, these Moo Shu Veggie Rolls are my take on a take-out favorite, with not only homemade Plum Sauce but oil-free wraps as well.
---
Potato Wraps
Plum Sauce
1

lb plums

¼ cup

apple cider vinegar

¼ cup

maple syrup

2

Tbs low-sodium soy sauce

1

Tbs minced ginger

1 tsp

minced garlic

¼ tsp

5 spice powder

⅛ tsp

ground cloves

1

cinnamon stick
Moo Shu Veggie Rolls
3

green onions (white and green parts separated)

1

poblano pepper, cut into matchsticks

½

red bell pepper, cut into matchsticks

½ cup

shredded carrots

8oz

shiitake mushrooms, cut into strips

2 tsp

garlic, minced

1 tsp

ginger, minced

2 cups

napa cabbage, shredded into strips

2

Tbs low-sodium soy sauce

2

Tbs plum sauce or hoisin
---
Instructions
Prepare the Wraps (if using) according to the recipe
Plum Sauce
Wash and cut the plums into quarters, discarding the pits
Add plums and the remaining sauce ingredients to a saucepan
Heat to just boiling and reduce to simmer
Simmer 15-20 minutes, remove the cinnamon stick, and then blend until smooth
Stir Fry
Pre-chop all veggies
Heat a non-stick pan or wok on med-high heat
Add 1-2 Tbs of water or soy sauce
Add minced onion, peppers, and carrots and stir until softened
Add mushrooms, garlic, ginger, and soy sauce - stir until softened
Add cabbage and plum sauce - stir just till cabbage starts to wilt 
Remove from heat 
Add stir fry to wraps, roll like a burrito, and drizzle or dip with plum sauce
---
Keywords: moo shu veggie rolls, plum sauce