Do we call them Flatbreads? Tortillas? I call them Oil-Free Potato Wraps but whatever you call them, they are 100% delicious, completely fat-free, and only require TWO ingredients.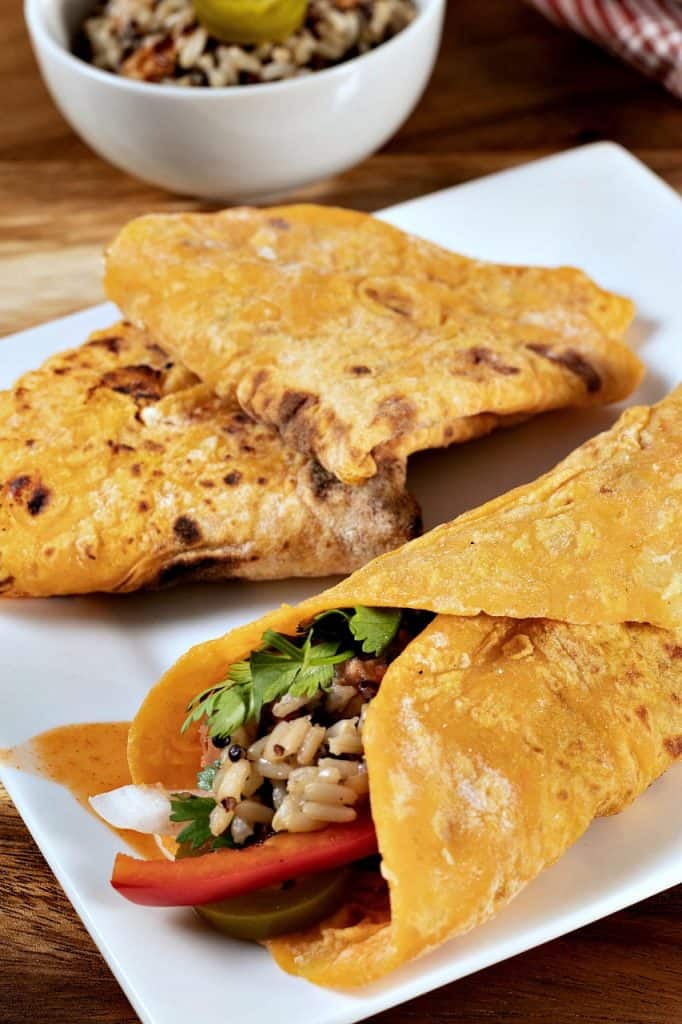 A few weeks ago, my readers requested I make one of their favorite Chinese take-out dishes, Moo Shu Wraps. So ever since, I have been searching for the perfect wrap.
At first, I looked at Egg Roll Wrappers from the store but was disappointed with how many ingredients (mostly preservatives) they had. And they were just too small.
Next, I tried to make my own Chinese pancake, like the ones you would get in a restaurant. To say it was a disaster would be an understatement.
I thought about just using flour tortillas, but EVERY SINGLE BRAND in my store had oil as an ingredient.
No way around it - I was going to have to learn to make my own.
The next THREE attempts all involved potatoes, using recipes I found on YouTube, mixing hot potatoes with flour to make a dough. It was messy, REALLY messy, and the dough stuck to everything, but eventually, they became somewhat edible.
And then I remembered that a very dear friend of mine made similar wraps. For the last couple of years, she has invited us up to visit and have lunch. Both she and her sister Susie are huge McDougall followers, and the meals were always made from scratch with ingredients right out of her garden.
So I reached out to her and finally, at long last, learned the proper way to make them. And she calls them Lefse, which is a Norwegian Flatbread.
So thank you Dora! They came out wonderful.
So without further ado, let me show you how to make an easy, guilt-free, oil-free wrap that you can use for tacos, burritos, moo shu, or whatever you want to put in them.
Oil-Free Potato Wraps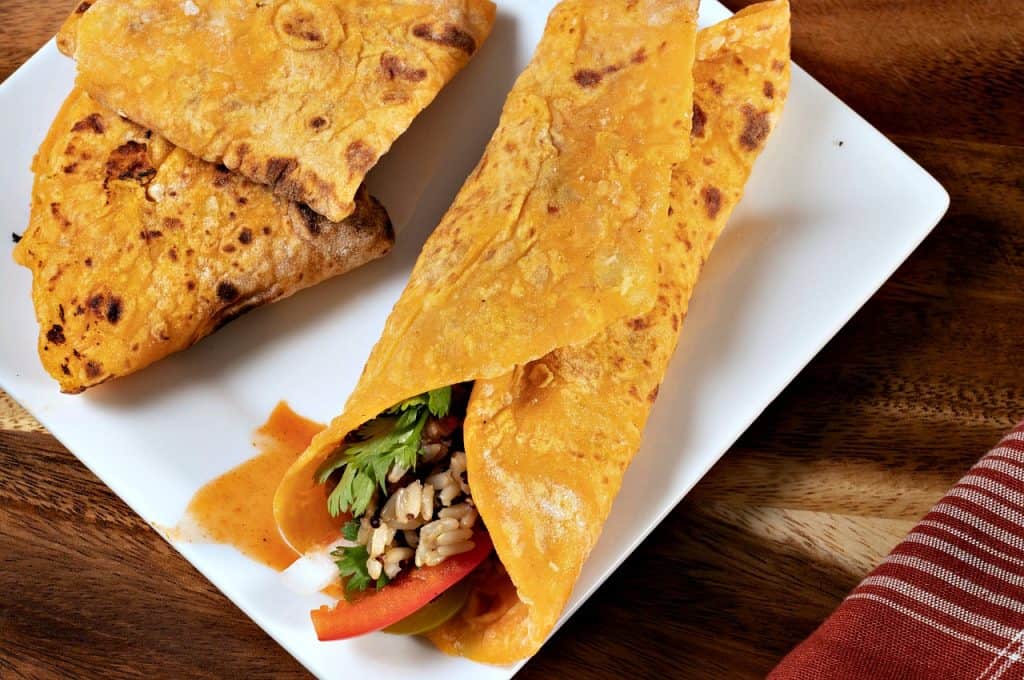 This recipe is one of the easiest recipes I have ever posted.
You only need 2 ingredients - mashed potatoes and flour (ok and a pinch of salt). That's it.
BUT......they do take time.
Physically, they come together quickly, but it will take time for the potatoes to cook, let them chill, mix the flour, and roll out the wraps, etc. ...so plan accordingly.
You're basically going to mix some cold mashed potatoes with flour to make a dough.
Then you separate that dough into 6 equal balls and roll them out like pancakes. And you cook them in a hot, non-stick skillet until lightly browned.
That's the quick and dirty version.
For more of the details and equipment that I used: read on.
Potatoes
I used one Sweet Potato and one Yukon Gold. You could use ALL sweet potato, or ALL yukons, but I went with one of each. Russets would probably work too.
Leave the skins on while cooking, and boil them or steam them. Do NOT bake or microwave them as you want that moisture. I used my Instant Pot, 20 min in a steamer basket, with a natural pressure release.
The important thing is you want them cooked all the way through. You do NOT want lumpy mashed potatoes.
Once they are cooked and still hot, carefully remove the skins and mash them until they are smooth. Then cover and refrigerate, preferably overnight.
Flour
My friend uses Spelt Flour, so I imagine any whole wheat flour will work. I personally used King Arthur Bread Flour.
I have NOT tried any Gluten-Free flours - so I do NOT know if they will work. Try it and let me know.
I used my KitchenAid Stand Mixer with the paddle attachment. You can also simply mix your dough by hand too. If it feels too wet, add more flour, 1 tablespoon at a time, until it feels like cold, smooth, play dough.
The Dough
Once the dough is mixed, and no longer feels sticky to the touch, I rolled it into a log and separated it into 6 equal sized portions. This will make a pancake about the size of your hand. Tortilla sized.
The traditional way of rolling out Lefse, is using a cloth cover on your work surface and another type of cloth cover around your rolling pin. I did not do this and they still came out ok.
If at any time they start to stick to your rolling pin, simply add more flour. If they ever stuck to my counter, I would use my bench scraper to clean that up and sprinkle more flour.
I'll add some Amazon Affiliate links with all the equipment I used at the end of this, in case anyone is interested. I will make a small commission on each purchase but at no extra cost to you.
With each of the 6 portions, I flattened them out using my hands into biscuit sized rounds, generously dusting with flour as I went along.
Once the biscuits were formed, I heated up my pan to med-high heat. I used my cast-iron skillet, with NO OIL. You want a dry pan to cook these in.
Then, one by one, I rolled each biscuit out to form a tortilla-sized wrap. Not too thin, not too thick, about the thickness of a tortilla.
Gently lay this in your pan. After about 30 seconds to 1 minute - you shuld be able to flip it. Another 30 seconds, give it another flip, etc until they are done. You can see the brown spots on mine in the photos.
They will balloon up and this is to be expected. Simply flatten back down with your spatula.
As they come out of your pan, or off your griddle, place them on a plate and keep them covered with a clean kitchen towel to keep them soft.
Equipment I Used
And that is how I made my Oil-Free Potato Wraps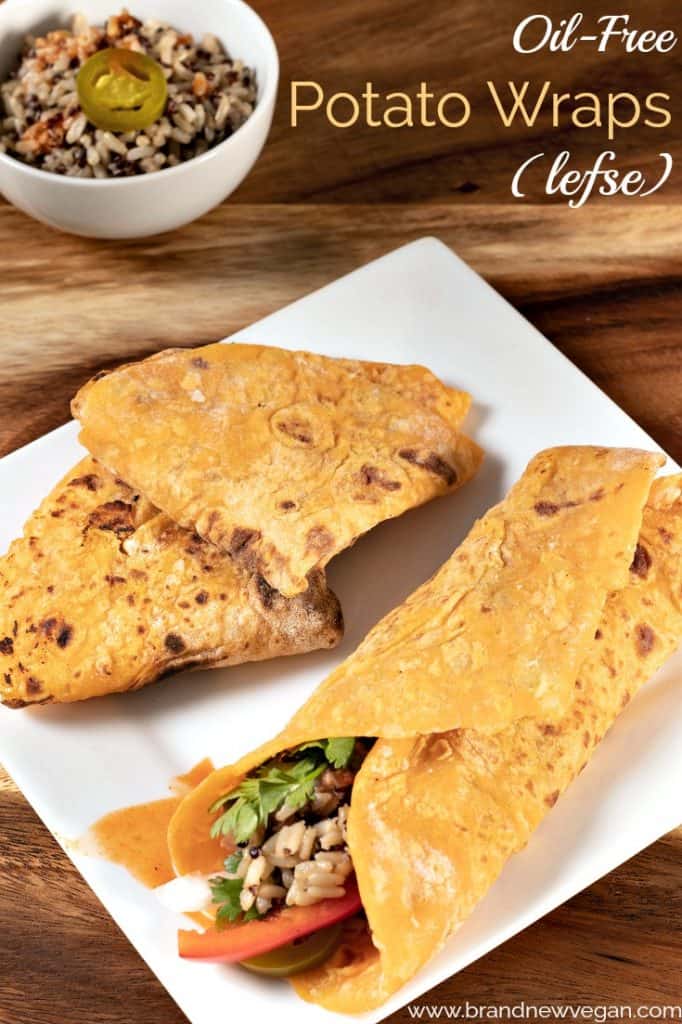 I hope I didn't make it more complicated than it really is. Just make sure you have COLD mashed potatoes, add a pinch of salt if you want, and some good quality flour. Make a nice smooth dough and carefully roll them out into tortillas. That's basically it.
Let me know how you did in the comments below, or better yet post your photos in my BNV Community FB Group or on my Instagram using hashtag Brandnewvegan.
And now - time to get started on that moo shu....

Print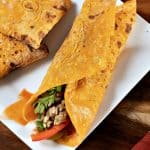 Oil-Free Potato Wraps (lefse)
Author:

Yield:

6

wraps

1

x

Category:

breads

Method:

stovetop

Cuisine:

american, vegan
---
Description
Do we call them Flatbreads? How about Tortillas? I call them Oil-Free Potato Wraps but whatever you call them, they are 100% delicious, completely fat-free, and only require TWO ingredients.
---
1

sweet potato

1

yukon gold potato

½ cup

flour (plus more for dusting)
a pinch of salt
---
Instructions
Boil or steam the potatoes leaving the skins on until thoroughly cooked through
Let them cool enough to handle, then remove the skins
Mash the potatoes until silky smooth - you want 1 cup
Cover and refrigerate - preferably overnight
Add ½ cup of flour and mix until a dough ball forms
Add a tablespoon of additional flour as needed to keep it from being too sticky
Roll out into a log and divide into 6 equal portion
Flatten each portion into a biscuit shape dusting both sides with flour
Heat a non-stick pan or griddle to med-high heat
Roll each biscuit shape into a tortilla, generously dusting with flour as needed
Lay a tortilla into the hot pan and flip after 30-45 seconds
Continue flipping every 30 seconds or so until done
Cover with a towel and keep warm until used
---
Keywords: oil free potato wraps, ol-free tortillas, oil-free flatbread