There's just something super-comforting about a hot bowl of Chicken Noodle Soup when you're not feeling well. And this week I needed some of that comfort, in the form of something soft, tasty, and easy-to-eat. So I created what I think is the ULTIMATE comfort food - my Mushroom Noodle Soup.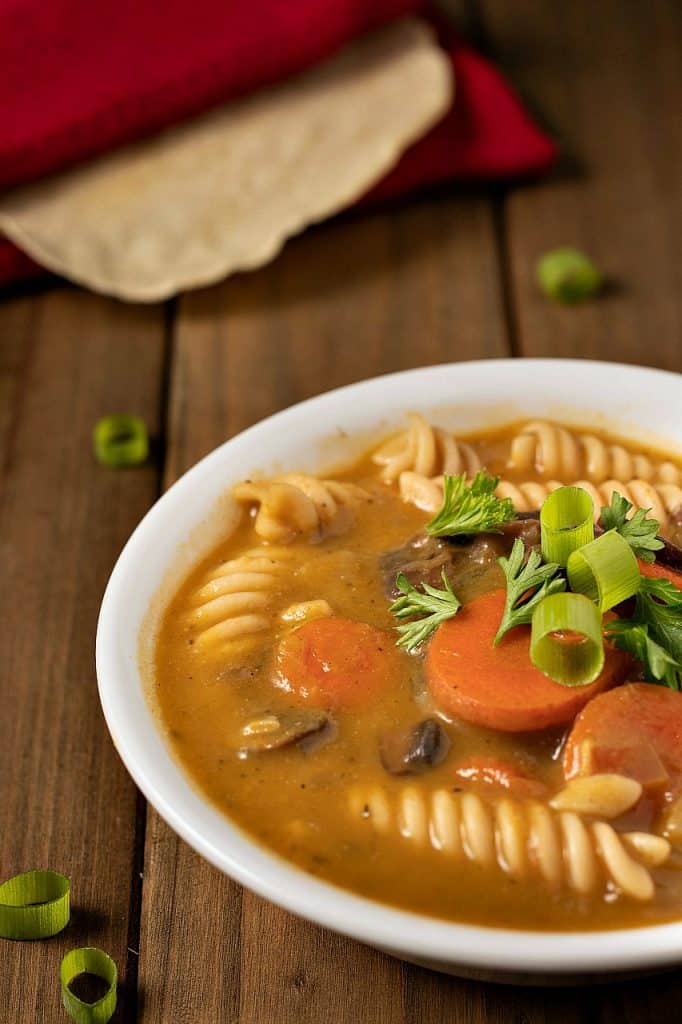 Trips to the dentist have never been pleasant for me, but when they do MAJOR surgery in there, well I knew I was going to be eating a lot of soups and mashed potatoes this week, or at least until my mouth heals.
In the past, when I didn't feel well, I would always reach for that iconic red & white labeled can of either Tomato or Chicken Noodle Soup. But now that I'm vegan and avoid those processed, canned soups as much as possible, I decided to make my own.
And I can't believe I haven't made this yet! I mean it's like the ULTIMATE comfort food, it's super easy to make, and tastes pretty dang AMAZING too. In fact, my daughter came over just as I was finishing up and gobbled down TWO huge bowls.
And that's saying something right there - trust me!
So we've got our mirepoix of onion, carrots, and celery. I added some minced garlic and herbs to really pile on the flavor. Then I added some of my favorite Baby Bella mushrooms to replace the 'chicken'.
Now I could have added some baked tofu or even some Butler Soy Curls, but I opted to use mushrooms. But you can use whichever one you are more comfortable with. Have some homemade Seitan in the fridge? Add that instead. Get creative and make this your own.
Now we just add some broth, a little more seasoning, and our favorite pasta. I chose my favorite Brown Rice Pasta but honestly any pasta will work.
(Note: If you are a Brand New Vegan, remember that egg noodles are made with, well - eggs. And we don't eat eggs. But if you're not Vegan, feel free to use whatever pasta you like. )
But the secret to this amazing soup.....the very last ingredient..... is what brings this all together and makes it so good.
So read on and I'll show you exactly how I made it.
Mushroom Noodle Soup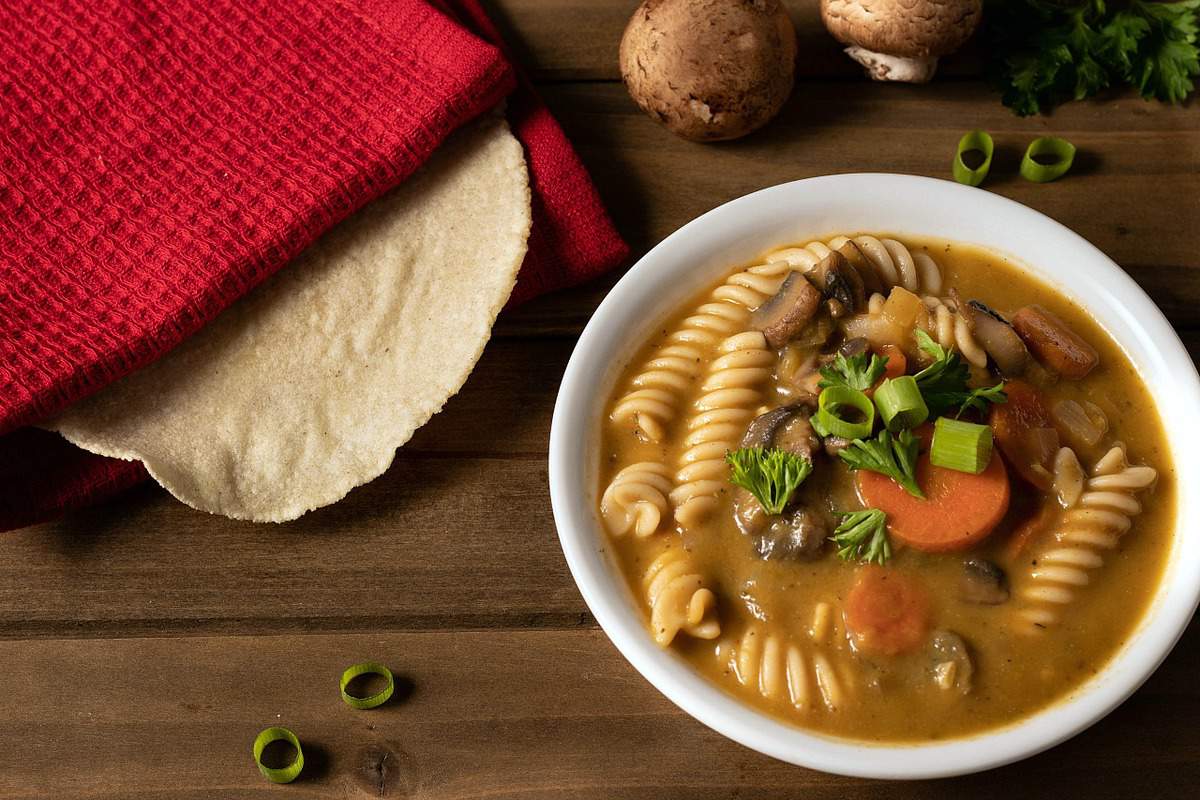 I started by dicing a small white onion, about 1 ½ cups, and sautéing that in a large dutch oven with just a splash of veg broth to start them softening. Then I added 2 ribs of thinly sliced celery and 2 small thinly sliced carrots. About a cup of each.
This combination is what is commonly known as a Mirepoix (meer-pwah) and is a fundamental element of classical cuisine and the perfect base for this soup.
Once the veggies have softened, we stir in a few cloves of minced garlic and a little dried thyme leaves, sage, and ground pepper.
Now we add our mushrooms. I cleaned and sliced about 8 oz of Baby Portobellas but you can use whatever you like.
Want to use Soy Curls? I thought about it but personally, given my current condition, probably wouldn't be able to chew them.
BUT....if I WAS to use Soy Curls, I probably would have rehydrated half a bag in some hot water, maybe a tablespoon or two of a low-sodium soy sauce, and probably a pinch or two of poultry seasoning. Drain, squeeze dry, chop, then add to the soup.
Once the mushrooms have reduced in size and released their own liquid, I added a bit of poultry seasoning (a common seasoning found in most grocery stores made of thyme, rosemary, sage, nutmeg, etc)., 2 cartons of low-sodium veg broth (8 cups), a pinch of salt, and a bay leaf.
Bring the soup to a simmer and cover for the next 30 minutes.
Right before we add our pasta, remove about ½ cup of the broth from the soup and set it aside. Now add a box of your favorite pasta and let it continue to simmer until the pasta is al dente, about 10 more minutes. I used a 12 oz box of Brown Rice Fusilli.
When the pasta is finished, turn off the heat to the soup and stir well.
And that ½ cup of broth we saved?
Now it's time for my secret ingredient. Whisk 1 tablespoon of White Miso into the broth until it completely dissolves, then stir that into the soup. It adds an incredible depth of flavor and the perfect umami factor that makes this soup so irresistible.
Be sure and taste for any seasoning adjustments. I added a few more grinds of black pepper and just a tiny pinch of salt and it was perfect.
There you have it, my Mushroom Noodle Soup. It is SO good and in my opinion 100x better than any of that stuff I used to get out of a can.
Hope you enjoy it and if you do, you know what to do. Leave those comments and tag me on Instagram.
I did not shoot any video this week because I just wasn't feeling up to it, but if you really want a video of this ..... well I'm sure my wife wouldn't complain if I made this again soon 🙂
See ya next week....

Print
Mushroom Noodle Soup
Author:

Prep Time:

30 min

Cook Time:

30 min

Total Time:

1 hour

Yield:

6

-

8

servings

1

x

Category:

Soup, Stew

Method:

Stovetop

Cuisine:

American, Vegan
---
Description
There's just something about a hot bowl of Noodle Soup when you're not feeling well. So I created the ULTIMATE comfort food - my Mushroom Noodle Soup.
---
1

small onion (

1 ½ cups

)

2

ribs celery (

1 cup

)

2

carrots (1 cup)

2

-

3

cloves garlic, minced

½ tsp

dried thyme leaves

½ tsp

rubbed sage leaves

¼ tsp

ground pepper

8 oz

Baby Bella mushrooms, cleaned and sliced

8 cups

low-sodium vegetable broth

½ tsp

poultry seasoning

½ tsp

salt

1

bay leaf

12 oz

dried pasta

1

Tbs white miso
---
Instructions
Dice onion and add to a large soup pan/dutch oven.  Saute in a splash of water or veg broth.
Add sliced carrots and celery and saute until softened.
Add garlic, thyme, sage, and pepper and stir until aromatic - about 3o seconds.
Add sliced mushrooms and simmer until softened and they have released their liquid
Add veg broth, poultry seasoning, salt, and bay leaf.  Cover and increase heat to simmer.
Let soup simmer, covered, for 30 minutes
Remove ½ cup of soup broth and set aside.
Add pasta and cook until al dente - about 10 minutes.   Remove from heat.
Add miso to the ½ cup soup broth and whisk until dissolved, stir into soup.
Add salt and/or pepper to taste and serve.
---
Notes
Keywords: mushroom noodle soup