I pulled out my trusty Carbon Steel Wok the other day and realized I had never properly seasoned it (please don't call the Wok police). So after a few YouTube videos and firing up my trusty BBQ, I had a beautiful, dark patina that was begging me to stir fry something.
So here is a very simple recipe for an Oil-Free Broccoli Mushroom Stir Fry that I made - completely oil-free - in my newly seasoned Wok. And it was AMAZING.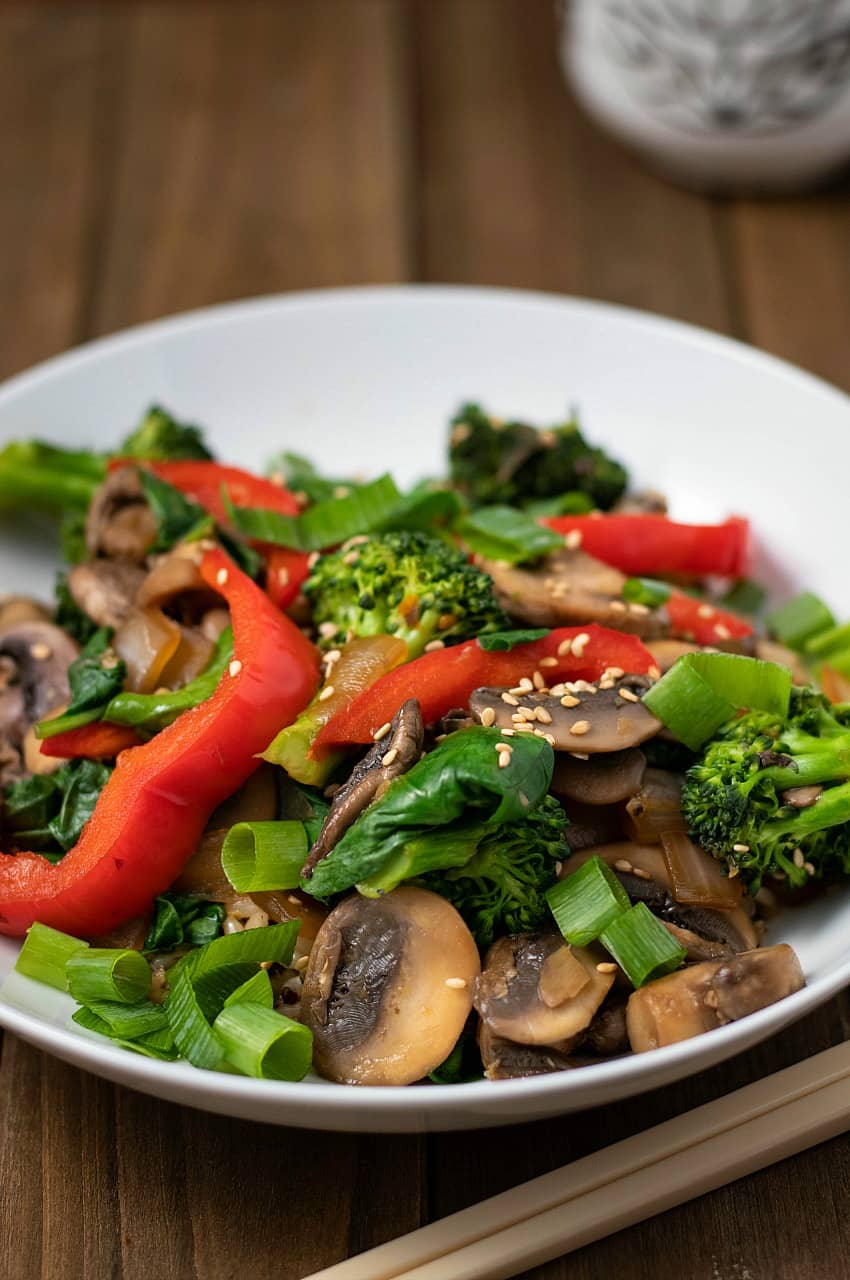 Obvious first question: Do I have to use a Wok?
Of course not. You could use any large, non-stick fry pan to make this recipe. I love cooking in my Wok and wanted to do a stir-fry this week. You know, get more greens and veggies into the old diet, that sort of thing.
Second question: What kind of Wok do you use?
I have a Carbon Steel Wok my wife bought years ago. And according to this article over at Serious Eats, it's not a bad choice either. A Carbon Steel Wok will need to be properly seasoned though (and so will a cast iron Wok), which segues perfectly into question #3.
I added a Wok that is very similar to the one I use to my Amazon Store that you can find here.
And lastly: How do you season a wok?
If you've ever used a properly seasoned cast iron skillet (like the one your grandma had), you know what an amazing non-stick surface it is to cook on. You see with cast iron or carbon steel, as the metal heats up it also opens up the pores in the metal. And by applying a thin layer of high-temp cooking oil (canola, peanut, NOT olive!), you fill those pores and start a process called polymerization, which creates the non-stick surface.
You will want to heat up your Wok to smoking temps, so an electric stove is probably not going to work. If you have a gas stove, no problem.
When the metal begins to smoke you carefully apply a super thin coat of oil via tongs and a paper towel or lint-free towel. Heat it up again and the oil will begin to smoke. When it stops smoking, apply another layer. You will gradually see the metal surface change colors. Once you get a nice, dark amber color to the bottom of your wok, try to do this process to the sides too - if you can.
If you do not have a gas stove, you can use your BBQ. Just be very careful with any wood or plastic handles.
As always here, YouTube is your friend and there are many excellent videos showing you exactly how it's done.
So with all the foreseen questions out of the way... let's cook something yummy.
Oil-Free Broccoli Mushroom Stir Fry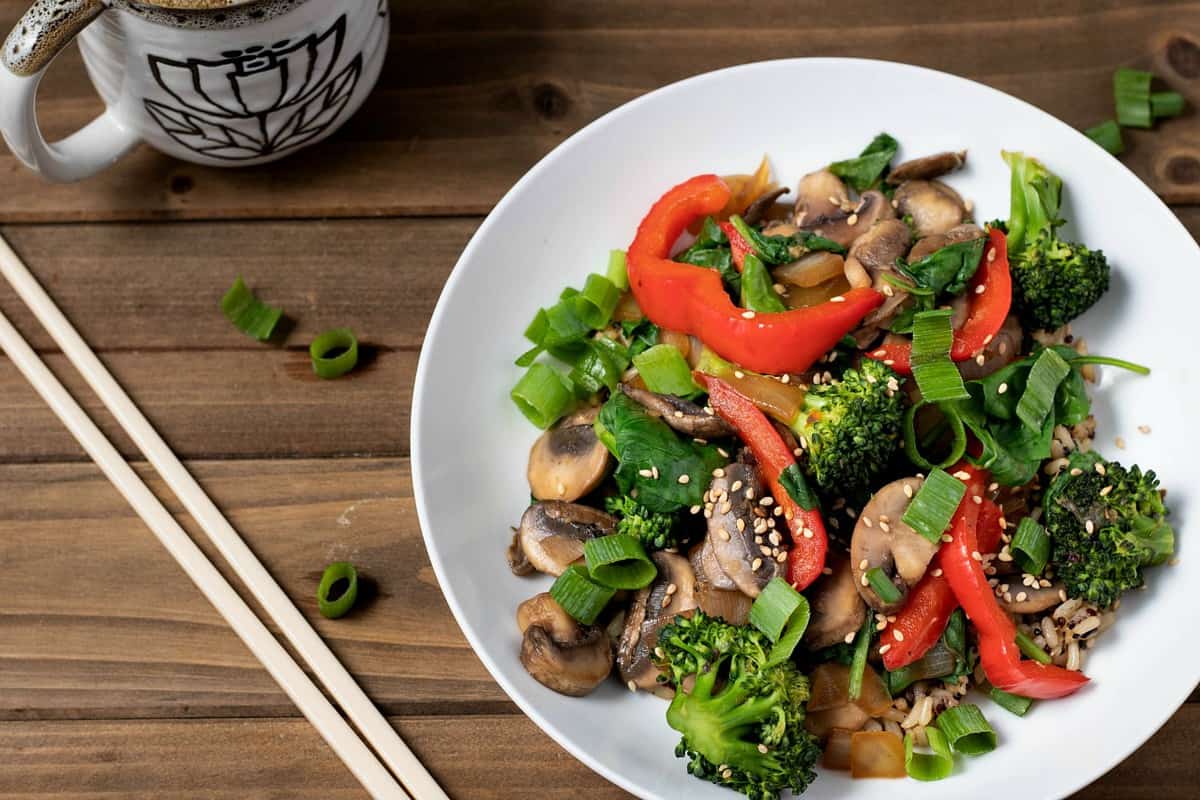 With ANY kind of stir fry - you will want to have ALL of your ingredients already prepped and ready. That means cleaned, cut, chopped, etc.
So measure out all the ingredients listed below in the recipe box below, mince your garlic, grate your ginger, clean and slice your mushrooms, etc.
I also pre-cooked my Broccoli in the microwave, so if you do NOT use a microwave, you could also take this time to add your florets to a pan with a little water and steam them. You do NOT want to cook them completely or they'll become soggy in the recipe, just enough to soften them a bit until they turn bright green in color.
We're also going to need ½ diced white onion, a red bell pepper cut into strips, and about a pound of fresh Broccoli (about 2-3 small heads with the stem). After removing the stem and washing the florets I ended up with about 9 ounces of broccoli florets.
You'll also need some fresh Spinach, and all I did here was grab a big handful, so no fancy measurements needed. Use as little or as much as you like.
With our ingredients ready, let's cook.
Add the low sodium soy sauce and a pinch of red chile flakes to your wok (or fry pan) and turn it up to med to medium-high heat. Once the soy sauce JUST begins to boil, add your diced onion and stir continuously until they become translucent.
Add your garlic and ginger and continue to stir for about 30 seconds. The key to not burning your veggies in a stir fry is to always make sure you keep them moving around in your pan. So stir - stir - stir.
Now we add our mushrooms and stir some more. As they cook down they will release a lot of their own juices which adds to the sauce in this recipe. Now is a good time to give them a pinch of freshly ground black pepper and kosher salt if you like.
While the mushrooms are cooking...
We can take a small break and pre-cook our Broccoli. As I mentioned before, I used my microwave. Use a microwave-safe bowl with a loose cover and cook them on high for about 2 ½ minutes. They should become really bright green in color and still have some crunch. If you steamed them instead, get them ready to go into the pan.
Once the mushrooms have shrunk in size by about half, add your Red Bell Pepper strips and stir for about 1 minute, then add the broccoli. Now we just continue to stir, mixing everything together, until the Broccoli is cooked through. As I said, it should still have a nice crunch to it.
Then we just add a big handful of spinach and we're done. As we stir that in it will begin to wilt.
Serve with your favorite rice, noodles, or just eat it as is. It is delicious however you serve it.
Nothing fancy, no special sauce to make, no oily wok with grease splattering all over, just whole food ingredients - stir-fried together in a hot pan.
Simple and healthy.
That's it for this week, hope you enjoy the recipe. If you have any questions on the Wok, please leave the comments below.
And with that my friends - I'll see you next week.
Enjoy.

Print
Oil-Free Broccoli Mushroom Stir Fry
Author:

Prep Time:

30 min

Cook Time:

10 min

Total Time:

40 minutes

Yield:

6

servings

1

x

Category:

Stir Fry, Vegetables

Method:

Wok, Stovetop

Cuisine:

Asian, American
---
Description
Here is a simple recipe for an Oil-Free Broccoli Mushroom Stir Fry that I made in my Wok. Simple & delicious. Who says you can't stir fry without oil?
---
3

Tbs Low Sodium Soy Sauce

¼ tsp

 Red Chile Flakes

½

White Onion, diced

1

Tbs Garlic, minced

2 tsp

 Ginger, minced

16oz

White Button Mushrooms, cleaned and sliced
Salt & Pepper to taste

1

Red Bell Pepper, cut into strips

1

lb fresh Broccoli, stems removed and florets rinsed (about

9 oz

)

2 cups

Fresh Spinach
---
Instructions
Prep all ingredients before cooking.  Chop the broccoli, dice the onion, slice the mushrooms, mince the garlic & ginger, etc.
Add the soy sauce and pepper flakes to a cold Wok (or fry pan) and heat to med-high.
JUST when the soy sauce begins to boil, add the onions and stir until translucent.
Add garlic and ginger and stir fry for 30 seconds
Add the mushrooms and continue stirring.  Season with salt & pepper if desired.
Prepare broccoli while mushrooms are cooking via steaming or by microwaving for 2 ½ min in a covered bowl.
When the mushrooms have reduced in size by about half, add red bell pepper and stir fry for 1 minute.
Add broccoli and continue stirring until broccoli is just heated through but with some crunch left
Stir in spinach until wilted and serve.
---
Notes
Keywords: oil free, broccoli mushroom stir fry, no oil wok