I was browsing Facebook the other day and saw this incredible photo of a recipe that used eggplant, zucchini, tomatoes, and bell peppers and it looked SO good that I knew I had to try it immediately!

So here is my version of Oil-Free Caponata Pasta and I hope you like it as much as I do.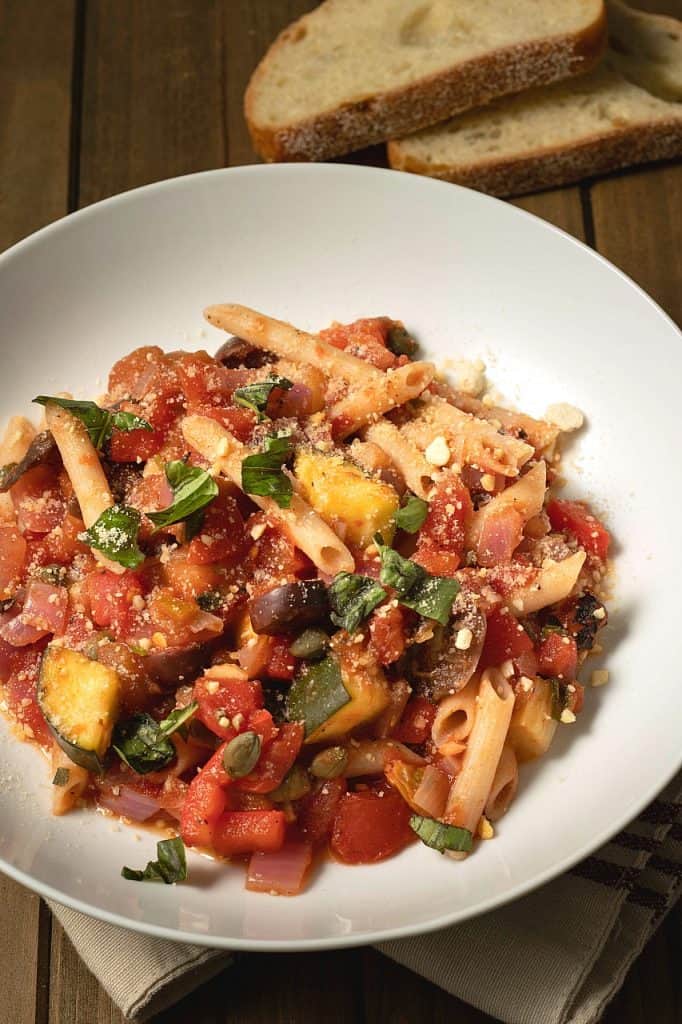 Caponata is a traditional Sicilian Recipe that uses a lot of vegetables you may have at the end of summer. Vegetables like eggplant, zucchini, tomatoes, peppers, etc.
What's different in this recipe, from say a normal Ratatouille, is this is more of a sweet and sour version.
Many recipes I saw used sugar to make it sweet (I decided to use raisins). They also use capers to give it a hint of salt, and of course, Red Wine Vinegar to give it a nice tang.
Caponata is like an eggplant/tomato relish or a Bruschetta that is normally served with little pieces of toasted baguettes. But I wanted to make a full meal of it so I added some Brown Rice Pasta and let me tell you - it came out delicious.
The hardest part of this recipe to me, being perfectly honest here, is that I do not have a lot of experience using Eggplant.
I saw where a lot of people would salt and drain their eggplant first to remove any bitterness. Because I try to watch my sodium intake I did not do that. I also saw where people would then fry their eggplant in oil - and of course, I did not do that either as I stick to a WFPN No Oil diet.
So I tried roasting my cubed Eggplant in a dry pan and it seemed to work ok, but maybe there are better methods you have to get your Eggplant crispy?
Does it even need to be crispy - I honestly don't know.
Would an air-fryer work?
Or could you roast it in an oven?
If you try any of these other methods and have good results - I would be very curious to hear about them.
Yes, sometimes I do try recipes that are a little outside of my wheelhouse - but that's how we improve as cooks, right? So if there are any true Italians or Sicilians out there who are laughing at me for totally butchering this recipe lol - my apologies!
But - I will tell you it still came out incredible and I know that because I had my daughter taste it as she was dropping off my grandson to spend the night ... and her first words were "OMG!"
That's usually a good sign 🙂
So with all of that said - let me show you how I made my Oil-Free Caponata Pasta.
Enjoy!
Oil-Free Caponata Pasta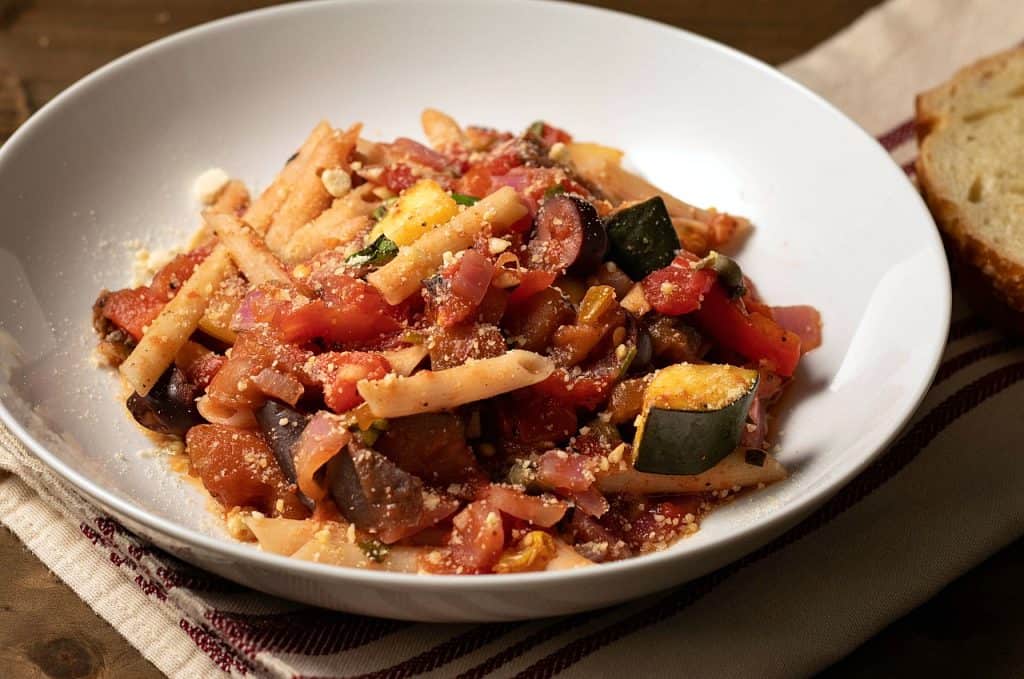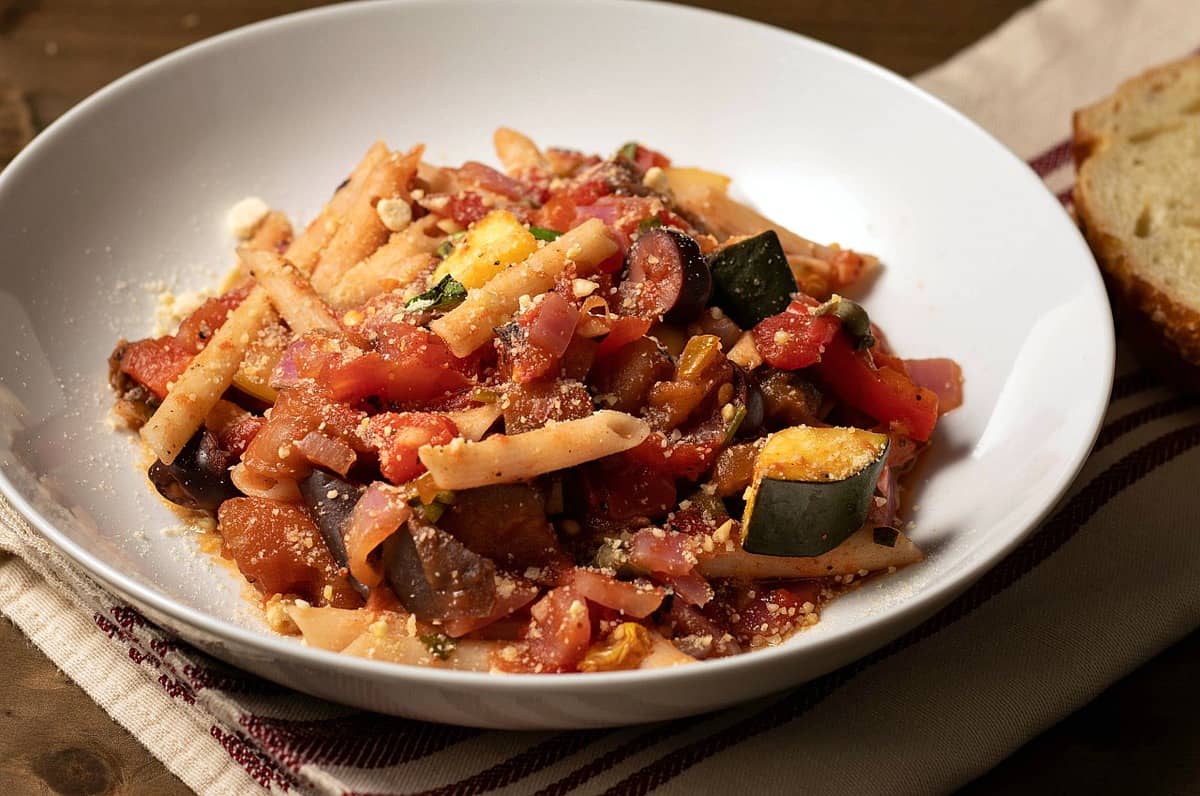 Let's start with a medium Eggplant and slice it into fairly thick 1" rounds. Then cut them into evenly sized cubes. Add them to a dry pan and roast over medium-high heat with a pinch of salt until they begin to show a little color from the browning. Remove the pan and set aside.
Next, dice a medium-sized Red Onion and add it to a large saucepan with a splash of veggie broth or water to prevent sticking, and begin to saute it until softened.
Then we add in a chopped Zucchini (aim for the same size cubes as the eggplant), a stalk of chopped celery, and a diced Red Bell Pepper.
Simmer the veggies until they begin to soften then stir in 2 cloves of minced garlic.
Now we add 2 cans (14oz) of diced tomatoes (fresh would definitely work here but make sure they come from your garden, not the grocery store - yuck). and a good splash of Red Wine Vinegar. All the exact amounts will be down in the recipe box below.
This is a good spot to add a little oregano, I tossed in about ½ tsp.
This is where we add our eggplant back into the sauce. Stir until mixed and then add in a handful of golden raisins, another handful of chopped Kalamata Olives, and about a tablespoon of capers.
Now, this was my first time buying capers too, and I did not realize they sell different kinds so I was a little confused when I went to the store. First, look for capers next to the olives in your grocery store. Then make sure you get the non-pareil kind - which actually refers to the size of the caper. You want the little ones.
I added any ingredients you may have trouble finding to my Amazon Store so be sure and check that out if you need to. I'll include a link here.
Now all that's left is to simmer your sauce until everything is heated through. Give it a taste for seasoning and add salt & pepper as needed. I also tossed in a small bunch of freshly chopped parsley and basil to make it especially tasty.
Prepare 2 cups of your favorite pasta while the sauce is simmering. I use Brown Rice Pasta but you can use whatever kind you like. When the pasta is almost ready, use a strainer to add the pasta to your sauce, along with a ladle or so of the pasta water and stir to mix.
Be sure and give it a good sprinkling with my Vegan Parm and cut yourself a nice hunk of crusty bread and dinner is served.
Be sure and leave me a comment telling me what you think and I'll try and get the video ready for YouTube in the next day or so.
Have a great weekend everybody and we'll see you back here next week!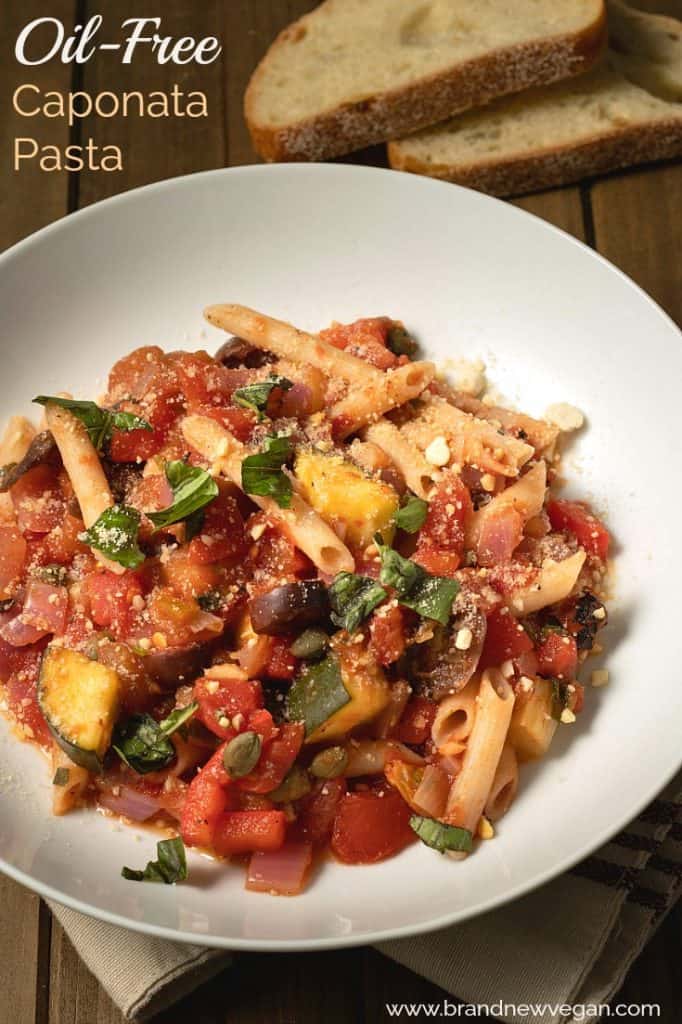 Print
Oil-Free Caponata Pasta
Author:

Prep Time:

30 min

Cook Time:

30 min

Total Time:

1 hour

Yield:

6

-

8

servings

1

x

Category:

Sauce, Pasta

Method:

Stovetop

Cuisine:

Italian
---
Description
I saw this incredible photo the other day that looked SO good I KNEW I had to try it! So here is my version of Oil-Free Caponata Pasta and I hope you like it as much as I do.
---
1

med eggplant, cut into

1

" cubes

1

med red onion, diced

1

med zucchini, cubed

1

rib celery, chopped

1

red bell pepper, diced

2

cloves garlic, minced

2

cans diced tomatoes (

14 oz

)

¼ cup

red wine vinegar

½ tsp

oregano

¼ cup

golden raisins

¼ cup

kalamata olives, chopped

1

Tbs capers
salt, pepper
fresh parsley & basil to taste (maybe ¼ cup each) and for garnish

2 cups

of your favorite pasta
---
Instructions
Cut your eggplant into 1" rounds and then into evenly sized cubes.  Roast them in a dry pan until slightly browned.  Remove and set aside. 
In a saucepan, saute a diced red onion until softened, then add in the celery, zucchini, and bell pepper.  Cook over low heat until softened, then stir in the minced garlic. 
Add the tomatoes and vinegar and stir until everything is mixed well.  Season with oregano. 
Add the eggplant back in and mix. 
Stir in the raisins, olives, and capers. 
Season to taste and add fresh basil and parsley to taste. 
Prepare pasta and when it's almost done, add it to the sauce along with a ladle of the pasta water to thin if needed. 
Garnish with parely and/or basil and serve with a side salad or a nice hunk of crispy bread. 
---
Notes