Thanks to my grandson, we always have leftover rice in the fridge. And what do we do with all that leftover rice? We make oil-free vegan fried rice of course!
Don't be fooled by all those YouTube Chefs who say you have to use oil to make fried rice - you don't. I use a little low sodium veggie broth and that's it.
And don't think you have to put peas in it either. Some people HATE peas, like my wife. Of course, I'm the weirdo who can eat anything - so I love peas. Anyway, use whatever veggie you have! Use up those leftovers!
In this recipe, I use a bag of frozen broccoli, cauliflower, and carrots! I chopped them up while they were still frozen and tossed them in the pan. But you don't have to copy me, use whatever veggies you have.
I also added shiitake mushrooms, and I know a lot of you can't stand them. So you know what? Don't add them!
I'm also using about 1 cup of cabbage. Actually, half cabbage, half kimchi. Don't like kimchi? Make it all cabbage. Love kimchi? Make it all kimchi!
And lastly, for the "scrambled egg" in this fried rice, I'm using a combination of tofu, oat milk, and spices. Again, don't like tofu? Leave it out.
This is a very easy recipe to adapt to whatever matches your tastes.
Hope you give it a try.
Oil-Free Vegan Fried Rice
Tofu Scramble
I start my making my "eggs'. I drain an extra-firm organic block of tofu, then crumble it right into the pan.
Then I whisk all my "egg" spices together, toss them into the oat milk, then mix that all up until it's really blended well. Turn your pan on medium heat, add the milk and spices, and stir.
Once you have your eggs as "runny" or as "firm" as you like, scrape them into a bowl or plate and set them aside for now. And wash your skillet - we're not done with it yet.
One of the ingredients you may not have is the Indian Black Salt called Kala Namak. This is what adds that 'eggy' smell and taste to the tofu. You can get it at any Indian Market, Whole Foods, or I'll add some Amazon links below.
It's optional but really adds that egg taste if you are missing that.
The Sauce
Whisk together all the sauce ingredients and set aside. If you don't want it too spicy, you can add sriracha to taste instead of the gochujang.
Fried Rice
The key to any stir fry recipe is prep. It doesn't take that long to cook, but it seems to take forever to prep and chop.
Chop 2-3 scallions saving the parts of the green stems for garnish. Also, mince 3-4 cloves of garlic, and toss all of that into your skillet.
Next, rinse 4oz of shiitake (or your favorite) mushrooms and add that to the pan. Add a dash of soy sauce or veggie broth to keep things from sticking, and turn the heat up to medium.
Next, add 1 cup of chopped cabbage. As I said, I used a combination of Vegan Kimchi and Savoy Cabbage. You can omit this step entirely and it will still be good, but the Kimchi adds a nice 'zing' to the fried rice. And I only added the raw cabbage to keep the spice level down for my wife. But you, do you.
Finally, I had removed one of my 12 oz packages of frozen veggies from my freezer before I started, so they had thawed just enough for me to chop and add to the pan.
So in our pan, we have onions, garlic, mushrooms, cabbage/kimchi, and frozen veggies, and we're stirring as we go. Time to turn up the heat to high and really get things moving.
Make a well in the center of your skillet and add that tofu scramble we made earlier. Stir well.
Finally add 2 cups of cold leftover rice and stir, breaking up any clumps as you go. Add the sauce, stir, and cook until everything is mixed well and warmed through.
Notes:
I make this a lot because we always have leftover rice in the fridge. It's a great recipe to get rid of leftover veggies too. I'll add some Amazon Links below for the black salt and the gochujang.
Let me know how it turned out and we'll see you next week.

Print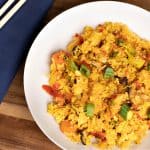 Oil-Free Vegan Fried Rice
Author:

Prep Time:

45 min

Cook Time:

15 min

Total Time:

1 hour

Yield:

Serves 4

Category:

Rice, Stir Fry

Method:

Stovetop

Cuisine:

Asian

Diet:

Vegan
---
Description
We always have leftover rice in the fridge. And what do we do with all that leftover rice? We make oil-free vegan fried rice of course!  With tofu scrambled 'eggs' and kimchi - this is better than any restaurant!
---
Tofu Scrambled Eggs
14oz

block tofu, organic, extra firm

½

cup

oat milk

2

Tbs nutritional yeast

½ tsp

turmeric

½ tsp

onion powder

½ tsp

garlic powder

½ tsp

smoked paprika

½ tsp

kala namak (black salt)
salt & pepper to taste
Fried Rice
2

scallions (white parts minced)

3

cloves garlic

4

oz

shiitake mushrooms

1

cup

vegan kimchi (can sub some or all with savoy cabbage)

12 oz

bag of frozen mixed vegetables

2

cups

cold leftover rice
Sauce
2

Tbs low sodium soy sauce

1

Tbs maple syrup

1

Tbs mirin

2 tsp

Gochujang (or sriracha)
---
Instructions
Drain the tofu and crumble it into a large non-stick skillet
Whisk the egg spices and oat milk together and stir into the tofu
Cook until desired consistency and remove from heat
Remove tofu from the pan and set aside
Clean skillet
Whisk sauce ingredients together and set aside
Add minced garlic, scallions, and mushrooms to the pan 
Increase heat to medium & add veggie broth to prevent sticking
Stir in cabbage and/or kimchi next
Chop frozen veggies and add to skillet and increase heat to high
Stir fry until veggies are heated through
Make a well and add tofu scramble, stir
Add rice, breaking up any clumps, and stir
Add sauce and stir
Garnish with green onion tops and sesame seeds
---
Keywords: oil free, vegan fried rice