Sometimes you just feel like thick, chewy, delicious noodles. Better yet, how about some Oil-Free Yaki Udon Noodles in a sweet, tangy sauce? Yes, please! That's comfort food in a bowl!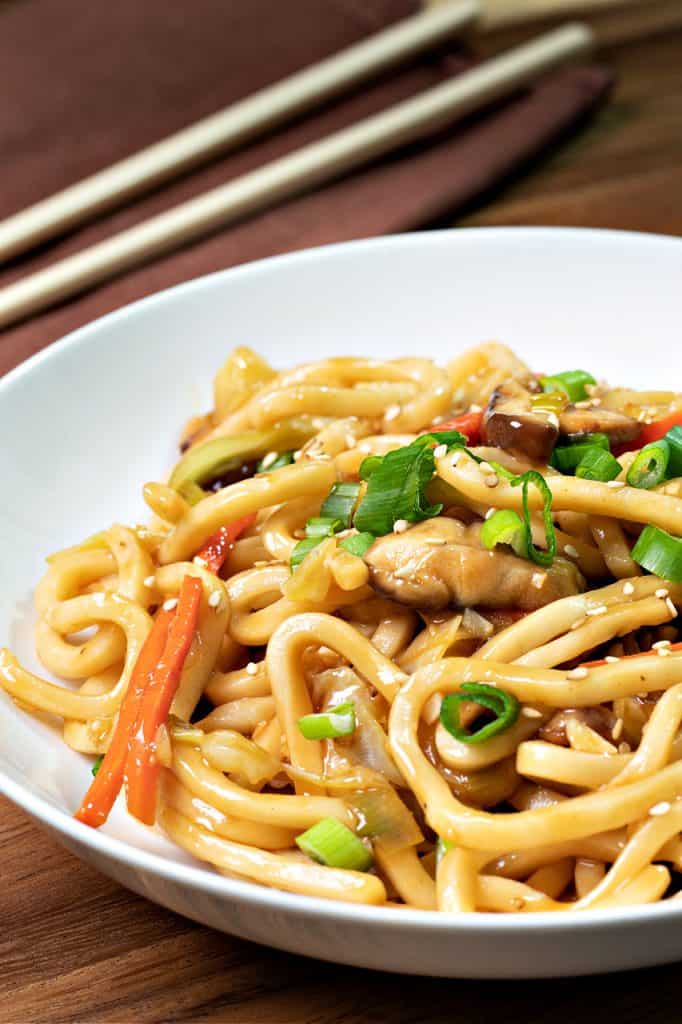 If you've never had them, Udon Noodles are those really thick, chewy wheat noodles (sorry gluten-free friends) you see in the supermarkets that usually come with a little sauce packet.
Well, you can toss that sauce packet, because THAT can contain anything from MSG to oil to bonito flakes (dried fish - ack!) AND because it's easy enough to make your own sauce from simple ingredients you probably already own.
And then we can chop up a few veggies and just like that we have ourselves a fast and tasty stir-fry.
Udon Noodles are Japanese comfort food.
They are made from wheat flour, salt, and water - that's it. The "yaki" part of this recipe simply means they are pan-fried. Maybe you've heard of teriyaki, yakitori, or yakisoba - same thing. It just means grilled, broiled, or pan-fried, like these noodles we are about to make.
Luckily for us - many grocery stores carry them. Look in the cooler section next to the tofu, although my local Fred Meyer/Kroger has them in the produce section (go figure). These are pre-cooked noodles, not dried, and come in small, vacuum-sealed, 7 oz packages, usually with some sort of sauce packet. Of course in Asian Markets, you can find them in much larger packages and they are probably much fresher.
BUT....they can also be found as dried noodles too, look in the Asian/Ethnic aisle or section of your grocery store. They will say UDON noodles, and usually have 3-5 bundles per package. But.... these will NOT plump up as much as the fresh ones I mentioned earlier. These are more like spaghetti noodles.
And of course, if all you have is regular pasta, or you are gluten-free, I guess any kind will work....but I love these Udon Noodles so that's what I am using today.
I should also mention, you can leave out any or all of the veggies I used, or add your own. I added a small amount of Shiitake Mushrooms to this recipe, but I know a lot of you can't do shrooms so - just omit them. This can be as easy as noodles and sauce if that's what you want.
So with that - let's make some noodles.
Oil-Free Yaki Udon Noodles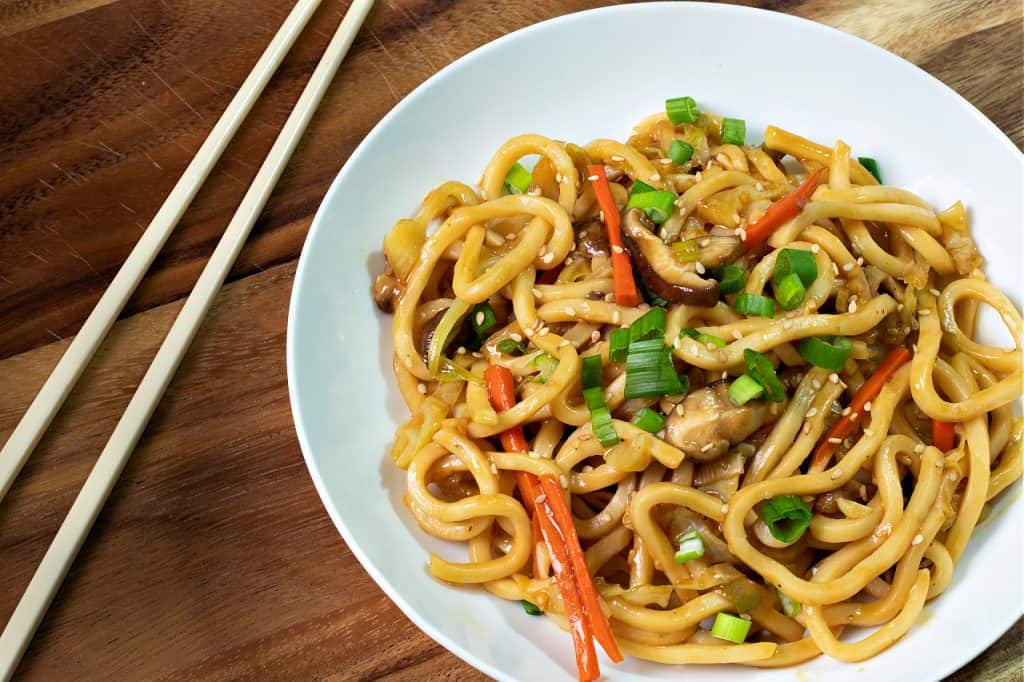 The Noodles
Udon noodles that are precooked - are usually all clumped together in that vacuum-sealed bag, so drop them in some hot water until they can be easily separated.
They are already cooked, and we are going to finish cooking them in a pan, so you don't need to boil them - just get them to unclump (is that a word?). Gently stir them with a wooden spoon until they do, then drain them and add them back to the pot with cold water until we are ready to use them.
If you are using dried - cook them according to package instructions to within a minute of the full cooking time listed, then drain and soak in cold water until we need them.
The Sauce
Now that the noodles are done, we can make the sauce. This is a sweet sauce, so the Hoisin and Mirin add to that sweetness. You could probably use vegetarian oyster sauce in place of the Hoisin - if that's all you can find, but Hoisin is pretty common.
Mirin is simply a sweet Japanese Cooking Wine, it is NOT the same as Rice Vinegar. You can usually find Mirin in the same section of your grocery store as cooking sherry, soy sauce, rice vinegar, etc.
I also added a touch of Sriracha, but you can use whatever hot sauce you have, or chile pepper flakes, or leave it out entirely if you don't like any heat. But this recipe is pretty tame with the amount I used,
Whisk everything together, including the corn starch, and set aside.
The Veg
I chose to use green onions, lots of garlic, some shredded cabbage, and a little piece of carrot I cut into matchsticks. I also used about 4 oz of Shiitake Mushrooms.
As I said - any or all of this can be omitted or replaced with whatever veggies you have on hand. Just don't use too much - as the noodles are the star of the recipe.
I used my big Saute Pan and a little veggie broth to get things started. I chopped the white parts off the green onions and added them to my hot pan along with the cabbage and carrot. Save the green onion tops for garnish.
I used med-high heat and stir-fried the veggie until they softened then added the mushrooms.
Finally, add the garlic, and I used about 5 pretty big cloves of minced garlic. Stir-fry everything for another 30 seconds or so then drain your noodles and add them, stirring thoroughly to make sure everything gets mixed well. Add your sauce and keep stirring until it thickens.
Stir-fry for another minute, then serve. I garnished mine with toasted sesame seeds, green onion tops, and of course, more sriracha.
And naturally - I had to pull out my chopsticks just to make sure I remembered how to use them ?.
That's it for this week and I truly hope you enjoy this recipe as much as I did.
Stay safe and I'll see you next week

Print
Oil-Free Yaki Udon Noodles
Author:

Prep Time:

15 min

Cook Time:

15 min

Total Time:

30 minutes

Yield:

2

-

4

Servings

1

x

Category:

Pasta

Method:

Stir-Fry

Cuisine:

Asian
---
Description
Sometimes you just feel like thick, chewy, delicious noodles. Better yet, how about some Oil-Free Yaki Udon Noodles in a sweet, tangy sauce? Yes, please! That's comfort food in a bowl!
---
(2)

7

oz

packages of Fortune Udon Noodles
Stir Fry Veggies
4

sticks green onions

1

cup

shredded cabbage

1

-

2

inch piece of fresh carrot

4

oz

shiitake mushrooms

4

-

5

cloves minced garlic
Sauce
2 ½ tablespoons

low-sodium soy sauce

2 tablespoons

hoisin sauce

1

tablespoon mirin (Japanese rice wine)

2 teaspoons

maple syrup

1 teaspoon

rice vinegar

½ teaspoon

sriracha

1 tablespoon

corn starch
---
Instructions
Prepare noodles.  If using pre-cooked:  soak in hot water until they can be easily separated.  Drain and add to cold water until needed.   

If using dried - cook according to package instructions to within 1 minute of final cooking time, then drain and add to cold water until needed. 

Whisk all sauce ingredients together and set aside. 
If using veggies, chop into small pieces.  Cut carrots into matchsticks, mince garlic and chop green onions separating the white ends from the green. 
Heat a large pan over med-high heat, adding 1-2 tablespoons of veg broth or water to prevent sticking. 
Add white onions, cabbage, carrots, and mushrooms, and stir-fry until softened. 
Add garlic and continue to stir-fry for 30 seconds. 
Drain noodles and add to pan along with the sauce and mix thoroughly.
Stir fry 1 minute or until sauce thickens and noodles are hot. 
Garnish with green onion tops and sesame seeds.
---
Keywords: oil free, Yaki, Udon Noodles