Looking for a PERFECT brown rice recipe for your Instant Pot? Then you have got to try this Instant Pot Veggie Rice. It has the perfect consistency and it tastes amazing.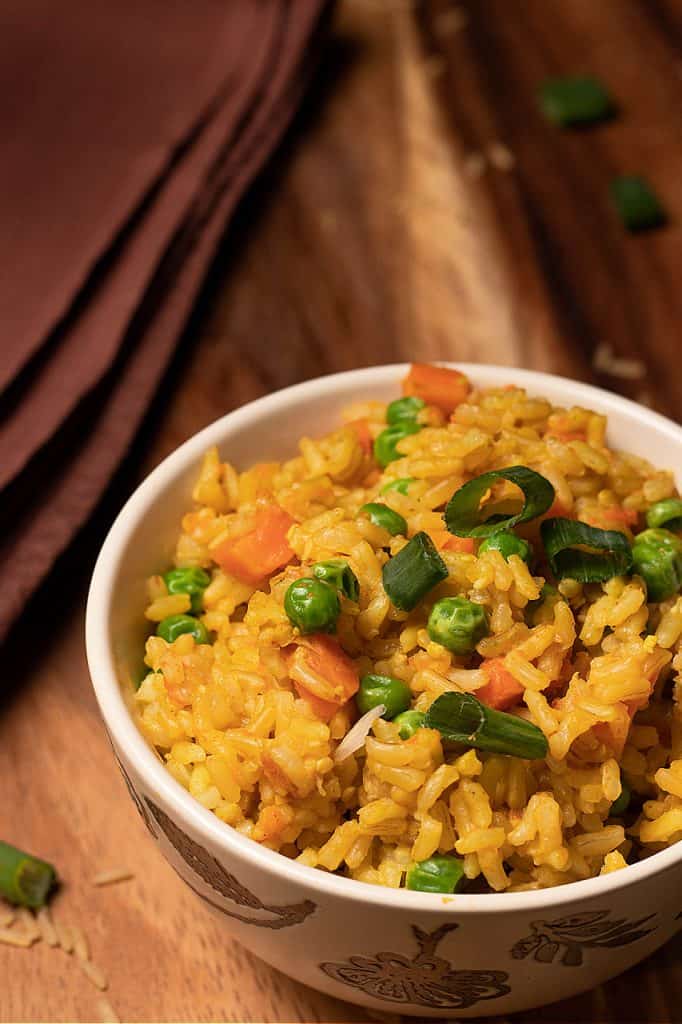 So the story is, I was looking for an older recipe to update, and found a Brown Rice and Veggies recipe I had made in my rice cooker way back in 2014.
It was in pretty sad shape because......
I had only made in once... I think
and it wasn't even that great.. if I remember right
it only had 1 or 2 comments
And yes, the original smartphone photos were horrid
In other words, it was a perfect candidate for either a replacement or a makeover.
So I reworked the recipe using my Instant Pot, used fewer, simpler ingredients, and added a touch of curry powder, and I have to tell you...I was really, really, impressed.
The rice came out PERFECT.
It wasn't too dry, or burnt or stuck to the bottom....and I've had that happen before.
And it wasn't too wet or mushy either, or 'gummy', and I've had THAT happen a lot too. when using my Instant Pot for rice.
I think that's why I've always preferred using my rice cooker - because Instant Pot Rice has always been so hit and miss for me.
But THIS.....this was gorgeous!
Moist and fluffy, just the way I like it. The onions, carrots, and peas added some additional color (and nutrition) and the curry powder gave it a gorgeous color and just a hint of spice.
I don't normally eat curry, but this - this was a game changer for me.
And it's all in one pot! Nothing could be simpler.
So here's another super easy recipe, fat-free of course with no oil or other weird ingredients. Just good old fashioned Uncle Bens Rice and an Insant Pot.
I hope you like it. So without further ado - lets get to it.
Perfect Instant Pot Veggie Rice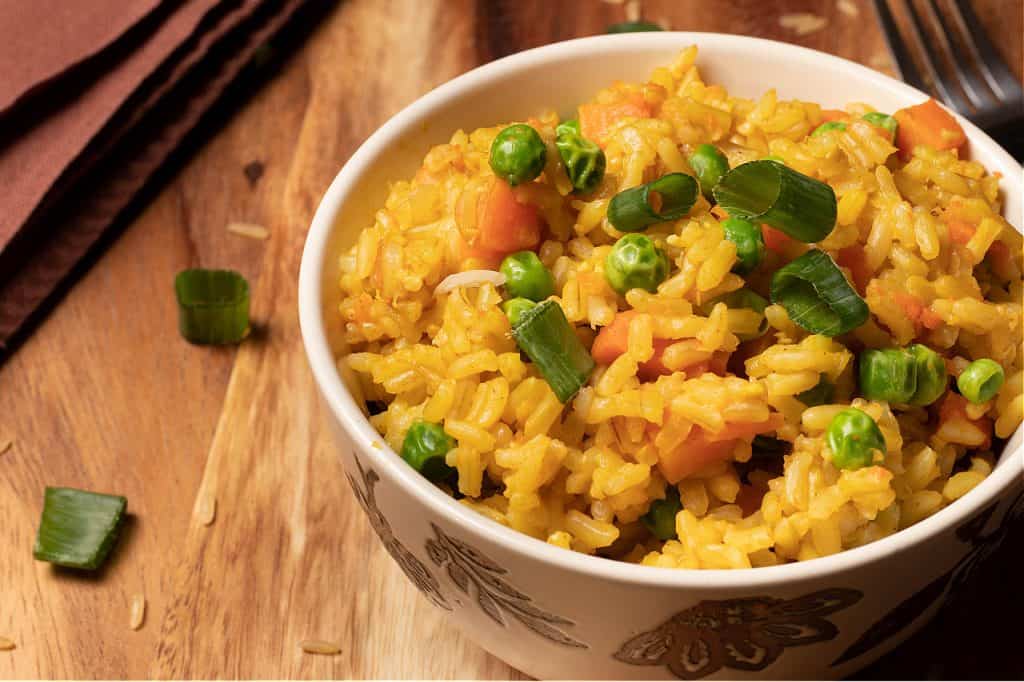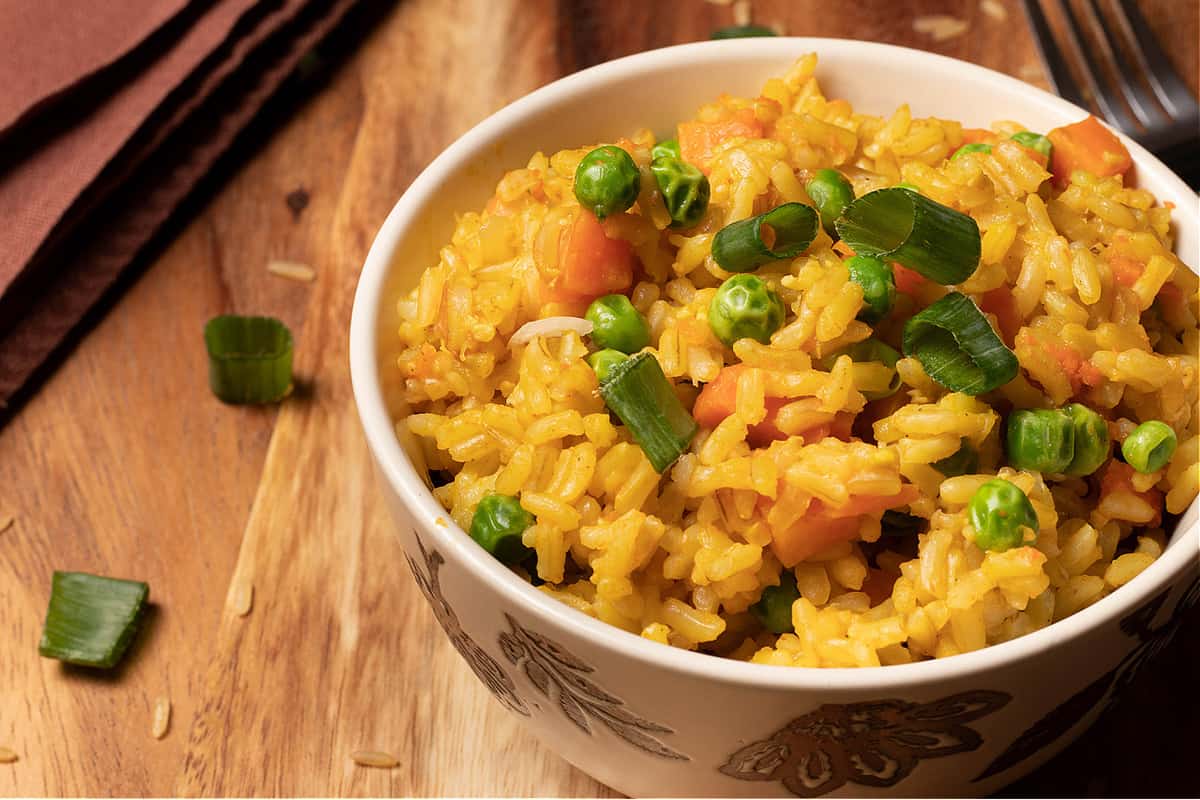 Start by rinsing your rice. I used Uncle Bens Whole Grain Brown Rice that you should be able to find in just about ANY grocery store. Not the INSTANT rice, but the whole grain brown rice that comes in a 2 lb bag.
I tossed 1.5 cups of it in a fine sieve and rinsed it thoroughly, then let it sit in the sieve to drain while I prepared the rest of the ingredients.
Dice a little onion, about ¼ cup or maybe even ⅓ cup, and add it to your instant pot liner along with a few tablespoons of either water or broth to keep it from sticking. I also diced a couple of skinny carrots I had to use up, and added them also.
My Instant Pot Duo (affiliate link), has 3 settings for its SAUTE mode, "Less, Normal, and More". I chose the LESS setting and sautéed the veggies just until the onion started to turn translucent, about 2-3 minutes.
Then I added some minced garlic and the drained rice. Mix well and be sure to stir frequently for another 30 seconds or so. Then press the KEEP WARM and/or CANCEL button to stop the saute and turn off the heat.
Now we can add the salt, curry powder, and the broth. Stir well and attach the lid. Make sure the vent valve is set to SEALING.
My older 6 qt IP model (DUO) has a button that says MANUAL, but I guess the newer ones just say PRESSURE COOK, either way that is how we cook our rice manually. Set the timer for 24 minutes exactly.
When it's done, let it sit and naturally release its pressure for another 10 minutes. You'll see the display showing the time lapsed - like L0:01 or L0:02. Wait for it to show L0:10 then CAREFULLY flip the valve to VENT to release any remaining pressure. Be careful - that steam is HOT.
If yours looks like mine - it will be perfectly cooked. Now just add a cup or frozen peas and fluff the rice with a fork. The hot rice will cook the peas for you.
And that my friends is it. Simple, tasty, and actually pretty quick too for brown rice.
Now as always, I am only telling you how "I" did it. So if you want to use white rice or cook this on the stove ay anything majorly different - I can't guarantee the results. I'm sure for white rice the timing is different. I'd look at your Instant Pot Manual for cooking times. Like I said - I usually use my rice cooker so...... good luck.
But this method worked fabulously for me and as I said - it came out perfect. Hope you get similar results - let me know down in the comments below.
Another busy week done. I have a phone interview for an upcoming magazine article soon. It's all about heart health over 50, and specifically dealing with stroke survivors.....so more details on that coming up soon. And it looks like I have a spot coming up on the infamous Chef AJ YouTube Show, so I'll pass on more info about THAT as we get closer to the date.
Stay safe friends - and we'll see you next week.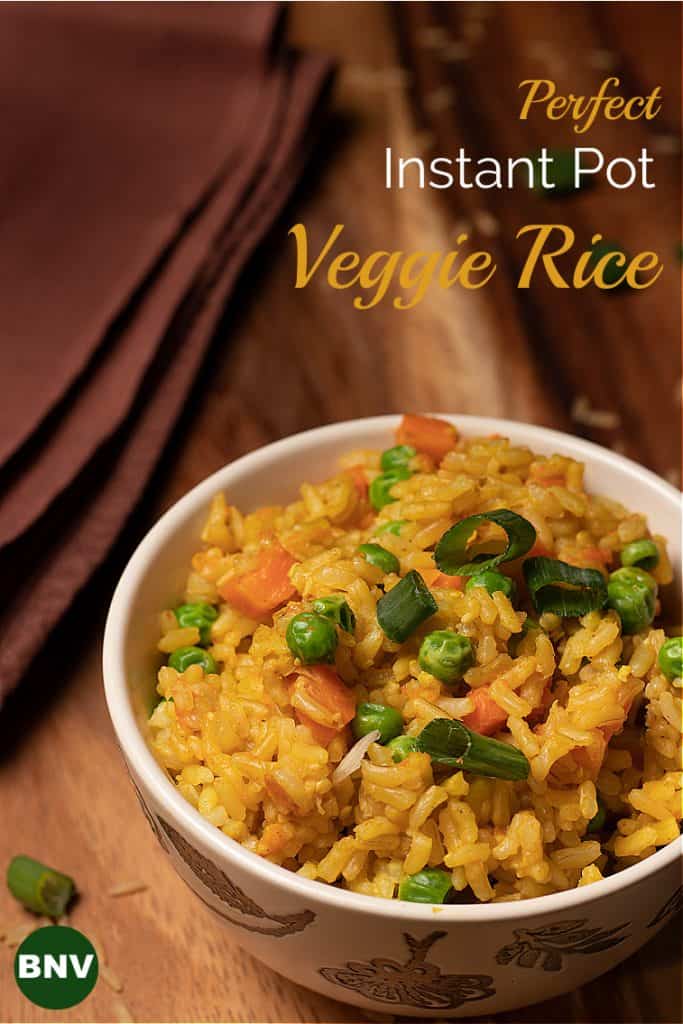 Print
Perfect Instant Pot Veggie Rice
Author:

Prep Time:

10 min

Cook Time:

35 min

Total Time:

45 minutes

Yield:

Serves

4

-6

1

x

Category:

Rice

Method:

Instant Pot

Cuisine:

Indian

Diet:

Vegan
---
Description
Looking for a PERFECT brown rice recipe for your Instant Pot?  Then you have got to try this Instant Pot Veggie Rice.  Perfect consistency and tastes amazing.
---
¼ cup

onion, finely diced

2

-

3

cloves minced garlic

1 ½ cups

brown rice *

2

small carrots, finely chopped

½ tsp

salt

1 tsp

yellow curry powder **

2 cups

low-sodium vegetable broth

1 cup

frozen peas
* I used Uncle Bens whole grain, brown rice
** I used Olde Thompson Yellow Curry Powder
---
Instructions
Place rice in a fine sieve and rinse thoroughly, set aside to drain.
Dice onion and carrot and add to your instant pot.
Add a few tablespoons of water or broth
Set your IP to SAUTE mode (my IP DUO has a 'less' setting)
Stir frequently until onions start to turn translucent
Add garlic and rice - continue sautéing for another 30 seconds.
Press the KEEP WARM/CANCEL button - and then add the salt, curry powder, and broth
Stir thoroughly and attach lid, ensuring valve is set to SEALING
Set IP to MANUAL  or PRESSURE COOK mode and set timer for 24 min
Let IP naturally release pressure (NPR) for 10 minutes then carefully vent any remaining pressure
Add frozen peas and fluff with a fork
---
Keywords: instant pot brown rice, instant pot veggie rice, indian brown rice