I'm not sure who O'Brien actually is, but these potatoes of his are really good 🙂  And really fast too using an Air Fryer. 
I know right?  Another potato recipe Chuck?  I can hear it now, "What is wrong with you?"
Hey, I still love potatoes, even after 2 separate Mary's Minis.  They taste great, fill me up, and are full of all the good stuff I need, like fiber, vitamins, and minerals, even a little protein.
And there are SO many ways you can cook them!  You can boil them, mash them, stick them in a stew.....  And yes, if Samwise Gamgee had an air fryer - I'm sure he'd use that too.  (waddyaknow....that rhymed)  🙂
So who was this O'Brien guy anyway?   No-one really knows for sure, but there are a few possibilities.  Boston is one.  New York City is another.  But most legends name Manhattan as the point of origin so we'll go with that. 
Supposedly, a restaurant cook nicknamed "Beefstew O'Brien" created the dish in the late 1800's at a Manhattan restaurant he worked in.  Legend has it that he was tired of serving the all brown "Hash Browned Potato" and decided to throw in some BLING for color and additional flavor.  
Dude, I can totally relate!  But we are going to leave the bacon grease where it belongs (attached to the pig) and do these lovely Potatoes of yours WFPBNO style - via our Air Fryer.
Air Fryer Potatoes O'Brien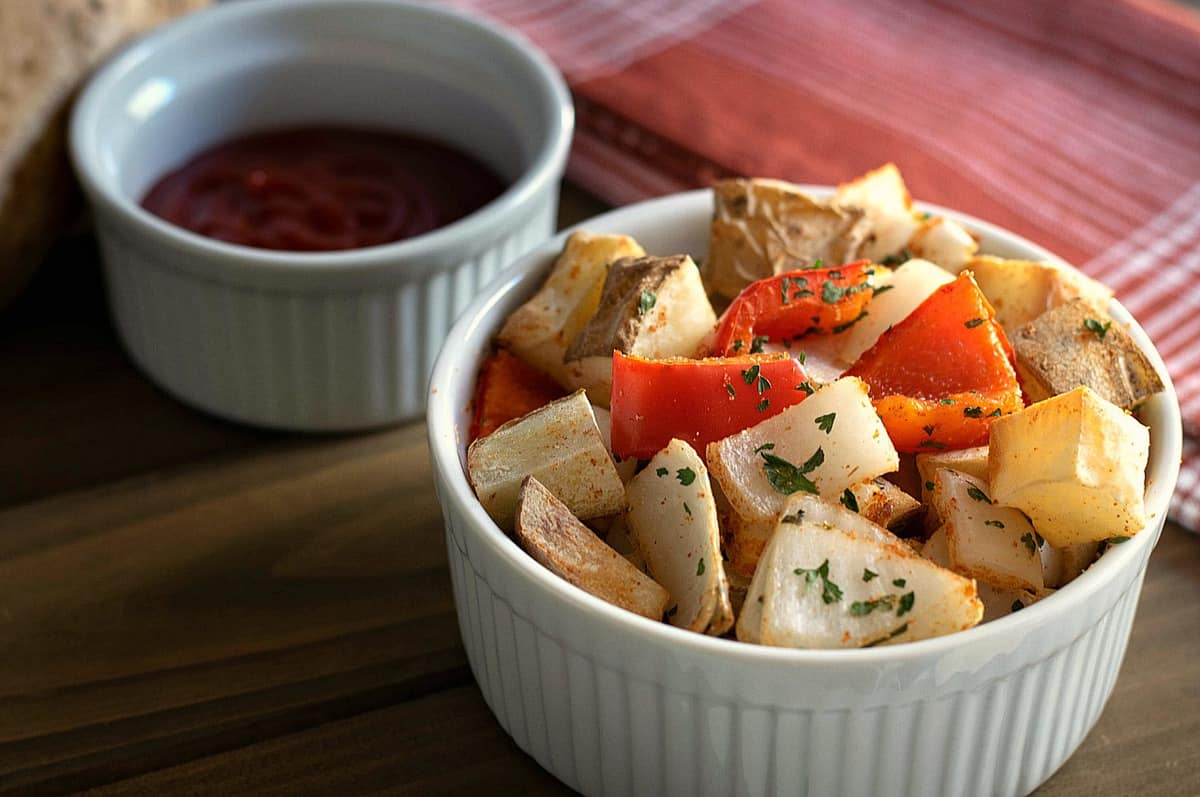 Start off with 3 medium-sized Russet Potatoes and give them a good scrubbing.  I usually leave the peel on as there are a lot of vitamins in it.  Cut them into ¾" cubes and toss them into a bowl of cold water to soak for at last 20 minutes. 
Meanwhile we'll chop a yellow onion, and a red bell pepper into fairly large (¾") pieces and stir them together.
Pre-heat your Air Fryer to 375 degrees and set the cook time for 20 minutes.   Once the air fryer has reached temp, drain your potatoes and pat them dry the best you can, and toss them in. 
Check on them after 5 minutes to loosen up any pieces that might be sticking. 
Now let's mix our seasoning.  Add all the seasoning ingredients to a small bowl and give them a good whisk.  We'll be ready for them in a minute.  Although you could add the seasoning to the potatoes before cooking them, the seasoning might burn and leave a nasty taste so I added mine at the end.  
When the potatoes are done, carefully add the onions, the peppers, and the seasoning.  Give everything a quick stir or shake and pop them back into the Air Fryer for one more blast. 
Set your temp this time for 390 degrees F and let them go for a good 5-10 minutes or until they begin to crisp up. 
And there you have it.  My version of an oil-less Potatoes O-Brien.  I think Mr. Beefstew would approve, especially topped with a ladle or two of my Amazing Brown Gravy......
Now we're talkin'    🙂  


Print
Air Fryer Potatoes O'Brien
Author:

Prep Time:

10 min

Cook Time:

30 min

Total Time:

40 minutes

Yield:

2

servings

1

x

Category:

potatoes

Method:

air fryer

Cuisine:

american / irish
---
Description
These fat-free Potatoes O'Brien are not only deliscious, they're FAST too when you use you air fryer. Country potatoes with a little bling .. 🙂
---
3

Russet Potatoes, cut into large cubes

1

Onion, rough chopped

1

Red Bell Pepper, rough chopped

2

Tbs Dried Parsley

1 tsp

 Onion Powder

1 tsp

 Garlic Powder

1 tsp

 Paprika

½ tsp

Salt
---
Instructions
Clean and chop potatoes into ¾" cubes or larger
Soak potatoes in cold water for at least 20 minutes
Meanwhile rough chop the onion and bell pepper
Drain potatoes and dry the best you can
Preheat Air Fryer, setting for 375 degrees F and 20 minutes
Once Air Fryer is ready (beeps) add potatoes
Check for sticking and shake every 5 min or so
Mix all seasonings together in a small bowl
After potatoes are done (20 min) - add onion, pepper and seasoning mix
Stir well and continue air frying at 390 degrees F for 5-10 min
Serve with favorite condiments
---
Notes
Keywords: potatoes o'brien