This rich and creamy Hash Brown Mushroom Chowder will keep your belly full and warm for SURE, on these icy cold, wintry nights!
One last hash brown recipe, I promise.
I was going to update my older Potato Mushroom Chowder Recipe, but decided instead to make a new one with the ingredients I had, namely a big bag of Mr Dells Frozen Hash Browns.
I have seen this particular brand at my local Walmart, so I know they are widely available. And they are definitely oil-free. In fact - the ONLY ingredient listed on the package is potatoes.
Besides the potatoes, the rest of the recipe if fairly straight forward. I used a mixture of onion, carrots, and celery (mirepoix) as a base. Added 2 different kinds of mushrooms for a little protein and fiber. And I added some Dulse Flakes to give it just a tad bit of a "clam chowder" taste.
If you're not a mushroom fan I'm sure you could use soy curls instead, or just add more veggies. And the Dulse is completely optional, or you could simply use a Nori sheet too. Dulse is a seaweed and is a good source of iodine. I have seen in at Whole Foods and I know Amazon has it as well if you want to try it.
I have Dulse here in my Amazon Store
Now this IS a Chowder, and it IS rich, so there IS a cream sauce component to it. I used almond milk, riced cauliflower, and just ⅓ cup of cashews....so this is NOT fat free. If you want to experiment with white beans instead of cashews, let me know how it goes.
I used my 6qt Dutch Oven to cook everything in and it turned out great. Again, the one I used is in also in my store.
This recipe DOES make a ton of chowder (i'm guessing around 12 cups) , and chowders do NOT typically freeze well. So if you're the kind of person who does not like to eat the same thing every day - this may not be the recipe for you.
But.....if you have a large crowd to feed, or don't mind chowing down on some chowder for a few days in a row....... I think you'll like it.
One thing I know for sure - with all the wintry weather (everywhere it seems), including a rare ICE storm here in the Pac NW - this is the perfect meal to keep you all warm and cozy.
Now, if you could please pass the hot sauce.....
Creamy Hash Brown Mushroom Chowder
First, grab a big soup pot or Dutch Oven. Then, take the first 3 ingredients, the onions, carrots, and celery, and dice them up to roughly the same size. Then we saute those in a few tablespoons of either water, or veggie broth. When the onions turn translucent, about 5 minutes, add the garlic.
Next we chop up some mushrooms and add them to the pot. They will release their own liquid but if you feel the pan is kinda dry, you can always add more water or broth. Simmer for about 5 min.
Add the dulse flakes if you're using them and be sure to stir every now and then. Keep it mixed. I mentioned before, you could also break up a nori sheet, maybe ½ a sheet if you don't have any dulse flakes
Now we add our 2.5 cups of broth and the water. Mix thoroughly. Add the tomato paste (I cheated and used ketchup) and the liquid smoke and stir.
Now we add your hash browns. I did NOT thaw mine, but rather crumbled them right into the stew while still frozen. No worries, the big chunks will thaw and break apart.
I have a big pot that is pretty full, so I want to turn up the heat to get this to a boil. Once it starts bubbling, I reduced the heat, covered it with a lid, and simmered about 30 minutes, stirring frequently.
While that's doing its thing, we can make the cream sauce.
Just dump everything into a high speed blender and blend until smooth. I have a Vitamix, (again....it's in the store), and did NOT have to soak the cashews or soften the cauliflower. If you have a cheaper blender, you may want to soften the cashews and cauliflower first.
Once the stew has simmered for about half and hour, slowly stir in the cream sauce and let it continue to simmer for another 15 min to thicken up.
Serve with your choice of garnish. For me that usually means green onion and hot sauce. And of course those little oyster crackers are iconic for a photo shoot of a bowl of clam chowder, so I had to use them. Not eat them mind you, just use them for a photo lol.
That's the recipe for the week, and I DO hope, wherever you are, that you can stay warm and safe. Let me know how you like the recipe, and I think for next week......maybe....we might do something a little different.
I'm coming up on the 1 yr anniversary of my stroke - so I have a little something special for you planned 😉
Stay tuned!

Print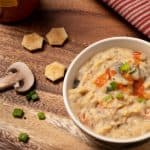 Creamy Hash Brown Mushroom Chowder
Author:

Prep Time:

5 min

Cook Time:

55 min

Total Time:

1 hour

Yield:

8

-

12

serviings

1

x

Category:

Soup, Stew, Chowder

Method:

Stovetop, Blender

Cuisine:

American

Diet:

Vegan
---
Description
This rich and creamy Hash Brown Mushroom Chowder will keep your belly full and warm for SURE, on these icy cold, wintry nights!
---
Soup
½

onion (about

1 cup

)

2

med carrots (about

1 cup

2

ribs celery (about

¾ cup

)

1 tsp

mined garlic

8 oz

portobello mushrooms

4 oz

shiitake mushrooms

1

Tbs dulse flakes (optional - or use a nori sheet)

2 ½ cups

low sodium vegetable broth

1 cup

water

1

Tbs tomato paste (or ketchup)

¼ tsp

liquid smoke (or smoked paprika)

30 oz

bag frozen hash browns
Cream Sauce
1 cup

unsweetened almond milk

1 cup

water

1 cup

riced cauliflower

⅓ cup

cashews

2

Tbs lemon juice

1

Tbs nutritional yeast

1

Tbs corn starch (or arrowroot, or potato flakes)

1 tsp

minced garlic
---
Instructions
Dice onion, carrots, and celery into small, uniform pieces
Saute in water or broth until softened, about 5 minutes.
Add garlic and stir
Add chopped mushrooms and dulse flakes, simmer 5 min
Add broth, water, tomato paste, liquid smoke, and hash browns
Increase heat to boil, then reduce heat, cover, and simmer 30 min
Meanwhile, blend all cream sauce ingredients until smooth
Slowly stir in cream sauce and simmer another 15 min or until thickened
Garnish and serve
---
Keywords: potato chowder, hash brown chowder, hash brown soup