SO MANY of you have requested a curry recipe, so here is my attempt at making a Spiced Potato Curry - and I really hope you like it!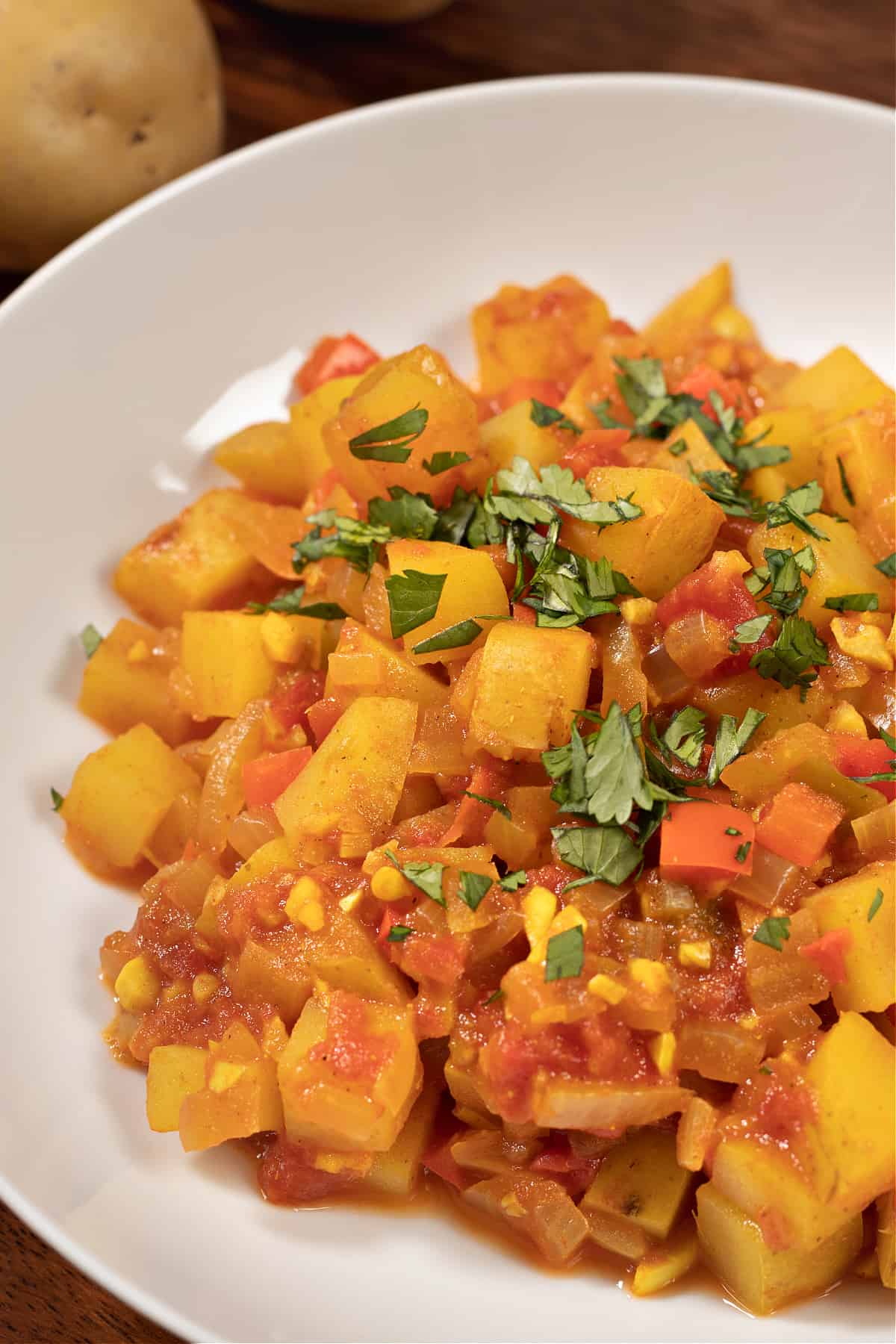 If you can't tell, I do NOT have much experience with Indian food. Curry was just not a popular dish, growing up in the cornfields of Indiana back in the 70s.
I grew up eating mom's southern recipes and my dad's midwestern favorites - mainly meat, corn, Steak n Shake chili, and potatoes.
I picked up my taste for Tex-Mex when I lived in Dallas. And after spending 10 yrs in New Mexico - I absolutely fell in LOVE with ANY kind of New Mexican cuisine.
And somewhere along the way, I developed a taste for really good (and spicy) Asian dishes as well.
But curry? Not so much.
So how do you make your fans happy and develop a recipe you have no idea what it is supposed to taste like?
Well, you kind of have to cheat a little. And so to give credit where credit is due - I used this recipe as a guide and for inspiration.
I modified the method so I could cook it on the stove instead of an instant pot, and I modified some of the ingredients to match what I had on hand in my pantry.
I must say - I really liked it! Hope you do too.
Spiced Potato Curry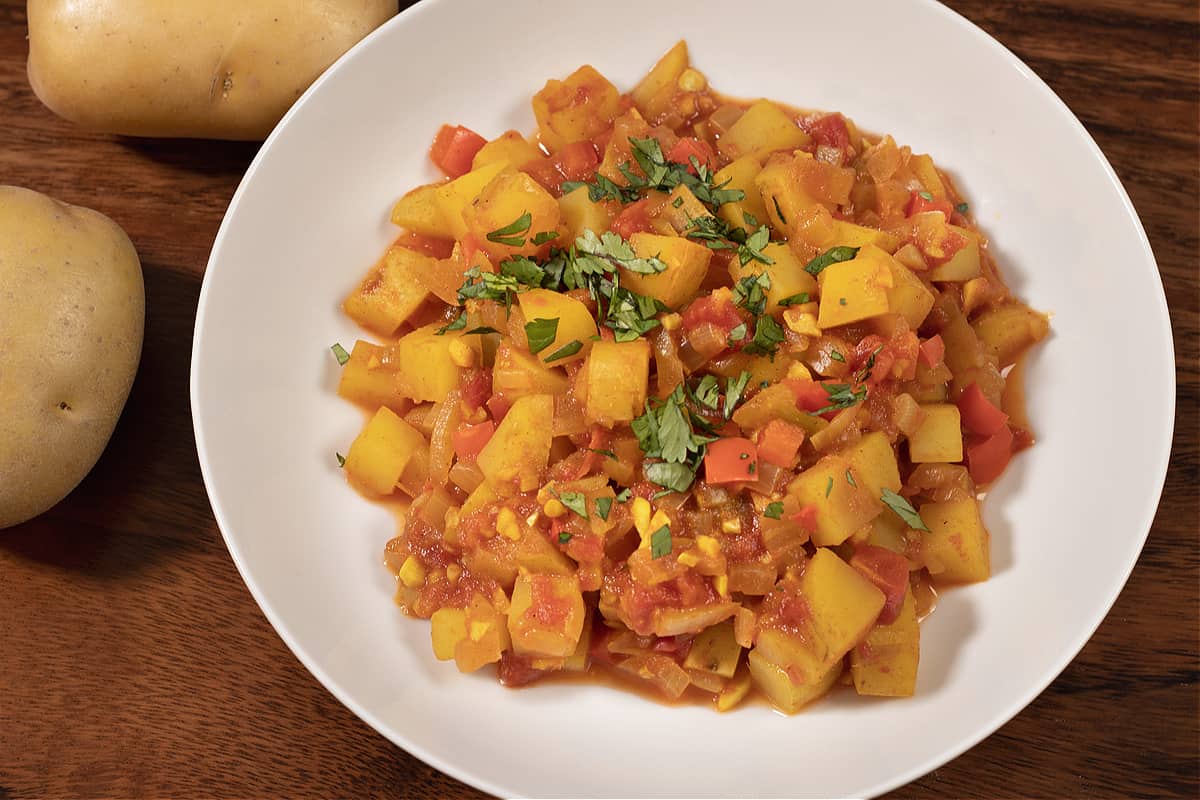 Finely dice about 1 cup of white onion (or more if you really like onions), and saute them in a few tablespoons of veg broth or water. The recipe said to use oil (but you know I never use it) and to add both mustard and cumin seed - so I used regular yellow mustard and ground cumin instead.
I also added ½ of a red bell pepper that I needed to use up.
Next, I added the garlic and ginger and if you love a LOT in your curry, feel free to add more. My teaspoons were heaping.
They also called for a chile pepper before adding the tomatoes, but I just use a 10 oz can of Rotel tomatoes that also has green chile in it. Regular diced tomatoes will work fine too if you don't like spicy curry.
Next, come the spices, and I understand these spices are pretty common in Indian food, so if you LOVE these flavors (as a lot of my readers have told me they do) please feel free to up the amounts to your own individual taste.
And again, leave the red chile powder out if you don't like spicy curry. I used Ancho chile powder but red pepper flakes would work too.
Once the veggies, tomatoes, and spices have all come together and softened, add 2 cups of diced potatoes. I used Yukon golds but I'm sure any potato will work. And finally, add a cup of water (or broth) to bring it all together.
Cook covered for at least 10 minutes until the potatoes are tender, then an additional 5 minutes uncovered to reduce the sauce, stirring frequently.
Taste and adjust any spices or salt to your liking, and serve with fresh cilantro for garnish.
To be honest, I really liked it but it was a tad bit too spicy for my wife, who also is not a fan of Indian food. But to me - it was really good and I could have added some more spice.
I hope you like my first attempt ever at making curry and if you do (or don't) ... drop me a comment down below.
See you soon and thanks for all the suggestions!

Print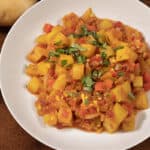 Spiced Potato Curry (Aloo)
Author:

Prep Time:

15 min

Cook Time:

15 min

Total Time:

30 minutes

Yield:

4

-

6

servings

1

x

Category:

Main Dish

Method:

Stovetop

Cuisine:

Indian

Diet:

Vegan
---
Description
SO MANY of you have requested a curry recipe, so here is my attempt at making a Spiced Potato Curry - and I really hope you like it!
---
1

white onion

2

Tbs vegetable broth or water (for sauteing)

¼ tsp

yellow mustard

¼ tsp

ground cumin

½

red bell pepper

2

heaping teaspoons of minced garlic

2

heaping teaspoons of minced ginger

10

oz

diced tomatoes (or use a can of Rotel tomatoes with green chile)

¼ tsp

salt

1

-

2

teaspoon garam masala

1

-

2

teaspoon ground coriander

¼ tsp

red chile flakes (optional)

⅛ tsp

turmeric

2

cups

potatoes (cubed)

1

cup

water
cilantro as garnish
---
Instructions
Saute onion in veg broth until softened
Stir in mustard and cumin
Add red bell pepper
Add garlic and ginger, and saute just until fragrant
Add tomatoes and salt
Stir in all the remaining spices
Stir well and saute for 1 minute
Add potatoes and water
Increase heat to medium and cover the pan
Cook for 10 minutes
Remove the lid and cook for an additional 5 minutes
Potatoes should be fork tender and the sauce should have reduced
Garnish with cilantro
---