I finally tried Brown Rice Pasta last night, and I just wanted to report to those of you who are looking to cut back on your gluten.... it was REALLY GOOD!  In fact, I couldn't really tell the difference between the Brown Rice Pasta, and regular White Pasta!
It was a perfect dinner for my first night back.... the Brown Rice Pasta, and this simple to make Roasted Red Pepper Pasta Sauce.  
After a month-long training trip in Austin Texas, to immediately shooting up to Indiana to see my ailing father, I can't TELL you how good it is to be home!  And judging from the way the girls were fighting over my Roasted Red Pepper Sauce - I'd say they are glad I'm home too!
And especially back in the Kitchen......I swear they must have starved while I was gone!  
I wanted a quick and easy dinner, so this pasta dish fit the bill perfectly.  The sauce is easily made by roasting a few veggies and then pureeing them into a thick and healthy veggie sauce.
Gluten free, fat-free, and with a Veggie Based sauce......  perfect!
Hope you enjoy.
Roasted Red Pepper Pasta Sauce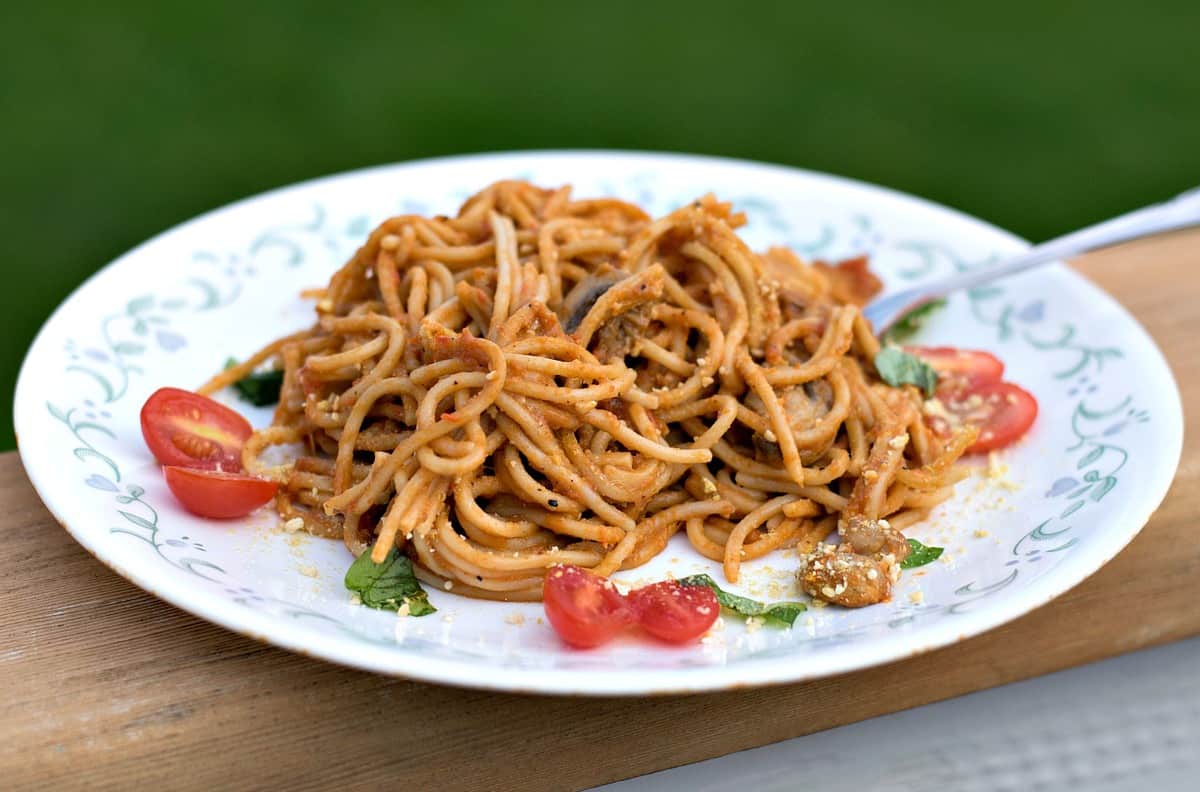 Line a cookie sheet with parchment paper and preheat your oven to 350° F.
Roughly chop 2 Red Bell Peppers, 1 Red Onion, and 1 Jalapeno (carefully remove seeds first) and place on cookie sheet.  Also cut 6 cherry tomatoes in half and place alongside the other veggies.  And finally add 5 or 6 cloves of garlic and season lightly with salt and pepper.
Drizzle all the veggies with several tablespoons of Balsamic Vinegar and roast them in your oven for 30 minutes.
Meanwhile, sauté an 8oz package of sliced mushrooms in ¼ cup of Reduced Sodium Soy Sauce, until they have softened, and then set aside.
After the veggies have finished roasting in the oven, place them in a blender and add 1 cup of unsweetened Almond Milk.  Blend on high to puree.  Pour sauce into the pan with the mushrooms and season with ½ teaspoon of Garlic Powder and ¼ teaspoon of Sea Salt.
Cook over low heat until hot, bubbly, and it begins to thicken.
Stir in 2 Tablespoons of Nutritional Yeast and if the sauce still seems a little thin, you can thicken it even more with a slurry made from 1 Tbs starch  and 2 Tbs water.
Salt and pepper to taste.
Toss the sauce with your favorite pasta and Enjoy!

Print
Roasted Red Pepper Pasta Sauce
---
2

Red Bell Peppers (chopped)

1

Red Onion (chopped)

1

Jalapeño (seeded and chopped)

6

cloves Garlic (peeled)

2

Tbs Balsamic Vinegar

1 cup

Almond Milk (unsweetened)

8 oz

Mushrooms (sliced)

4

Tbs Soy Sauce (low sodium)

½ tsp

Garlic Powder

¼

tap Salt

2

Tbs Nutritional Yeast

1

Tbs Corn Starch
---
Instructions
Preheat oven to 350 degrees F
Arrange chopped veggies onto a parchment lined cookie sheet. Drizzle with Balsamic Vinegar and lightly season with salt and pepper. Roast veggies for 30 minutes.
When finished roasting, add veggies to blender along with 1 cup Almond Milk, blend until smooth.
Saute mushrooms in soy sauce until softened. Stir in the pureed veggies and season with garlic powder, salt, and nutritional yeast
Cook over low heat until bubbly and slightly thickened. If sauce is still too thin, mix corn starch with 2 Tbs water and stir into sauce until thickened.
Serve over your favorite pasta.
Garnish with fresh basil and cherry tomatoes.
---