Ok all you Gallagher fans, pull out your raincoats and your Sledge-O-Matic, because we're smashing cucumbers - to make this oil-free Smashed Cucumber and Apple Salad!
You can't help but think of Gallagher (a 1980's comedian known for smashing fruit) when you see a recipe for Smashed Cucumbers in your YouTube feed.
And you can't help but take a second look - when you see someone in your Facebook Group asking for English Cucumber recipes....
That was my introduction to a Smashed Cucumber Salad.
And imagine my surprise when after a quick Google search I discovered that it is indeed - "a thing" - .
Apparently, smashed cucumbers, or pai huang gua, is a popular Sichuan dish - and is typically served with rich, spicy food. Who knew?
I was shocked to find so many recipes for this dish that I literally knew nothing about 5 minutes ago! And because it looked so easy to make, AND I wanted to try out my new YouTube Studio I have been working on....
I knew I was going to have to try it.
And it IS super, super, easy.
Easy as in.. "NO Cooking Involved?" Interested?
You basically smash a cucumber, sprinkle on some salt, and make up a simple vinegar-based dressing. That's it. I left out the typical Sesame Oil and substituted powdered Peanut Butter instead. Also, instead of using the traditional sugar to sweeten it, I chose to use an Apple.
Who knew something so simple, could be so tasty.
Ready to do this? Come one, say it with me now....
"Hulk, SMASH!"
Smashed Cucumber and Apple Salad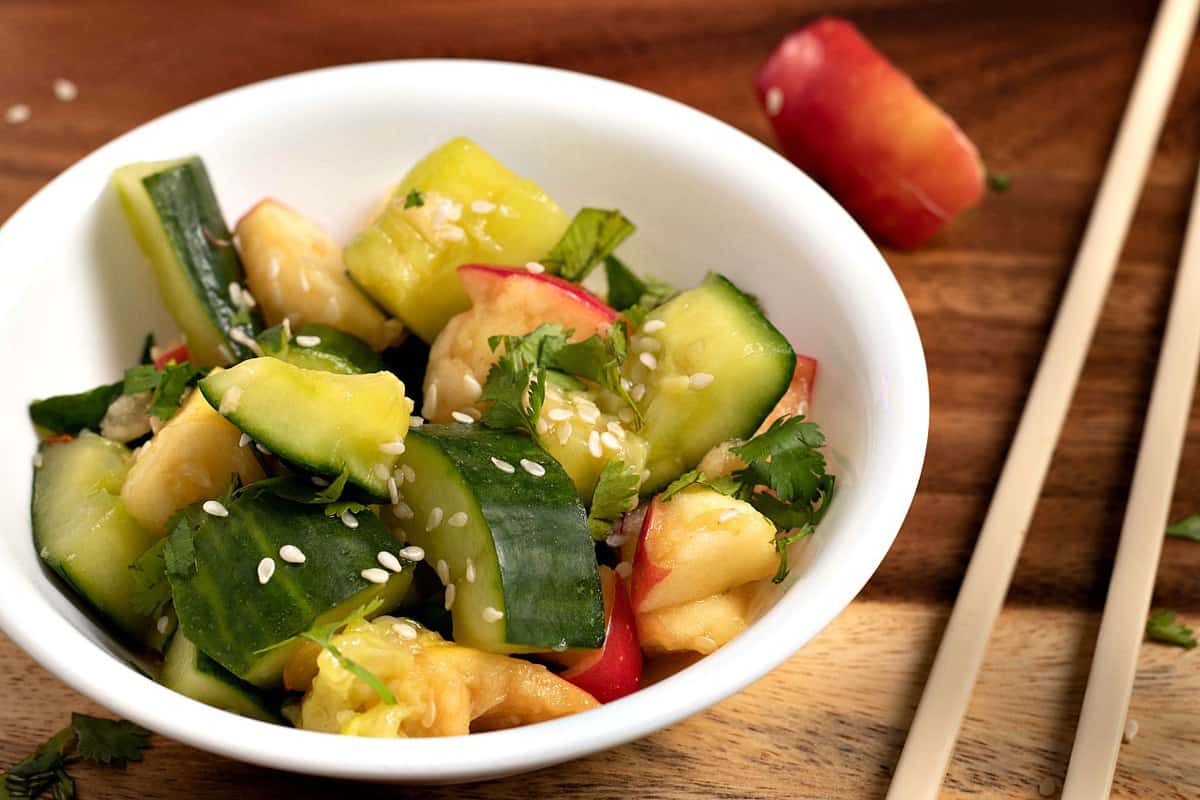 We want to use English Cucumbers, they are the ones that are always wrapped in plastic. They're usually sweeter, have smaller seeds, and the skin is very thin and edible - so no peeling required.
Take one English Cucumber, remove the plastic wrapping, and we're going to "re-wrap" the Cucumber is some cling wrap or a clean kitchen towel to avoid the splatter. (I know it sounds redundant, but smashing it in its store wrap sounds like it could be very messy so...)
Then we smash.
Using whatever blunt object you can find, like a small cast-iron skillet in my case, smash the cucumber flat. Then peel off the wrap and cut it into bite-sized pieces. Toss these into a bowl and set aside.
Next, I took an Apple, sliced it in half, then removed the core. Then repeated the process, wrap, smash, dice.
Be careful with the smashing....
We're not making applesauce or a smoothie here, but just enough to break the skin and bust them both (the cucumber and the apple) into smaller, irregular-sized pieces.
Once the fruits are smashed and diced - place them into a colander and sprinkle on a teaspoon of salt. The salt is not only going to add flavor, but it also is going to draw out a lot of moisture, which gives this dish its distinct texture.
Note: Some salt is required to help draw out the liquid. If you are on a sodium-restricted diet, you can adjust the amount if you need to.
So place your colander over a bowl to catch the liquid, then set aside. Let that drain for at least 30 minutes.
Meanwhile we can make the dressing.
In another bowl, whisk all the dressing ingredients together until smooth. I used rice vinegar, low sodium soy sauce, minced garlic, powdered peanut butter, and a pinch of red chile flakes. All the amounts are listed below in the recipe.
Now we wait.
Once the cucumbers have finished draining (at least 30 minutes), simply toss them into the dressing and mix.
You can garnish this with toasted sesame seeds or fresh cilantro.
It's ready to eat immediately, but as we know - letting this sit in the fridge for a short while will give all those flavors a chance to mingle, marry, and have babies...
Will always makes the dish taste better ... so up to you.
See? How easy was that!
And taste? Yeah, I know, it's basically a cucumber salad....I hear you....but ...
By smashing it, creating all those jaggy edges for the dressing to cling to, and using an Asian-style dressing.....it really does perk up an otherwise boring-sounding salad. Give it try.
Like it? Be sure and let me know in the comments below.
Did you change anything? Used a different fruit, switched up the dressing, whatever....let me know. Tell us so we can try your method too.
And with that....Happy Memorial Day everyone. And yes, I did take some video so be looking for the YouTube vid soon.
See ya next week.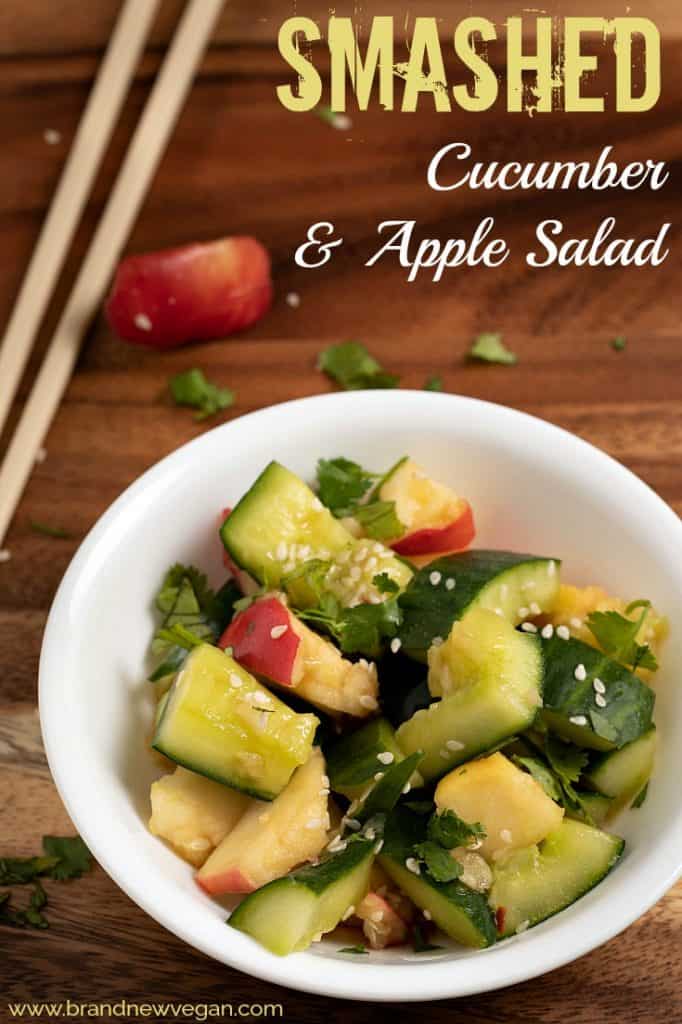 Print
Smashed Cucumber and Apple Salad
Author:

Prep Time:

45 min

Total Time:

45 minutes

Yield:

4

servings

1

x

Category:

Salad

Method:

No Cook

Cuisine:

Asian, American

Diet:

Vegan
---
Description
Ok all you Gallagher fans, pull out your raincoats and your Sledge-O-Matic, because we're smashing cucumbers - to make this oil-free Smashed Cucumber and Apple Salad!
---
1

english cucumber

1

red apple

1 tsp

salt

2

Tbs rice vinegar (balsamic would work too)

1 tsp

low-sodium soy sauce

1

-

2

teaspoon minced garlic

1

-

2

teaspoon PB2 (powdered peanut butter)

1

pinch red chile flakes (optional)
toasted sesame seeds for garnish
---
Instructions
Removed the plastic and cut off the ends of the cucumber.
Re-wrap in cling wrap or a clean towel and smash flat.
Dice into uniformly-sized pieces and add to a colander.
Core apple and repeat the smashing/dicing process.  Add to the colander.
Add the salt and mix well.
Place the colander over a clean bowl and set aside for at least 30 minutes.
In a separate bowl, whisk all the remaining ingredients together and set aside.
After 30 minutes, add the drained cucumber & apple to the dressing and toss to mix
Garnish with sesame seeds and serve immediately.
Or, let place it in the fridge for an hour or so to allow the flavors to develop.
---
Notes
Keywords: smashed cucumber salad