This vegan teriyaki is simply sauced-up soy curls on an oil-free bun, topped with a homemade mayo and rainbow slaw. In the grocery store, it's called "The Big Kahuna", I call it delicious!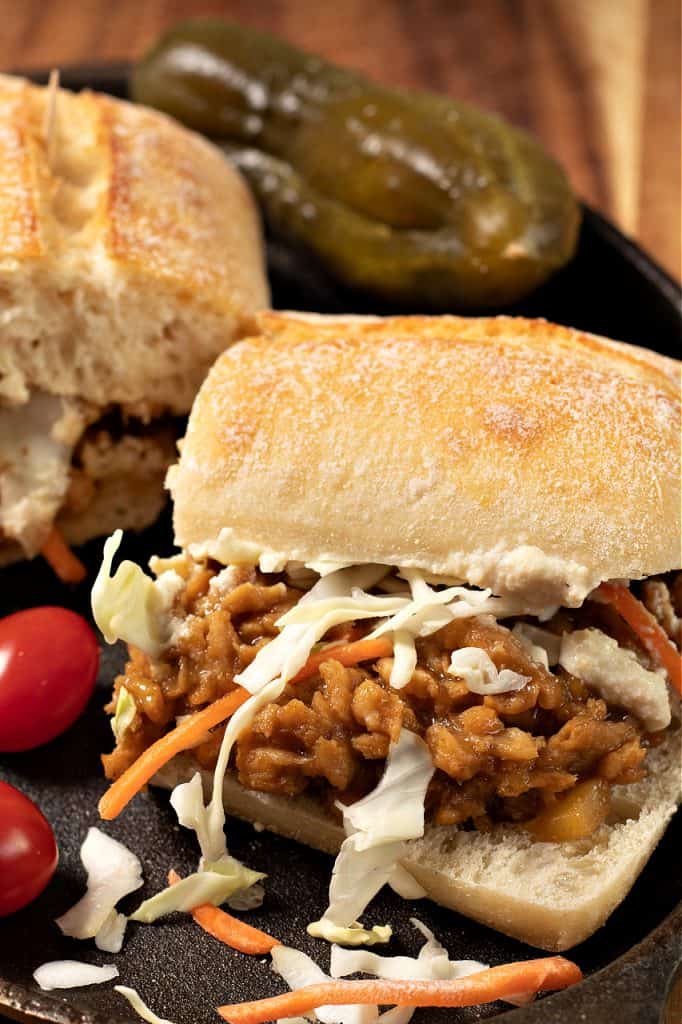 You have my wife to thank for this week's recipe.
Our grocery store carries a line of Vegan Deli Sandwiches from a company called Higher Taste. This one, in particular, is called The Big Kahuna. It is teriyaki flavored chopped seitan on a seeded hoagie bun topped with slaw and veganaise.
It does have oil but I don't say much because at least it's vegan and way better than her typical turkey and cheese club (no, my wife is not Vegan).
So this week I set out to recreate it using ingredients I already had in my pantry, and it was surprisingly easy.
Make some homemade mayo (simple no-cook recipe - 5 min)
Make some homemade teriyaki sauce (simple no-cook recipe - 5 min)
Rehydrate your soy curls, then chop them up into crumbles
Season and pan fry, then add sauce (5 min)
Top on a bun with coleslaw mix and mayo
Enjoy!
I used soy curls because I figured that would be a lot easier than making homemade seitan. And the mayo is made from tofu and is oil-free, but you can substitute your favorite Vegan mayo instead. I found the hoagie rolls at my local Fred Meyer, and they are also oil-free from a company called La Brea Bakery in California.
I am very happy with the finished recipe and I hope you enjoy it as much as my wife and I do.
Vegan Teriyaki with Rainbow Slaw
First of all, I want to say that this recipe came together extremely fast and easy thanks to the little 3.5 cup KitchenAid Chopper my wife bought me a few years ago. This little guy is SO handy when you don't want to pull out the big blender or food processor. I used it to puree the mayo as well as chop the soy curls.
I'll leave my Affiliate Link right HERE if you are interested, and know that as an affiliate I do earn a little on each purchase but at no extra cost to you.
I don't use Vegannaise due to the high-fat content, so I made my own mayo. Feel free to use whatever mayo you are comfortable with or have on hand. If you are making MY mayo - do that first to give the flavors time to meld together. Again, I used my Chopper and just mixed it all together in that.
Next, we want to soak the soy curls to rehydrate them. I used a mixing bowl and 2 cups of hot water.
I'm also using one of those little snack cups of pineapple in its own juice. I drained the juice into a measuring cup and it was almost ¼ cup. We'll use that juice to make our sauce and we'll chop the pineapple into little crumbles when we chop our soy curls.
Next, let's make the teriyaki sauce, while the soy curls are soaking. Take that measuring cup with the pineapple juice and add the remaining sauce ingredients. Whisk until smooth and set aside.
For the slaw, I cheated and used one of those prepackaged bags of coleslaw mix from the store. You could also chop your own cabbage and mix in some shredded carrots. For 2 sandwiches, probably use a cup of cabbage and maybe ⅓ cup of shredded carrot.
Now that the soy curls are fully rehydrated, drain the water and try to squeeze out as much moisture as you can. Then, working in batches, I pulsed the soy curls in my KitchenAid Chopper until they were small crumbles. While I was chopping the last bit of soy curls, I added the pineapple chunks too. I placed the crumbles back into the mixing bowl and added the garlic powder, onion powder, and poultry seasoning.
Mix the soy curls filling well - then turn them out into a large skillet set on medium heat. We just want to brown them a little to take that dried soybean edge off a bit. There's still enough moisture in the soy curls you won't need to add any water or broth.
Fry for about 5 minutes then slowly add the teriyaki sauce. Stir well to mix and it will start to thicken. When the consistency is to your liking, say 2-3 minutes, remove the skillet from the heat and let's make our sandwich.
I forgot to mention, for the buns I found some French Sandwich Rolls in my Kroger (Fred Meyer) that were oil-free. They are from a company called La Brea Bakery. They came in a 4 pack. You can prebake them if you want, but I just used them as is.
Of course, you can assemble your sandwich however you want, but I cut the roll in half length-wise and loaded the bottom half with the teriyaki mixture, and slathered a generous portion of my mayo to the top half. Add coleslaw and assemble.
If you can't find a roll you can use, you can substitute whatever bread you use. Ezekiel bread or their muffins would be good, or maybe use lettuce leaves to make a lettuce wrap - get creative!
And of course, let me know how it turned out in the comments below.
That's it for now, so have an AMAZING week and I'll see you next weekend! And as always, thank you all SO MUCH for all of your amazing support.

Print
Vegan Teriyaki with Rainbow Slaw
Author:

Prep Time:

30 min

Cook Time:

5 min

Total Time:

35 minutes

Yield:

4

sandwiches

1

x

Category:

Sandwich

Method:

Stovetop, Blender

Cuisine:

Asian

Diet:

Vegan
---
Description
This Vegan Teriyaki Hoagie is great when you crave a sandwich. Saucy soy curls topped with slaw and homemade mayo on an oil-free bun. Delish!
---
Mayo
4 oz

firm tofu

1

Tbs maple syrup

1

Tbs lemon juice

1

Tbs dijon mustard

1

Tbs water

1 tsp

red wine vinegar

1 tsp

white miso

½ tsp

salt
Teriyaki Sauce
¼ cup

pineapple juice (see filling below)

¼ cup

low sodium soy sauce

½ cup

water

4

Tbs brown sugar (or maple syrup)

2

Tbs rice vinegar

½ tsp

garlic powder

½ tsp

powdered ginger

1

Tbs corn starch
Filling
½

package soy curls (

4 oz

)

4 oz

cup chopped pineapple with juice (divided)

¾ tsp

poultry seasoning

½ tsp

garlic powder

½ tsp

onion powder
Rainbow Slaw
1 cup

shredded cabbage

⅓ cup

shredded carrot
OR a package of coleslaw mix
---
Instructions
If you are using my mayo recipe - make it first by blending all the mayo ingredients together until smooth.  Set aside. 
Start soaking the soy curls in about 2 cups of water to rehydrate. 
Open a little 4 oz pineapple cup and drain the juice into a measuring cup.   Set aside the pineapple chucks for now.
Add the remaining sauce ingredients to the measuring cup and whisk until smooth.  Set aside.
Drain the soy curls, squeezing out any remaining moisture.
Then chop the soy curls and the pineapple into little crumble-sized bits and return to the mixing bowl.
Add the filling seasoning and mix well.  Then dry fry in a large skillet until slightly browned.
Slowly stir in the sauce and mix well until sauce has thickened.
Prepare your sandwich by spreading a generous portion of the teriyaki on the lower half of the bun topped with coleslaw.  Spread the mayo on the top bun and enjoy! 
---
Keywords: vegan teriyaki, rainbow coleslaw, hoagie