Sufferin' Vegan Succotash! Look what we have here!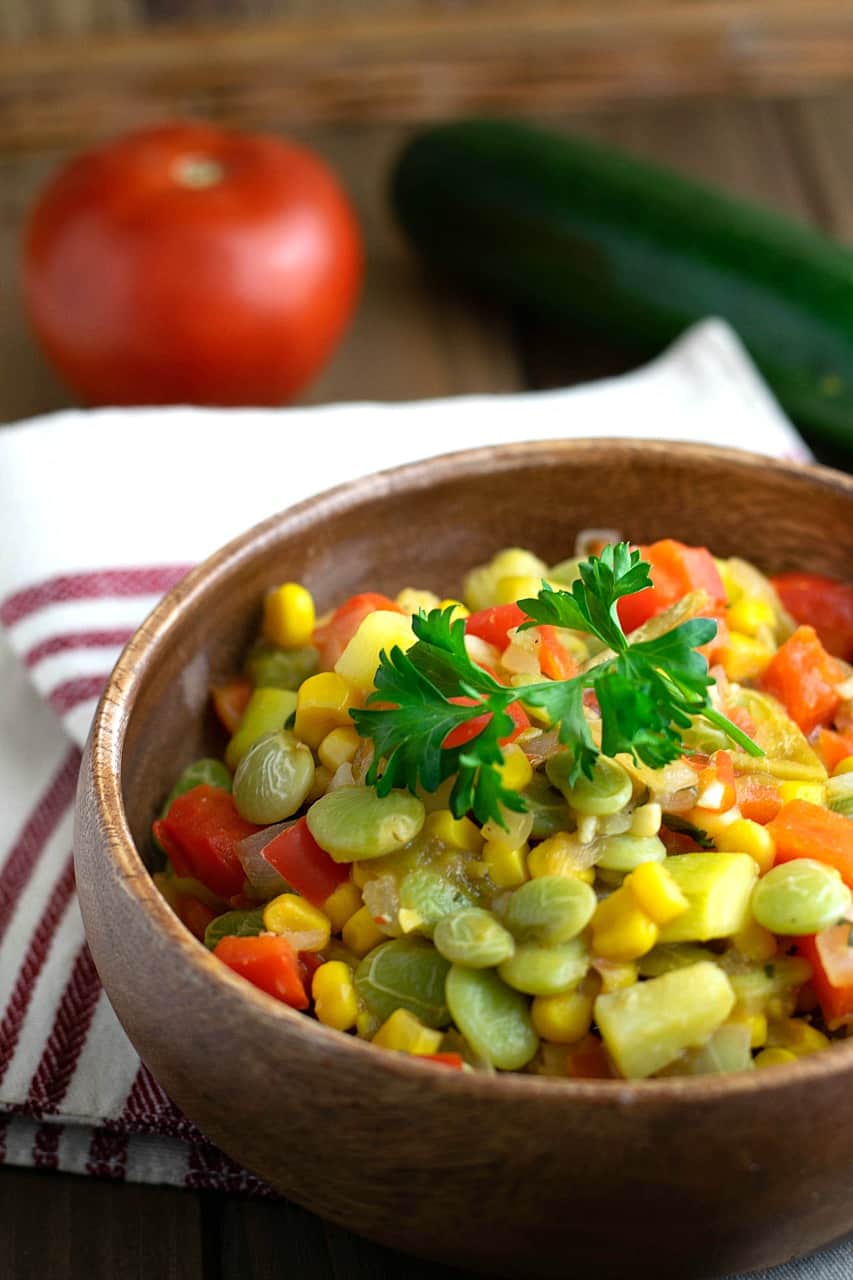 That's right!
Succotash is a real THING and not just something a funny cartoon character says. Bonus points if you actually know who that cartoon character is....
But besides that - succotash is actually a very OLD recipe as well. Long before the settlers arrived in America, the Native Americans used to companion plant what they called "the three sisters" of corn, beans, and squash.
By the time European settlers arrived in America in the early 1600s, the Iroquois had been growing the "three sisters" for over three centuries. The vegetable trio sustained the Native Americans both physically and spiritually. In legend, the plants were a gift from the gods, always to be grown together, eaten together, and celebrated together.

Old Farmer's Almanac
Each of the sisters contributes something to the planting. Together, the sisters provide a balanced diet from a single planting.
The corn stalks provided the beans support to climb on.
The beans pulled nitrogen from the air and brought it to the soil for the benefit of all three plants.
And finally, the squash leaves protected the soil by shading it, keeping it moist, and preventing weeds.

The perfect symbiotic trio!
Luckily for us, not only do they grow well together, but they also TASTE good together. And when you toss in some onion, garlic, tomato, and peppers like I did - you have a mighty tasty side dish for that next family gathering.
Ready to go make some?
But first - let's have some fun and see how many people have actually read this far...
Who WAS that cartoon character that made this funny name famous?
By the way- it gets its name from the Native American word "Msíckquatash" which means "boiled corn kernels. It was also a very popular dish during WW1 and the Great Depression because of its availability and low cost)
Ok, your history lesson is now complete - let's go make some Succotash!
Savory Vegan Succotash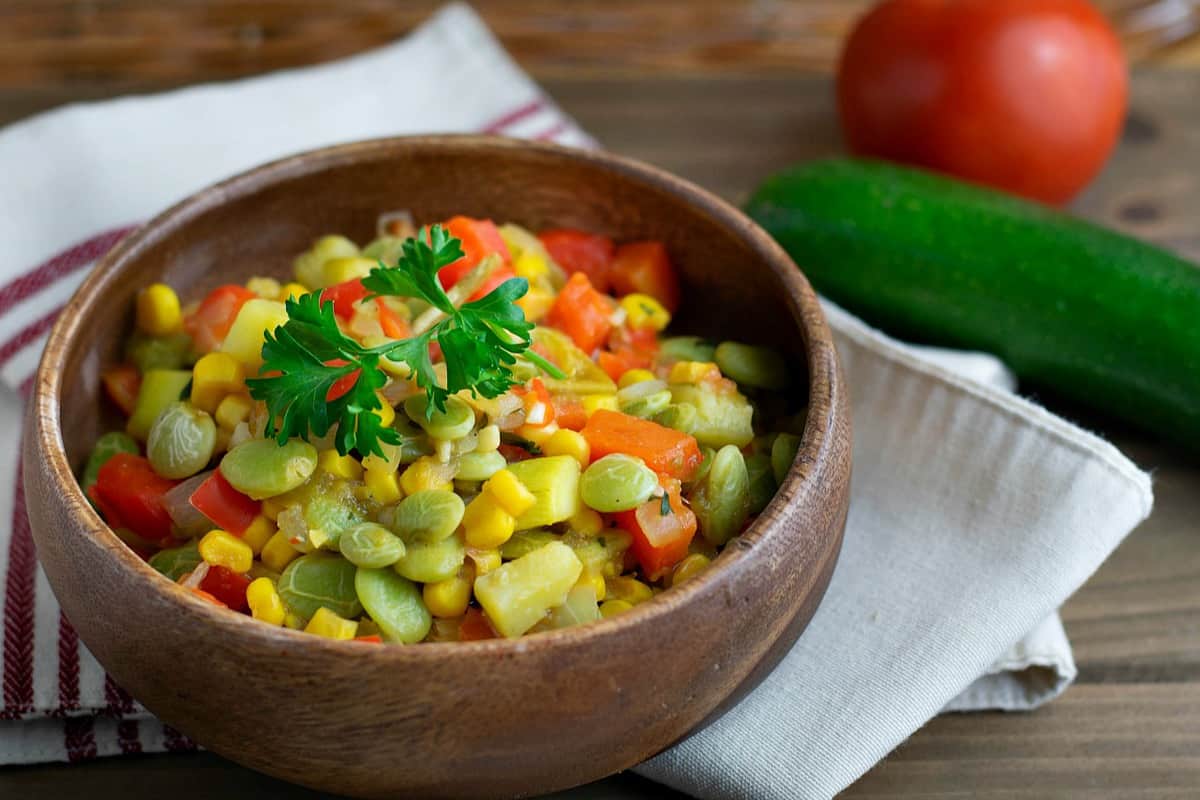 First, choose your pan. I went with my trusty cast-iron skillet and it was just big enough.
Next, we're going to dice ½ an onion and saute it over med heat just until it begins to soften. Adding a pinch of salt helps draw the moisture out. Then we add in some minced garlic and saute for 1 minute.
Next we add our diced Red Bell Pepper and saute that for 2-3 minutes.
Next, I added a diced Tomato and a small 4oz can of Green Chiles. The ones in the store are typically very mild.
Stir well, and then peel and dice a small zucchini and toss that in. This is one big vegetable party - and everybody's invited!
Next, add ¼ cup of low sodium vegetable broth and give everything a good stir.
Finally, we're going to add the two stars of the show, the lima beans, and the corn.
I used frozen lima beans and you want a heaping cup (about 10oz). I also gave them a rinse first under running hot water to start them thawing. Then rinse and drain the corn and add them both in.
Stir well and simmer for a good 5 minutes or so until the vegetables are all heated through.
Season with freshly ground black pepper and some freshly chopped parsley.
Instead of using salt (which this dish more than likely will need), I used 2 teaspoon of White Miso. Not only did it give the vegetables the saltiness I wanted, but it also added that unami flavor we love so much in Asian foods.
If you can't find Miso - then just salt to taste.
That's it, that's Succotash and it will make a great side dish for your Holiday Dinner.
Hope you like it! Leave me a comment if you do and we'll see you next week!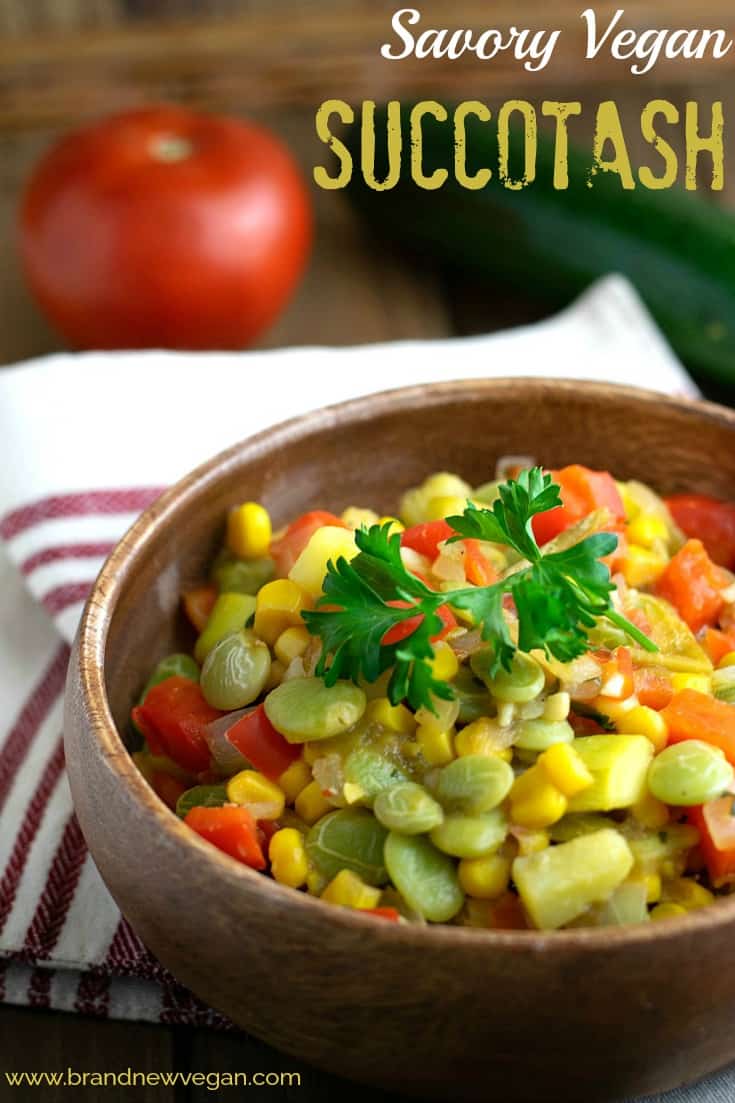 Print
Savory Vegan Succotash
Author:

Prep Time:

15 min

Cook Time:

20 min

Total Time:

35 minutes

Yield:

6

-

8

servings

1

x

Category:

Side Dish

Method:

Stovetop

Cuisine:

American, Vegan, Oil-Free
---
Description
Sufferin' Vegan Succotash! This recipe is AMAZING and will be the perfect side dish for that Holiday Dinner.
---
½

yellow onion, diced

2

cloves garlic, minced

1

red bell pepper, diced

1

tomato, diced

1

can green chiles, 4oz

1

zucchini, peeled and diced

¼ cup

low sodium veg broth

10oz

frozen lima beans (a little over a cup)

1

can corn, 15oz, organic (non-gmo)

3

-

4

Tbs fresh parsley, chopped

2 tsp

 white miso
---
Instructions
Saute onion & a pinch of salt until softened, about 5 min)
Add a tablespoon of water or veg broth if needed
Stir in garlic and saute 1 minute
Add diced red bell pepper, cook for 3-4 minutes
Add diced tomato and green chiles, mix well
Add zucchini and ¼ cup broth, cook 5 min or until tender
Rinse lima beans well, drain and add to pan
Add corn and mix well
Stir in miso and a few grinds of black pepper
Taste for seasoning, adjust if needed
---
Keywords: Vegan Succotash