People think our food is boring.  Whatever....we know better, don't we?
For example here's my dinner last night, this amazing Seitan Meatloaf, which I sliced up and smothered with my Vegan Gravy, and served with a side of potatoes and steamed veggies,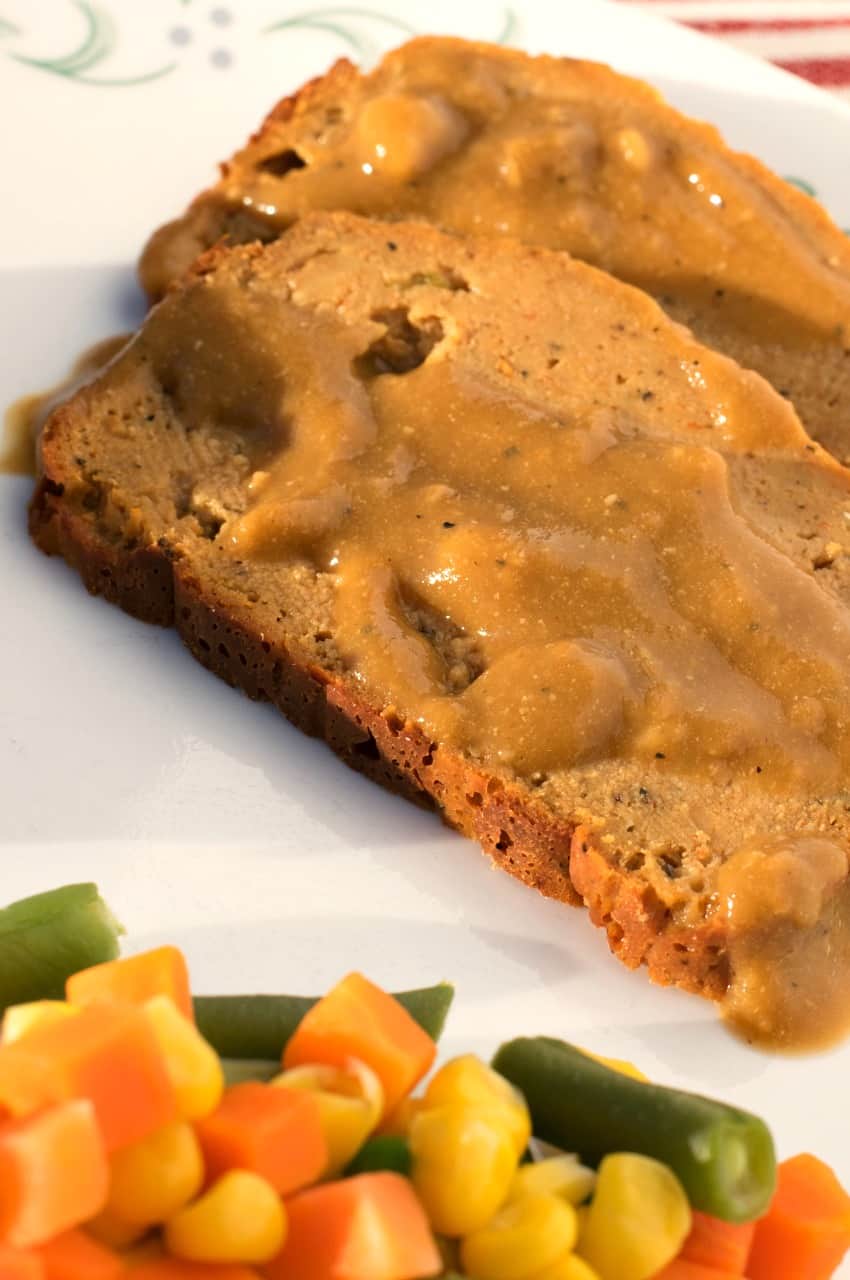 Boring?   Heh....if you say so.
For a lot of new people, getting past the "no more meat" thing seems to be the hardest part.
So wait till they get a load of this seitan meatloaf.
Sliced up thin on a sandwich with all the fixings, or sliced up thick and smothered with homemade gravy, THIS meatloaf will have them coming back for more.
Meat Lovers Seitan Meatloaf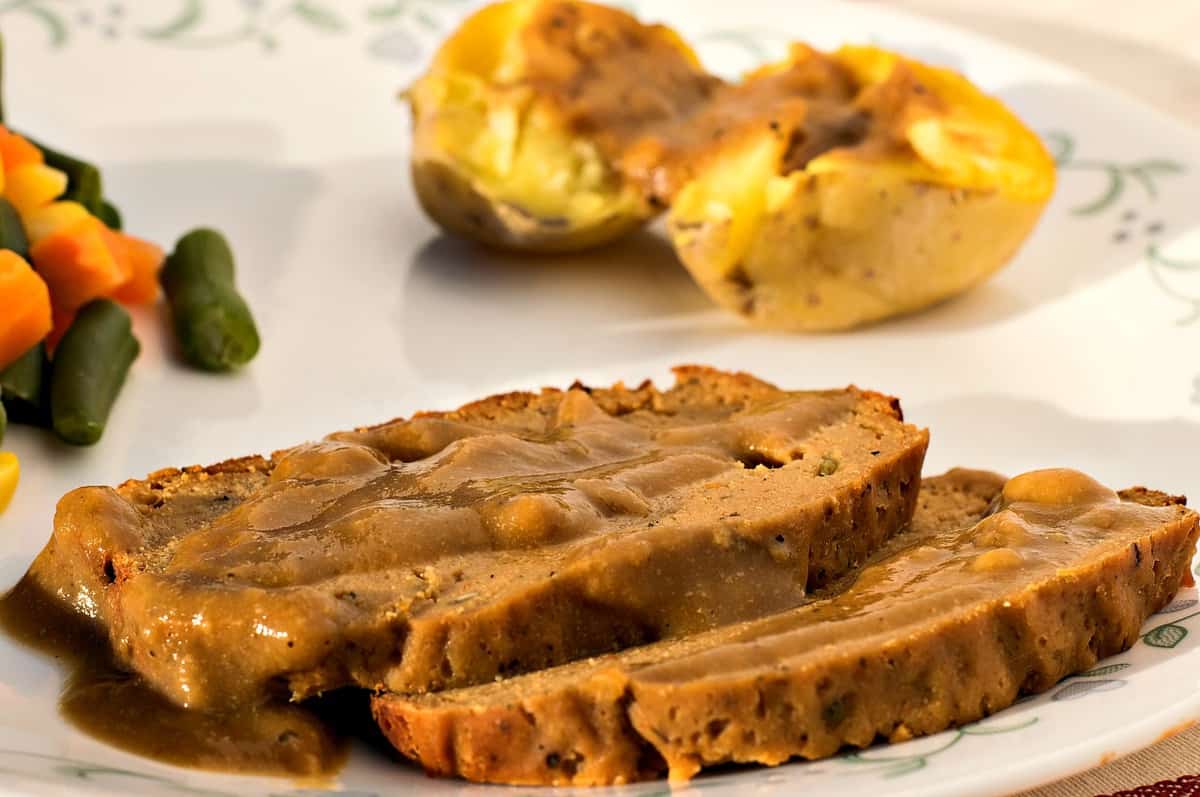 The cool thing about Seitan is, you can make it taste any way you want.  I can make it taste like chicken, bbq, sausage, or even meatloaf.  It just depends on the spices you add.
Seitan itself is just like a dough, made from wheat gluten.
Seriously you'd swear you were making pizza dough.  You mix it up, knead it a few minutes, and then toss it in the oven.  Nothing could be easier.
You will need some Vital Wheat Gluten.  This is the 'flour' that makes the dough.  It's basically wheat flour that has all the starch removed.
I had to go to Whole Foods to find it, but it's also available on Amazon.  I'll post a photo and link here if you'd like to buy online, just remember these are affiliate links and I do make a penny or two when you buy through my links.
Amazon link to Bob's Red Mill Vital Wheat Gluten
Making the Seitan
You'll need two bowls for this recipe, one large bowl for all your dry ingredients, and a smaller bowl for your wet.  Mix each group of ingredients separately and then combine the two in the largest bowl.
It will mix like a spongey dough, just keep mixing until all the dry ingredients have become moistened and incorporated into the dough.
Dump out your dough onto your work surface (no need to flour first) and give it a quick knead.  I just smash it down in the middle and then fold it into itself from the edges.   Do this for about 3-4 minutes.  The gluten will make it really stretchy and elastic-like, which is what you want.
When you're done kneading, let it rest for about 5 minutes and then prepare your foil and containers for cooking.
You can get different textures depending on how you cook your Seitan.  For my Italian Sausage Recipe.   I wrapped them up in foil like tootsie rolls and steamed them in my rice cooker.
With this recipe I'm simply baking it, which I like even better.  And I used a loaf pan lined with parchment paper AND foil.  It gave it that typical meatloaf shape when it was done.  No muss no fuss and it came out great.
Line a loaf pan with foil, then with parchment paper, and add your seitan dough.  Using your fingers, squish it all down until it is evenly distributed and then bring the foil and paper up over the top to seal.  Bake in a 325 degree oven for about 90 minutes.  Peel back the foil and paper during the last 5-10 minutes to allow a crust to form on top.
It's also a good time to slather on some Ketchup, for those of you who like your meatloaf that way.
From reading your Facebook comments, I know that many of you have stubborn  "I have to have meat" types at home.
It is my hope that these recipes will allow them to see we can still have 'meat-like meals' full of texture and flavor, without all the artery clogging grease, saturated fat, and cholesterol we know is so bad for us.
Love the comments - I do read them, so keep them coming!

Print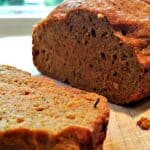 Meat Lovers Seitan Meatloaf
Author:

Prep Time:

15 minutes

Cook Time:

1 hour 30 minutes

Total Time:

1 hour 45 minutes

Yield:

1

loaf

1

x

Category:

Main

Cuisine:

American
---
Description
A meat lovers Seitan Meatloaf - without all the meat. Same great texture and flavor without the saturated fat and cholesterol we know is so bad for us. Perfect smothered in gravy or sliced into sandwiches.
---
Dry Ingredients
2 cups

Vital Wheat Gluten

1 cup

Nutritional Yeast

1

Tbs Garlic Powder

1

Tbs Onion Powder

1 tsp

Sweet Paprika

1 tsp

Grond Cumin

1 tsp

Rubbed Sage

½ tsp

Oregano

½ tsp

Salt

¼ tsp

Black Pepper
Wet Ingredients
1 ½ cups

Vegetable Broth ((low sodium))

¼ cup

Salsa

2

Tbs Soy Sauce ((low sodium))

1

Tbs Tomato Paste

½ tsp

chile garlic paste
---
Instructions
Preheat oven to 325 degrees
Mix all dry ingredients in a large bowl
Mix all wet ingredients in a separate bowl
Pour wet ingredients into dry and mix well
Dump onto work surface and knead gently for 2-3 minutes
Let dough rest for 5 minutes
Line a loaf pan with aluminum foil, and then parchment paper. Add seitan, smashing down until evenly distributed. Fold over parchment and then the foil to seal.
Set oven timer for 90 minutes and place meatloaf in oven.
5-10 minutes before the timer goes off - remove the loaf from the oven and remove the top piece of foil and parchment paper, exposing the top of the meat loaf. Brush with ketchup if desired.
Continue baking for another 5-10 minutes.
---
Notes
Tips are always appreciated!
[paypal_donation_button]