Sometimes you just want something simple to eat. Nothing fancy, no strange ingredients or hours of prep. Just something easy, tasty, and nutritious.

Which is exactly why I made this very Simple Vegetable Soup.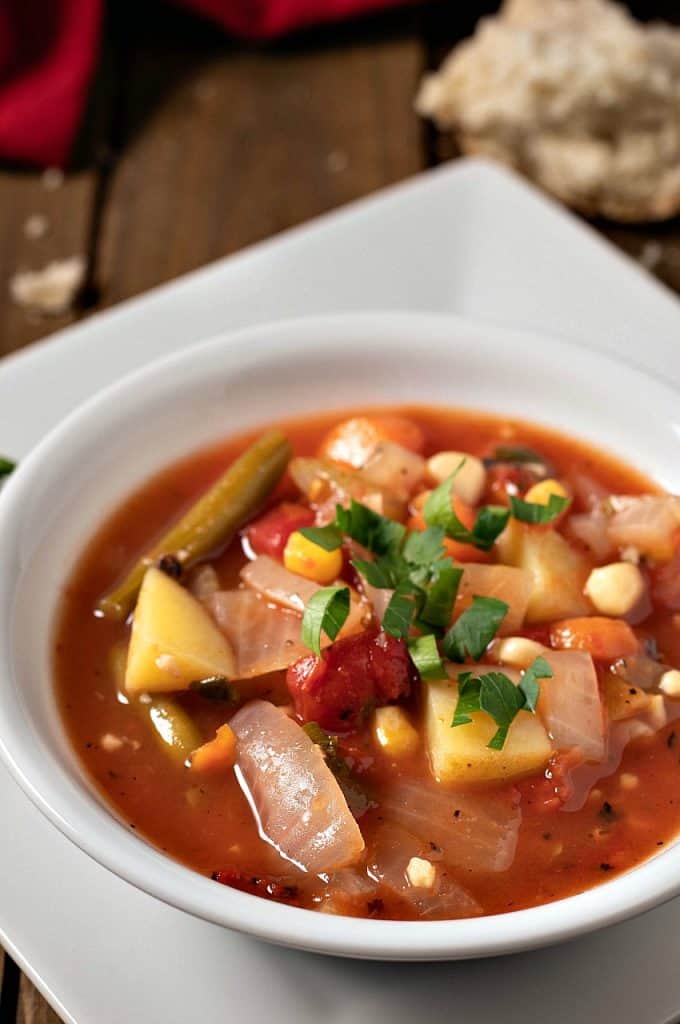 I used a combination of some very basic vegetables that I always have in my refrigerator, along with some frozen vegetables that I always keep in my freezer, to make this delicious, fat-free soup.
It's hearty enough to be a meal on its own thanks to the addition of potatoes and carrots, but could also easily be ladled over a steaming bowl of pasta or rice as well.
Add a side salad if you wish or a hunk of your favorite crusty bread and dinner is served.
I want to thank one of my favorite Food Network stars, Alton Brown from Good Eats for the inspiration. This recipe is my own adaptation of his Garden Vegetable Soup Recipe.
Simple Vegetable Soup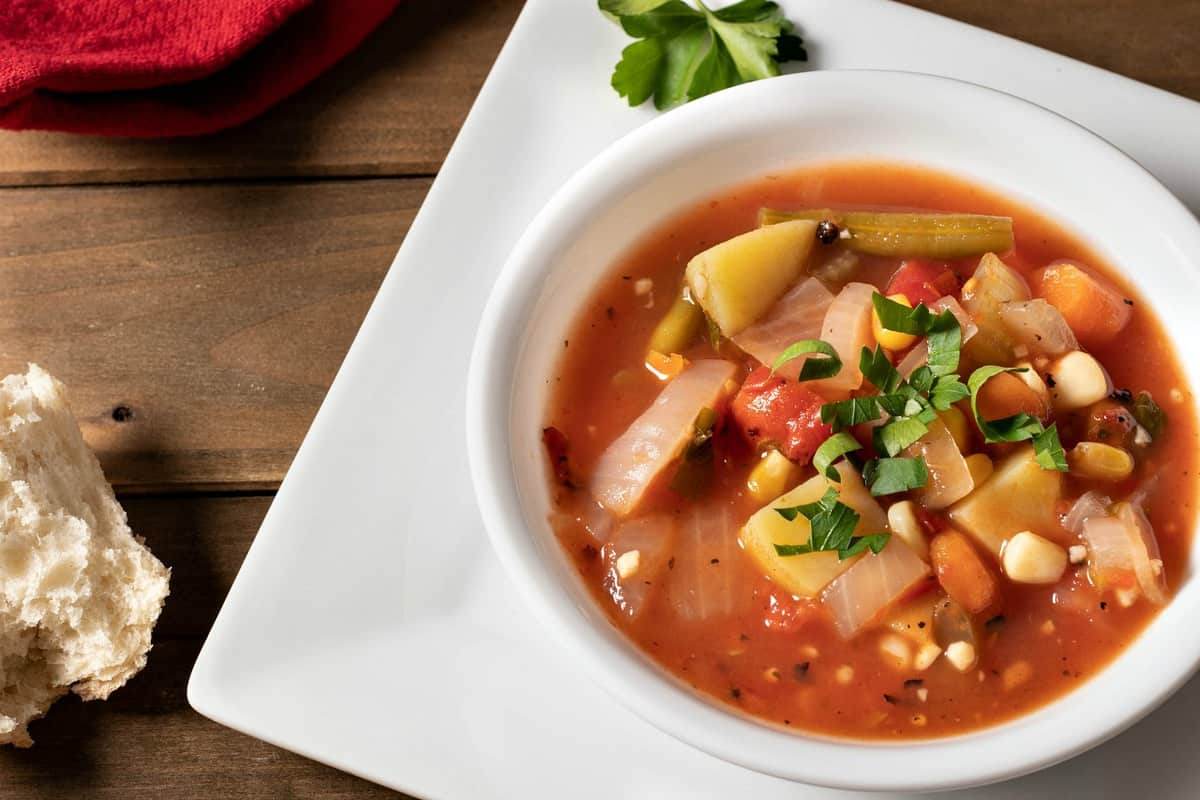 As with any good homemade soup base, you start with what they call in mirepoix. Which is simply a combination of onions, carrots, and celery.
I diced about 1 cup of each and added them to my Dutch Oven with a splash of veggie broth to prevent sticking and a pinch of salt to help draw out some of the moisture. Saute the veggies over med-low heat for 5 minutes or so until softened.
To finish up what pro chefs call 'the aromatics', I added a tablespoon of minced garlic and give it a quick stir. I use jarred garlic for simplicity but feel free to mince a few cloves of fresh garlic if you wish.
As Alton explains in his video, the first 'wave' of veggies you add to your soup should be those veggies that take the longest to cook.
We already have carrots in the pot, so now I'm just going to add about 2 cups of diced potatoes. I used about 3-4 small Golds, but use whatever you have on hand. I did a rough chop and added them to a 2-cup Pyrex measuring cup until it was full.
Into the pot they went.
He also used fresh green beans and if this is something you want to do, now is obviously the time to add them. I had a partial bag of frozen Green Beans I wanted to use up - so I just tossed those in. I had about half of a 10oz bag left - so in went the green beans.
Increase the heat to medium and stir occasionally for the next 5 minutes or so. There should be plenty of moisture left to prevent sticking.
Now we add our broth and I always use the Pacific Foods brand of low-sodium vegetable broth as it has no added oil. We'll need an entire 32 oz carton or 1qt.
Bring your heat up to high and let it begin to simmer.
Now it's time for the "second" wave of veggies, as Alton says. These are the veggies that don't take so long to cook. So I used a 28 oz can of organic, diced Fire Roasted Tomatoes and an entire 10oz bag of frozen Corn, Carrots, and Asparagus mix from Steamfresh.
Super simple, as I said.
There is never anything wrong with using frozen veggies and I always have several bags of different veggies parked and ready in my freezer.
Once your soup is once again simmering, lower the heat and cover for a good 30-45 minutes.
Finally, we taste for seasoning and I did add another good pinch of salt, a few grinds of black pepper, a bit of oregano, and a teaspoon of lemon juice for acidity.
I also stirred in a handful of freshly chopped parsley, because I had some in my fridge.
And that - is about as simple as it gets. Tons of veggies, no fat of any kind, and you are in full control of the sodium.
As they say, sometimes simpler is better.
Of course, you can modify this however you wish. Maybe you have other vegetables you like to use, fresh or frozen. Just keep in mind the time it takes to cook them as I explained above, and add them at the appropriate time. Since frozen veggies are already cooked, I would add them in wave #2 as we did with the corn.
You could also stir in some additional greens in the end for even more of a nutritional bang. Up to you.
That's it for this week, and I hope you enjoy it.
Truthfully, this was NOT supposed to be my recipe this week. I am still trying to perfect another recipe and yesterday was my 2nd attempt....it's so close, but not quite blog-worthy yet.
So as I was making this soup for my dinner last night, I thought aha - here is plan B, right here in my pot.
I loved it and I hope you do too. Enjoy.

Print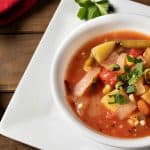 Simple Vegetable Soup
Author:

Prep Time:

30 min

Cook Time:

45 min

Total Time:

1 hour 15 minutes

Yield:

4

-

6

servings

1

x

Category:

Soup, Stew, Chowder

Method:

Stovetop

Cuisine:

American, Vegan, GF
---
Description
Sometimes you just want something simple to eat.  Something easy, tasty, and nutritious which is exactly why I made this very easy and Simple Vegetable Soup.
---
1 cup

diced onion

1 cup

diced carrot

1 cup

diced celery

1

Tbs minced garlic

2 cups

diced potatoes

5 oz

frozen green beans

4 cups

low sodium vegetable broth

1

can fire-roasted diced tomatoes, 28oz

10 oz

bag frozen corn, carrot, asparagus mix

1 tsp

oregano

¼ tsp

salt

¼ tsp

pepper
freshly chopped parsley to taste

1 tsp

lemon juice
---
Instructions
Dice onion, carrots, and celery and add to a large soup pot.
Add a splash of veg broth and saute over med-low heat until softened.
Add garlic and stir until fragrant (about 30 sec)
Add potatoes and green beans and increase heat to medium.   Cook 5 minutes, stirring occasionaly.
Add broth and increase heat to high.
One the soup is simmering, add tomatoes and frozen corn.  Stir to mix well.
Bring the soup back to a simmer, then lower the heat to low and cover.
Let soup simmer for 30-45 minutes.
Add salt, pepper, oregano, and parsley to taste, and finish with the lemon juice.
Serve with your favorite crusty bread
---
Notes