With my heat pump taking a dive this week, and no desire to heat up my kitchen, I turned to my trusty BBQ to whip up this little gem. Imagine Smoked BBQ Soy Curls, with a smoky pineapple & poblano relish, topped off with my Creamy Vegan Coleslaw.
Ok BBQ fans, this one is gonna rock your world.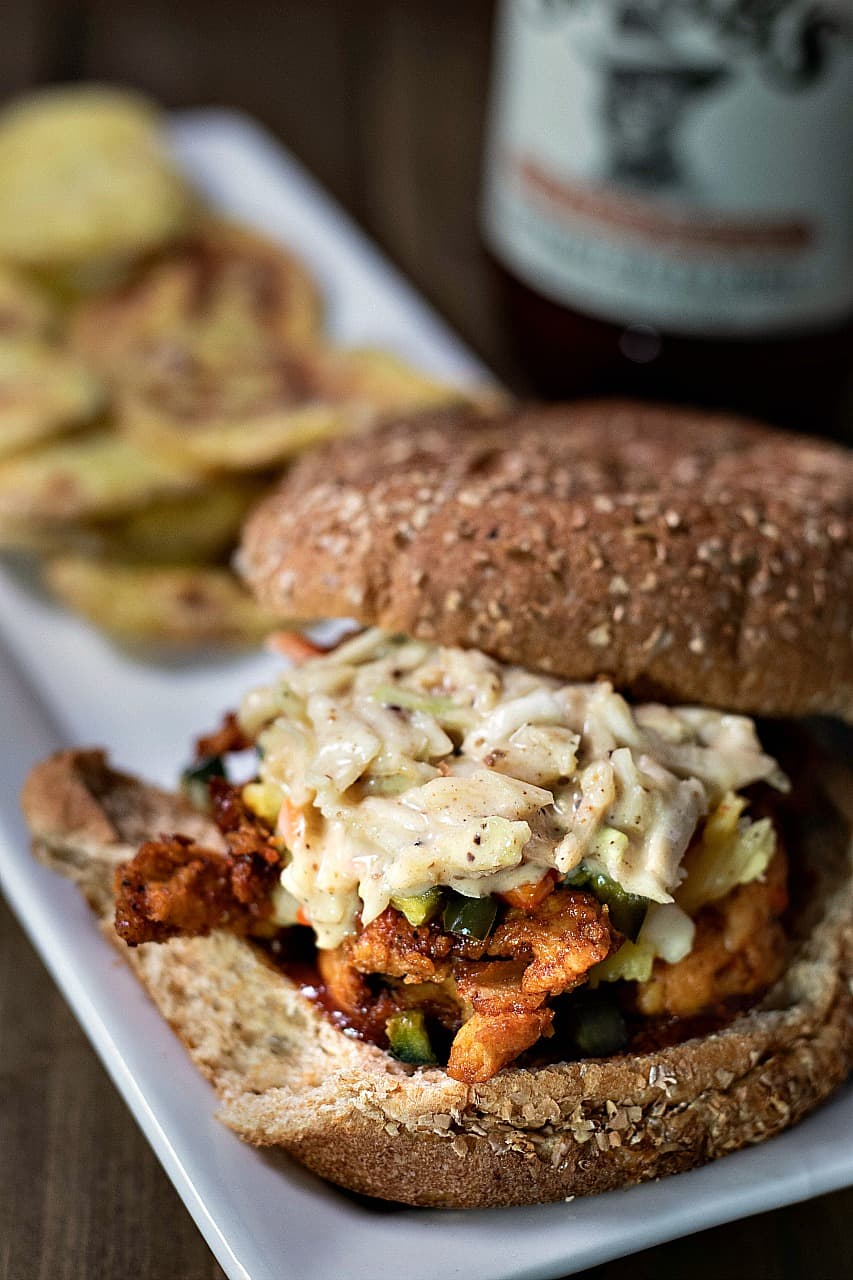 I wish I could take full credit for the idea, but I can't. You see, here in Portland we have this place called The Homegrown Smoker, and although I have never been there, trust me when I say I have studied their website thoroughly.
Both my Tempeh Ribs and my Tofu Burnt Ends recipes were inspired by this very restaurant. And though I'm just guessing when it comes to ingredients, I think this one is pretty darn close to what they call their SloSmoMoFo Sandwich.
And it IS amazing - if I do say so myself.
If you've never tried Soy Curls you are missing out on a treat. They are basically non-GMO soybeans that have been steamed and then shaped into these long strips, then dried and packaged. And when hydrated, take on a scary resemblance to the texture of chicken.
Now I know a lot of you do not WANT to eat anything that resembles meat, and I totally get that. Still, for others, I also know they didn't stop eating BBQ because they didn't like it, they had to for health reasons so this is a perfect way to allow them to continue enjoying the comfort foods they love.
And who doesn't love good BBQ?
Soy curls are available on the company website butlerfoods.com and also in most Whole Food Grocery stores. And they are also available on my Amazon Store and I'll provide that link right here.
So real quick, here's what you're going to need to make this recipe.
Soy Curls (obviously)
A gas or charcoal grill.
Some woodchips for smoking (I used apple)
The BBQ rub from my Tempeh Ribs recipe.
Your favorite BBQ Sauce , canned pineapple, and some Apple Juice
My smoked poblano relish (optional but really good, recipe below)
And some of my Creamy Vegan Coleslaw to top it off (also optional but highly recommended).
So, with ingredients in hand - let's go smoke some soy curls!
Smoked BBQ Soy Curls
I started off making my Creamy Vegan Coleslaw so it had time for the flavors to meld while I prepared the rest of the recipe.
It's also a good time to go grab my BBQ Rub Recipe - unless you prefer using store-bought. Either way you're gonna need a couple of tablespoons so go make that now. I store mine in a little pint jar and keep it in my spice cabinet.
Ok, coleslaw is made and our rub is ready. Now let's prepare our soy curls and relish.
Drain the juice from a 20 oz can of Pineapple (rings, chunks, or crushed) into a bowl. It should be about 1 cup of pineapple juice. Add 1 cup of Apple Juice, 1 cup of hot water, 2 Tbs of low-sodium Soy Sauce, and then add one bag of Butler Soy Curls. Stir to make sure they are all coated and then set them aside for now.
For the relish, I used about ½ yellow onion, ½ red bell pepper, the pineapple chunks, and 1 small poblano pepper.
I used my fancy food chopper with the small chop blade to make sure they are all equal in size and mixed everything in a bowl. Make sure to dice the veggies small so they resemble relish.
If you do not like any heat at all, you could sub a green bell pepper for the poblano, but the mild heat of the poblano perfectly counters the sweetness of the BBQ sauce in my opinion.
Now that the soy curls have rehydrated, drain and save the juice into another small bowl (I saved it to occasionally baste my soy curls if they looked too dry on the grill).
Now add 2 tablespoons of the bbq rub to the soy curls and toss until they are evenly coated. I then placed the soy curls and the relish on a large metal sheet pan. This is what I place on the grill.
Almost ready. Now for the smoke.
I used one of those disposable aluminum pans to make a DIY smoke box. Mine measured 8.5" x 4.5" x 2.5" and resembled a bread loaf pan. You could also just use aluminum foil and make a pouch. I filled my pan with applewood chips and added water to cover. You want to let these soak for about 30 minutes before using so now is a good time to fire up the grill with your favorite briquettes.
I guess we should take a minute to talk about grilling methods.
We want to use INDIRECT heat for this recipe. So pile all your coals off to one side of your grill, leaving a cool zone on the other. We are NOT going to be placing our BBQ directly over the coals - but on the opposite side. We want the indirect heat to cook our BBQ and the smoke to give it lots of flavor.
Same with gas - just fire up one side but not the other.
So when the coals are ready, drain your wood chips and if using the DIY smoke box - seal the top with additional aluminum foil. Also make sure to poke some holes in either the foil pouch or DIY smoke box, and then place this directly onto your coals.
Add your grill grates and place your sheet pan of soy curls and relish on the coolest side of the grill and close the lid. It may take a minute or two for the smoke to start billowing out - but trust me it will.
All that's left now is to occasionally stir the relish and soy curls, and dabbing on some bbq sauce every once in a while. Like I said, I saved the pineapple juice marinade in case it looked too dry.
Total time to smoke, at between 300° - 400° F, about 1 hr.
To assemble your sandwich, pile on some BBQ, add a good spoonful or two of the relish, and then top with the coeslaw. Add more BBQ sauce too if you like it really messy.
And that, my friends, is it. I really hope you like it as much as I did, and if so - be sure and leave me a comment below.
Until next week, stay cool wherever you are, and I'll see you soon.

Print
Smoked BBQ Soy Curls
Author:

Prep Time:

30 min

Cook Time:

60 min

Total Time:

1 hour 30 minutes

Yield:

4

-

6

servings

1

x

Category:

BBQ

Method:

Grill or Smoker

Cuisine:

American, Vegan
---
Description
Imagine Smoked BBQ Soy Curls with a smoky pineapple & poblano relish, topped off with my Creamy Vegan Coleslaw. Ok BBQ fans, this one is gonna rock your world.
---
Poblano Relish
20 oz

can Pineapple, finely diced (save the juice)

½

Yellow Onion, finely diced

½

Red Bell Pepper, finely diced

1

Poblano Pepper, finely diced (or Green Bell Pepper)
Soy Curls
8 oz

bag Butler Soy Curls

1 cup

saved Pineapple Juice

1 cup

Apple Juice

1 cup

hot Water

2

Tbs Soy Sauce (low sodium)

2

Tbs BNV BBQ Rub

2 cups

BBQ wood chips for smoking
Garnish
Your favorite buns
Your favorite BBQ Sauce
---
Instructions
Prepare coleslaw first if using
Also, prepare BNV BBQ Rub recipe - unless using store-bought
Drain pineapple juice into a large bowl, add apple juice, water, soy sauce, and soy curls.  Allow the soy curls to rehydrate for at least 15 minutes. 
Finely dice the onion, bell pepper, pineapple, and poblano.  Mix together in a bowl and set aside. 
Prepare wood chips by soaking for 30 minutes, drain, and then place them inside an aluminum foil pouch or disposable aluminum cooking tray and sealing with foil.  Poke holes throughout to allow smoke to escape. 
Prepare grill for indirect heat by using only 1 side of gas grill or placing charcoals on one side only.   Using a charcoal chimney will prepare the charcoals for grilling very quickly. 
Drain soy curls (saving the liquid) and place the soy curls and relish onto a large metal sheet pan.  
Place wood chip pouch or box directly onto coals (or gas flame) and add grates. 
Place the pan of soy curls & relish onto the cool side of your grill and smoke over low heat for approximately 1 hr, stirring occasionally.  
Add BBQ sauce or leftover marinade as needed (or desired). 
Assemble sandwich by placing smoked soy curls onto a bun of your choice, followed by a spoonful or 2 of relish, and topped with coleslaw. 
---
Notes
Keywords: vegan bbq, soy curls,