I hear people say how expensive it is to eat Vegan. I beg to differ - a head of cabbage and a few vegetables are all you need to make this delicious Vegan Cabbage Soup.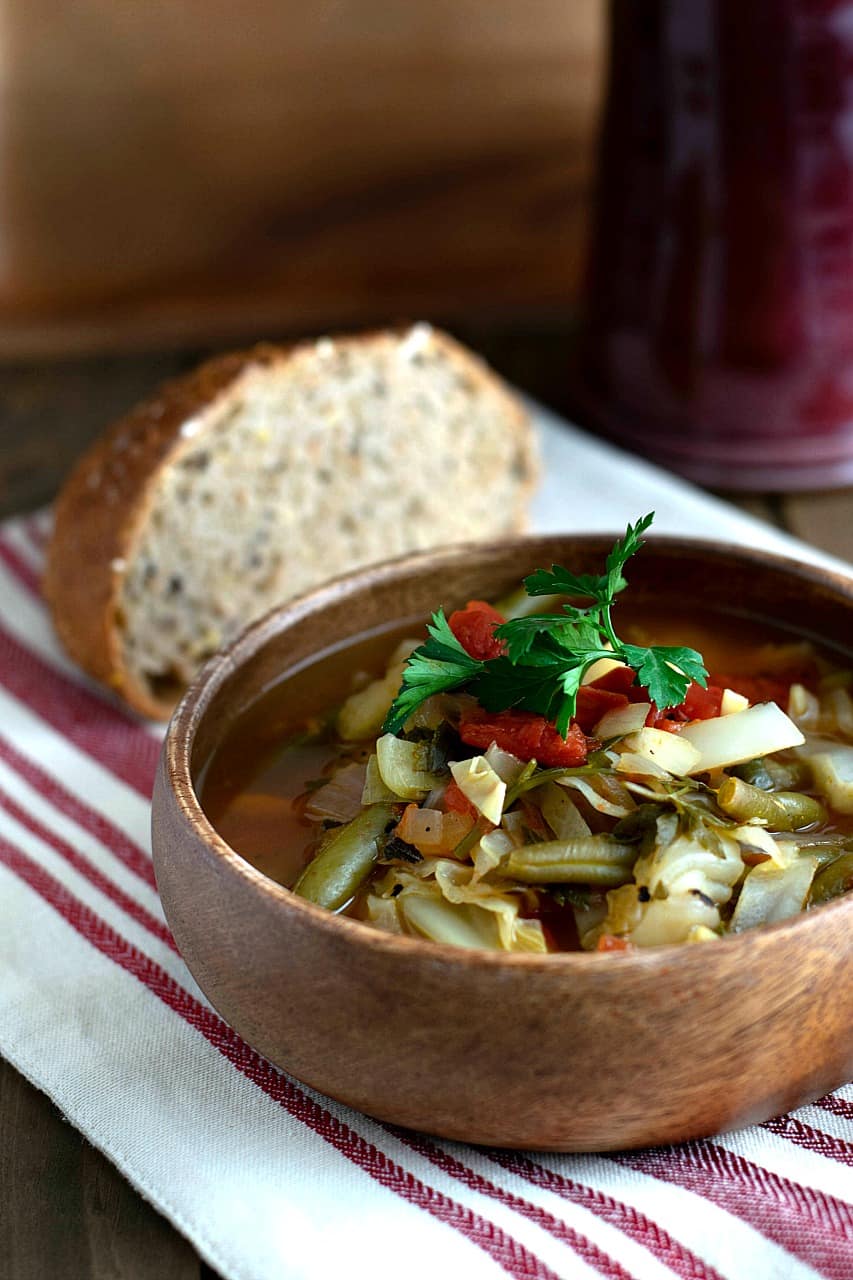 I think people are mistaken in thinking they need to buy the processed Vegan Crumbles, or Veggie Burgers, or Vegan Cheeses..... because those CAN be expensive.
Or thinking they need to buy only organic or shop at Trader Joe's or Whole Foods - which can ALSO be expensive.
I shop at a regular chain Grocery Store for the majority of my recipes, and only on a rare occasion will venture out to Whole Foods for a special ingredient.
So everything in this soup will more than likely be available at your local grocery store too and priced affordably.
Another common excuse I hear is cooking is too hard or they don't have enough time. I will say the veggie chopping will take a little bit of time, but once the prep work is done the rest of this is easy.
Chop, add to pot, simmer 20 minutes. Nothing could be easier, or faster.
And nutritious? This is probably one of the more healthier soup recipes I have made. This soup has it all: Protein, Fiber, Calcium, Iron, Vitamin A, Vitamin C, Potassium.
Not to mention there is NO fat, NO cholesterol, very little sodium, and only 67 calories per 1 cup serving.
Nutrient rich and calorie poor - that 's what this Vegan Cabbage Soup is.
Oh and delicious too - here we go.
Vegan Cabbage Soup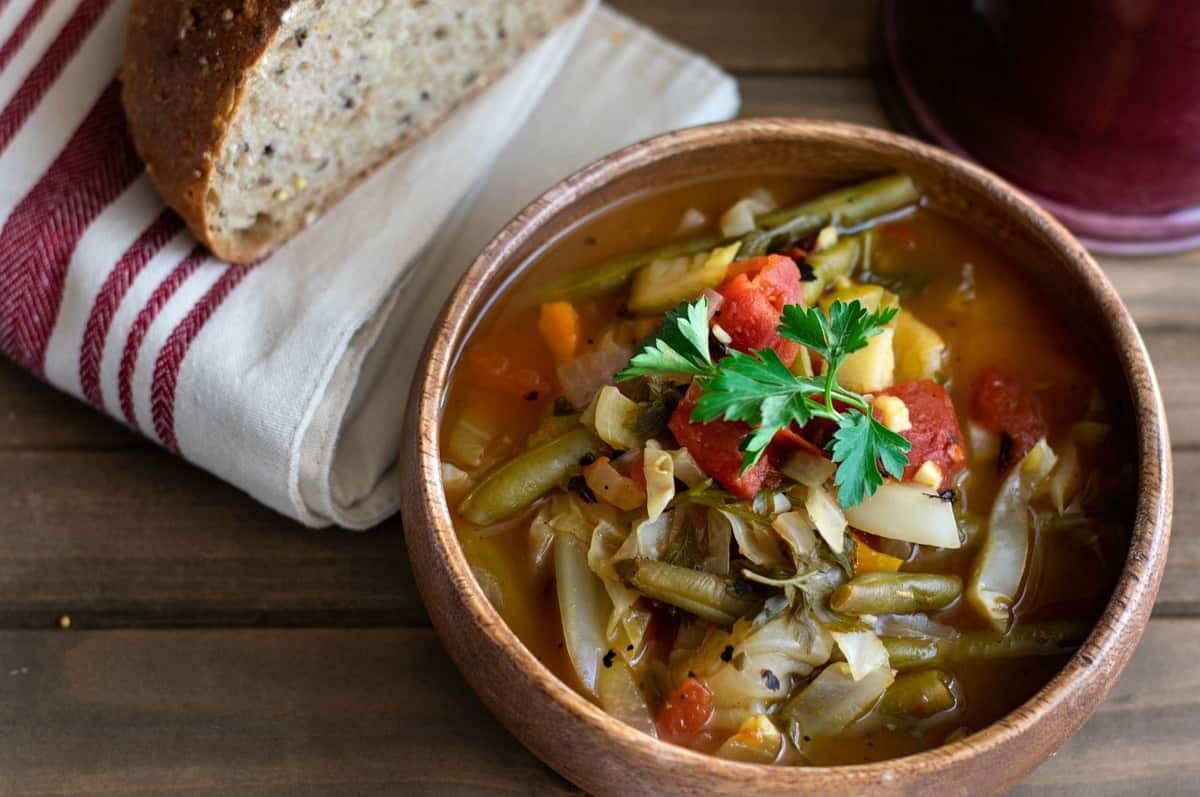 Start by dicing a large Yellow Onion and add it to a LARGE Stock pot. (I used a 6qt Cast Iron Dutch Oven and this recipe almost fills it up). Add a few tablespoons of water or veg broth to prevent sticking and begin to soften the onions over med-low heat.
After a few minutes go ahead and add 4 cloves of minced garlic and give it a stir. While the onions and garlic are simmering, lets prep the rest of our veggies.
Dice 2 ribs of celery, 1 carrot, and 1 parsnip and add them to the pot (you could always use a second carrot instead of the parsnip).
Next, we're also going to add an entire 10oz bag of frozen Green Beans, and 2 cans of Fire Roasted tomatoes (15oz ea) and give the pot a good stir to mix everything up.
Let that continue to simmer while we prep the cabbage.
We are going to use ½ head of Green Cabbage, so start by removing any outer leaves that look deformed, dirty, or otherwise nasty. Then make a clean cut on the stem.
Next, carefully cut the cabbage in half right through the core (stem). Wrap up one half for later, and cut the remaining half into 2 pieces as well, again right through the core. Now you can easily remove the white triangle looking core near the stem.
Slice the cabbage into strips, and by now you can add them to the soup pot along with 4 cups of the veg broth, 2 cups of water, ½ bunch of parsley leaves, and the seasonings.
Stir well and bring the heat up to boiling. Once it begins to boil, reduce the heat and cover. Let the soup simmer for 20-25 minutes.
Finally, after another good stir, season with a little salt, pepper, and 1 Tbs of Balsamic Vinegar.
I know this makes a LOT of soup ( I did warn you) but it can easily be frozen for future meals, or you could simply cut the recipe in half.
Vegan Cabbage Soup - full of all the good stuff, with none of the bad stuff, and only costing pennies per serving.
What could be better?

Print
Vegan Cabbage Soup
Author:

Prep Time:

30 min

Cook Time:

30 min

Total Time:

1 hour

Yield:

15

servings

1

x

Category:

Soup

Method:

Stovetop

Cuisine:

Vegan
---
Description
I hear people say how expensive it is to eat Vegan.  I beg to differ - a head of cabbage and a few vegetables are all you need to make this delicious Vegan Cabbage Soup. 
---
1

large yellow onion, diced

4

cloves garlic, minced

2

ribs celery, diced

1

carrot, diced

1

parsnip, diced

10 oz

pck frozen green beans
(2) 15oz cans fire roasted tomatoes

½

head green cabbage, core removed, chopped

4 cups

low sodium vegetable broth

2 cups

water

½

bunch fresh Italian parsley, chopped

1 tsp

 oregano

½ tsp

 thyme

½ tsp

salt

¼ tsp

 pepper

1

Tbs balsamic vinegar
---
Instructions
Soften diced onion and minced garlic in a large 6qt stock pot
Add diced celery, carrot, parsnip, green beans, and both cans of tomatoes
Simmer 10 minutes while cutting cabbage
Add chopped cabbage, veg broth, water, parsley, and seasonings
Stir well and bring to a boil
Once the soup has come to a boil, reduce heat and cover
Simmer 20-25 minutes
Season with salt, pepper, and balsamic vinegar
---
Notes
Keywords: Vegan cabbage Soup