Getting back to my New Mexican roots today by making this delicious Vegan Chile Colorado, a hearty veggie stew made with a Mexican red chile broth.
You know I love my red chile - so any excuse to make a batch is good enough for me. But when I realized I had this older recipe that hasn't been updated since 2017, I knew exactly what I had to do.
So what is Chile Colorado?
The word "colorado" is a Spanish word that simply means "colored red". The Colorado River got its name because of the red sandstone soil of the region, which ended up being the official name of the entire region after gold was discovered near Pike's Peak.
So Chile Colorado is a stew (usually made with beef), that is "colored red" by stewing the beef in a broth of red chile sauce.
In my version, I replaced the beef with some soy curls, added some stew veggies (carrots, celery, onion), and finally added LOTS of my favorite starches - papas! (potatoes).
Trust me, red chile and potatoes go together like Ben & Jerry (or Tom & Jerry for those of you old enough to remember 😁)
And if you're wondering why on Earth I'm making a stew in MAY.....
It has been an unusually cold 🥶 and wet spring here in the Pacific Northwest, with evening lows still in the 30s! So a nice, hot bowl of stew is absolutely perfect for our wild & crazy weather.
Besides, a delicious stew is good any time of the year, am I right?!
Enjoy!
Vegan Chile Colorado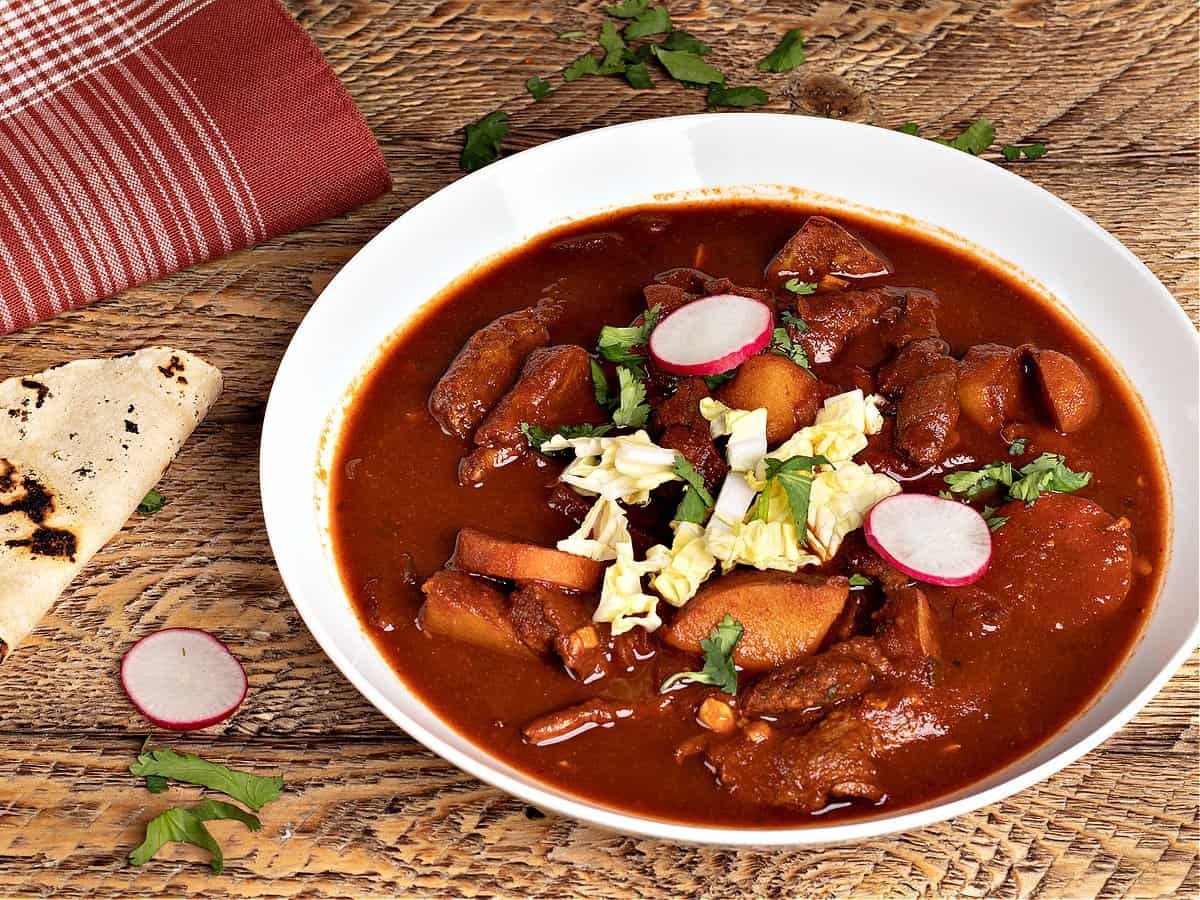 Let's take a minute and talk about some of the ingredients I used to make this stew.


Now let's make our Chile Colorado
Start by rehydrating the soy curls.
I used 4 oz which is half the usual 8 oz bag. Add them to a bowl and cover with hot water. If you want to add a little more flavor, add 1-2 Tbs soy sauce too. Set them aside for now.
Next, let's make the red chile paste
Clean the chiles by removing the stem and as many seeds as possible. Remember chile has an oil that will get on your fingers. And it WILL burn your eyes (or other sensitive areas) if you forget and rub them - please wash your hands after handling chiles!
And if you don't like spicy - be SURE and remove those seeds AND the veins/membranes as that ... is where the 'heat' is stored.

Toast them for 5 min in a 250° F oven and then add them to a saucepan and cover with hot water. Simmer them for 10 minutes or so until they get nice and soft, then remove them and toss them in your blender. Add just enough of that chile water to blend into a smooth paste (maybe ¼ cup) and then set that aside too.
Veggie Prep & Stew Base
Dice your onions to whatever size chunks you like in your stew, slice your carrots and celery, mince your garlic, and rough chop your potatoes.
Toss your onions into a deep stew pot or dutch oven along with the carrots and celery. Add just enough water or broth to prevent sticking and simmer them until they start to get soft.
Do NOT add the garlic or potatoes - not yet.
When the carrots start to soften, add your chile paste. Then take 1 cup of water and use it to swish around your blender to get ALL of that chile goodness into your pot, then add that water too.
Now add the veggie broth and your potatoes.
The Stew
Bring your stew up to a rolling simmer and let's season it. As I mentioned before, I added a heaping teaspoon of marmite. I also added 2 teaspoons of ground cumin, ½ teaspoon garlic powder, and ½ teaspoon onion powder.
Let that simmer for 10-15 minutes, and NOW add your garlic. Also, drain those soy curls and add those too.
All that's left is to simmer your stew over med-low heat until those carrots and potatoes are fork-tender.
This is also the point I added 2 Tbs of masa harina to thicken the stew. As mentioned, you use whatever thickening agent you are comfortable with, if any at all. I personally like a thick stew compared to a watery soup, but that's me.
Once it begins to thicken, remove the pot from the heat and crumble in the oregano. Stir well, and then let the stew sit for 5-10 minutes.
Now you are ready to serve.
I like shredded cabbage and sliced radish for garnish, with a few sprigs of cilantro...yum. But you garnish it however you like.
I also might mention it goes REALLY well with my homemade corn tortillas too.
Just sayin' 😉
Hope you enjoy the recipe! Stay warm (or cool) whatever your situation and I'll see you next week!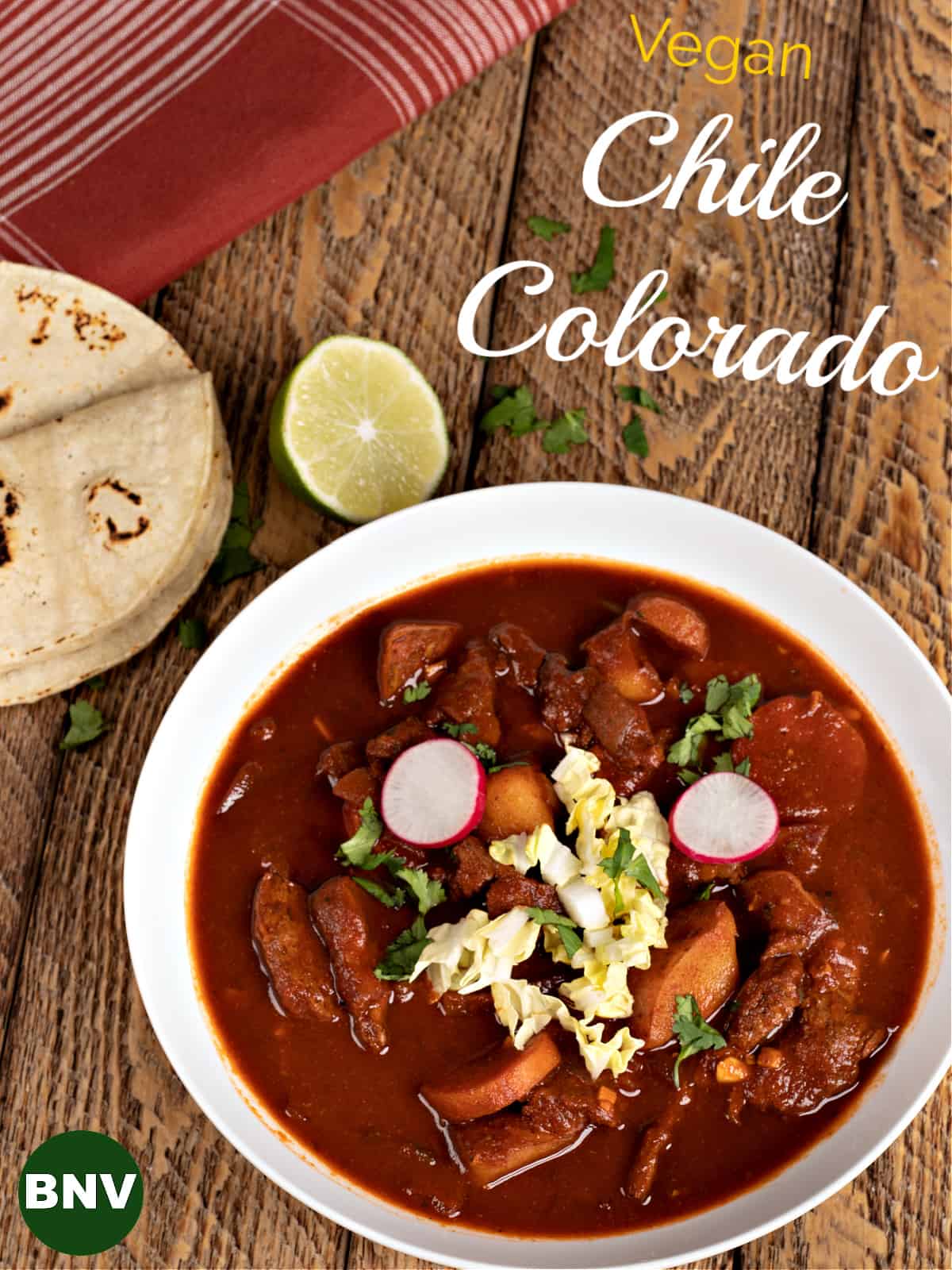 Print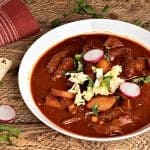 Vegan Chile Colorado
Author:

Prep Time:

30 min

Cook Time:

30 min

Total Time:

1 hour

Yield:

6

-

8

servings

1

x

Category:

Stews

Method:

Stovetop

Cuisine:

Mexican

Diet:

Vegan
---
Description
Getting back to my New Mexican roots today by making this delicious Vegan Chile Colorado, a hearty veggie stew made with a red chile broth.
---
4

oz

Butler soy curls™ (½ bag)

9

dried Guajillo red chiles

2

dried Ancho chiles
1 white onion

1

large carrot (about

½ cup

)

3

ribs celery (about

½ cup

)

4

potatoes (red or russet - about

4 cups

)

4

cups

low-sodium vegetable broth

1

cup

water

2 tsp

ground cumin

1 tsp

marmite (or add soy sauce and/or salt to taste)

½ tsp

garlic powder

½ tsp

onion powder

3

-

4

cloves garlic, minced

2

Tbs Masa Harina (or corn/potato starch)

1

Tbs Mexican oregano (use Italian oregano if you must)
---
Instructions
Rehydrate soy curls by placing them in a bowl and covering them with hot water. Set aside. 
Clean chiles by removing stems, seeds, and veins.  
Wash your hands thoroughly after handling chiles!
Toast chiles in a 250° F oven for 5 minutes
Rehydrate chiles by placing them in a saucepan and covering with hot water
Simmer for 10 minutes or until soft
Strain chiles into a blender reserving some of the chile water
Blend the chiles using a little of that chile water to get a smooth thick paste, then set aside
Dice the onion, chop the carrots & celery, then add to a dutch oven
Add enough water to prevent sticking and saute until softened
Add the chile paste.  
Then add 1 cup of water to the blender to rinse out any remaining sauce, then add to the pot too
Stir well then add veggie broth and potatoes
Bring stew to a simmer then add marmite, cumin, garlic powder, and onion powder - stir well
Drain the soy curls and add them along with the minced garlic - stir well
Simmer stew until potatoes are fork-tender. then add masa harina to thicken
Once the stew thickens. remove from heat and crumble in the oregano
Let set 5 minutes for the flavors to meld
Serve with your favorite garnish
---
Keywords: vegan Chile Colorado