Growing up in the Midwest - there were certain places I remember fondly when it came to quick, tasty, food options.
Of course I'm not necessarily talking healthy food, or vegan food, but hey - it was the '70's ok?
Bear with me here as I reminisce a little.
Burger Chef - ah my first job.  Anyone remember Burger Chef and Jeff?  With or Without and the Works Bar?  I used to make the most awesome burgers on my lunch break - with lots and lots of tomatoes and extra crispy french fries.
White Castle - omg.  The original slider.  I still crave these things every once in a while.  Mom used to bring home sacks of these things and there was never a leftover - ever.  (My wife and daughter think they're gross - and they're probably right).  
And Steak n Shake.  I still have memories of my dad taking me here when I was a little kid for a steak burger, those little shoestring fries, and naturally a bowl of their world-famous chili.  Something about that chili.  I have never tasted a version yet that's come close to that flavor.....
Hmmmm...sounds like a challenge.
A Vegan Steak n Shake Chili?
Oooooh....I'm drooling already.
Steak n Shake Chili
After a brief glance on the Internet - I found a lot of copycat recipes for Steak n Shake Chili.
But...they all include ground meat, usually a can of French Onion Soup, and a Cola of some sort.
So I made a couple of changes....
#1.  I completely eliminated the meat - not even a substitute - as the broth and beans would be enough if I could match that classic flavor of Steak n Shake Chili.
#2.  I skipped the canned French Onion Soup too.  It has an ingredient list that is definitely NOT vegan, and looks like a chemistry experiment gone wrong.....
Ingredients: 

BEEF STOCK, ONIONS, WATER, DEHYDRATED ONIONS, CONTAINS LESS THAN 2% OF: YEAST EXTRACT, VEGETABLE OIL, SALT, POTATO STARCH, FLAVORING, POTASSIUM CHLORIDE, SUGAR, MONOSODIUM GLUTAMATE, HYDROLYZED YEAST PROTEIN, CARAMEL COLOR, BEEF FAT, ENZYME MODIFIED CHEDDAR CHEESE (CHEDDAR CHEESE (CULTURED MILK, SALT, ENZYMES, CALCIUM CHLORIDE), WATER, DISODIUM PHOSPHATE, ENZYMES), HYDROLYZED SOY PROTEIN, CITRIC ACID, LOWER SODIUM NATURAL SEA SALT, DEXTROSE, HYDROLYZED WHEAT GLUTEN, DISODIUM INOSINATE AND DISODIUM GUANYLATE, SPICE.
Today's word boys and girls is GROSS.  Can YOU say gross?
So INSTEAD of using a can of chemicals, I made my OWN French Onion Soup by caramelizing an entire sweet onion and adding a bit of Balsamic Vinegar for flavor and some Veggie Stock thickened with flour.
Lots of onion flavor - without all the chemicals.  Easy Peazy.
And finally the cola.
Well guys, I DID use a Coca Cola.  If that offends any of you health oriented folks - sorry but there's simply no substitute for Coca Cola.
It IS the Real Thing you know....
....and I really wanted to see if this recipe would match that Steak n Shake flavor I was trying so hard to recreate.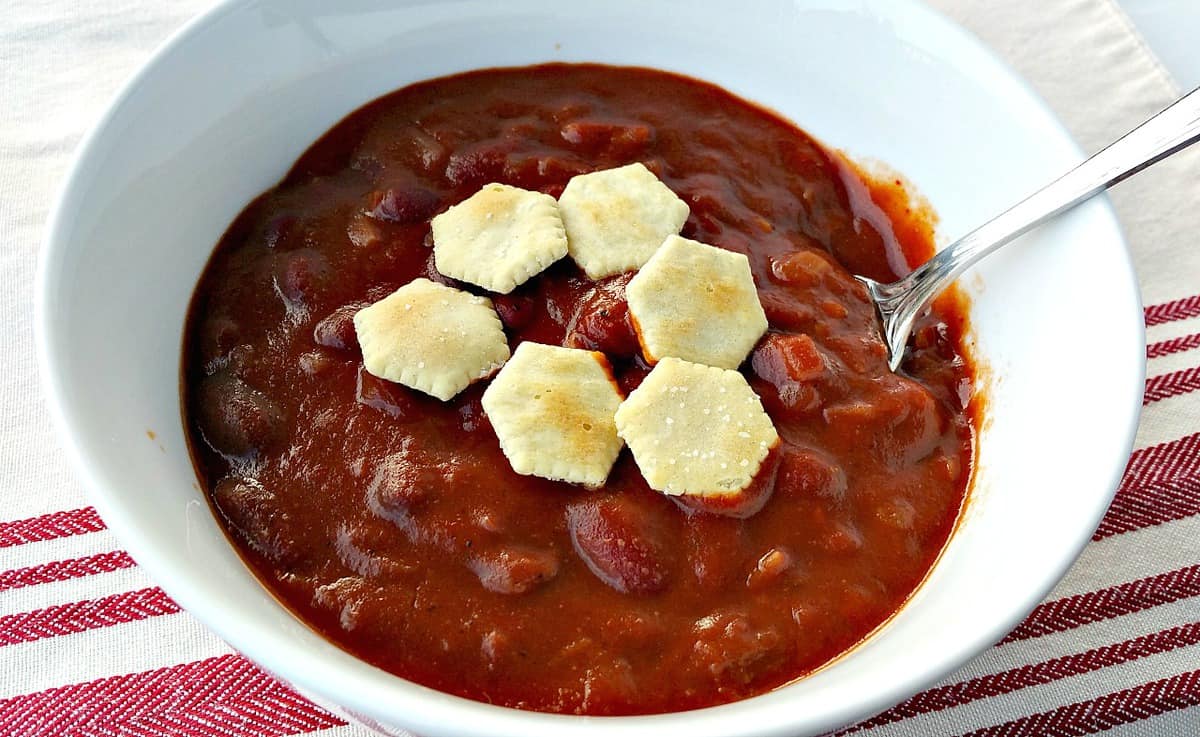 So onto the recipe:
I caramelized a sweet onion in a large soup pan with a bit of salt and a few tablespoons of veggie broth.
Just keep things moving and nothing will stick.  Once the onions reach that lovely brownish color - sprinkle on a tablespoon of AP flour and keep stirring.  A minute later add a tablespoons of Balsamic Vinegar.
It will gum up pretty quickly, and then you can stir in a cup of Low Sodium Veggie Broth.  You'll have a nice thick, onion gravy, like soup.  Add a few cloves of minced garlic and then all the spices.
Once all the spices have been stirred in, add an 8oz can of Tomato Sauce, a 6oz can of Tomato Paste, another ½ cup of Veggie Broth and the Red Wine Vinegar.
Let that simmer for a minute or two and then add your Cola.  Any kind of cola will do - just not Diet.  I used Coke but I understand Pepsi will work too.
This is the gravy for our Chili - now just add the beans and let it simmer for a while.  I used two cans of Low Sodium Kidney Beans - and I did drain and rinse one of them, the other I just dumped in.
The end result?
This is a good chili!  
Not quite what I remember from Steak n Shake - but maybe that's due to the lack of meat and grease.  It IS slightly sweet thanks to the addition of the Coke and the cocoa powder, but that can easily be offset with a few jalapeños, diced onion, whatever.
If you decide to try this - let me know what you think.
Do YOU remember Steak n Shake Chili?  Is this pretty close?
Can't wait to hear your comments.

Print
Vegan Steak n Shake Chili
Author:

Prep Time:

20 minutes

Cook Time:

30 minutes

Total Time:

50 minutes

Yield:

8

bowls

1

x

Category:

Main

Cuisine:

American
---
Description
A veganized version of a midwestern classic - Steak n Shake Chili. Serve with diced onion or over spaghetti for that classic Steak n Shake Chili Mac.
---
Onion Soup
1

large Sweet Onion ((diced))

½ tsp

Salt

2

Tbs Low Sodium Vegetable Broth

1

Tbs All Purpose Flour

1

Tbs Balsamic Vinegar

1 cup

Low Sodium Vegetable Broth
Spices
2

cloves Garlic ((minced))

1

Tbs Chili Powder

1 tsp

Seasoned Salt

2 tsp

Ground Cumin

½ tsp

Ground Pepper

2 tsp

Cocoa Powder

2 tsp

Onion Powder
Liquid
1 cup

Any Cola ((coke or pepsi))

½ cup

Low Sodium Vegetable Broth

1

can Tomato Sauce ((

8oz

))

1

can Tomato Paste ((

6oz

))

½ tsp

Red Wine Vinegar
Beans
1

can Kidney Beans (

15oz

) ((drained & rinsed))

1

can Kidney Beans (

15oz

) ((with juice))
---
Instructions
Heat onion and salt in a few tablespoons of veg broth until brown and caramelized
Add flour and stir to coat
Add Balsamic Vinegar to make a thick Roux, scraping any brown bits on bottom of pan
Add Veg Broth to make a thick soup
Add garlic and remaining spices and stir to combine
Add all liquid ingredients and stir until combined and thickened
Add beans and simmer for 30 min or so on low heat.
---
Notes
Garnish with pickled jalapeños, diced onion.
Can also serve over Spaghetti for an authentic Steak n Shake Chili Mac.