If you're looking for a quick and easy dinner, one that is fat-free, sugar-free, and FULL of flavor, then you have GOT to try these Mongolian Soy Curls.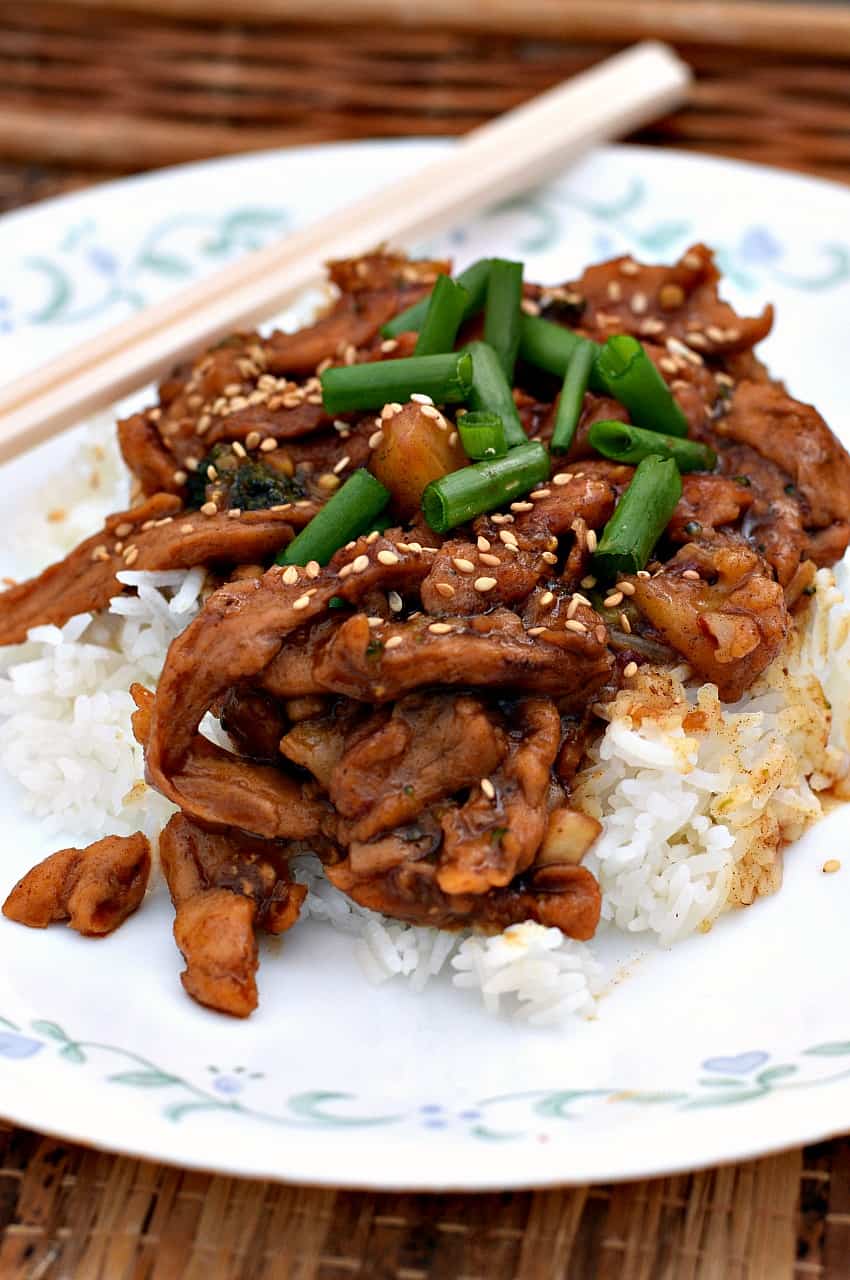 I mean who doesn't love Mongolian Beef?  Chewy strips of 'beef', marinated in that sweet and spicy sauce?  Come on....
But the good news is....in THIS recipe we're going to use ZERO meat, and ZERO sugar!
That's right, I tried something new to sweeten my sauce and there's absolutely NO PROCESSED SUGAR in it at all.
I really think you're going to like this.
Butler Soy Curls
First, in case you've never heard of them - Butler Soy Curls are like the latest thing.
They are simply whole, unprocessed, non-GMO Soy Beans that are dried and shredded by a company here in Oregon.  Besides being good for you, they have one distinct feature that makes them very unique....
They have the texture of shredded meat, so they're perfect for substituting in a lot of our favorite recipes.   My Texas BBQ Soy Curls are amazing and will fool any BBQ connoisseur.
You can find them at Whole Foods, the Butler Website, and Amazon.  Here's an affiliate link to Amazon if you're interested, and I do make a small commission on everything you buy.
Link to Butler Soy Curls on Amazon. 
When you first get your package of Soy Curls, dump them in a large bowl and cover them with hot water to rehydrate them.  It only takes 15 minutes or so, and you can add various seasonings to the water to spice them up a bit.  I usually add a tablespoon of soy sauce, but any seasoning will work.
For this recipe, we'll need about half a bag of Soy Curls.  Get them soaking and let's prepare the sauce.
Mongolian Sauce
Traditional Mongolian Sauces call for brown sugar in their ingredients.  Because I know so many of you are trying to avoid processed sugars, I wanted to do something different.
The answer was already in my fridge........dates.  
Take about 8 dried Dates and cover them with hot water for at least 30 minutes.  When they are soft enough to slice, remove the pits and then add them to your blender.... (the dates, not the pits....duh)
Add ½ cup of hot water and 1 tablespoon of Molasses to the dates and blend on high until they're smooth and syrupy.  Using a plastic spatula, push the syrup though a course sieve to remove any chunks or large pieces.  I ended up with about ½ cup of syrup.  In this recipe we'll need ¾ cup so use a little hot water to remove any reside from your spatula or sieve to get to ¾ cup.
In a small saucepan, mix ½ cup LOW SODIUM Soy Sauce, ½ water, 1 teaspoon fresh minced ginger, 2-3 cloves of minced garlic, and ¾ cup of date syrup.
I can't emphasize enough that you want to use LOW SODIUM Soy Sauce.... or it will be VERY SALTY!
If all you have is regular Soy Sauce, use ⅓ cup and then ⅔ cup of water.  Speaking from experience here.....
When that comes to a simmer, whisk in 1-2 Tablespoons of Corn Starch/Water slurry to let it thicken.
Mongolian Soy Curls
To make our Mongolian Soy Curls, drain the soy curls and massage in 2 Tbs of Corn Starch.  Using your hands, mix well so it's evenly distributed.
Heat a NON-STICK pan on medium-high heat and add your soy curls.  Stir frequently until they begin to brown.
At this point I simply microwaved a bag of frozen Broccoli - not ALL the way done, but close - and then stirred that in with my Soy Curls.  Once the 'meat' has browned nicely and the Broccoli is a bright green color, stir in your sauce. and mix well.
Garnish with fresh Green Onions and Sesame Seeds.  And no - chopsticks are not required.
In fact - you may want to use a spoon to make sure you get every drop!
Enjoy!

Print
Mongolian Soy Curls
Author:

Prep Time:

30 minutes

Cook Time:

10 minutes

Total Time:

40 minutes

Yield:

0

Serves 4

1

x

Category:

Main

Cuisine:

Asian
---
Description
These Mongolian Soy Curls will be sure to please. Date syrup adds the sweetness to this dish without using any processed sugar. Low fat and sugar free! Better than take-out!
---
Sauce
1 tsp

Ginger ((minced))

3

cloves Garlic ((minced))

½ cup

Soy Sauce ((low sodium))

½ cup

Water

¾ cup

Date Syrup

½ tsp

Chile Garlic Paste ((optional))

⅛ tsp

Red Pepper Flakes ((optional))

1

Tbs Cornstarch
Date Syrup
8

dried Dates

½ cup

Hot Water

1

Tbs Molasses
Enough water to equal ¾ cup of syrup
Mongolian Soy Curls
4 oz

Butler Soy Curls ((~

half a

bag))

2

Tbs Corn Starch

1

bag Frozen Broccoli
Sliced Green Onions for garnish
---
Instructions
Add Soy Curls to large bowl and cover with hot water
Add 1 Tbs of Soy Sauce if desired to season and set aside
Add 8 dried Dates to bowl and cover with hot water
Let sit at least 30 minutes to soften
Remove pits and add dates to blender
Add ½ cup water and Molasses to blender and blend until smooth
Push syrup through sieve to remove any pieces and add water to equal ¾ cup
In a sauce pan, saute garlic and ginger in a little water until softened
Add Soy Sauce, Water, and ¾ cup Date Syrup
Spice with optional Chile Garlic Paste and Red Pepper Flakes if desired
Thicken by whisking in 1-2 Tbs Corn Starch slurry
Drain Soy Curls and add to Non Stick Skillet
Stir Fry until golden brown
Add partly steamed Broccoli and sauce and stir to combine
Garnish with sliced Green Onions and Roasted Sesame Seeds
Serve over rice or noodles
---