Inspired by a recent trip I made to Sequim, Washington where I tried a new restaurant called Dynasty Chinese - I give you my version of Vegan Kung Pao Cauliflower.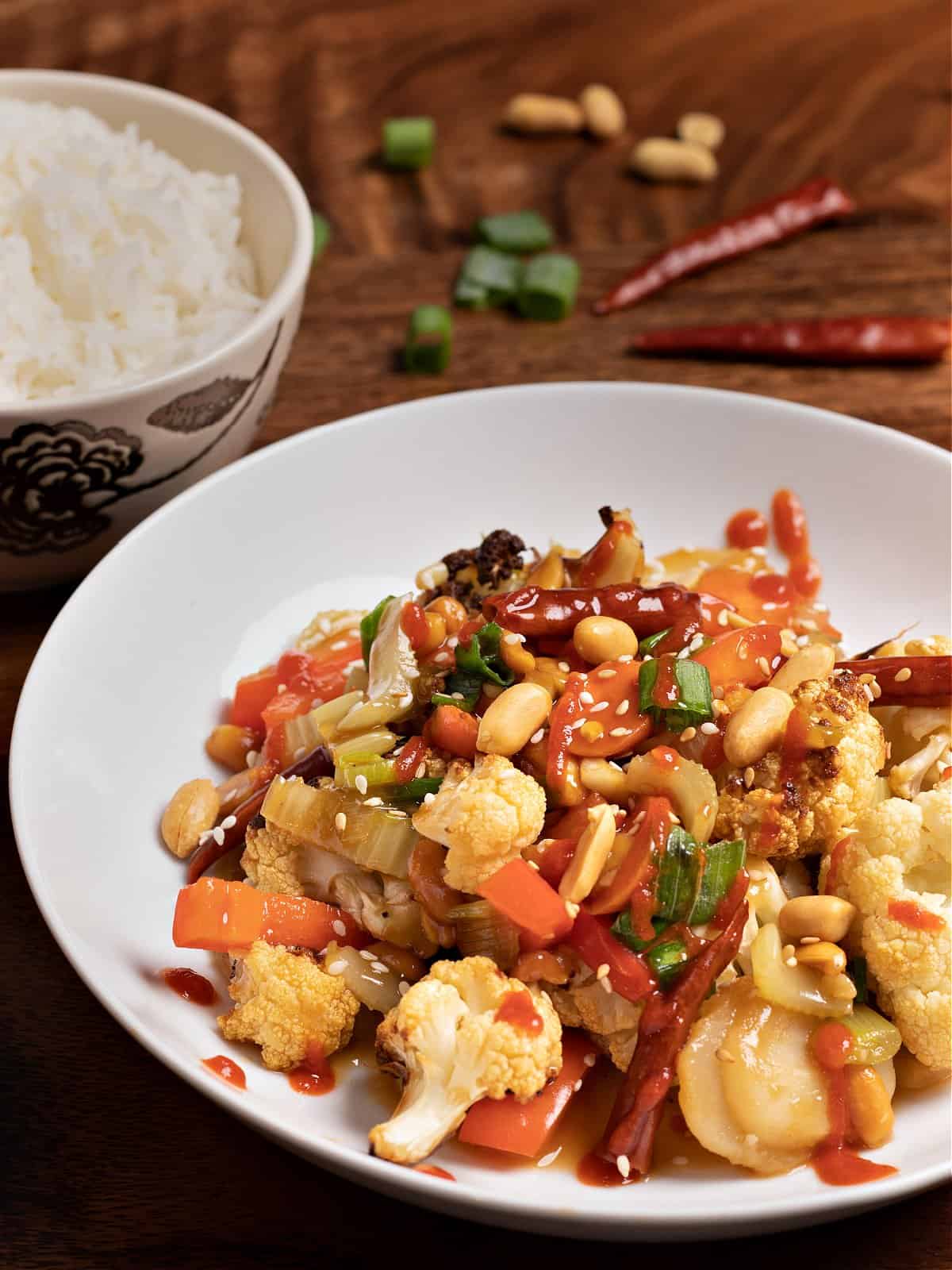 If you're new to eating a plant-based or a vegan diet, finding a legit restaurant with more than a few side dishes you can eat can be daunting.
Thankfully, there's an app for your smartphone called HAPPY COW that makes it a little easier. And this is how I found Dynasty Chinese in Sequim. It didn't look like much on the outside, but let me tell you the food was AMAZING and there was plenty of it.
I had the Kung Pao Tofu and my wife had the Moo Shu Veggie Wraps, both with steamed rice. It wasn't really that hard a choice for me as I love spicy food, but there were 8-10 vegan entrees to choose from on their menu!
And THAT....is unusual in most restaurants!
Inspired by that meal, I set about to recreate it using cauliflower - and this is the result. You control the spice level in this dish so make it as mild or as spicy as you want.
My wife and I really enjoyed it and I hope you do too.
Ingredients For Vegan Kung Pao Cauliflower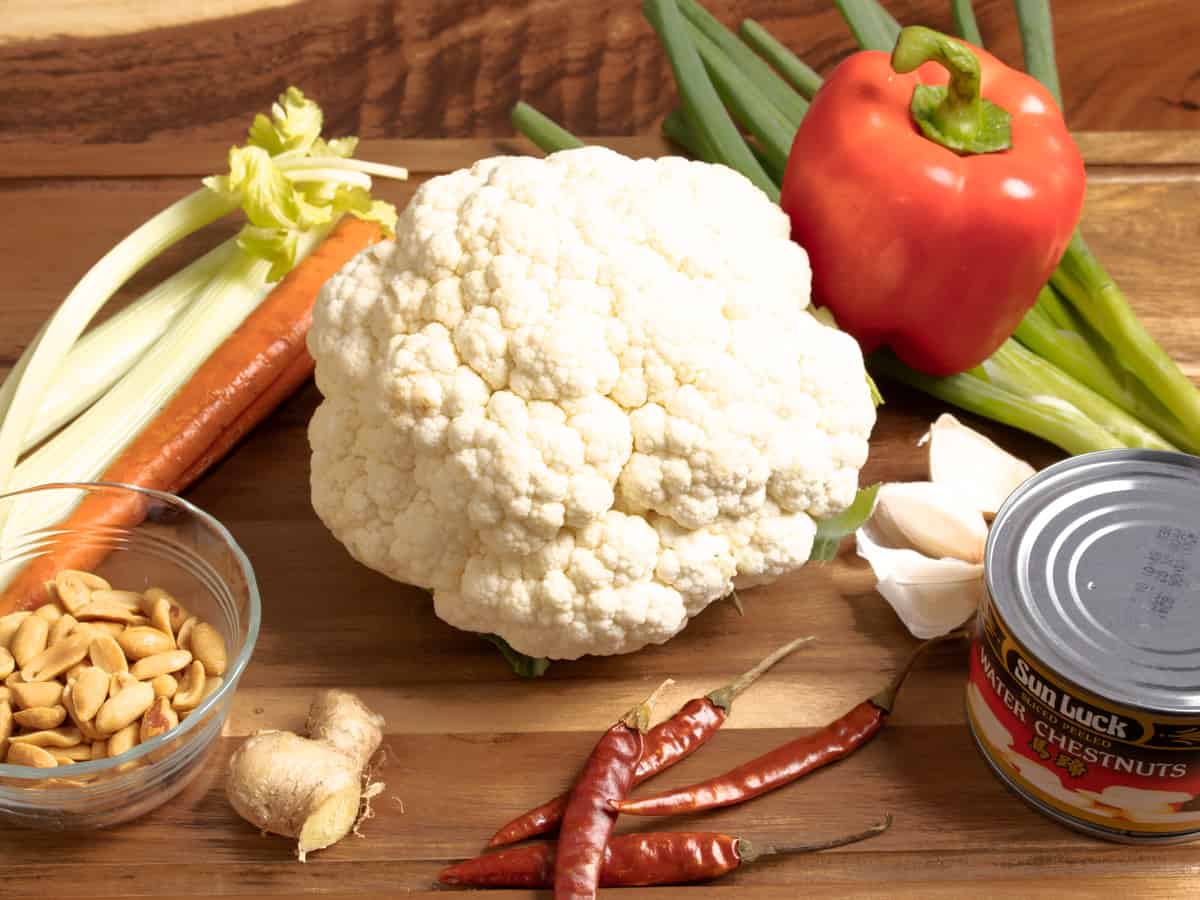 You'll need the following veggies but feel free to substitute with what you already have in your fridge.
a few ribs of celery, thinly sliced
a carrot, thinly sliced
a medium head of cauliflower, broken up into individual florets
a red bell pepper. sliced into strips
3-4 green onions, the white part, and green parts chopped and separated
2-3 cloves of minced garlic
a 1" piece of ginger, finely minced
about ⅓ cup of peanuts or cashews (preferably unsalted)
about 2-3 oz (half a small can) of water chestnuts
3-4 small red chiles (either Thai Chiles or Mexican Arbol Chiles will work)
Note: If you can't find, or don't want to use dried chiles, you can add red chile flakes or a little Sriracha (if you still have some) to spice it up if you wish. And while sriracha is virtually impossible to find now due to the shortage, the company also makes Sambal Oelek, a chile/garlic paste that adds a very nice level of spice. Look for the rooster on the label.
After all the veggies are washed and all cut or chopped - place them either in individual bowls or on a plate to make the stir fry process easier.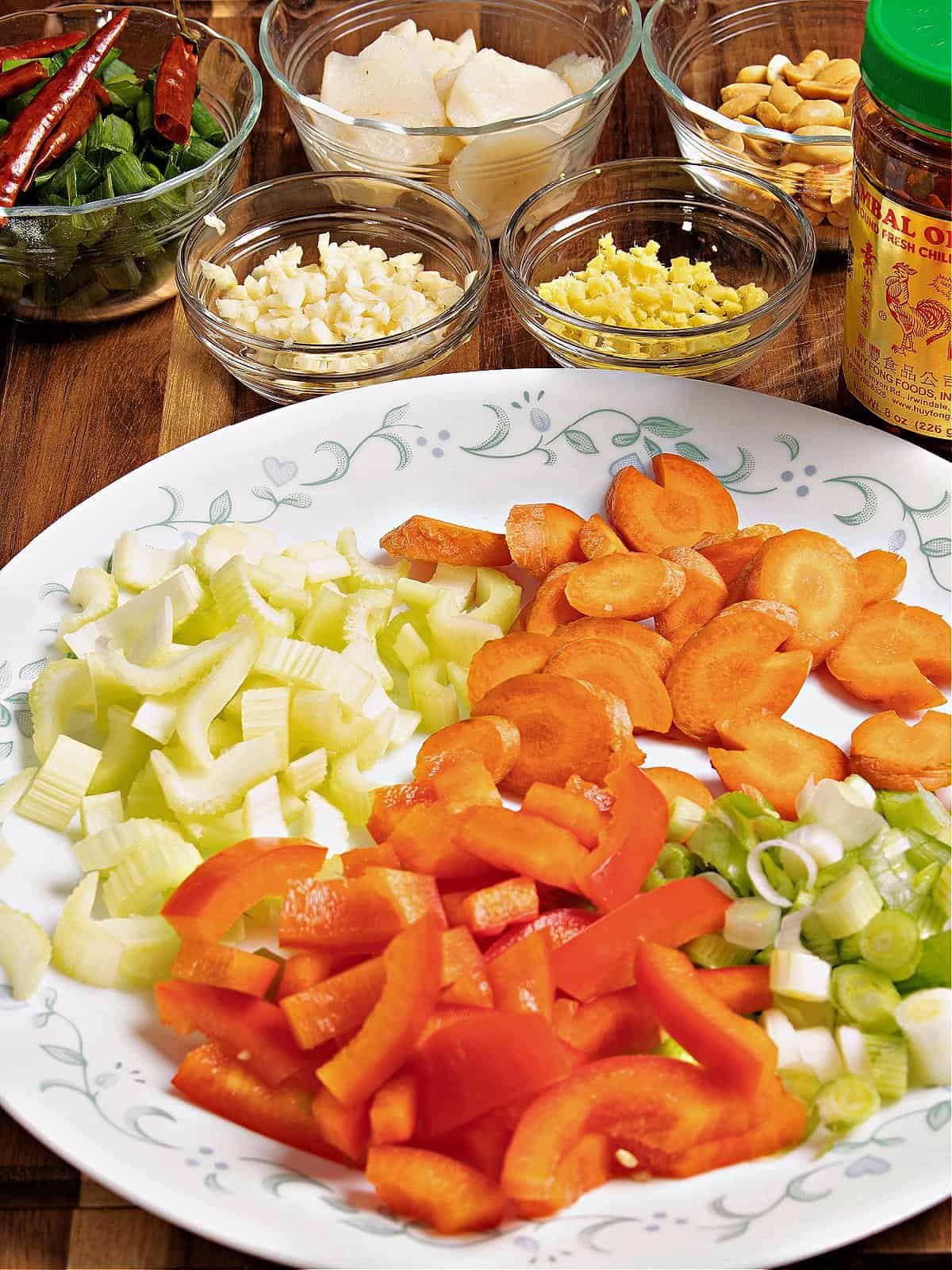 Sauce Ingredients for Vegan Kung Pao Cauliflower
And for the sauce, you'll need the following:
Low sodium soy sauce
Hoisin sauce (replaces the traditional dark soy sauce)
Rice vinegar
Maple syrup
Mirin (a Japanese cooking seasoning wine or you can sub it with cooking sherry)
Cornstarch
Vegan Kung Pao Cauliflower Cooking Instructions
This recipe is super easy.
First, make the sauce by whisking all the sauce ingredients together and then setting it aside. We won't need it until the end.
Next, we'll roast our cauliflower.
You can use your oven, or if you have an air fryer combo like me, you can use that. I have a Cuisinart I bought at Costco and it does a little bit of everything. Affiliate link below and yes, I do earn a little if you buy one. They're nice as you don't have to heat up your entire kitchen.

Spread the florets on a baking sheet, spritz with a little water, season with a little salt & pepper, and roast at 425° F for 15 minutes or until slightly browned. When done, set aside or keep in a warmed 250° F oven until needed.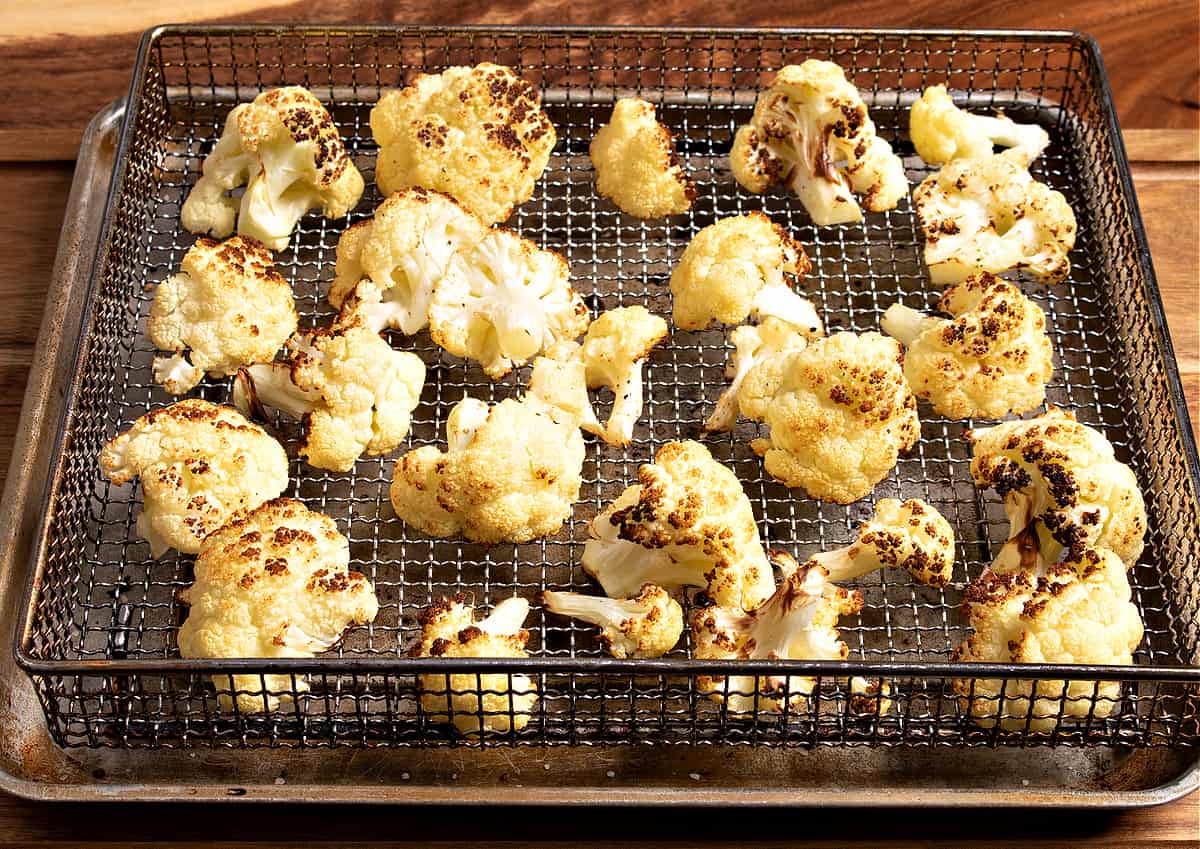 And finally, we make the stir fry.
Add the white parts of the onions and the carrots with a little splash of veggie broth to a large saute pan or wok and stir-fry over med-high heat for a minute or so.
Then add the celery and chiles and stir fry for another 30 seconds. Note: if you break the chiles into smaller pieces it will make the dish spicier.
Then add the red bell pepper, garlic, and ginger for another 30 seconds.
Finally add the water chestnuts, peanuts, and a few of the green onion tops for another 30 seconds.
Stir well and then add the cauliflower and the sauce.
Reduce the heat and fold everything together so it is evenly coated with that wonderful sauce. The sauce will thicken immediately.
Add more spiciness if you want, sesame seeds, sriracha, whatever you like, and serve with or on top of freshly made rice.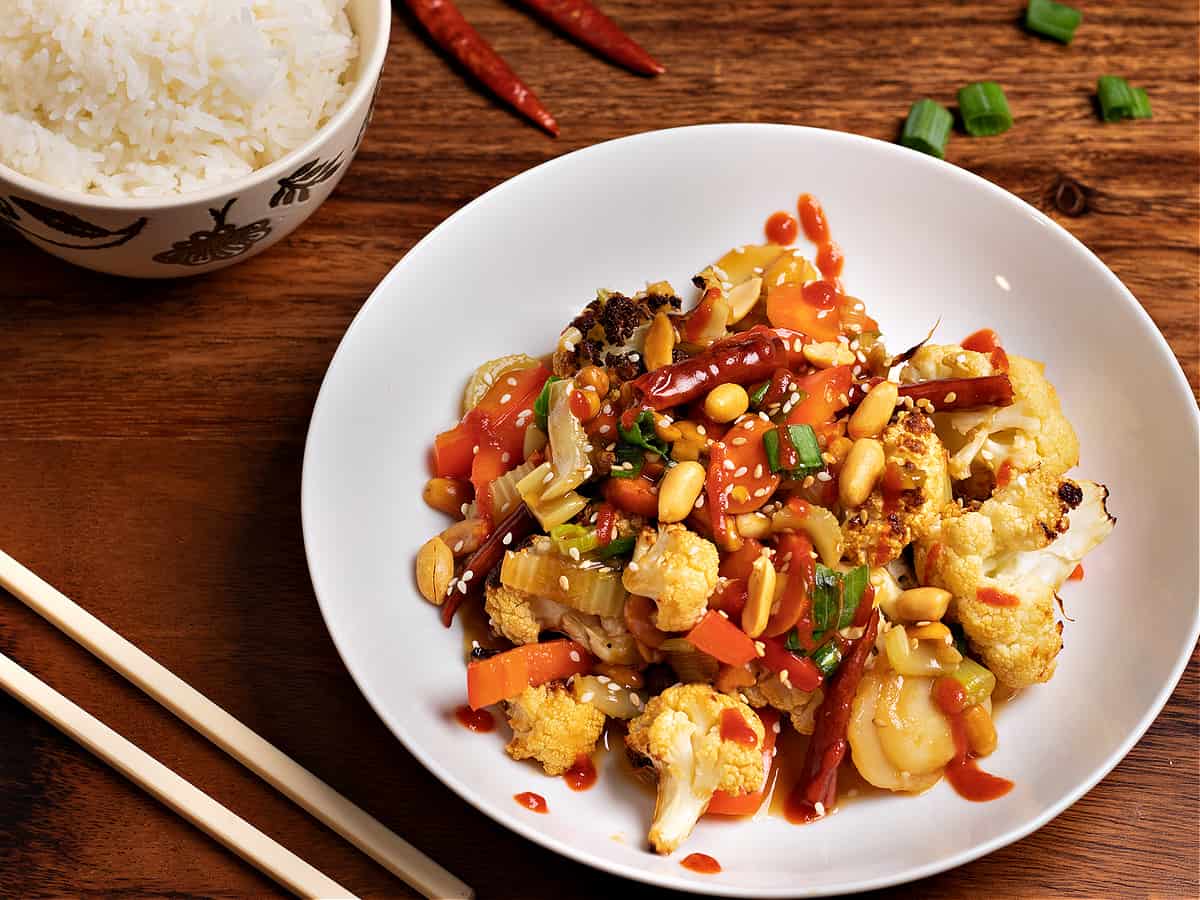 This will serve 2 people easily and maybe 4 if you can stand to share it. My wife finished off the rest of the pan before I even had my photos taken.
If by chance you have leftovers, they should keep easily in the refrigerator for 3 or 4 days. I haven't frozen it yet but something tells me it would be just fine if you did.
Thanks for all the comments and support and we'll see you next weekend!

Print
Vegan Kung Pao Cauliflower
Author:

Prep Time:

20 min

Cook Time:

20 min

Total Time:

40 minutes

Yield:

2

-

4

servings

1

x

Category:

Main

Method:

Stir-Fry

Cuisine:

Asian

Diet:

Vegan
---
Description
Inspired by a recent trip I made to Sequim, Washington where I tried a new restaurant called Dynasty Chinese - I give you my version of Vegan Kung Pao Cauliflower. 
---
1

med head cauliflower

4

green onions, separated

1

carrot, sliced

3

ribs celery, sliced

1

red bell pepper, sliced into strips

3

cloves garlic, minced

1

-inch piece of ginger, minced

3

-

4

Arbol or Thai dried chiles

3

oz

water chestnuts

⅓

cup

unsalted peanuts or cashews
Kung Pao Sauce
2

Tbs low-sodium soy sauce

2

Tbs hoisin sauce

2

Tbs mirin (or cooking sherry)

1

Tbs rice vinegar

1

Tbs maple syrup

1

Tbs cornstarch
---
Instructions
Whisk all the sauce ingredients together and set aside
Prep all veggies and set aside
Clean cauliflower and break it apart into single florets
Spritz the florets with a little water, season with salt & pepper, and roast in a 425° F oven for 15 minutes
Note:  Can also use an air fryer/toaster oven if you have one
Set cauliflower aside and keep warm
Heat a large saute pan or wok to med-high heat
Stir fry the white onion pieces and the carrot for 1 min
Note:  To keep it fat-free, use water or veg broth to stir fry instead of oil
Add the celery and chiles and stir fry for 30 seconds
Add the bell pepper, garlic, and ginger and stir fry another 30 seconds
Add the water chestnuts, peanuts, and green onions, and stir fry another 30 seconds
Add the cauliflower and sauce and reduce the heat
Fold everything together until the sauce thickens and everything is coated
Serve with your favorite rice
---
Keywords: vegan Kung Pao cauliflower