I wanted to give you a fat-free version of my Garlic Aioli today, and the perfect way to present that is on these yummy Sweet Potato Fries - hot outta the oven.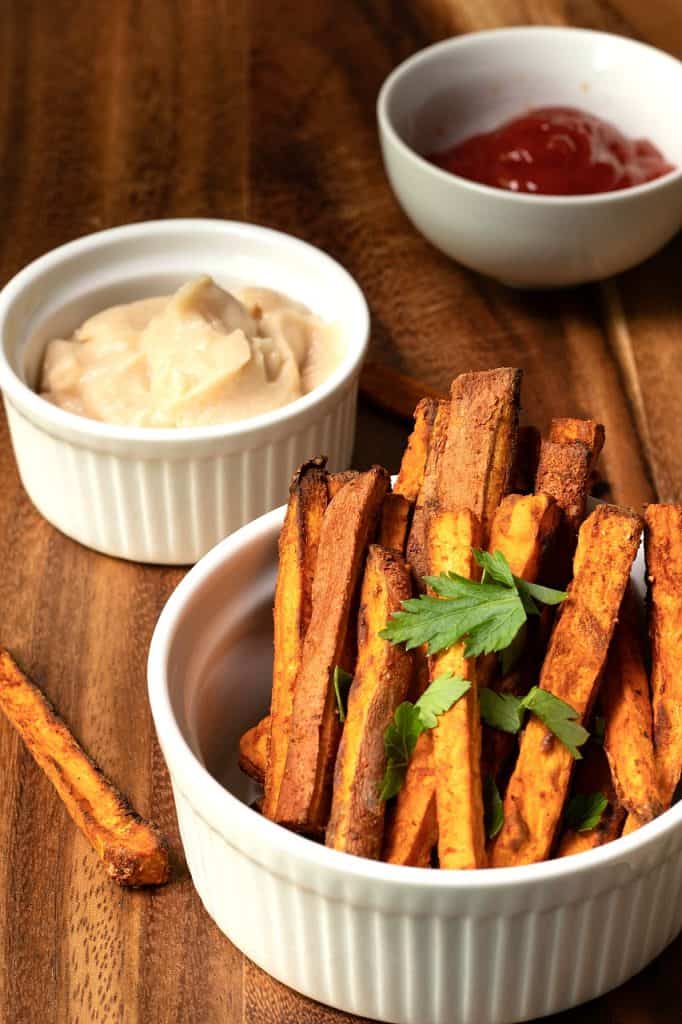 Many of you have commented on how much you love my Garlic Aioli, but have also asked for a way to make it without the cashews (ie. fat).
So today I made a batch without the cashews and used one of my favorite, most-versatile ingredients ever instead. And the result was this amazing sauce I can see being used on all kinds of things.
Can you imagine a sauce that is
Creamy
Speadable
Garlicky
Tangy
And completely FAT_FEE?
This is it.
Try it as a direct mayo replacement. Use it on your potatoes or added to your favorite pasta or potato salad. Like sandwiches? This makes the perfect sandwich spread.
Let me know in the comments your favorite way to use it....and I KNOW you're gonna use it because it's that good!
Sweet Potato Fries with fat-free Garlic Aioli
The Taters
So let's start off by getting our fries ready since they're gonna need time to soak. I took 2 sweet potatoes (the orange kind), and cut them as evenly as I could into ¼" sticks.
Note: DO NOT use the 7-1 chopper I reviewed on my YouTube channel, it will NOT cut through a sweet potato and you'll end up with a slab of sweet potato stuck, surrounded by little razor-sharp squares that want to rip your fingers to shreds trying to get it out.
Another note: If you DO try this anyway.... submerge the blades and sweet potato into a pan of really hot water - it will soften and you can then carefully push it out using a chopstick. You're welcome.
Once all your fries are cut - cover them with cold water and let's move on to the sauce. I'd let those fries soak at least 30 minutes.
The Sauce
In my original recipe, we used a can of white beans. Any white bean will work but some sometimes the can itself will just say "white beans".
This time all I could find was Cannellini Beans, so open the can and drain it, being sure to save some of that magical juice. It's called aquafaba and we will use a couple of tablespoons of that when we season our fries. Rinse the beans thoroughly and set them aside.
Next, the old recipe had us using 1 cup of cashews. But instead of adding all that fat, this time we will use 1 cup of riced cauliflower. Add that directly to a saucepan with a ½ cup of water, and let that simmer and soften for 5 minutes. Then add the beans, stir, and let that simmer an additional 5 minutes.
UPDATE: When I say simmer, I mean gently simmer - just until the cauliflower is softened. We are not trying to boil off all the water here. We should still have close to ½ cup of liquid when we put it into the blender. Also - raw cauliflower can be used - but it will need to processed small - like riced cauliflower - to measure out the 1 cup.
Finally, into the blender we go. Add your cauliflower, water, beans, and all the remaining sauce ingredients from the recipe box below and blend until silky smooth,
Note: I used pre-chopped garlic from a jar so if you use fresh garlic you may not need as much as I indicated. I also used a few teaspoons of horseradish. My horseradish was NOT hot - so again, start with a little and taste it as you go - you may not need the entire 2 teaspoons.
Ok - now that the sauce is made, place it in a covered bowl in the fridge, and let's move onto cooking our fries.
The Fries
Drain your sweet potatoes and place them on a clean towel (or paper towels) to dry. Dry them as well as you can then place them back in the bowl and add 1-2 Tablespoons of that bean juice you saved. Toss to coat.
For the sweet potato seasoning - I simply used garlic powder, paprika, salt, and pepper with a teaspoon of corn starch (arrowroot will work too). Sprinkle some on your sweet taters, shake to distribute, sprinkle on some more, shake, sprinkle, shake, you get the ideas.
Air Fryer: Preheat your air fryer (with its basket) to 425° F. If your brand of AF doesn't have a pre-heat option - simply turn it on for 5 minutes with your basket inside. NO PARCHMENT PAPER!!! Just the basket.
Oven: Preheat your oven and a baking sheet to 425° F.

Carefully arrange your fries on a single layer and bake/air fry for 10-15 minutes. Every 5 minutes carefully remove the basket/baking sheet and using a spatula - flip your fries to make sure nothing is sticking. My fries were ready after about 12-13 minutes in an air-fryer. Using an oven may take longer, check check, and flip every 5 minutes.
Note: These fries are NOT going to be super crispy like regular french fries. Just sayin'.
Many people ask about my Cuisinart Air Fryer, so I'll attach an Amazon Link here, but know that as an affiliate, I do earn from qualified purchases, but at no extra cost to you.
All that's left is to grab that sauce we made from the fridge and go to town on these amazing fat-free sweet potatoes. I hope you like them as much as I did and feel free to comment below.
Now that all my company is finally gone, I can get back to putting out a new recipe every week again - and maybe even a video! Sheesh!
See ya'll next week and STAY SAFE out there!

Print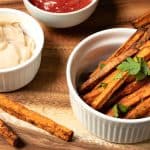 Sweet Potato Fries with fat-free Garlic Aioli
Author:

Prep Time:

30 min

Cook Time:

15 min

Total Time:

45 minutes

Yield:

2

Servings

1

x

Category:

Appetizer, Snack

Method:

Air Fryer

Cuisine:

American

Diet:

Vegan
---
Description
I wanted to give you a fat-free version of my Garlic Aioli today, and the perfect way to present that is on these yummy Air Fryer Sweet Potato Fries - hot outta the oven.
---
Garlic Aioli
1 cup

riced cauliflower

½ cup

water

1

can white beans (

15oz

- drained)

1

Tbs nutritional yeast

1

Tbs lemon juice

2 tsp

minced garlic

2 tsp

prepared horseradish (optional)

½ tsp

salt

¼ tsp

garlic powder

¼ tsp

onion powder
dash hot sauce
Sweet Potato Fries
2

orange-fleshed sweet potatoes

1

-

2

tablespoons aquafaba

1 tsp

cornstarch (or arrowroot)

1 tsp

garlic powder

1 tsp

paprika

½ tsp

salt

¼ tsp

pepper
---
Instructions
Clean sweet potatoes and cut into ¼" sticks
Cover with cold water and soak at least 30 minutes
Add cauliflower and water to a saucepan and simmer until softened - about 5 minutes
Drain beans, reserving 2 Tbs of the liquid, and rinse well
Add beans to the saucepan and continue to heat an additional 5 minutes
Add mixture to your blender along with the remaining sauce ingredients
Blend until smooth
Drain fries and pat dry
Toss fries with reserved bean liquid until evenly coated
Add seasonings and toss until evenly coated
Preheat air fryer or oven to 425° F
Carefully spread fries evenly in preheated air fryer basket or baking sheet
Air fry/bake for 10-15 minutes (AF) or 15-25 min (Oven)
Every 5 minutes flip fries with a spatula to prevent sticking
Serve with Aioli
---
Keywords: sweet potato fries