This post is sponsored by my good friends at Hurst's Hambeens ®.
When I was asked by my good friends at Hurst Hambeens to develop a Vegan Chili Recipe for them - it was really kind of simple. Take my own award-winning chili recipe and combine it with their 15 Bean Soup Mix and see what happens. Right?
And the result?
Pure deliciousness! That's what. This truly is the best Vegan 15 Bean Crockpot Chili ever!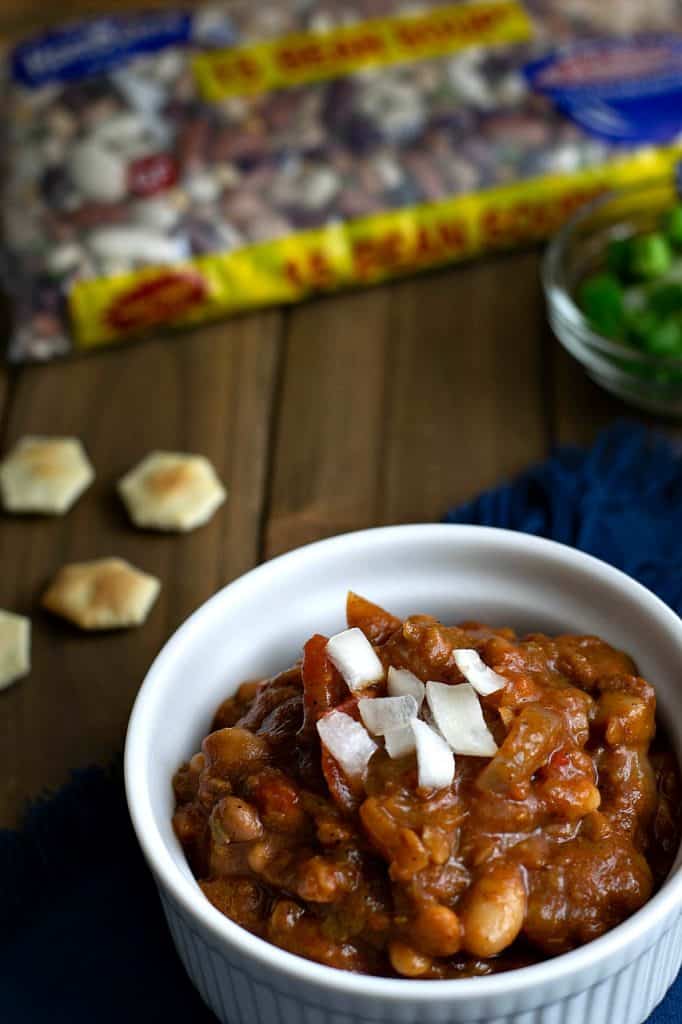 I wanted to make this recipe even EASIER by eliminating any kind of meat-substitute at all, AND by making it in a crockpot (or slow cooker).
So there are NO weird ingredients that you may not like or can't find in your average grocery store....

No jackfruit
No mushrooms
No seitan
No riced cauliflower
No wheat products (so it's gluten-free)
No fake soy crumbles
Just beans, tomatoes, some simple veggies, and one of the richest Texas-style chili broths you've ever tasted.
In other words - pure Vegan 15 Bean Chili !!
But what about those little bags of 15 Bean Soup Mix? Where do I find THOSE?

You can click on this WHERE TO BUY link to find the nearest location to pick up a bag or two of the Hurts Hambeens 15 Bean Soup Mix. I live just outside of Portland and found FOUR locations near me that carry them. If you have a Wal-Mart nearby - you should be able to find them.
Why the crockpot this time?
Because I have personally received a lot of requests from folks who do not happen to have Instant Pots (yet).
And honestly, cooking dried beans in a crockpot is about as easy as it gets. Add beans, add water, turn on the crockpot, come back in 4 or 5 hours and you're ready to eat.
Piece of cake, right?
And this Crockpot Chili will finally round out my chili menu too. I already have my famous Stovetop Chili, and my Instant Pot Chili, so now I have a crockpot version too.

So a huge shout out to my buds at Hurst Hambeens for making this happen! Thanks guys!
So with that all said - let's go make some kick-butt CHILI!
Vegan 15 Bean Crockpot Chili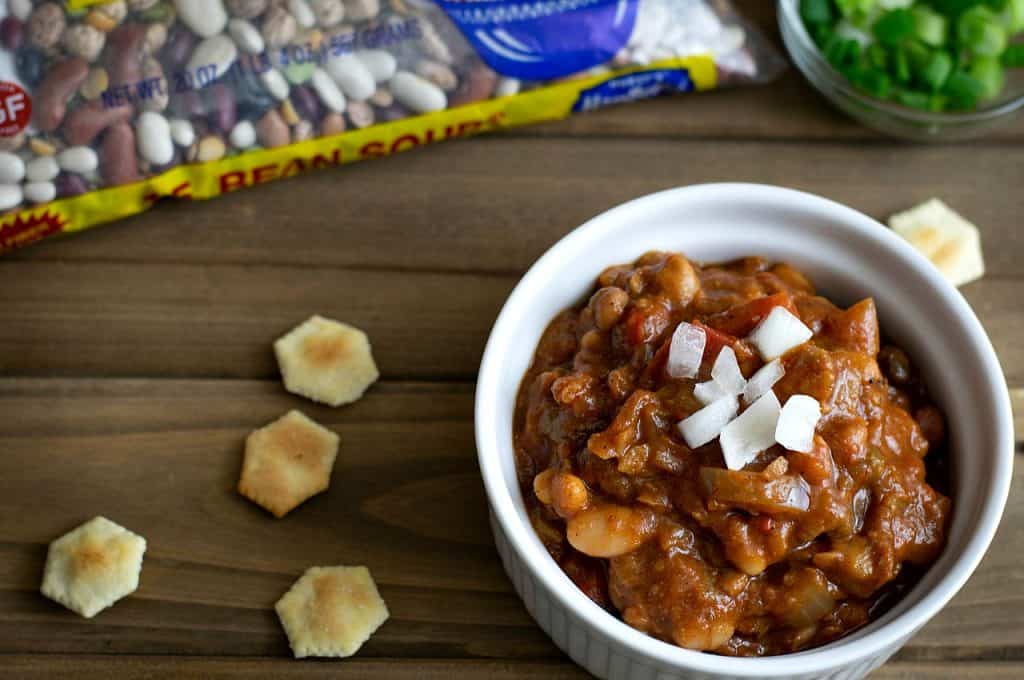 First we'll need at least a 6qt Crockpot.
Then we'll open the bag of 15 Bean Soup Mix (remove and save the seasoning packet) and give them a good rinse, removing any odd-shaped beans, small pebbles, or other debris.
Add the beans to the crockpot (no, we are not going to soak first) and then add a finely chopped onion, green bell pepper, red bell pepper, and 3-4 cloves of minced garlic.
I also added a minced jalapeno - but this is optional. Or maybe you'd like TWO?!
Next we add the contents of the little seasoning packet and all of our chili spices (listed below in the recipe box) and give everything a good stir.
Finally, add 1 carton of low sodium Veg Broth (32oz), and 3 cups of water and once again, give it a good stir.
Then we simply add the lid, turn our crockpot on high, and come back in 3-4 hrs to check it.
What we're looking for is the doneness of the beans. In my experience, the larger lima beans were nice and soft at the 4 hr mark, but some of the brown pinto beans were still a little crunchy, so I let them continue cooking.
At 4 hrs 45 minutes all of my beans were perfectly done.
At this point, you want to add a 6oz can of tomato paste, and a 15oz can of Fire Roasted tomatoes (or just diced tomatoes will work too) and mix well.
Note: You do NOT want to add your tomato products in the beginning - as the acid in the tomatoes will toughen your beans and cause them to not cook properly. Wait until after the beans have cooked.
After adding the tomatoes, replace the lid and let your chili simmer on LOW for an additional 30-60 minutes.
If you like a thicker chili, you can add 1 Tbs of Masa Harina Corn Flour (located in your grocer's Mexican Food Aisle but this is optional).
Season with a good pinch of salt and a few grinds of freshly ground Black Pepper and you're ready to serve.
Garnish with chopped green onions, pickled jalapenos if you like spicy, hot sauce (of course), and/or vegan sour cream or avocado.
I hope you enjoy this version of my chili and as always, please leave those comments letting me know how you liked it.
Oh, and before I forget.....
HAPPY NEW YEAR !! 2019 is going to be AMAZING!
See you next week ....er ....I mean year!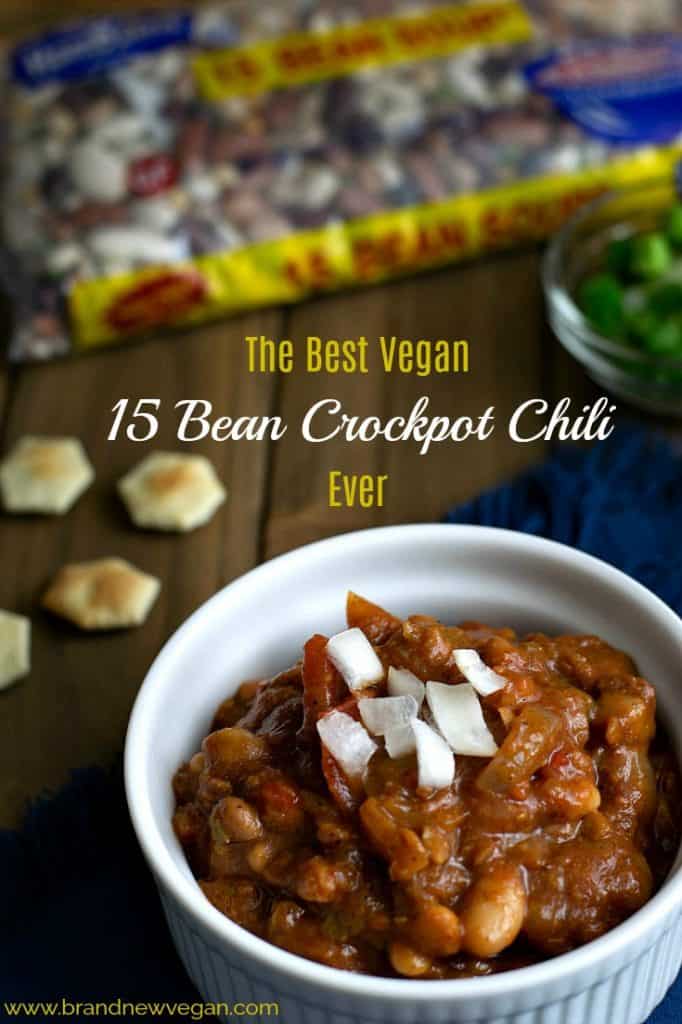 Print
The Best Vegan 15 Bean Crockpot Chili Ever
Author:

Prep Time:

15 min

Cook Time:

5-6 hrs

Total Time:

About 6 hrs

Yield:

About

4

qts

1

x

Category:

soup

Method:

crock pot

Cuisine:

american, vegan
---
Description
This Vegan 15 Bean Crockpot Chili is the bomb! No weird meat substitutes - no fancy gadgets - just a crockpot, some beans, and a few everyday spices. YUM!!
---
1

bag Hurst Hambeens 15 Bean Soup Mix

1

large Yellow Onion, diced

1

Red Bell Pepper, diced

1

Green Bell Pepper, diced

3

-

4

Cloves Garlic, minced

1

Jalapeno, minced (optional)
Hurst Hambeens Seasoning Packet

¼ cup

McCormick's Chili Powder

2 tsp

 Cumin

1 tsp

 Oregano

1 tsp

 Smoked Paprika

½ tsp

 Garlic Powder

½ tsp

 Black Pepper

1 qt

Low Sodium Veg Broth (

32oz

)

3 cups

Water

1

can Tomato Paste (

6oz

)

1

can Fire Roasted Tomatoes (

15oz

)
Salt and Pepper to season

1

Tbs Masa Harina to thicken (optional)
---
Instructions
Remove seasoning packet from beans and set aside.
Rinse beans and remove any debris
Add beans to 6qt Crock Pot 
Add diced onion, bell peppers, garlic, and jalapeno and stir
Add contents of seasoning packet and all remaining spices
Add veg broth and water, stir to mix very well, and add lid
Cook on HIGH for 4-5 hrs, occasionally stirring and checking beans for doneness 
Once beans are soft, stir in tomato paste and tomatoes and replace lid
Simmer on LOW for an additional 30-60 minutes
Season to taste
Stir in Masa Flour (if using) to thicken
---
Notes
Garnish ideas:  chopped green onions, chopped white onions, pickled jalapenos, vegan sour cream, avocado
Keywords: 15 bean vegan crockpot chili