This is simply the Instant Pot Version of my Vegan Bean with Mushroom Bacon Soup.
Dried Pinto Beans can be made into a flavorful, hearty soup in just about an hour by using your Instant Pot Pressure Cooker.
And no, I did not soak my beans at all.
There are many reasons to love the Instant Pot, but the fact that I can cook beans in a fraction of the time, ranks right up there near the top.
I added the Mushroom Bacon in order to recreate that famous soup company's "Bean n Bacon Soup " that I grew up with and loved so much.
And honestly?  This one is every bit as mmm mmm good as that other one, without the 870g of Sodium, MSG, or 3g of fat per serving.
Here is an IP similar to the one I use - mine is a DUO and has a Yogurt Feature  - which I've never used.
And remember this is an Amazon Affiliate Link so I will make a penny or two if you buy one.
Ok, let's fire up that Instant Pot and make some soup!
Vegan Bean With Mushroom Bacon Soup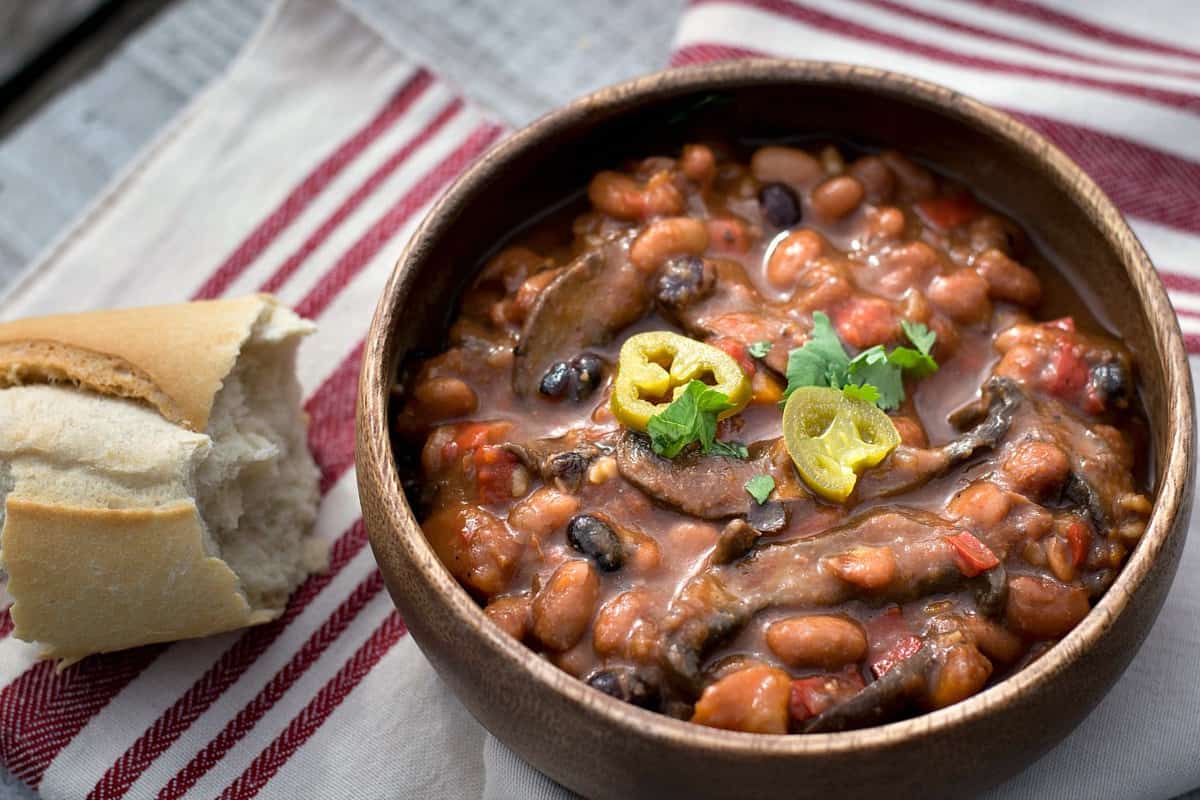 Let's start with the bacon - since we want to give it time to marinate.
Rinse 8oz of Portobello Mushrooms and discard the stems (or save them for another use).  Slice mushrooms into thin slices and toss them into a ziplock bag.
For the marinade:
Whisk together 2 Tbs of Low Sodium Soy Sauce, 1 Tbs Maple Syrup, ¾ teaspoon Liquid Smoke, ½ teaspoon Smoked Paprika, ¼ teaspoon Garlic Powder, and ⅛ tsp Black Pepper.  Pour this into the bag with the mushrooms, seal, and shake to coat.    Set this aside for now, but every now and then flip it over and give it a shake to mix.
And now the Soup:
Dice 1 yellow onion and add it to the IP (instant pot) Pan.  Also, add 2 diced carrots, and 2 ribs of diced celery.  (Note:  I was out of celery the other day and substituted a diced Red Bell Pepper and it was amazing too.). 
To the veggies, add 1-3 Tbs of either water or Veg Broth and press the SAUTE button on your IP.  (Note: if your IP  has the ability to adjust the heat, make sure it's on LESS).  
Saute the veggies until softened, stirring occasionally.
Add 3 cloves of minced garlic and give the veggies a stir.
Add 2 cups of Low Sodium Vegetable Broth, and 3 cups of water, and all the seasonings listed below in the Recipe Ingredients.
Rince 2 cups of dried Pinto Beans (removing any odd-looking beans or rocks) and stir these into the soup.
Finally, add 3oz (about ½ can) of Tomato Paste.  Add this directly to the center of the soup and DO NOT STIR.  (Note: I've read where tomato products can scorch and burn if they are touching the sides). 
And that's it!  Attach your lid and press the MANUAL button on your IP.  Make sure it's on High Pressure (HP) and set the time for 45 minutes.
When it beeps (45 minutes later), allow it to Naturally Vent for 10 minutes.  In other words - don't touch anything - it will vent on its own.  
While it's venting, let's make some bacon! 
Dump the entire bag of mushrooms (marinade and all) into a large skillet and slowly saute the mushrooms until they have reduced in size.
It's ok to let the marinade cook-off and evaporate.  When the mushrooms begin to stick , pull them off the heat.
Ok - back to the soup - our 10 minutes  of venting time should be finished by now....so....
Carefully......  release any remaining pressure from your IP by using the VENT knob.  (Note:  I stick a wooden spoon under it and gently raise it up)
When all the steam has released, remove the lid and stir in the bacon.
You can let it simmer for another minute or two to meld the flavors and taste for any seasoning adjustments.  At this point, I like to give a few good shots of hot sauce (but that's me).
Serve with your favorite bread (My Country Vegan Cornbread would be AWESOME).  ..... just sayin')
Hope you enjoy this Soup and as always, enjoy!
Oh - and LOVE the comments!   Keep 'em coming!

Print
Vegan Bean With Mushroom Bacon Soup IP
Author:

Prep Time:

15 minutes

Cook Time:

45 minutes

Total Time:

1 hour

Yield:

0

Servings

1

x

Category:

Beans and Legumes, Instant Pot, Soup/Stew

Cuisine:

Gluten-Free, McDougall, Oil-Free, Vegan
---
Description
This is my Instant Pot version of my Vegan Bean With Mushroom Bacon Soup. From dried beans to a flavorful soup in just about an hour. Super healthy and loaded with plant-based protein and beneficial fiber.
---
Creamy Bean Soup
2

cups Dried Pinto Beans ((rinsed))

1

Onions ((diced))

2

Carrots ((diced))

2

ribs Celery ((diced))

3

cloves Garlic ((minced))

3 cups

Water

2 cups

Low Sodium Vegetable Broth

½

can Tomato Paste ((

3 oz

))

1 tsp

Garlic Powder

1 tsp

Onion Powder

1 tsp

Cumin

½ tsp

Salt

¼ tsp

Thyme

¼ tsp

Ground Pepper
Mushroom Bacon
8 oz

Portobello Mushrooms ((sliced))

2

Tbs Low Sodium Soy Sauce

1

Tbs Maple Syrup

¾ tsp

Liquid Smoke

½ tsp

Smoked Paprika

¼ tsp

Garlic Powder

⅛ tsp

Black Pepper
---
Instructions
Mushroom Bacon
Slice mushrooms and discard stems. Place mushrooms in a ziplock bag.
Whisk the remaining bacon ingredients together to make a marinade and add to the bag with the mushrooms. Seal and shake well.
Set mushrooms aside for now, but occasionally flip and shake bag to distribute marinade.
Bean Soup
Dice onion, carrots, and celery and add to Instant Pot. Add 2-3 Tbs of water or Veg Broth and press the SAUTE button.
Saute veggies until softened and then stir in garlic. About 30 seconds later add in the water, broth, and all seasonings. Stir to combine.
Rinse and drain beans and add to pot.
Add the tomato paste to the center but DO NOT STIR. Attach lid and press the MANUAL button. Set time for 45 minutes.
Afterwards, allow to naturally vent for 10 minutes.
While IP is venting, dump the entire bag of mushrooms and marinade into a skillet. Saute until softened allowing marinade to cook off and evaporate.
After 10 minutes of venting, CAREFULLY release remaining pressure on IP and remove lid. Stir in mushrooms and taste for any adjustments to seasoning. Salt and pepper as needed. (or hot sauce - yum)
---