This week I'm bringing you another homemade pasta sauce - a Vegan Bolognese Sauce if you will, for those of you who have asked for something a little more, shall we say 'meatier' to pour over your favorite pasta.
I'm sure this will be another guy pleaser so ladies - here's another recipe that picky husband of yours might try.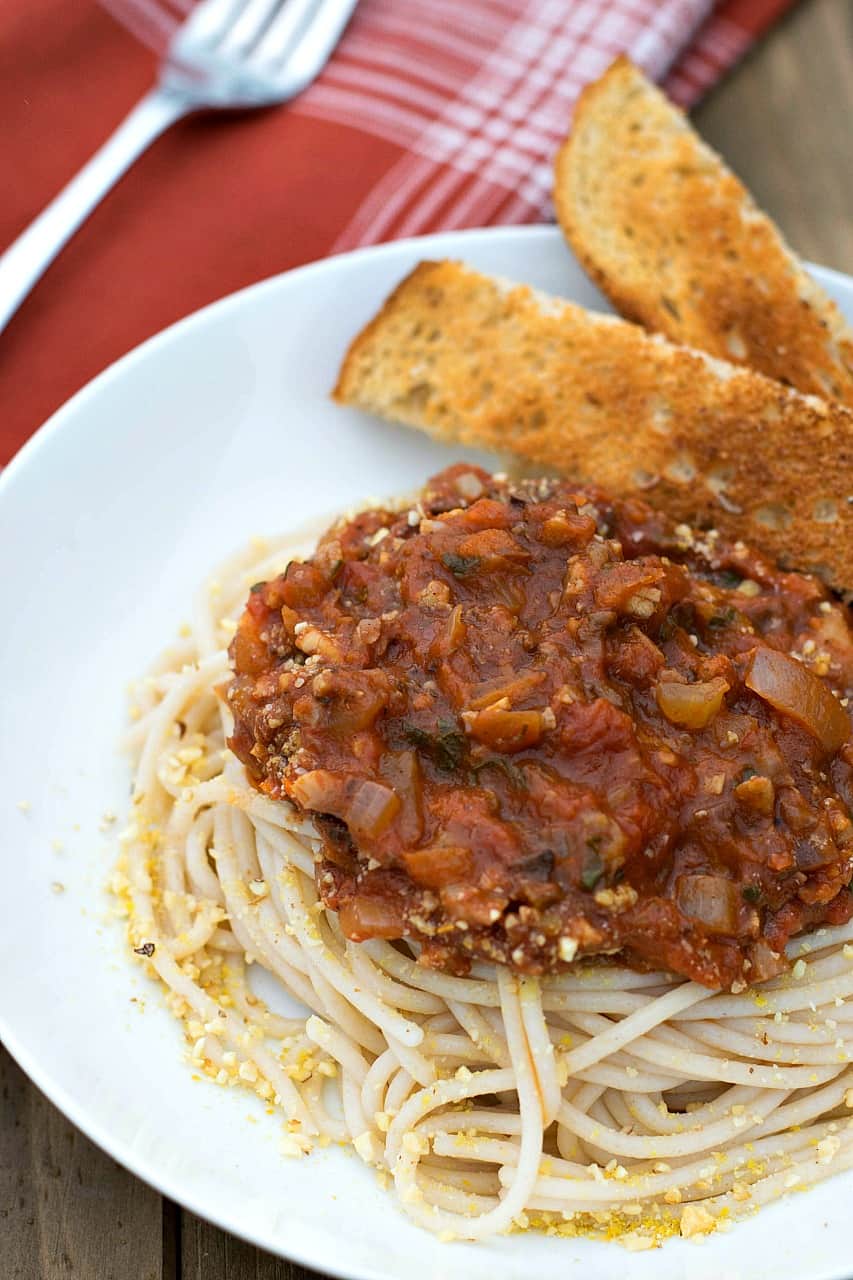 In fact, if they like my Tacos then they'll probably love this sauce, as it uses my same Cauliflower Crumble mixture.  The only difference is I changed the spices.
I get a lot of questions about my cauliflower meat.....
"I can't eat walnuts" or "I hate mushrooms" or "My husband can't stand cauliflower".
I'll just say that you can not taste the mushrooms or cauliflower at all.  But feel free to leave the walnuts or mushrooms out if you have allergies or are trying to reduce your fat.  It's a very forgiving recipe and those items add more to the texture than anything else.
I also get a lot of questions regarding wine when I include it in certain recipes.
In recipes like this, it really does add to the flavor, and the alcohol does cook off.  But if you must replace it with water or broth, all I can say is give it a try.  I won't guarantee the flavor will be the same, but as long as you like it (and will eat it)......  that's all that matters.
Any dry white wine will work in this recipe.  I used a Chardonnay and in many stores, I have seen little tiny "6-packs" or "singles" - so you would not need to buy an entire bottle.
Anyway - hope you like this Vegan Bolognese Sauce.
Be sure and leave those comments below!
Vegan Bolognese Sauce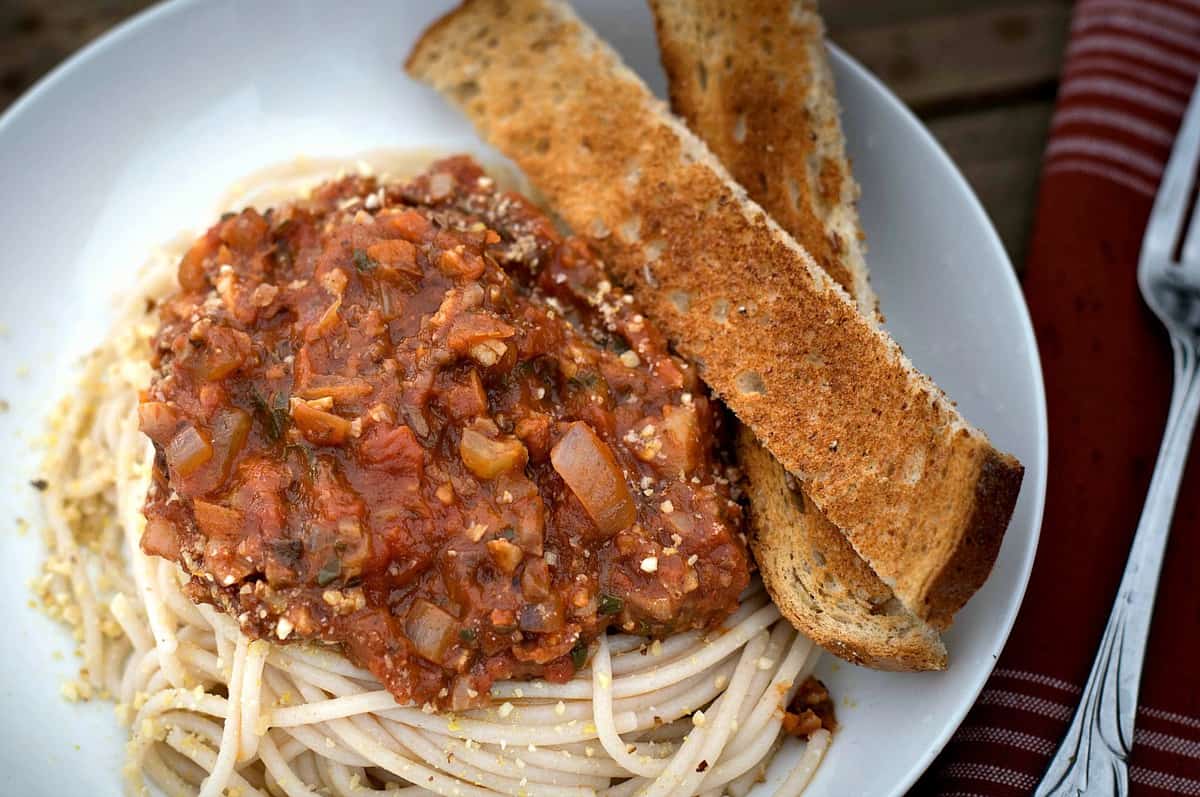 "The Meat" 
I like to get the 'meat' cooking first, so I can start making my sauce while it's baking.
Mix 2 cups of riced Cauliflower (those frozen bags make it so much easier), 1 cup of finely diced Mushrooms, and ¼ cup of finely chopped Walnuts together in a large bowl.
Stir in the Soy Sauce, Italian Seasoning, and Paprika and spread this mixture out on a parchment-lined baking sheet.
Bake at 350°  F for 30 minutes, stirring once or twice to brown evenly.
"The Sauce"
To make the sauce, saute a finely diced onion, rib of celery, and a shredded carrot together until softened.  As always, I use 1-2 tablespoons of Vegetable Broth or water to saute with - never oil.
Then stir in your garlic until it starts to get fragrant....... about 30 seconds.  Its ok if the onions start to stick a little as we're going to deglaze the pan in a minute to get all those tasty bits mixed back into the sauce.
Add in the white wine and stir and scrape any browned bits.
Next, we'll add our tomatoes, tomato paste, almond milk, and all the seasonings - and give the sauce a really good stir to mix everything together.
Let the sauce simmer uncovered for at least 30 minutes (or longer) to really let all those amazing flavors mix together and party for awhile.
By now you're "meat" should be done baking, and you can stir that into the sauce last.
Let it cook a little longer to thicken and then serve over your favorite pasta, which in our house is Brown Rice Pasta or Spelt.
To really finish this off you, can sprinkle some Homemade Parmesan on top and serve with some crusty bread, slathered with some garlicky Corn Butter........yum!
Bon Appétit !

Print
Vegan Bolognese Sauce
Author:

Category:

Sauce

Cuisine:

Gluten-Free, Italian, Oil-Free, Vegan
---
Description
This Vegan Bolognese is a rich and flavorful sauce for those 'meat lovers' in your family. I use riced cauliflower and mushrooms to recreate the traditional 'hamburger' used in this sauce. Very rich, very flavorful, and VERY satisfying. Your husbands will thank you.
---
The "Meat"
2

cups Cauliflower ((riced or finely chopped))

1 cup

Mushrooms ((finely diced))

¼ cup

Walnuts ((finely chopped))

2

Tbs Soy Sauce ((low sodium))

1

Tbs Italian Seasoning

2 tsp

Paprika
The Sauce
1

med Onion ((finely diced))

1

rib Celery ((finely diced))

1

large Carrot ((shredded))

4

cloves Garlic ((minced))

1 cup

White Wine

1

can San Marzano Tomatoes ((

28 oz

))

1

can Tomato Paste ((

6 oz

))

1 cup

Almond Milk ((unsweetened))

¼ cup

Fresh Basil ((freshly chopped))

1

Tbs Oregano

1 tsp

Rubbed Sage

¼ tsp

Salt

¼ tsp

Pepper

¼ tsp

Red Pepper Flakes

¼ tsp

Nutmeg
---
Instructions
To Prepare the 'Meat"
Add 2 cups of 'riced' cauliflower to a large bowl. Or - finely chop about 2 cups of fresh cauliflower and add to bowl.
Add diced mushrooms, walnuts, soy sauce, Italian seasoning, and paprika. Stir well to combine.
Spread mixture onto a parchment-lined baking sheet and bake for 30 minutes at 350 deg F. Stir once or twice during baking.
To Prepare the Sauce
Saute onion, celery, and carrot in a few tablespoons of veg broth (or water) until softened. Stir in garlic and simmer until fragrant - about 30 seconds.
Add wine and stir to deglaze the pan. Be sure to scrape up any burnt bits of onion that may be stuck to the bottom of the pan. Lots of flavors are here!
Add tomatoes, tomato paste, and almond milk and mix well.
Add all the seasoning and mix well. Simmer uncovered for 20-30 minutes to allow flavors to come together.
Stir in the 'meat' you prepared earlier. Continue simmering until it thickens. Adjust for seasonings and serve over your favorite pasta.
---
Notes
Tips are always welcome!
---
[paypal_donation_button]
ve
SaveSave
SaveSave