Chicken Salad is one of those comfort foods many of us Brand New Vegans miss when we make the switch to healthier eating. As it turns out, there is a product called 'Soy Curls' that are so close in texture it may just surprise you. So given that fact, I made this Vegan Chicken Salad, just for you.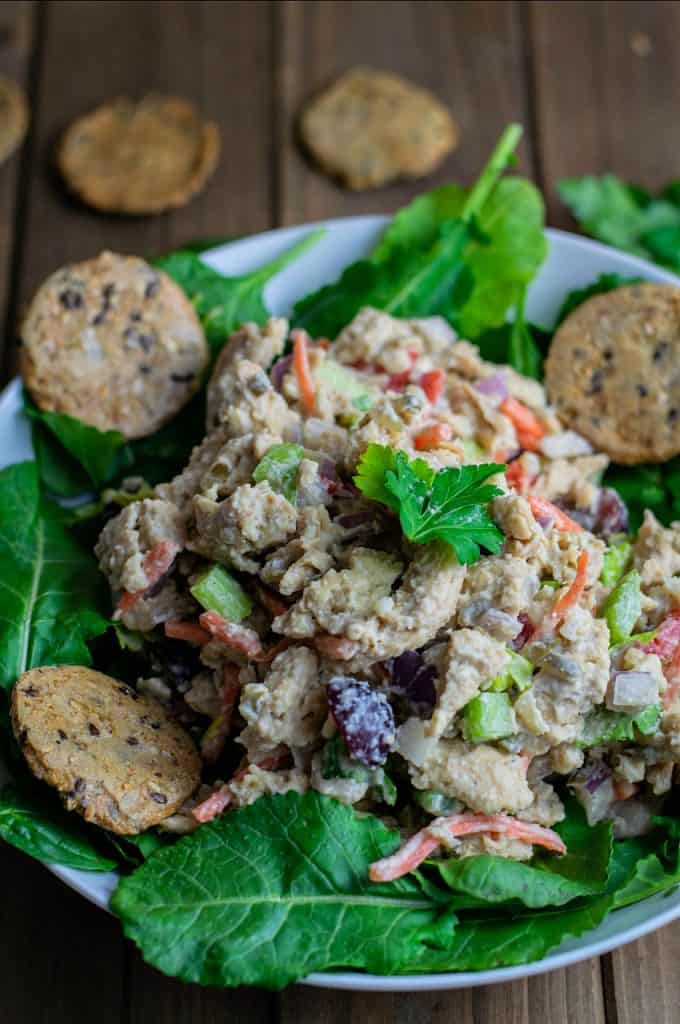 Before the comments and questions come flying....
Soy Curls are made by a company in Oregon. There is only one ingredient on the package - soybeans. And yes, they are organic and non-gmo.
What they do is steam the beans, shred them, and then dry them. And like most soy products, they will absorb the flavor (like tofu) of whatever you mix with them.
They are available in many stores now and will almost always be found in a Whole Foods Market if you have one nearby. If not, you can order them directly from the company's website (butler foods) or you can order them on Amazon.
Here is my affiliate link, and yes I do make a small commission but at no additional cost to you.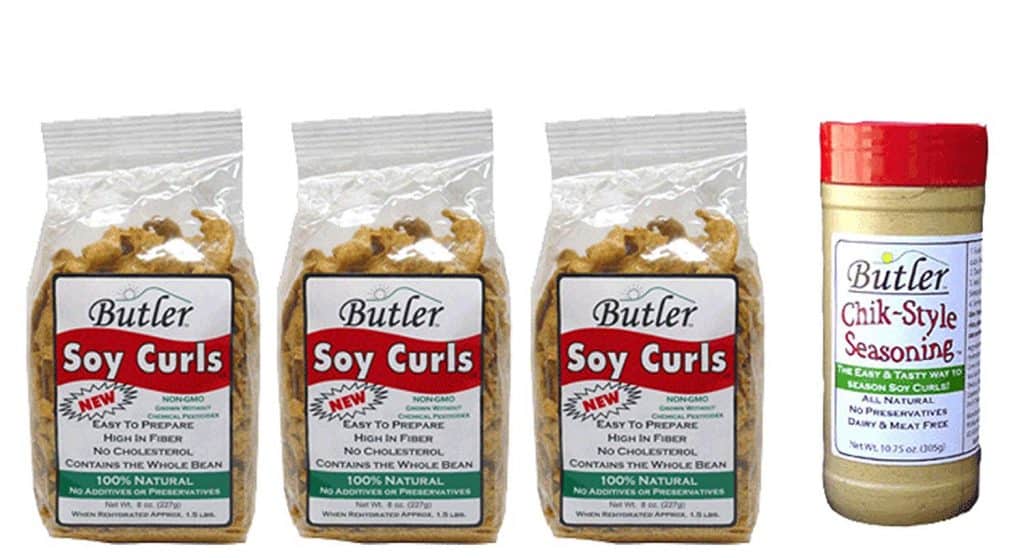 Link to Butler Soy Curls on Amazon.
Another question I get hit with a lot is this one:
"Why Do You Vegans Always Try to Imitate OUR Food" (usually in a very angry kind of voice)
Because for many of us, we did not give up eating meat because we didn't like it. We gave it up to better our health.
I've met so many people in my private Facebook Group who's doctor has said, "Either you change your diet & lifestyle, or you're going to die".
They didn't want to change their diet....
They HAD to!
And if my recipes make it easier for them to stay on track? By imitating their favorite comfort foods they used to love? Without any of the saturated fat, cholesterol, or animal proteins that are scientifically proven to harm us?
Then I've done my job.
And lastly, one more question I get asked a lot too.... "Why do you have to call it Chicken Salad if there's no chicken in it?"
When I say chicken salad, you know exactly what I'm talking about, don't you.....without question.
But if I said this was a Vegan Soy Curl Salad.....how many of you would either know (or want to know) what this recipe was about?
Do you often think to yourself and then google.... "Mmmmm, I really want to find a good Soy Curl Salad Recipe".....
I didn't think so. 🙂
Now, let's make some Vegan Chicken Salad.
Vegan Chicken Salad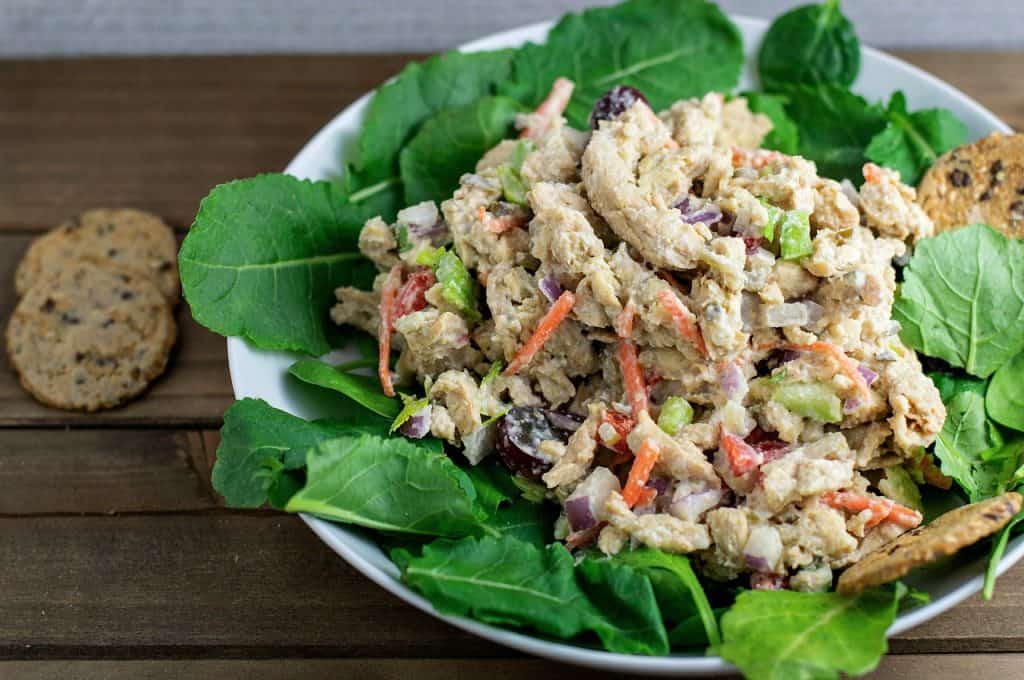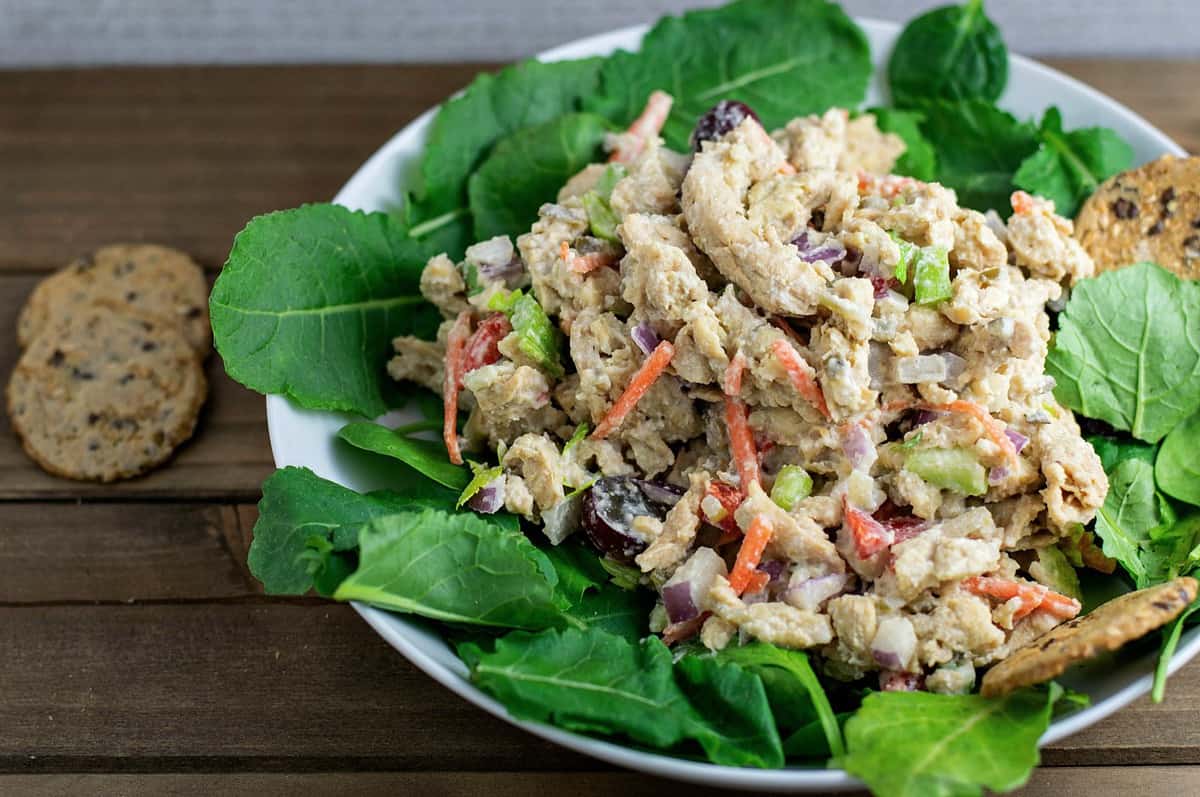 We're going to start with rehydrating our Soy Curls.
Empty the bag into a large bowl and add 3 cups of hot water (or you can sub 1 cup with veg broth). Then I like to stir in a teaspoon or two of dried Poultry Seasoning.
Let that sit for at least 10 minutes. Then we'll drain it and squeeze out most of the liquid before giving them a little chop.
Next we're going to make some of my Vegan Garlic Aioli. I'll just add a link to it here instead of typing out all the steps. We'll need about 1 cup for this recipe. Any remaining aioli can be kept in the fridge to use with your hash browns, bakes potatoes, tacos, etc. Should keep easily for 4-5 days.
Now it's just a simple matter of putting together our salad.
I used ½ red onion, ½ red bell pepper, 2-3 ribs of celery, 1 cup of grapes that I sliced in half, ½ cup of pickle relish, and ¼ cup shredded carrot.
I also added 1 tablespoon of dijon mustard to my cup of aioli and then stirred that into my salad.
Finally, stir in your soy curls, mixing well.
Use a large bowl as this DOES make a lot. If it's just you and your spouse or you live alone - you may want to cut this recipe in half.
That's it. Feel free to adjust the veggies to your own liking. Add more relish if you like it that way, or more aioli if it seems too dry. Be sure and season with salt and pepper too.
Play with this recipe and be sure and tell me what you think. I love those comment and I do read each and every one.
Until next week.... keep on cookin!

Print
Vegan Chicken Salad
Author:

Prep Time:

45 min

Total Time:

45 minutes

Yield:

6

-

8

servings

1

x

Category:

Salad, Soy Curls

Cuisine:

Vegan
---
Description
This Vegan Chicken Salad replaces one of our most beloved comfort foods that many of us Brand New Vegans miss after making the switch to healthier eating.
---
Vegan Chicken Salad
8oz

bag Butler Soy Curls

3 cups

hot water (or sub

1 cup

veg broth)

1 tsp

 poultry seasoning

½

red onion, diced

½

red bell pepper, diced

2

ribs celery, chopped

1 cup

red seedless grapes, sliced in half

½ cup

pickle relish

¼ cup

shredded carrot
Dressing
---
Instructions
Add soy curls to a large bowl and add 3 cups of water (or veg broth) and stir in the poultry seasoning.
Meanwhile, make the Vegan Garlic Aioli and reserve 1 cup for this recipe.
Stir 1 Tbs dijon mustard into the 1 cup of aioli and set aside.
Chop all veggies and place in a large bowl
Add the aioli dressing and mix well
Drain soy curls and squeeze out as much moisture as possible, then chop into smaller pieces.
Add soy curls to salad and mix well.
Season with salt and pepper.
---
Notes
Keywords: vegan chicken salad