This ole country boy had a hankerin' for some down-home, Vegan Country Sausage Gravy!  So I experimented with my Cauliflower Crumble mix.  Oh man....Y'all gotta try this.  I mean this stuff is seriously good.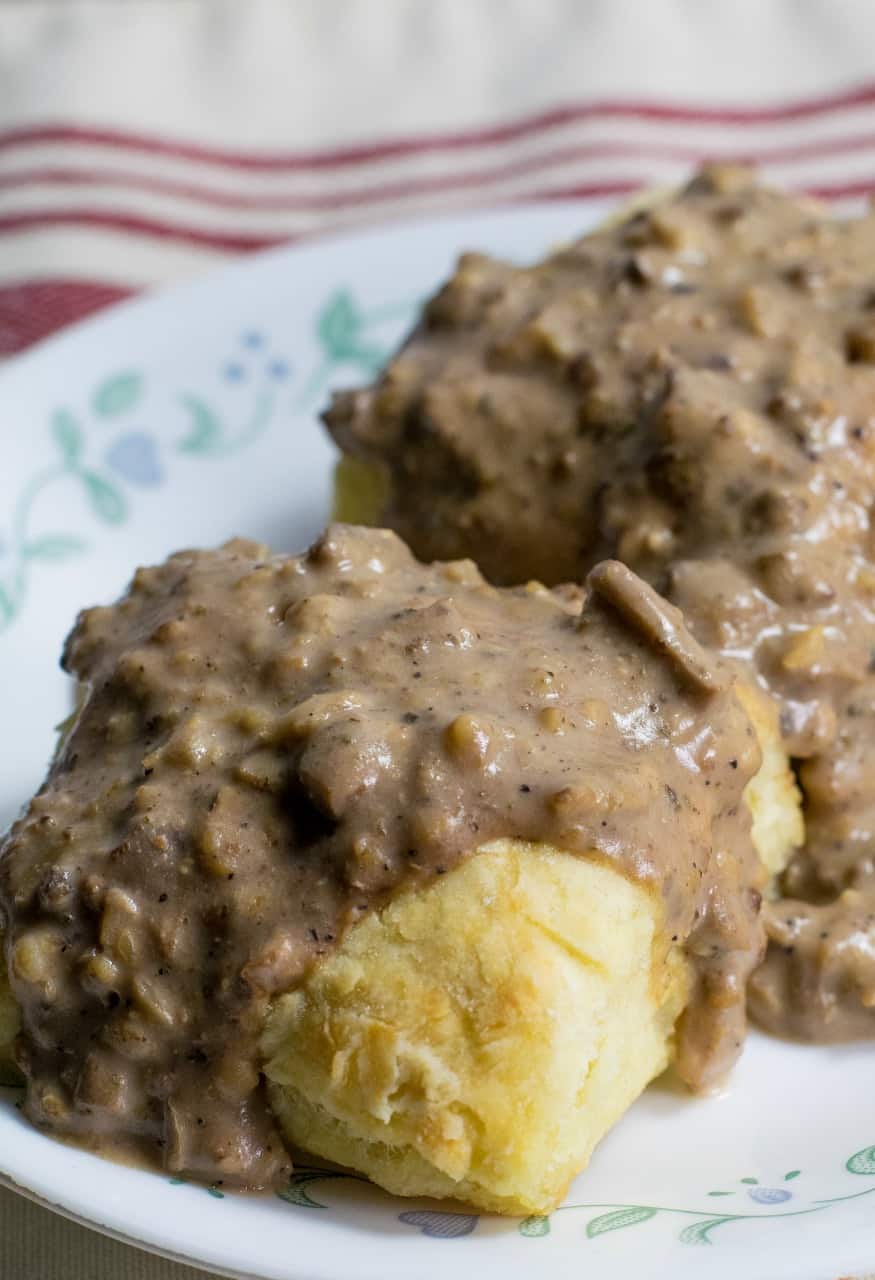 I know I know, "Why do all you 'Vegans' have to try to copy the foods you're supposedly giving up? "
I can almost hear it now.
Well let me tell you....we give UP the meat because it's horribly bad for US, just as much as it's horribly bad for the animals.  But, as someone who was raised on the stuff (like many of you I'm sure)....  it IS something we acquire a taste for.
I do ENJOY the taste of sausage - I'm just not willing to endanger my health, let alone kill a poor defenseless animal in order to eat it.  But NOW.....   I can literally have my cake and eat it too.  (vegan cake of course).
The 'sausage' is my cauliflower, mushroom, walnut mix with added spices to resemble country sausage.  A little thyme, a little sage, a little maple syrup.....and let me tell you, the flavor is SPOT ON.
And when you mix it with a creamy white peppered gravy?
Psh.  It's EXACTLY how I remember it!
I used to walk down to the corner diner every morning before school to meet my mom.  She would have coffee with her friends and she'd buy me a big ole plate of Biscuits and Gravy for breakfast.  Healthy?  No way.  But tasty?  Oh man......the BEST.
And now?   Now we have THIS!
Vegan Country Sausage Gravy.  Pour it on my Vegan Buttermilk Biscuits, or toast, or even potatoes!
I really think you're going to like this.  Breakfast just got a whole lot tastier!
Vegan Country Sausage Gravy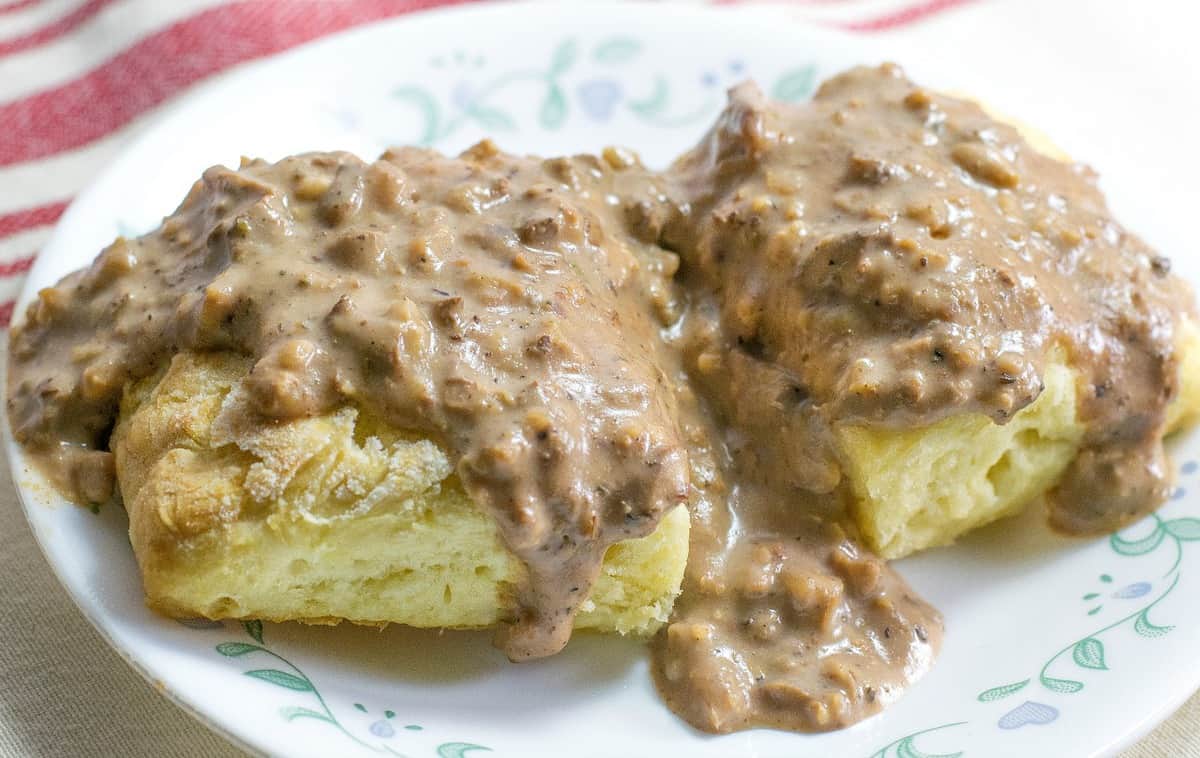 The Biscuits
First of all, the Biscuit Recipe can be found here.....  Fluffy Vegan Buttermilk Biscuits.  
The Sausage
Now, with the biscuits out of the way...what about that Sausage?
It's just like making the crumbles for my Cauliflower Tacos.  
I used 1½ cups of Cauliflower Rice, 4 oz of Mushrooms, and 1 cup of Walnuts - all chopped to a uniform, hamburger-ish size.  Mix this in a large bowl and add the Soy Sauce, Molasses, Maple Syrup, and Liquid Smoke.
Mix well and then add all the spices.  Make sure everything is mixed up REALLY good and then turn it out onto a parchment lined baking sheet.  Spread the mixture evenly and bake for 30 minutes in a 350° F oven.
After 30 minutes, flip/mix with a spatula and continue baking for another 15 minutes.
Remove from oven and set aside.
The Gravy
Mix ¼ cup flour (I used bread flour), 1 Tbs Nutritional Yeast, 1 teaspoon Rubbed Sage, ½ teaspoon each Salt, and Pepper, and ⅛ teaspoon of Ground Thyme in a large bowl.
Pour the dry mixture into a skillet (I used my cast-iron) and toast it over med heat for a few minutes.  It will smell - well - toasty after a few minutes.  Increase heat to med-high and slowly pour in 3 cups of Unsweetened Almond Milk, whisking continuously.
It will begin to bubble and thicken immediately.  Lower the heat, and add in the Sausage crumbles and continue to stir until it reaches your desired consistency.
I like mine a little thin....not too thick...... and if it does thicken too quickly,  just add in a bit more Almond Milk.
Salt and pepper to taste.
Mmmmmmmm....heavenly.  
I swear my wife was already on seconds before I could even put away my camera last night!  She said this was THE best yet!  (of course, she always says that.....gotta love her)  🙂
Speaking of love....I LOVE hearing from you!   So leave those comments and photos.  I may not respond immediately but I do read each and every one.

Print
Vegan County Sausage Gravy
Author:

Prep Time:

15 minutes

Cook Time:

45 minutes

Total Time:

1 hour

Yield:

4

1

x

Category:

Breakfast, Main Course

Cuisine:

American
---
Description
Last night this ole country boy had a hankerin' for some down home, Vegan Country Sausage Gravy! Y'all gotta try this. I mean this stuff is seriously good.
---
Sausage
1 ½ cups

Cauliflower (chopped fine)

4 oz

Mushrooms (chopped fine)

1 cup

Walnuts (chopped fine)

2 Tbsp

Soy Sauce (low sodium)

1 tsp

Molasses

1 tsp

Maple Syrup

¼ tsp

Liquid Smoke

2

Tbs Nutritional Yeast

1 ½ tsp

Rubbed Sage

½ tsp

Ground Pepper

½ tsp

Garlic Powder

¼ tsp

Nutmeg

¼ tsp

Ground Thyme
Gravy
¼ cup

Flour

1

Tbs Nutritional Yeast

1 tsp

Rubbed Sage

½ tsp

Salt

½ tsp

Ground Pepper

⅛ tsp

Ground Thyme

3

-

4

cups Almond Milk (unsweetened)
---
Instructions
Sausage
Preheat oven to 350 Degrees F
Chop Cauliflower, Mushrooms, and Walnuts finely, to uniform size
Mix together in bowl and add Soy Sauce, Molasses, Maple Syrup, and Liquid Smoke. Mix well.
Add remaining spices and mix very well
Turn out evenly onto parchment lined baking sheet and bake for 30 minutes
After 30 minutes, flip/mix with spatula and continue baking for an additional 15 minutes
Set aside
Gravy
Mix all dry ingredients in skillet and toast over med heat for a few minutes.
Increase heat to med-high and slowly stir in Almond Milk, whisking continuously to break up any clumps
Once it begins to bubble, lower heat and add Sausage crumbles
Stir until it has thickened to desired consistency.....add more milk to thin
---